Another long weekend, time to escape the craziness again and get out of town. It's been a few years since my last trip to Stanley and I've been wanting to get back up to Idaho. Securing a couple extra days off work and recent pics of abundant wildflowers helped steer me that way for 4th of July.
In the past I've gone up I-15 through SLC never bothering to check google maps for optimal routing. I checked just to see the estimated drive time - 14 hrs, which is about my limit for a 5 day trip. Incidentally, maps showed it was an hour faster going up Nevada 93 from Vegas through Ely NV. Hmm.... I've heard there are some good trails there, and the temps didn't look terrible.
So I hit up MTBR's KRob who lives in the area and made a plan to meet up at 6am for a pre-work ride. I didn't relish the early start time since I'd be getting in very late, but that would leave lots of time to check out other rides or get up to Ketchum in time to ride.
Day 1
Ride 1
Leaving already? Not quite.... I was leaving my random campsite though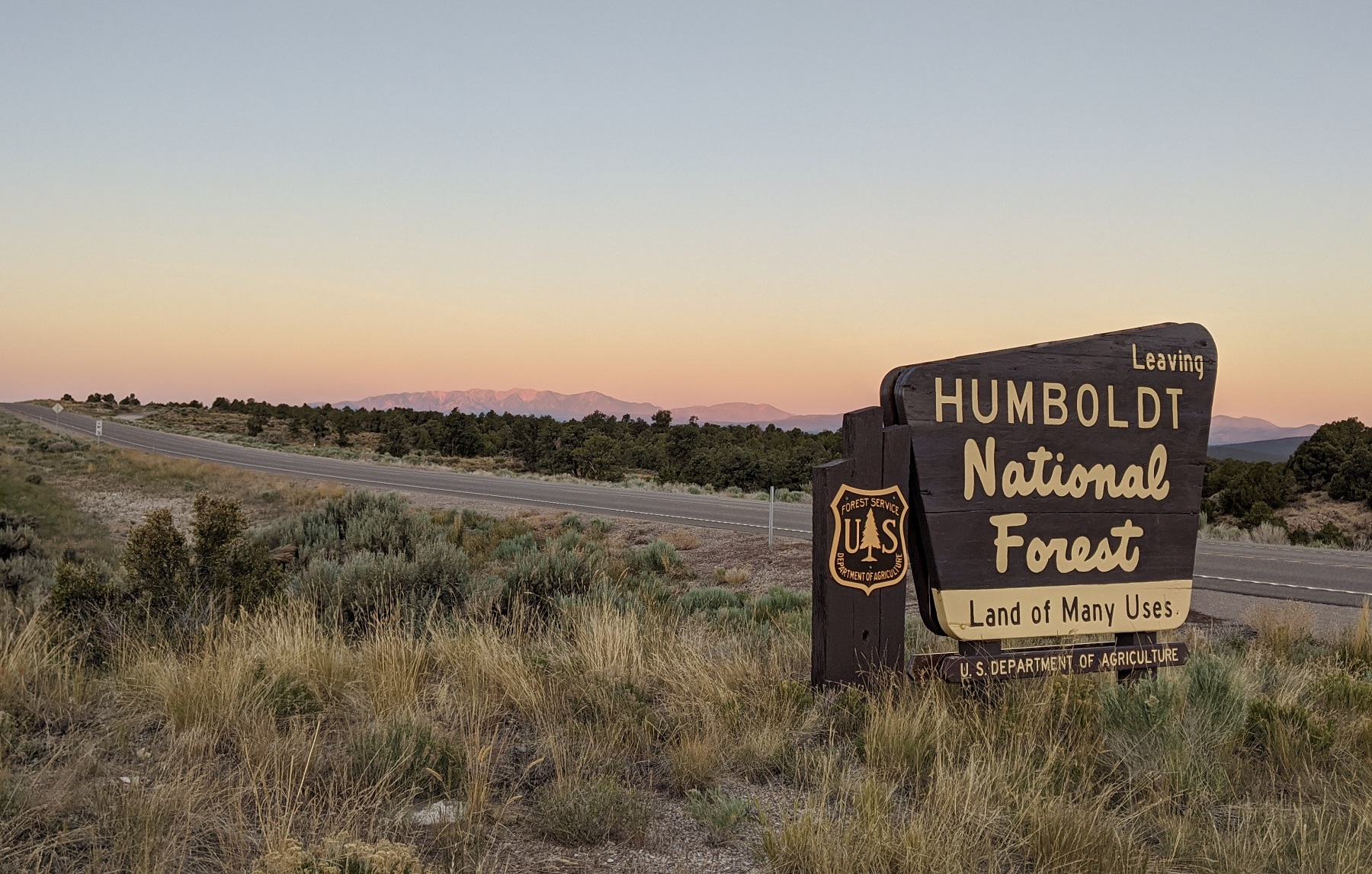 The Legend, KRob.
I had to ask the correct pronunciation of Ely as I don't think I've ever heard anyone speak the name. Is it Elly or E-Lie? Turns out it is E-Lee. You learn something every day!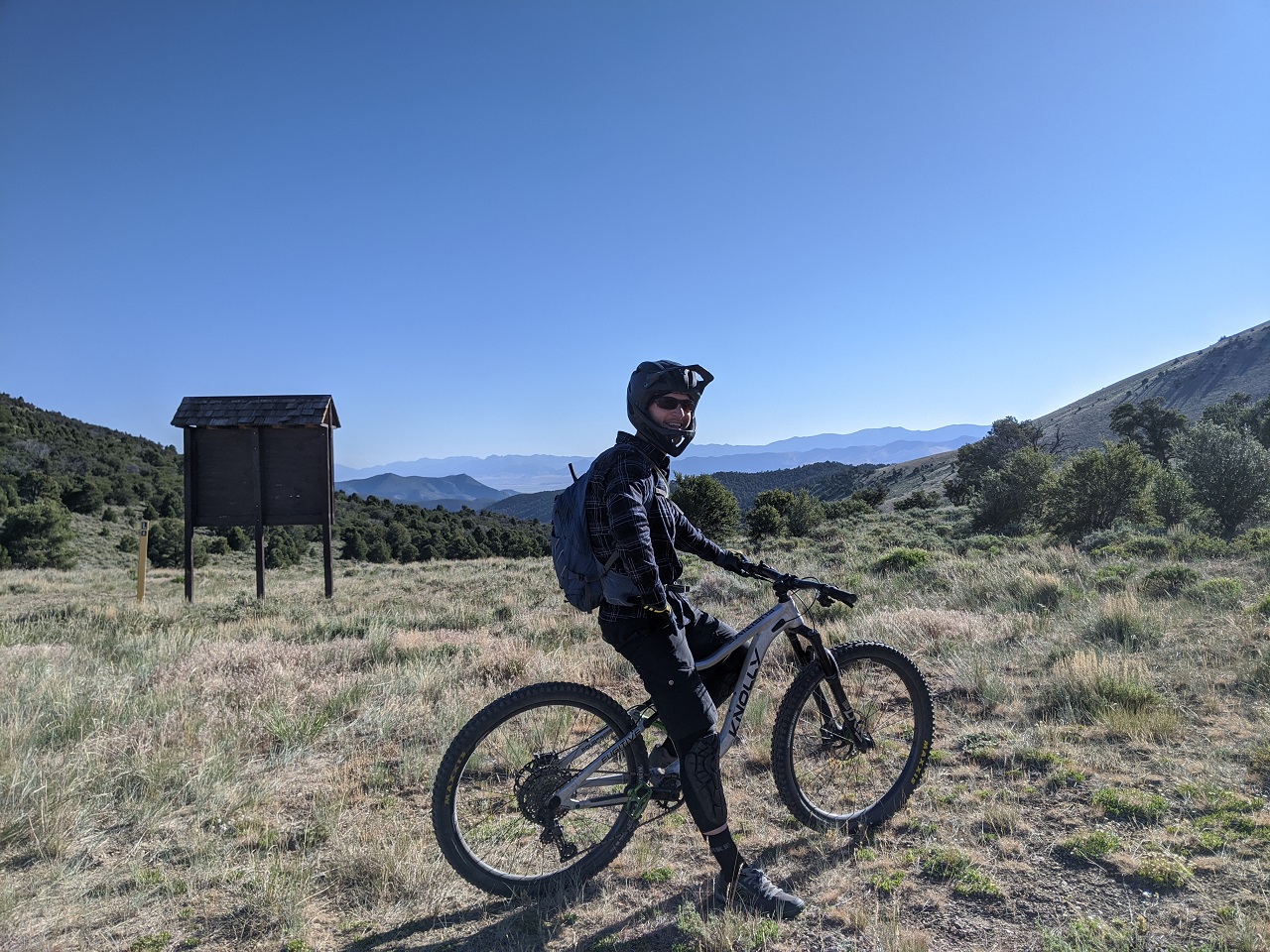 He had a couple hours to ride before he had to be at work, so we met at Ward Mtn and wasted no time. First climb was mellow.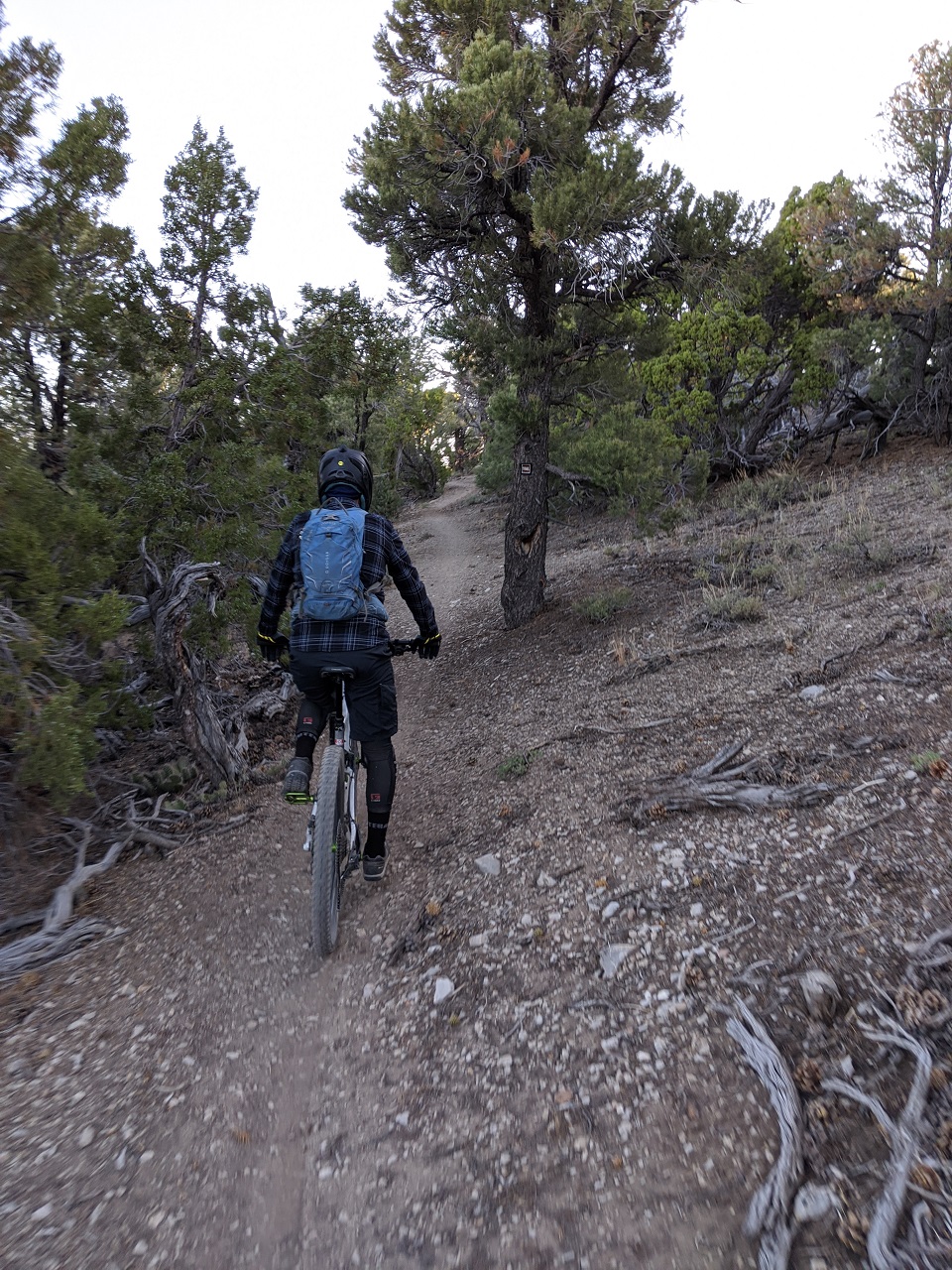 This was the top of the first lap on the G Loop. Not a huge climb or descent but pretty fun.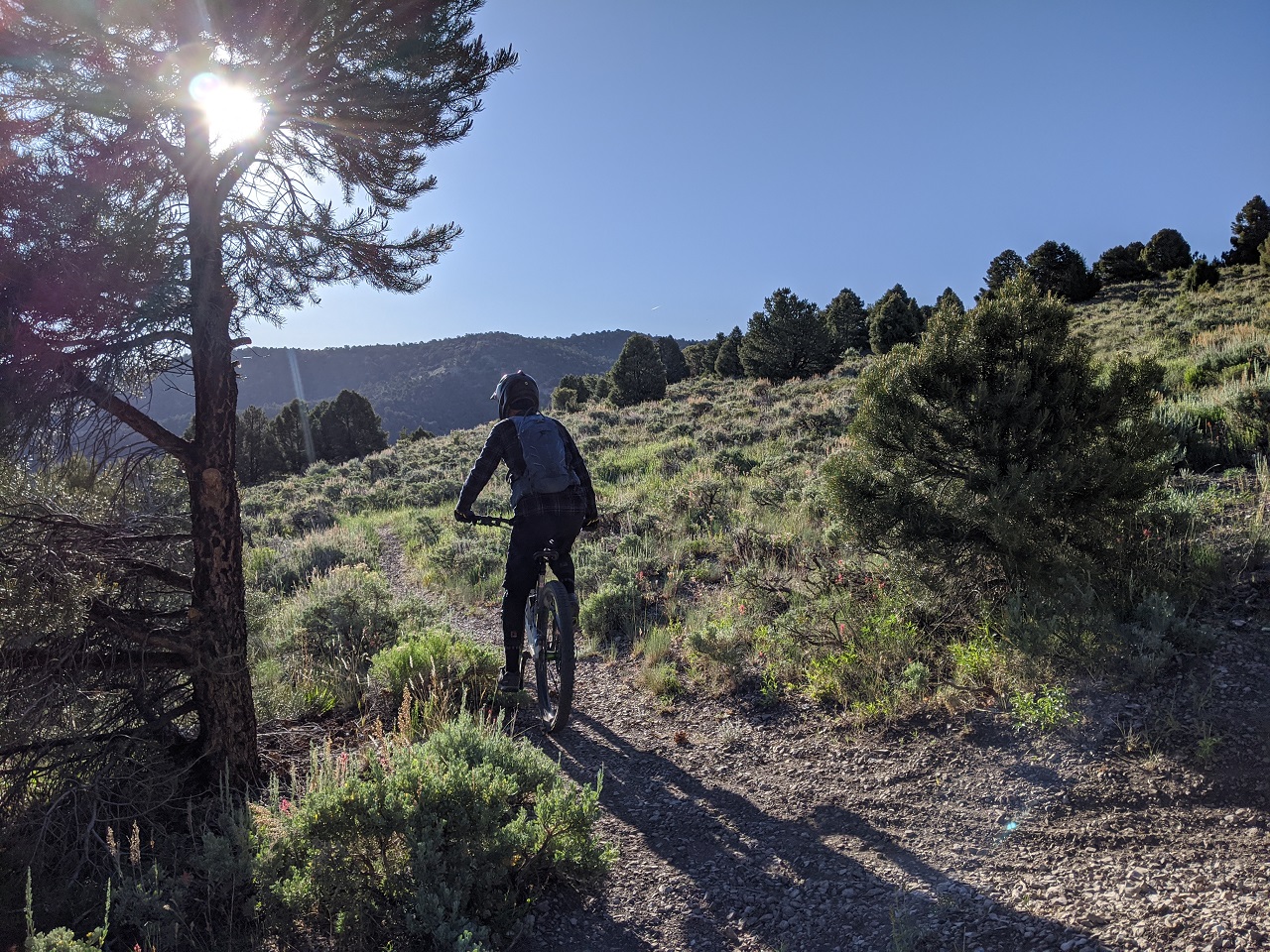 Climbed back up a sage filled back canyon to the Old Connector. Great views from up top.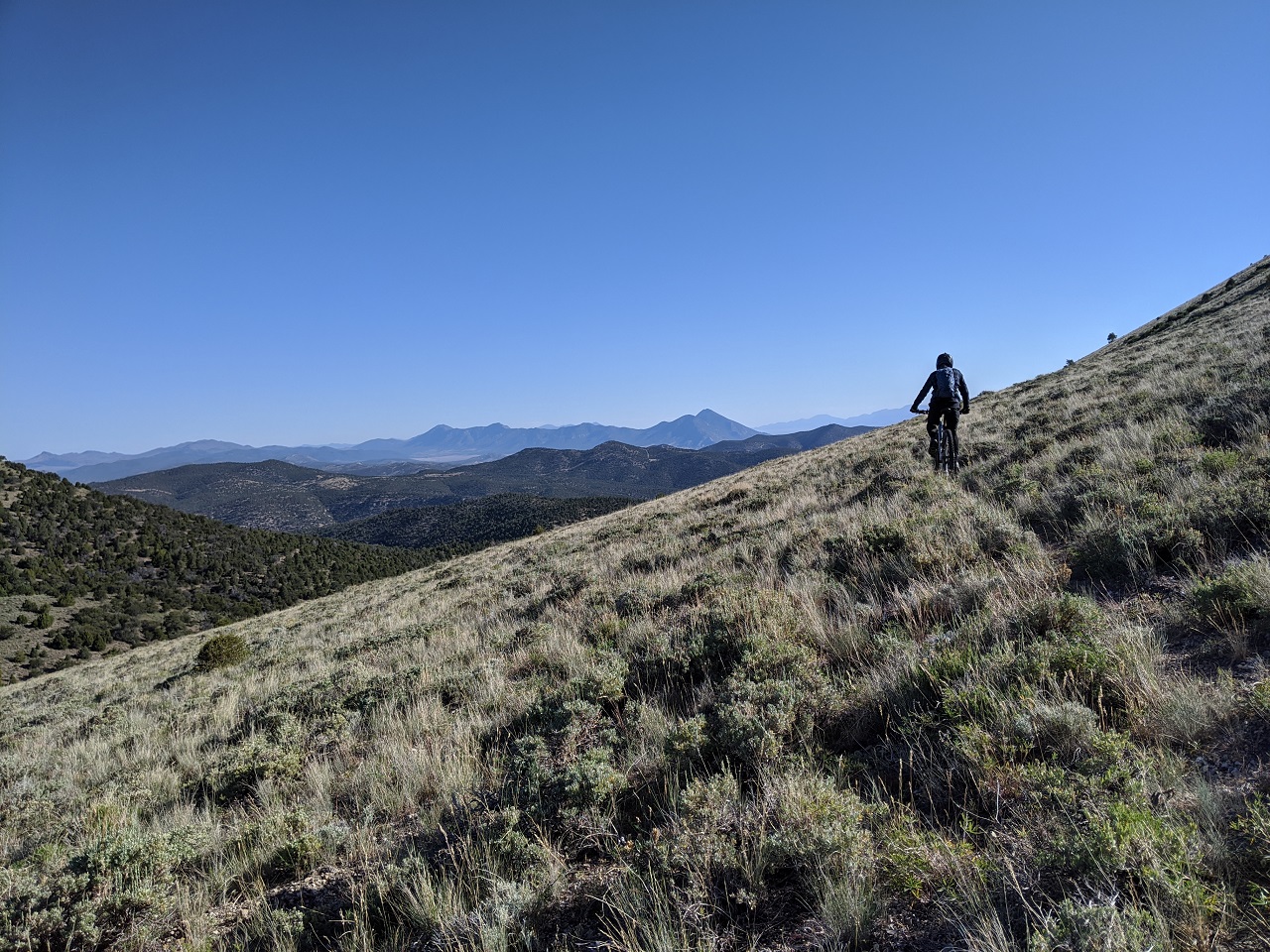 Then we dropped into Powderberry Divide, a fun descent that took us all the way down to the highway closer to town. KRob had a big hand in building it so it was great to check it out in person. Nice work, super fun trail!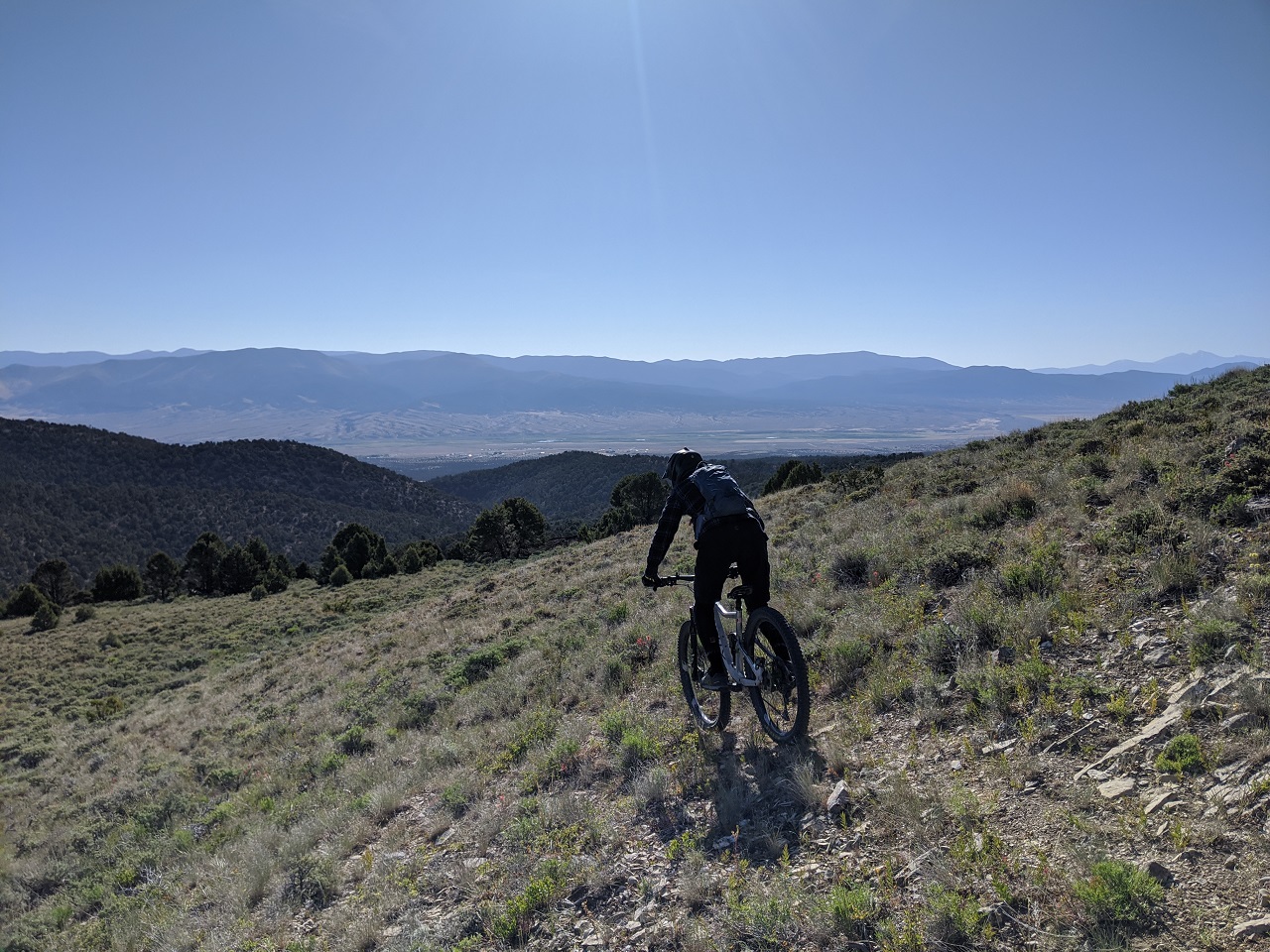 Picked up a nail about 1/2 mile from the highway after the trail dropped onto a fire road. The home brew sealant works and it didn't go flat. This is what I found back at the truck. A bacon strip later it was all good. Glad for that, it was a brand new tire.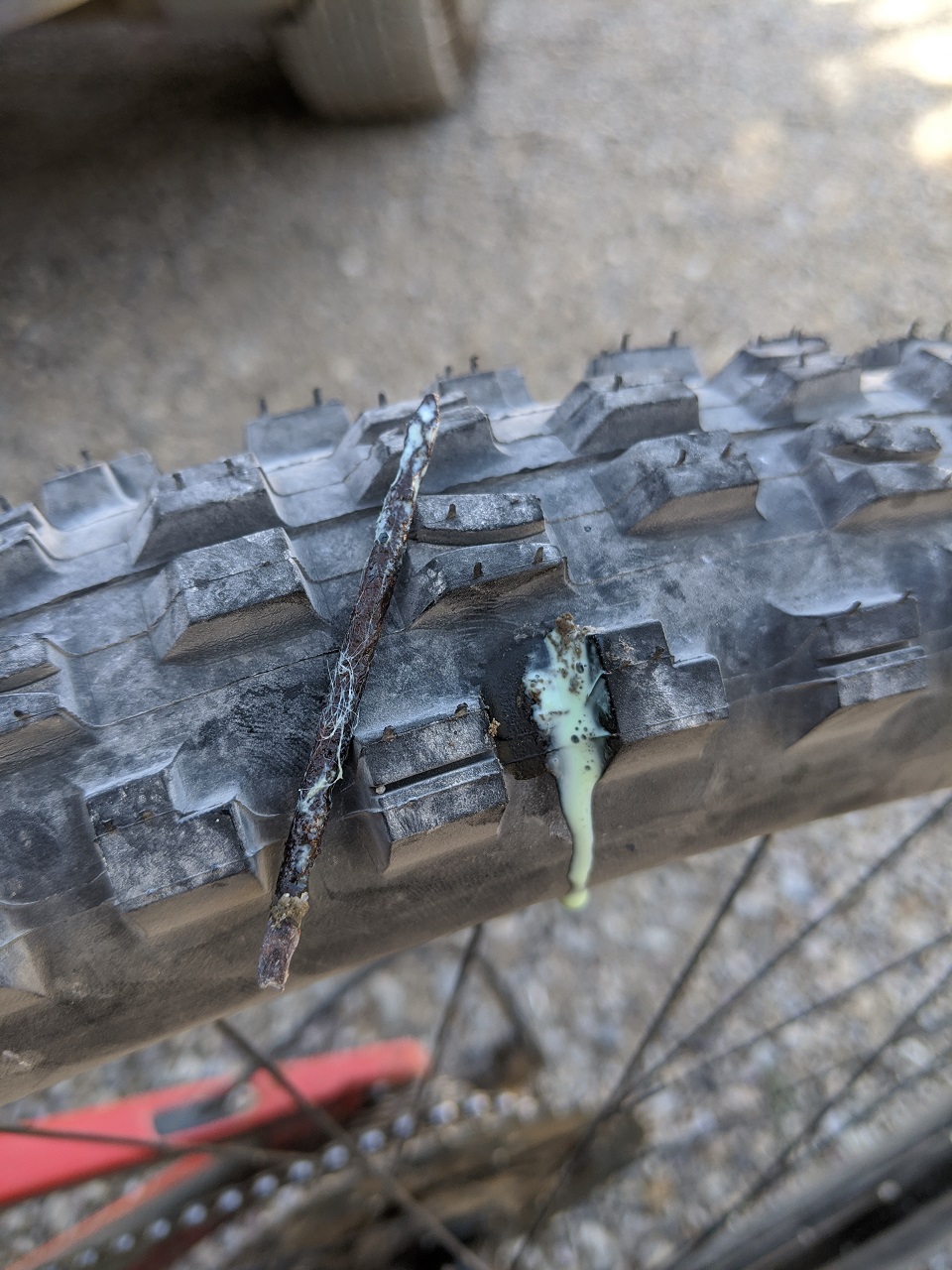 Thanks for the tour KRob! He was awesome enough to park at the end of the ride and pedal the highway to meet me to avoid a shuttle.
12.5mi +1800/-2400
Ride 2
Rather than check out other trails at Ward Mtn I opted to check out another trail system nearby at Cave Lake State Park. It was only 9am but starting to warm up a bit.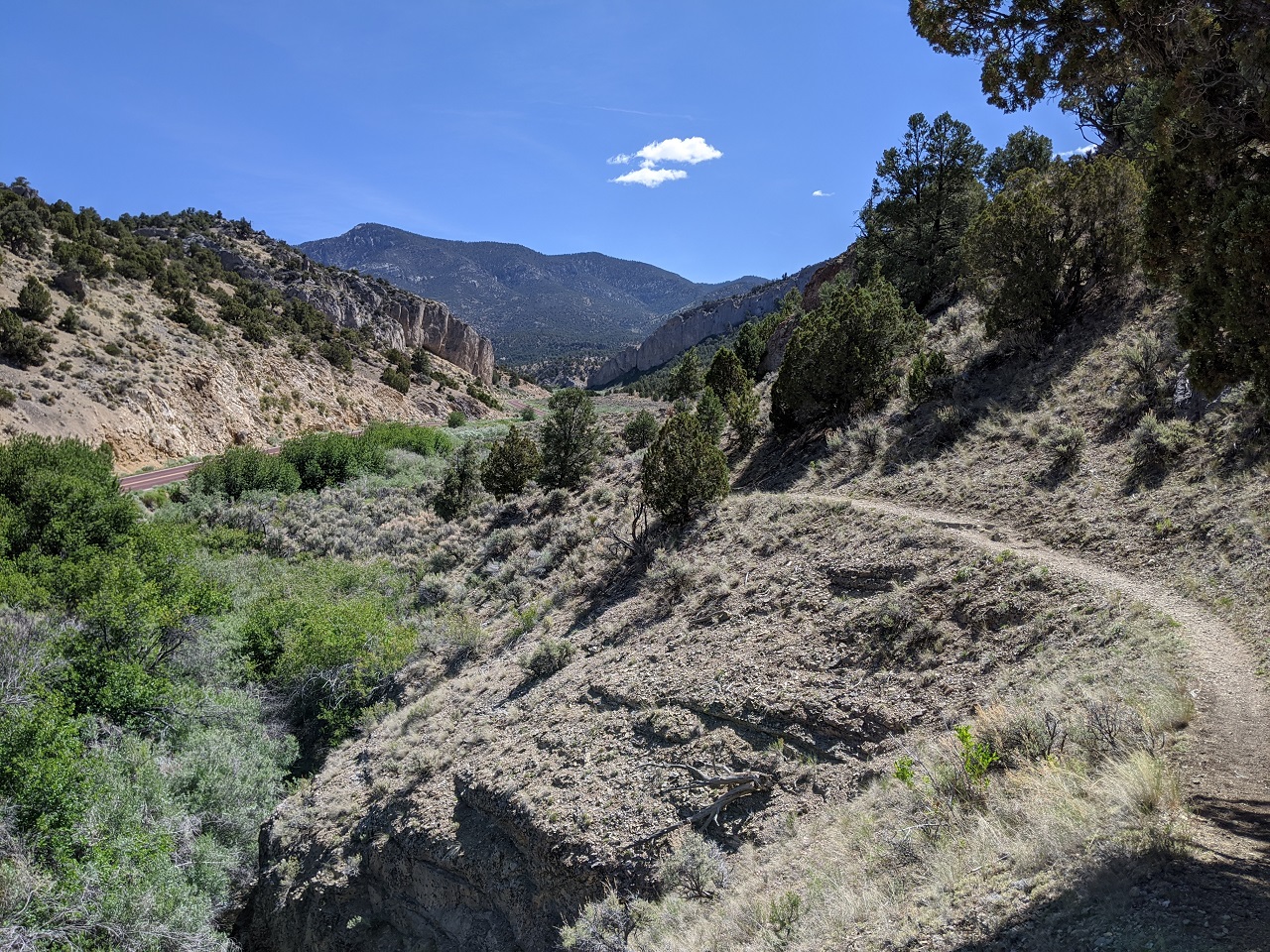 After a couple miles traversing along a creek I got to Cave Lake. I paid the $2 entrance fee and the climbing started right away.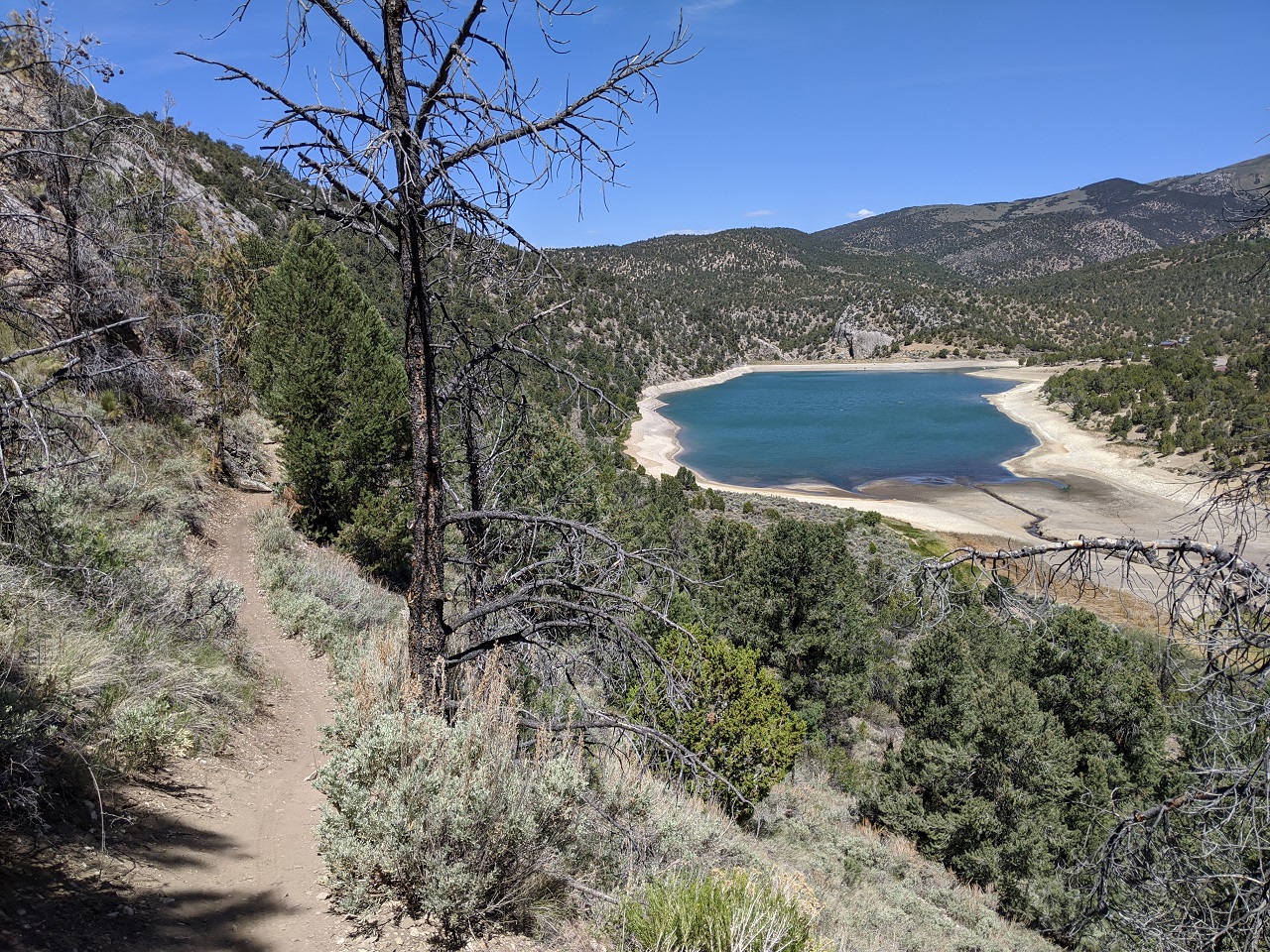 It was all rideable but the steep grade had me stopping often to catch my breath.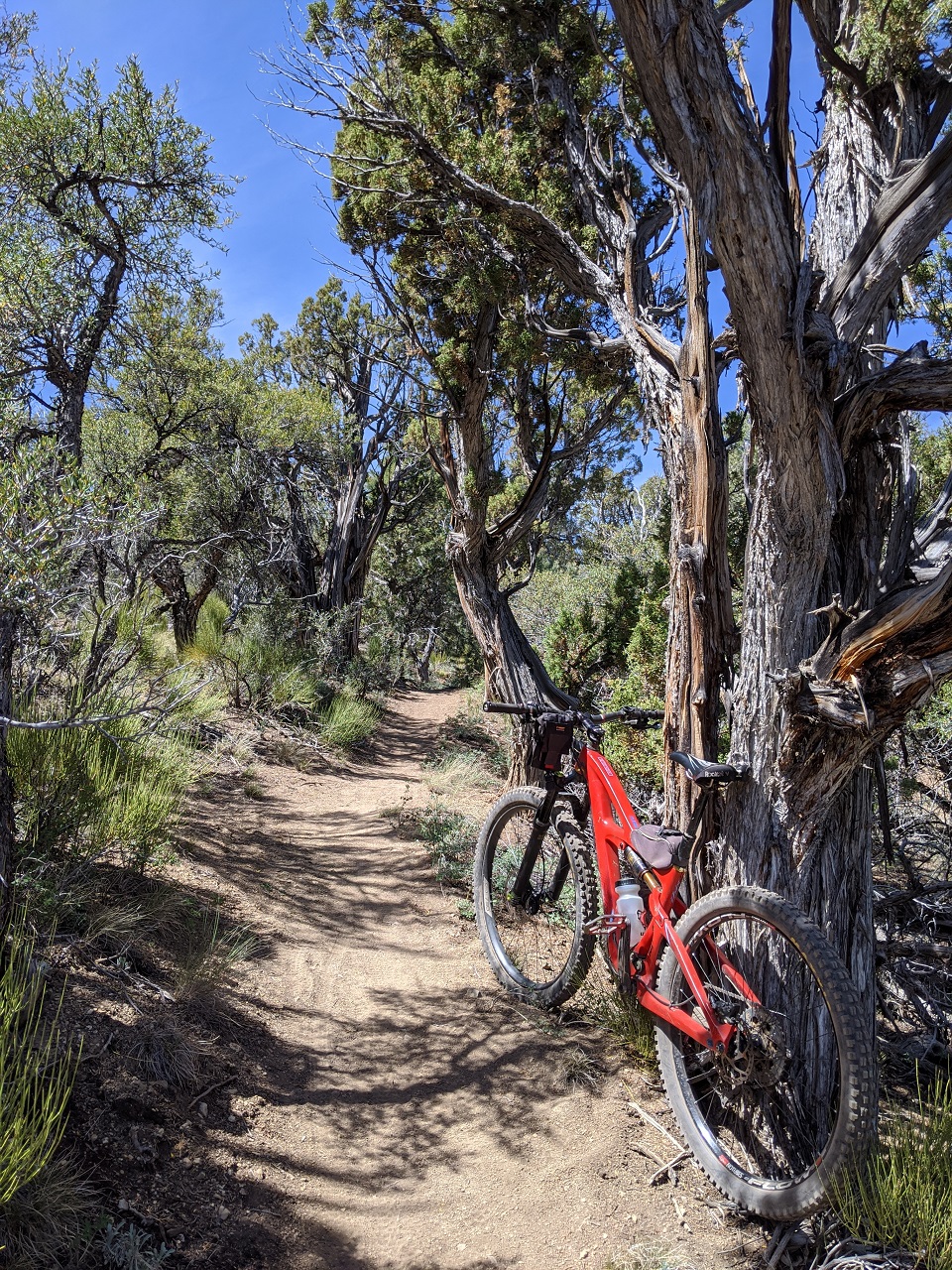 Almost at the top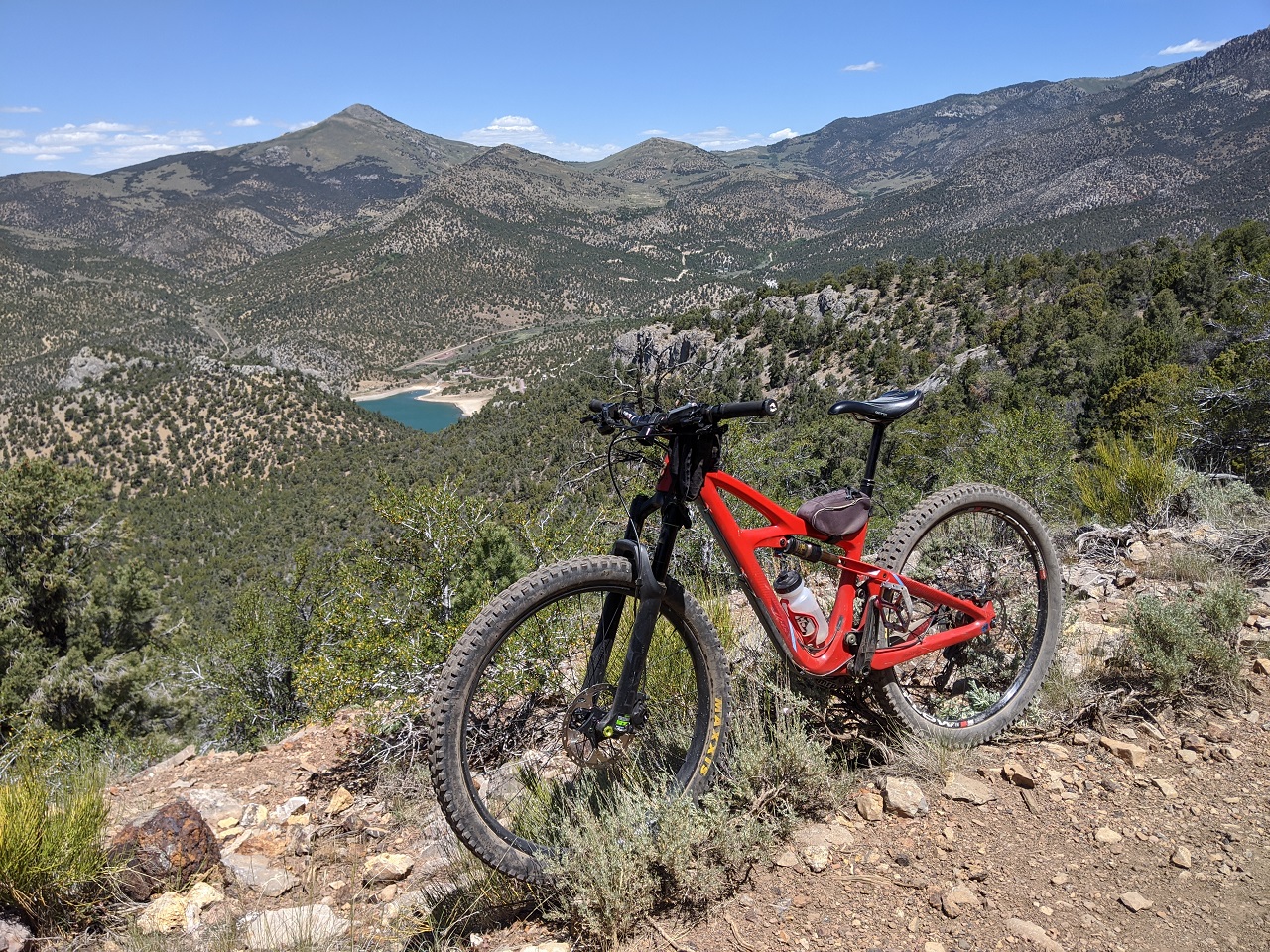 I followed a Trailforks route called High Roller which was basically an outer loop that covered most of the system. Here it crossed onto the backside of the mountain and got quite rocky.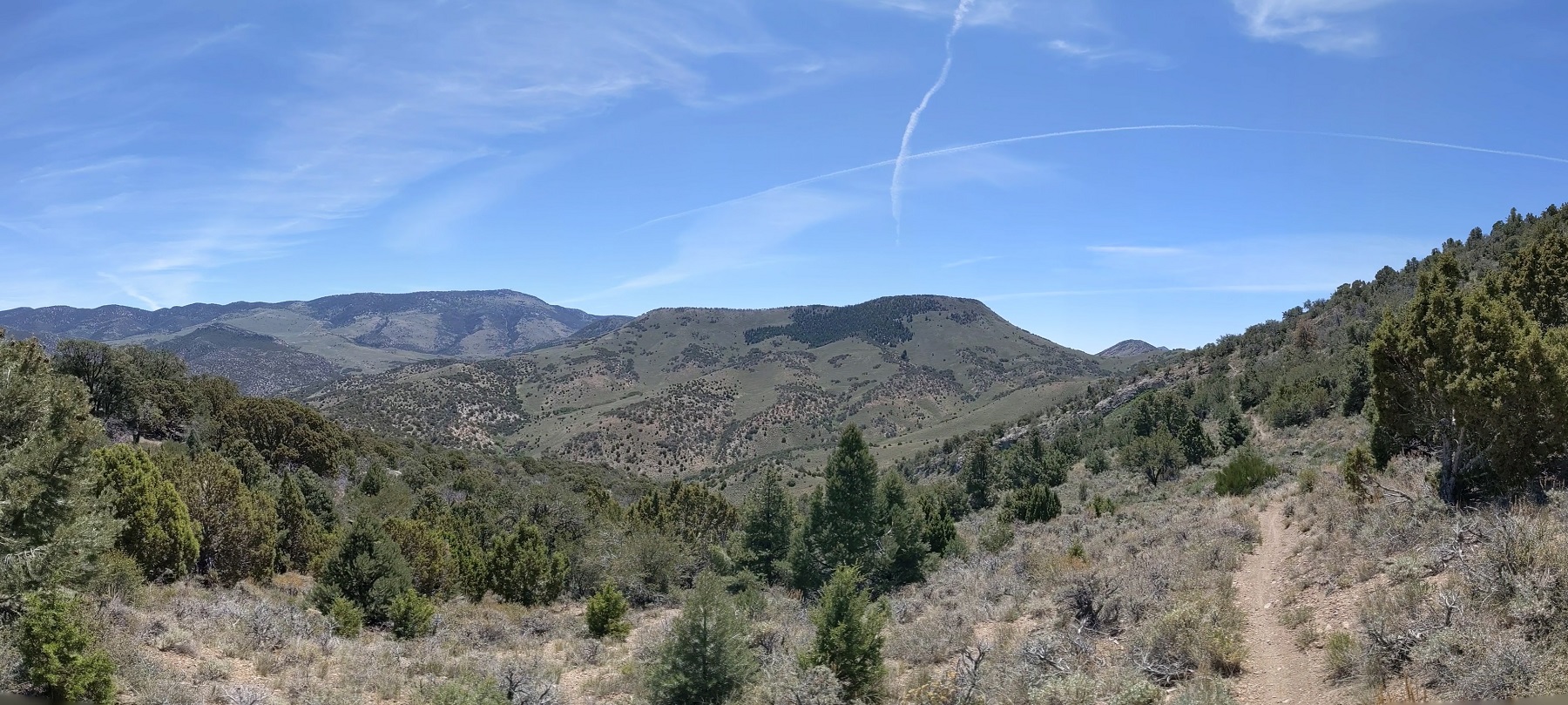 Cool rock outcrop and a nice view of the mountains west of Ely. The descent was a bit pedally but pretty fun. 10 mi and +/- 1,800ft

I decided to bail on a third ride, Whorehouse DH, and skipped out of town after a swim and some food. 6 hours driving to Ketchum.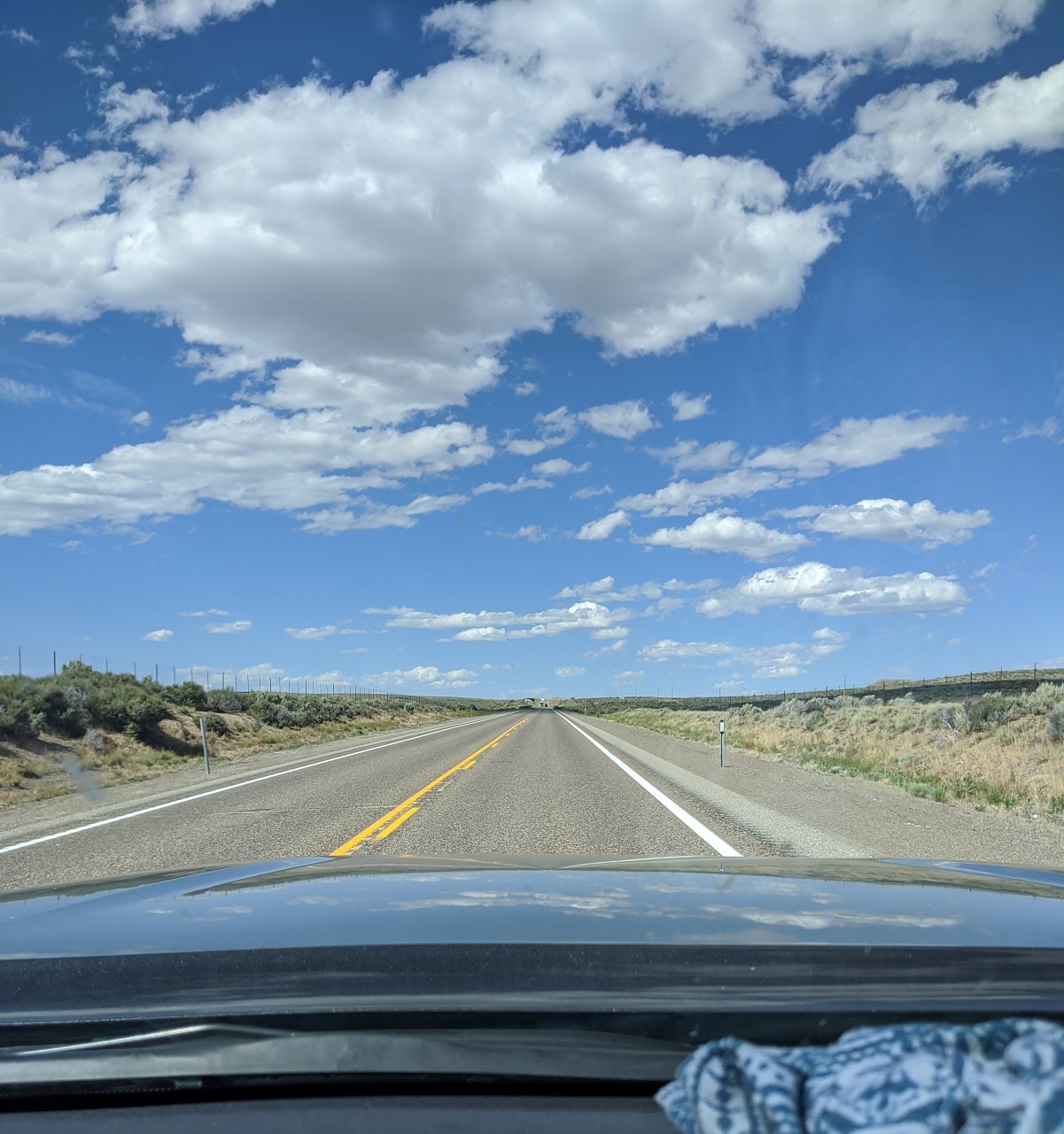 Ride 3
Got to Hailey just before 8pm which left about 90min til sunset. I'd heard the Croy Creek trails are fun and an easy pedal so I headed there rather than something further away in Ketchum.
The sun about to leave me in the shadows as I started the ride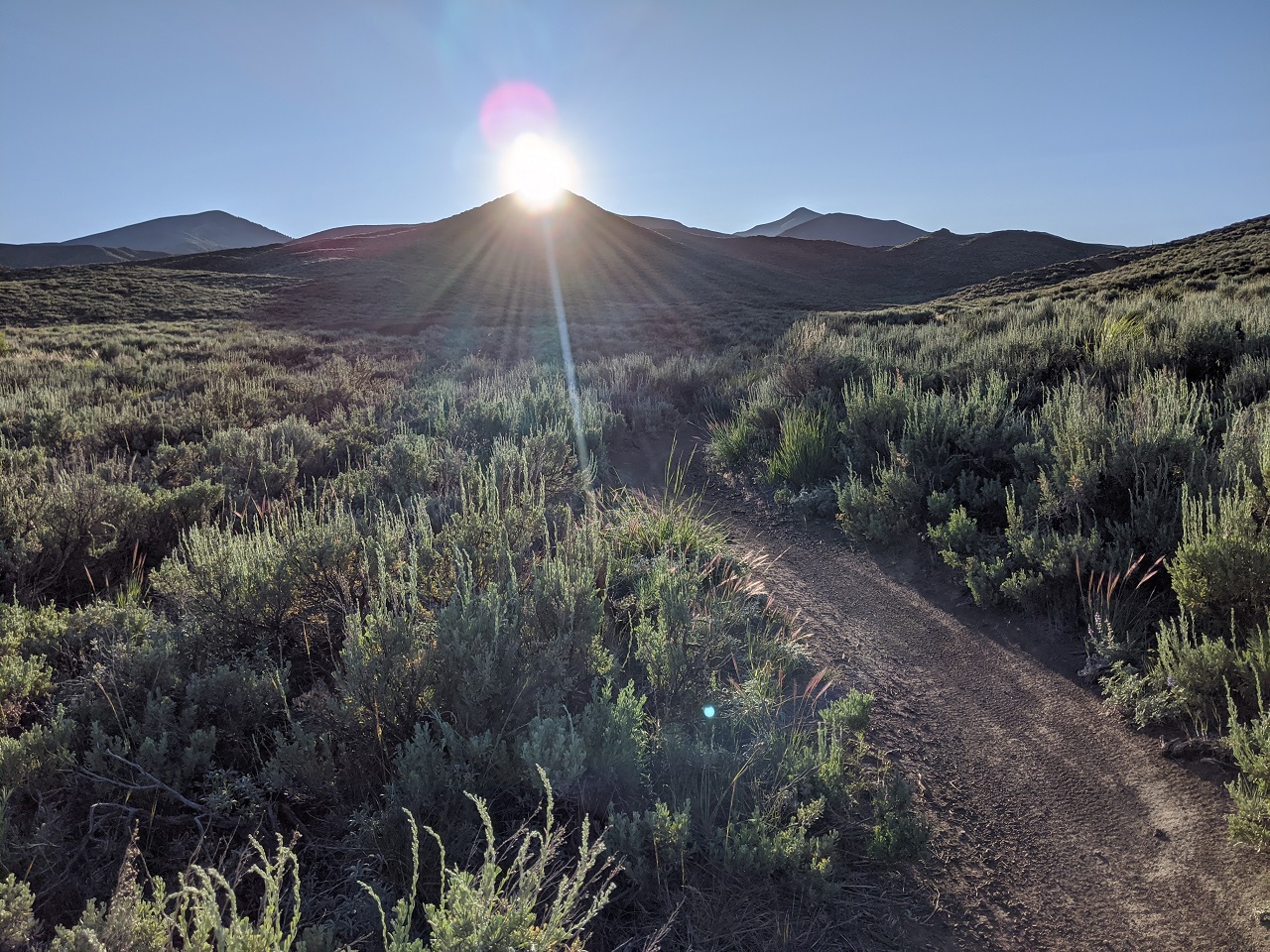 Came across this on the trail a couple miles up. WTH? It looked like a 20" earthworm or a rubber toy. Turns out it's a northern rubber boa, and apparently quite rare. It was either extremely docile (barely moved even when picked up) or injured. Was hoping it hadn't been run over, so I moved it off the trail.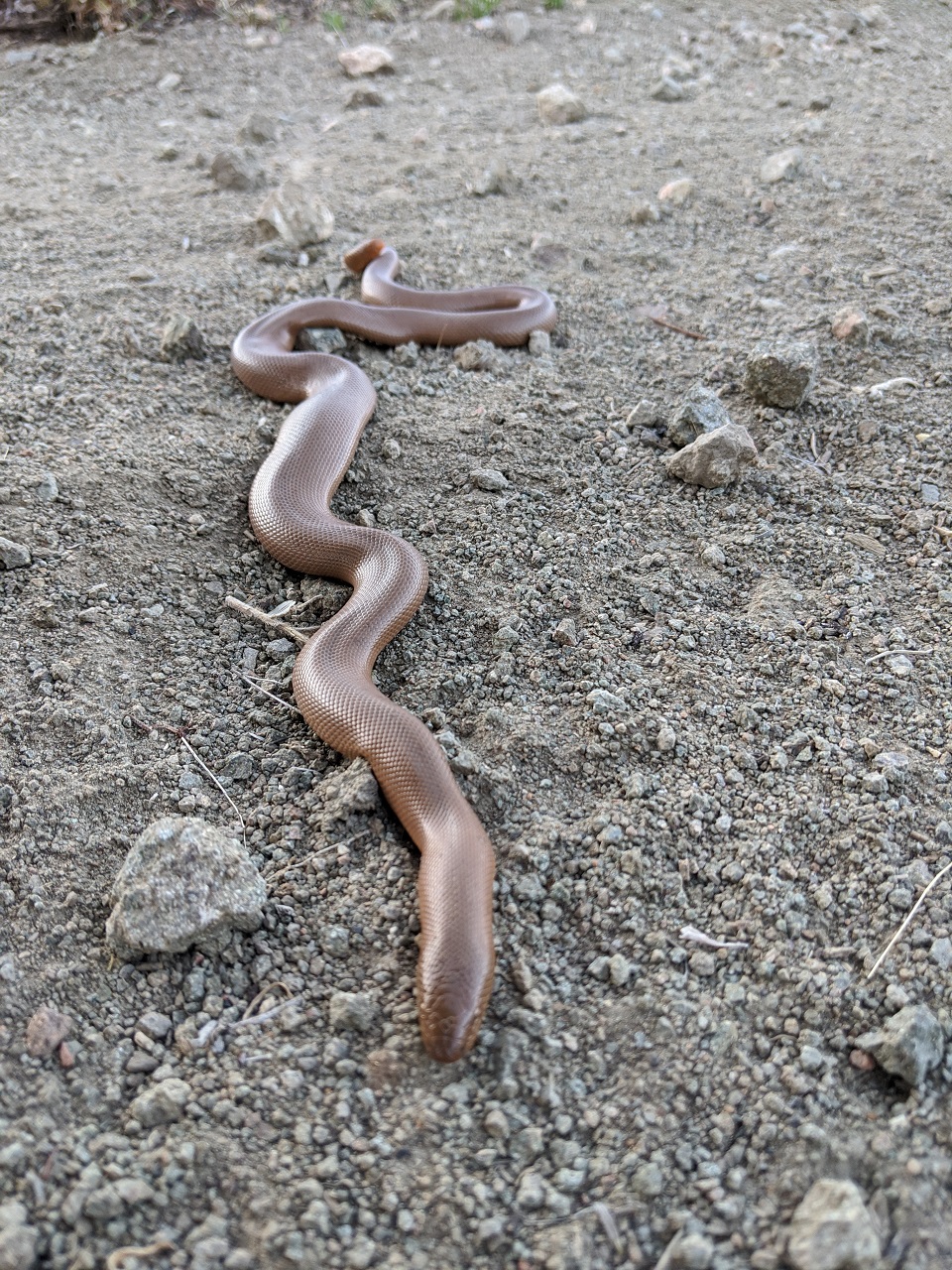 Some great views up high in the back 40. The climbs were very mellow. This would be a perfect network for a singlespeed.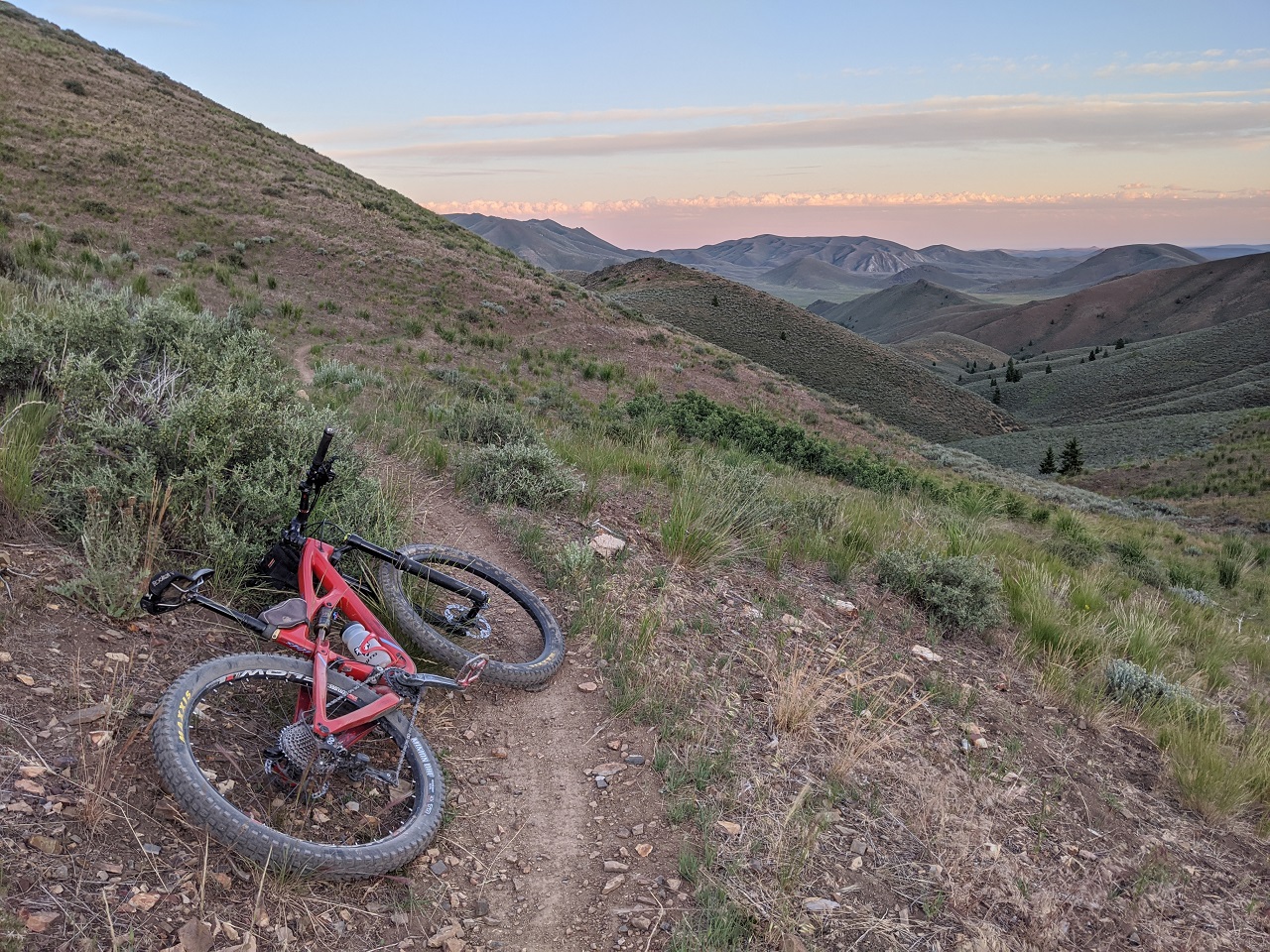 Around the corner, looking north. Last alpenglow fading on the mountains behind Sun Valley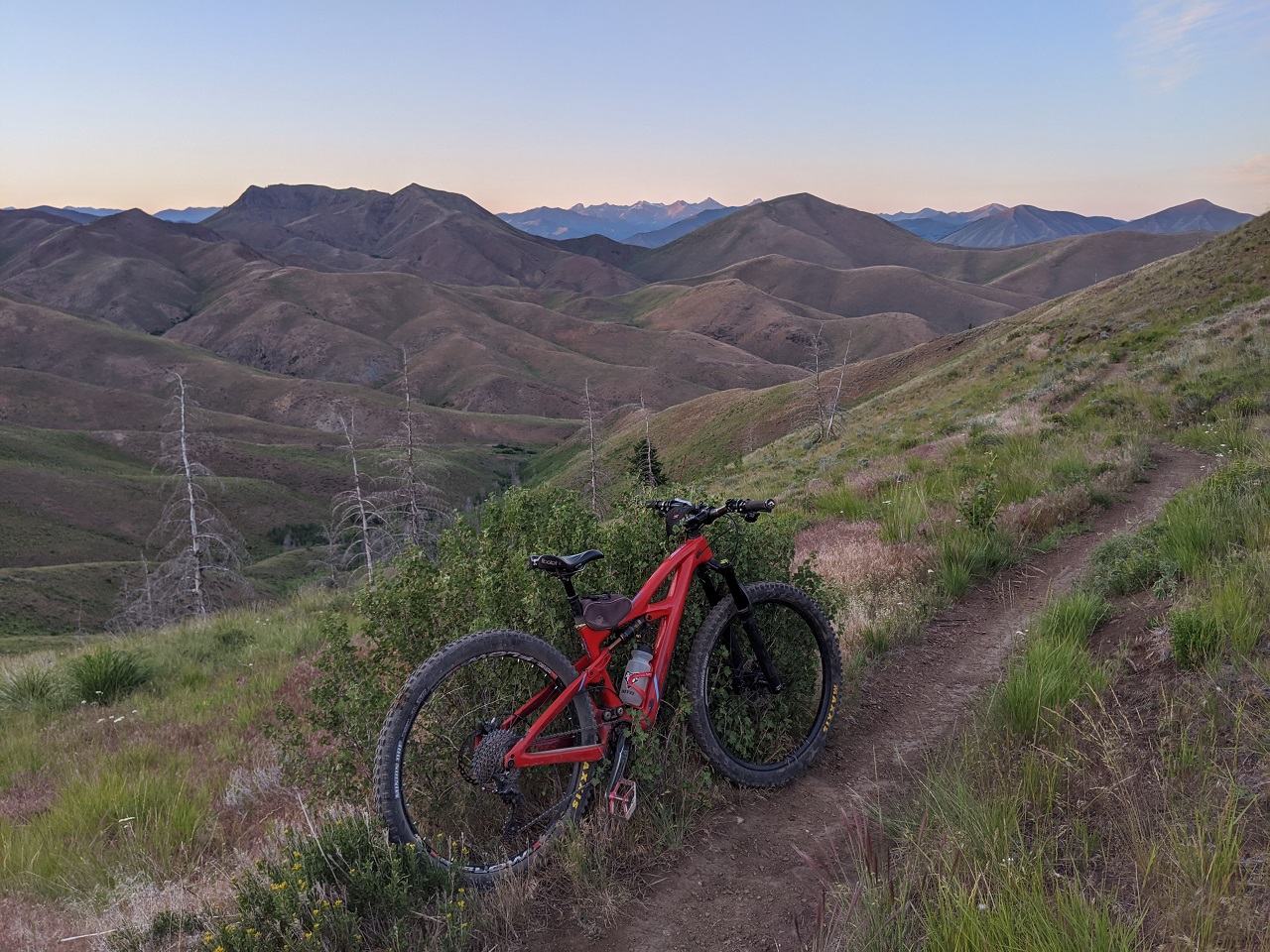 Using that seems to be asking a lot these days, generally speaking
Finished just at dusk and didn't need my light. Definitely a fun little trail system. Part is open to motos and the parts I rode would make for a great beginner moto ride. I was half hoping I'd have time to come back as I am usually too chicken to take my dual sport on singletrack in case I lay it down below the trail. These trails seemed like they'd be fun, and safe for a noob.
9.5mi +/- 1,350
The combo of riding til dark, late sunset and restaurant Covid schedules has been a pain for months and Idaho was no exception. Fortunately I had half a breakfast burrito left which was more than enough, and I set off in the dark to find a spot to camp.
Showing up mid week proved to be a good move as a lot of dispersed sites near town were still open. Some spots had a camping limit of 3 days which was perfect for me. I nice got a site 1/4 mile off the main road. Perfect...