Day 7
Schillingsworth had all day Friday to ride and we'd been throwing around ideas. We settled on an Arizona Trail point to point from Tiger Mine near Oracle to Kelvin. The 90 miles or so from Oracle to Superior is some of my favorite riding, and since we'd already done Picketpost to Kelvin it would be cool to ride the rest of it too. We agreed to meet at Kelvin TH at 7am. There are two of those and of course I had a brain fart and went to the wrong one on the south side of the river. So we were a bit late getting started. What's new....
I was getting drowsy driving down the night before and opted to camp at Picketpost TH. Got a nice view of the mountain at first light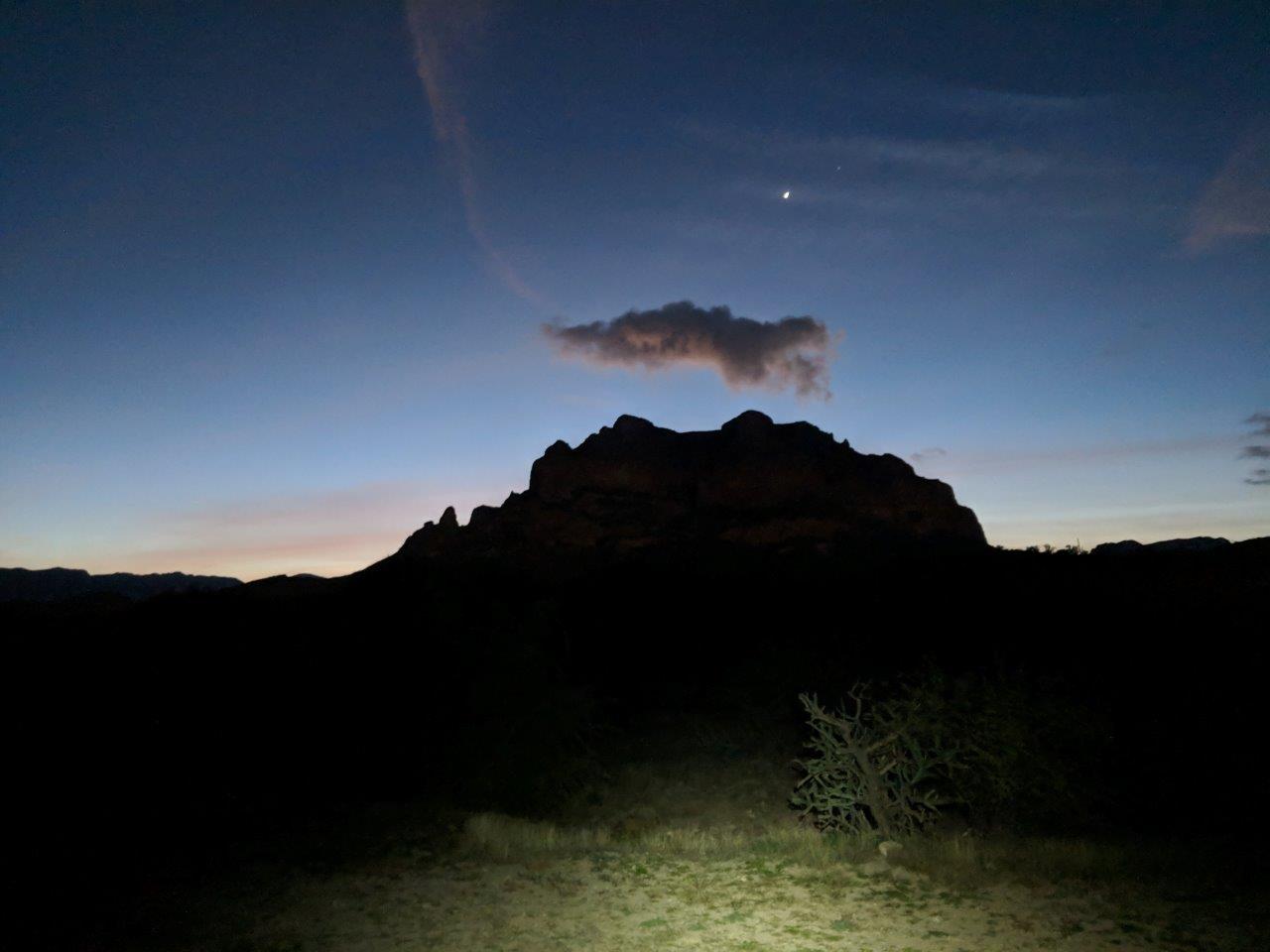 Lined up at Tiger Mine trailhead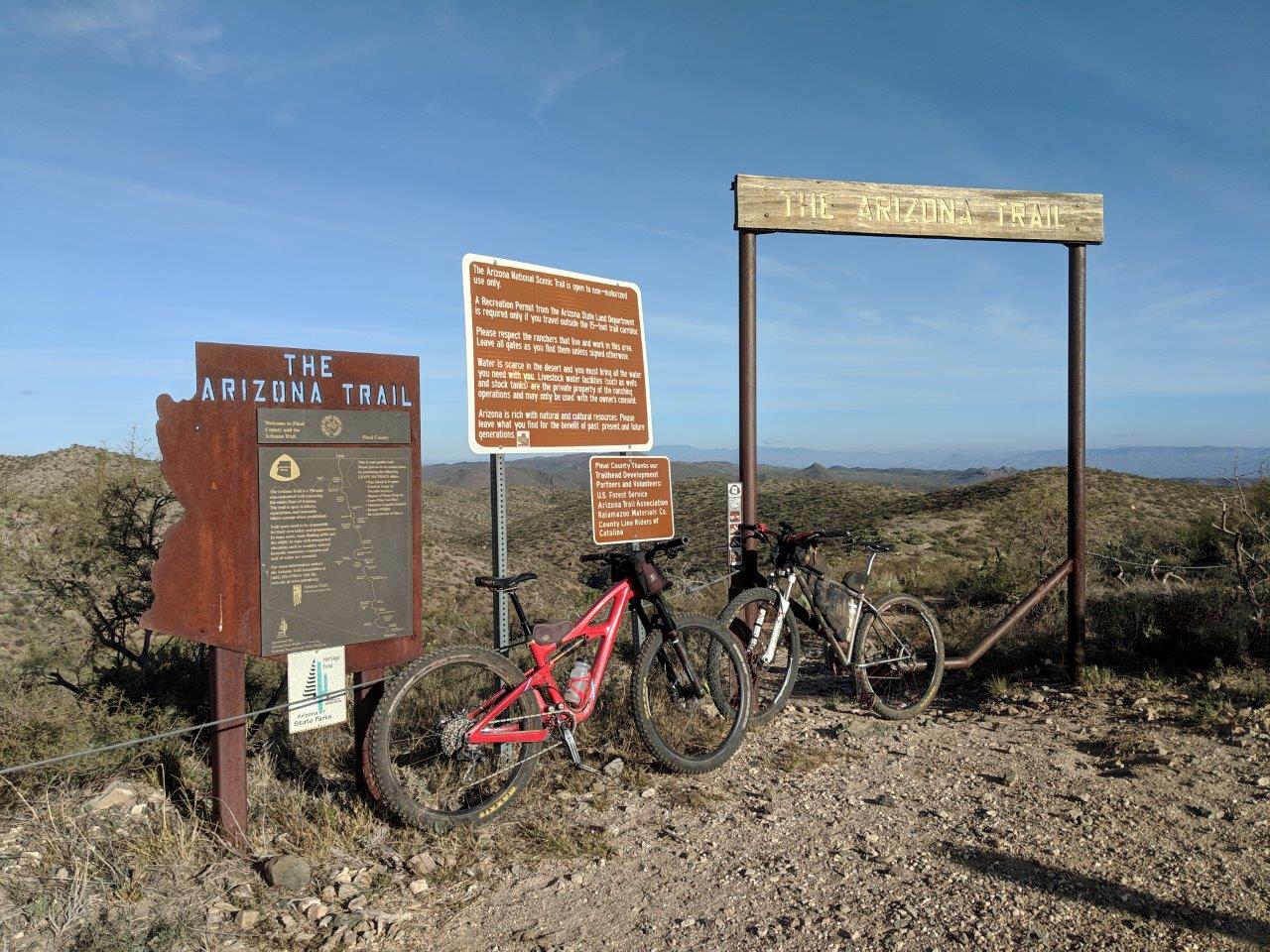 And they're off. The small bump to the left of the sign is Antelope Peak, which is roughly the mid point of our ride.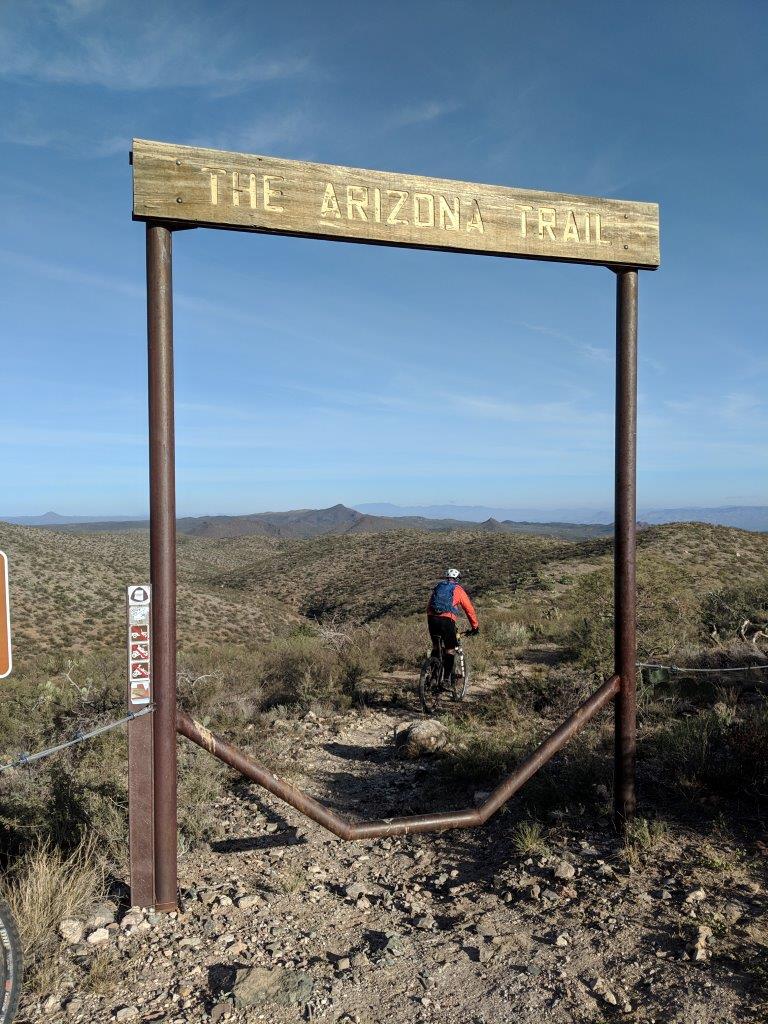 This first segment is the Black Hills. Until today over half my time riding here had been in the dark (AZT 300 and Gila 100). Was nice to ride the whole segment in daylight, and with perfect temps.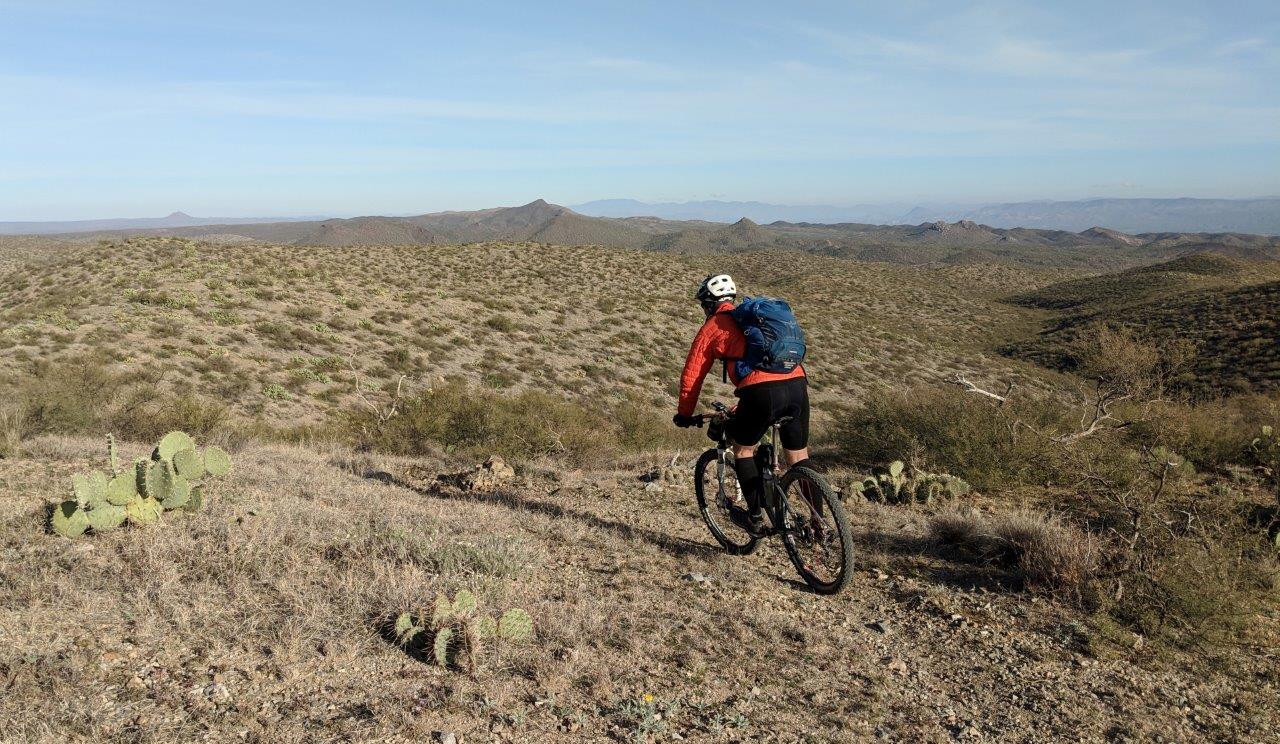 Mt Lemmon made for a nice backdrop for a while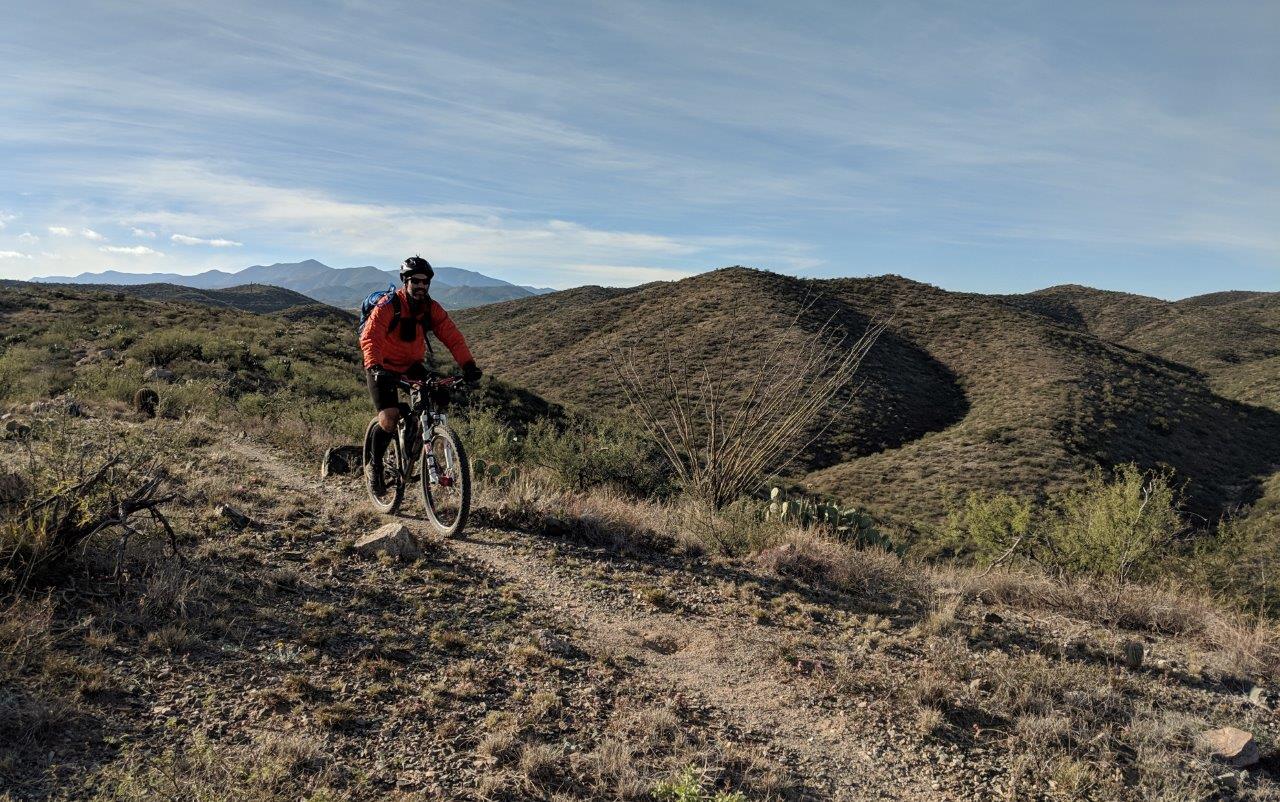 It was somewhere up on this ridgeline we started noticing a helicoptor buzzing around in and out of different drainages. It eventually moved over toward us and we realized it was herding cattle. Cool to see, but that's gotta be some expensive cattle herding.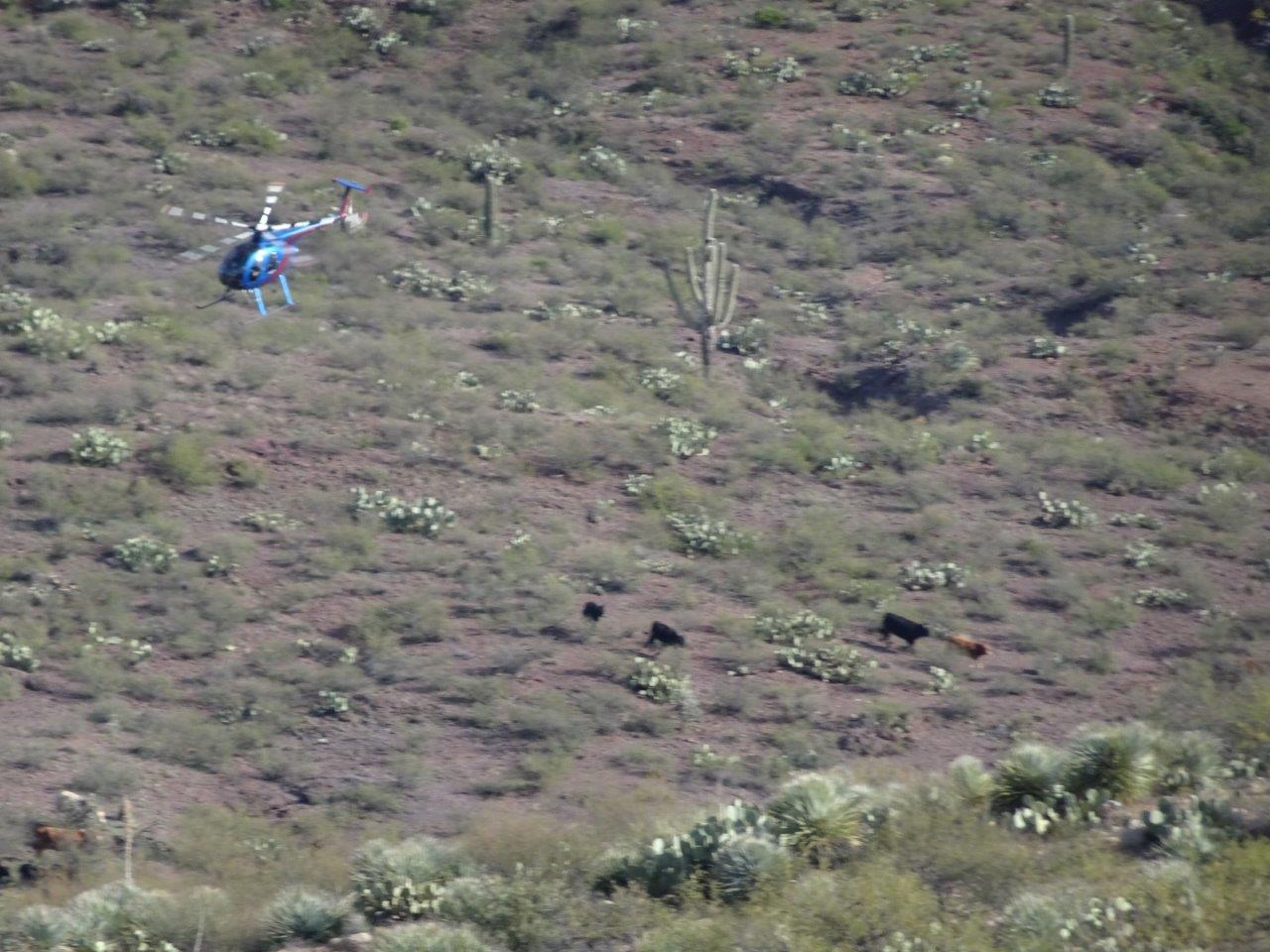 There is some really nice singletrack on these sections and it isn't heavily used. Crews have been out the last couple years working on it too, so its mostly in pretty good shape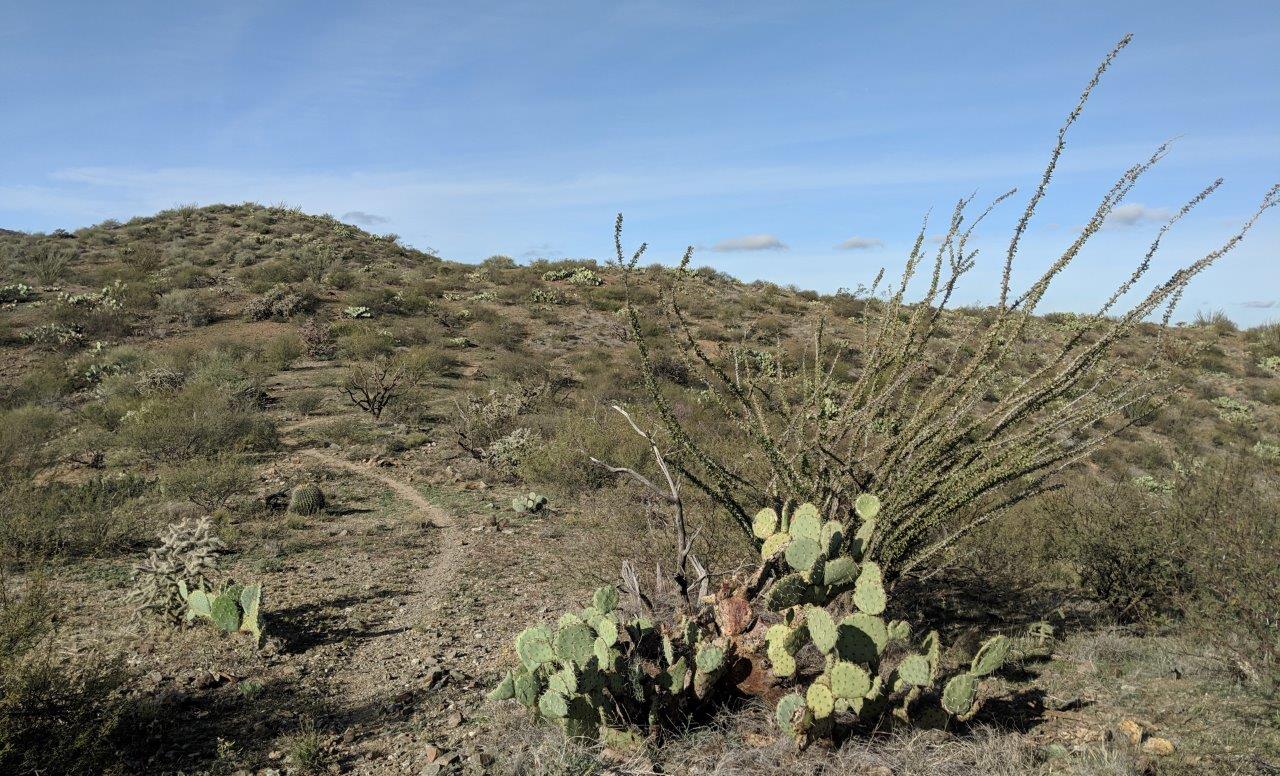 Lots of cactus and catclaw but it is kept trimmed back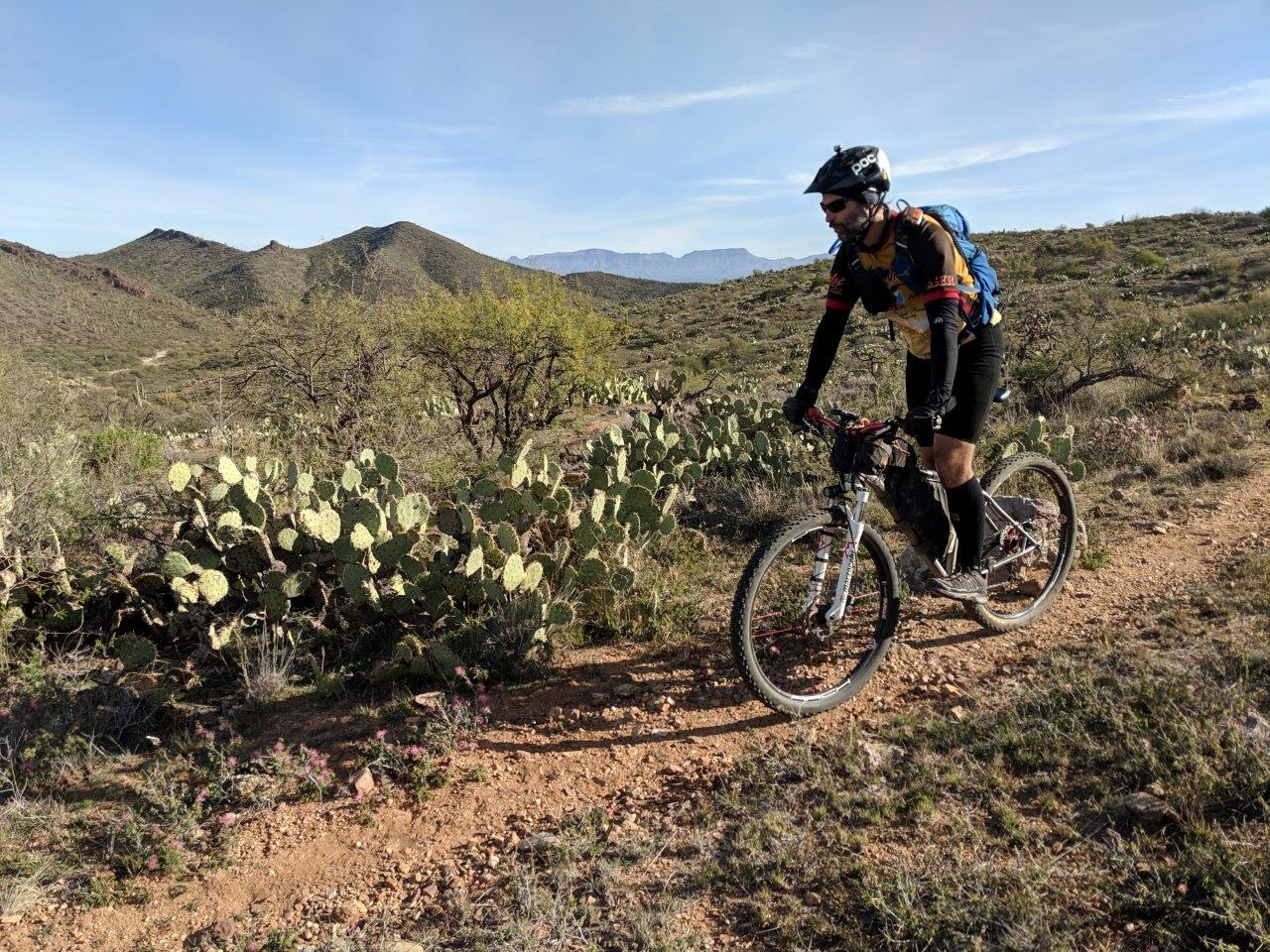 Don't take these corners too fast though!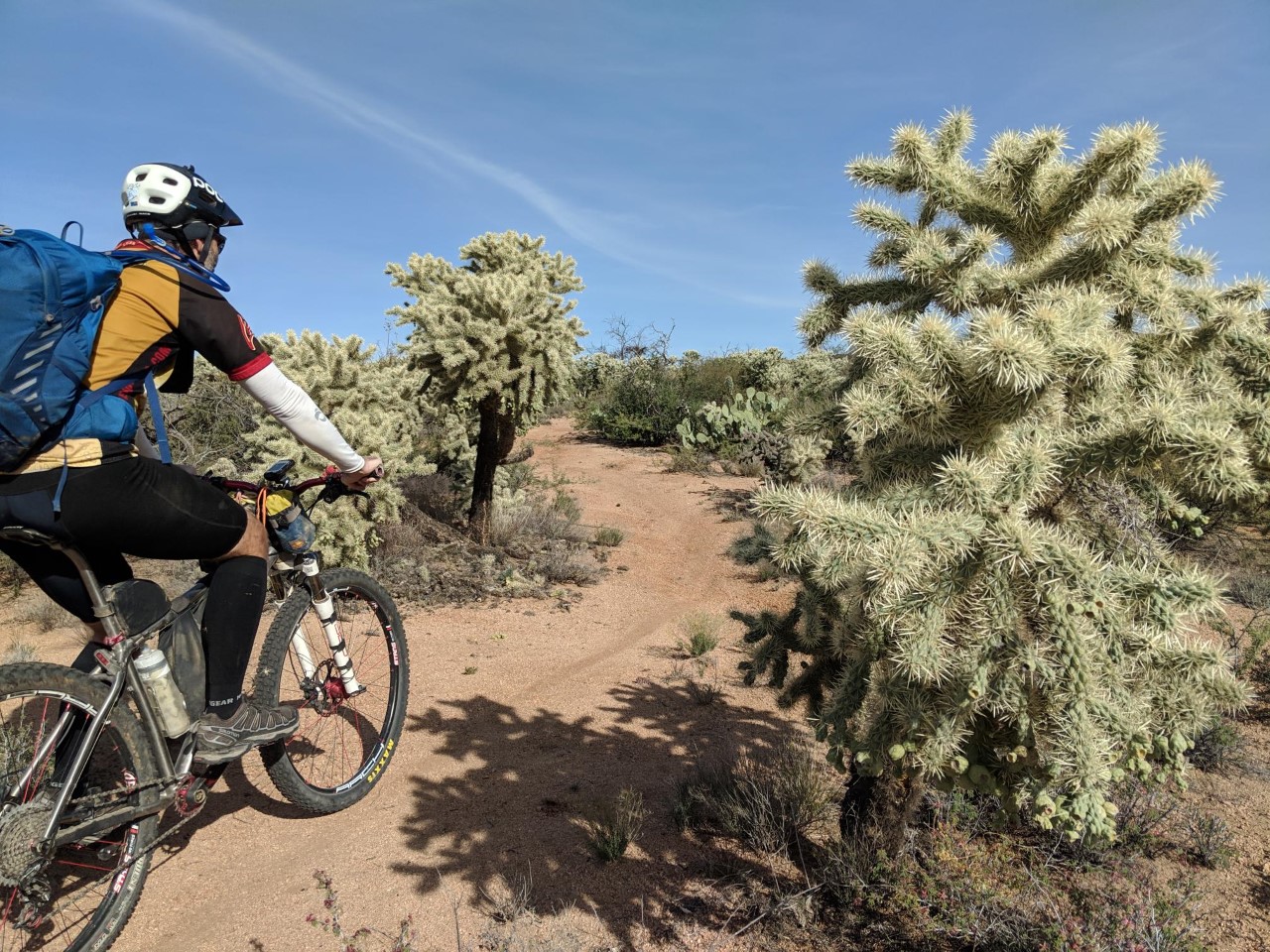 ...the high pressure gas line isn't the only thing to be cautious of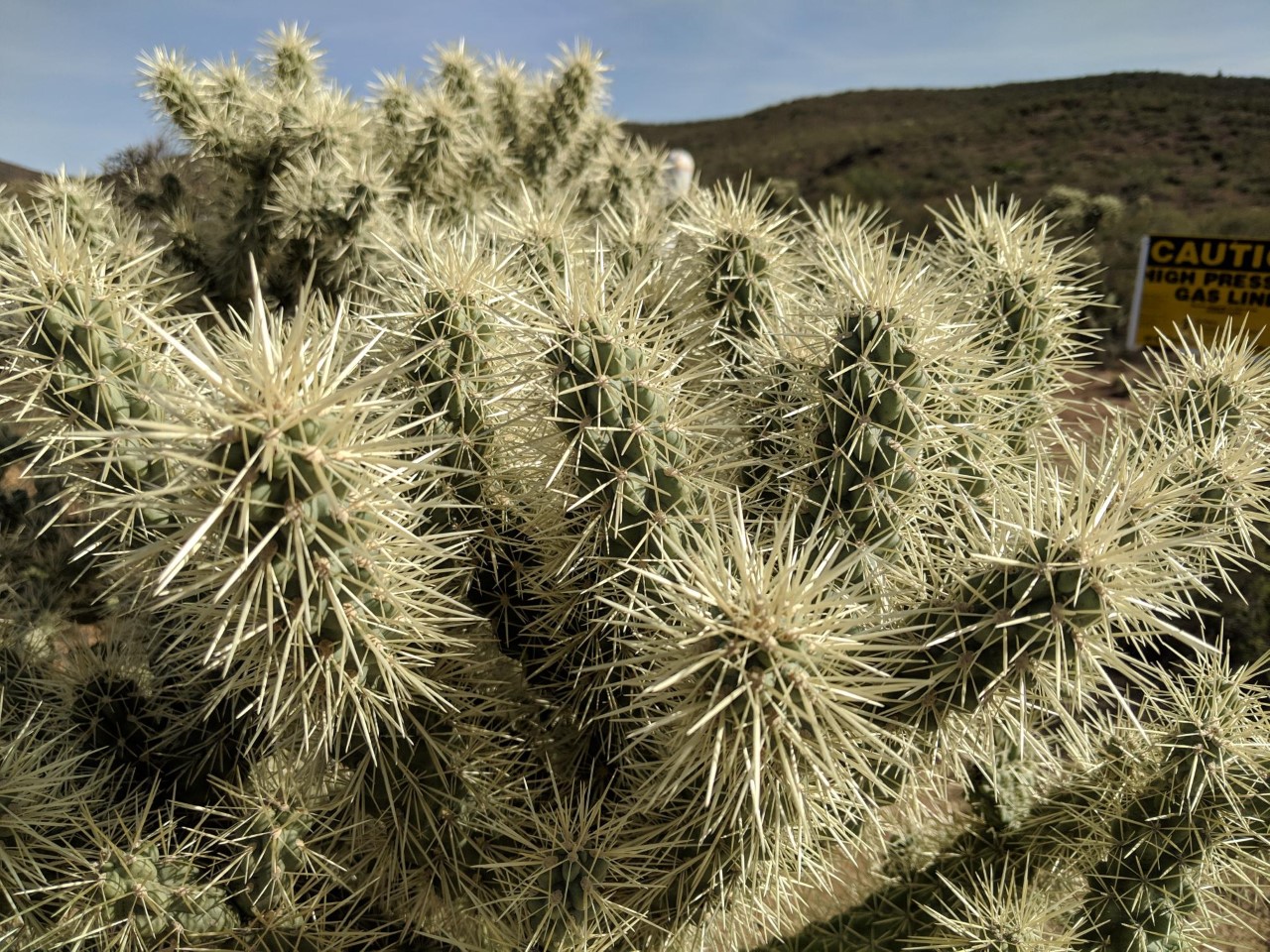 Still climbing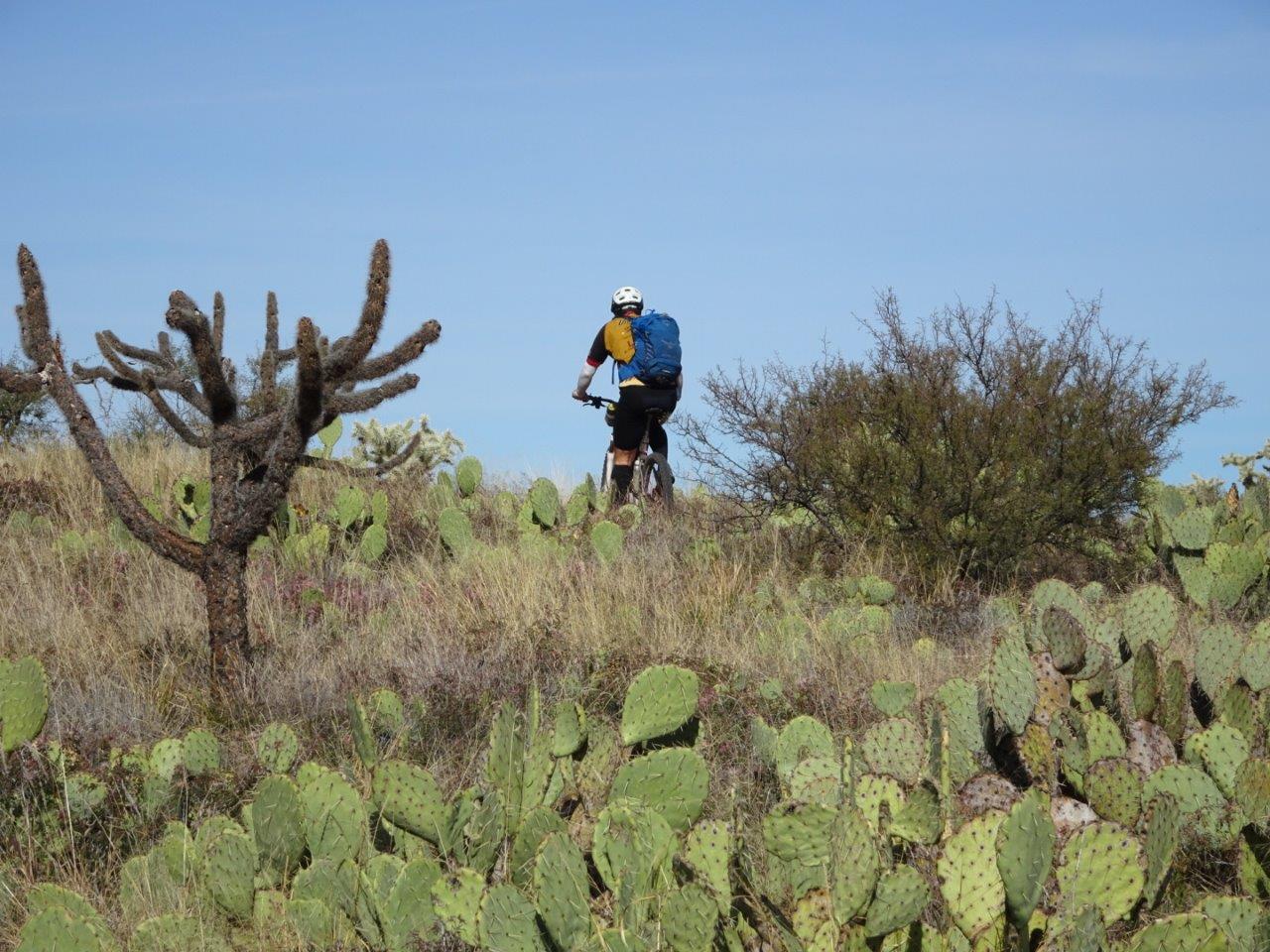 Lots of big views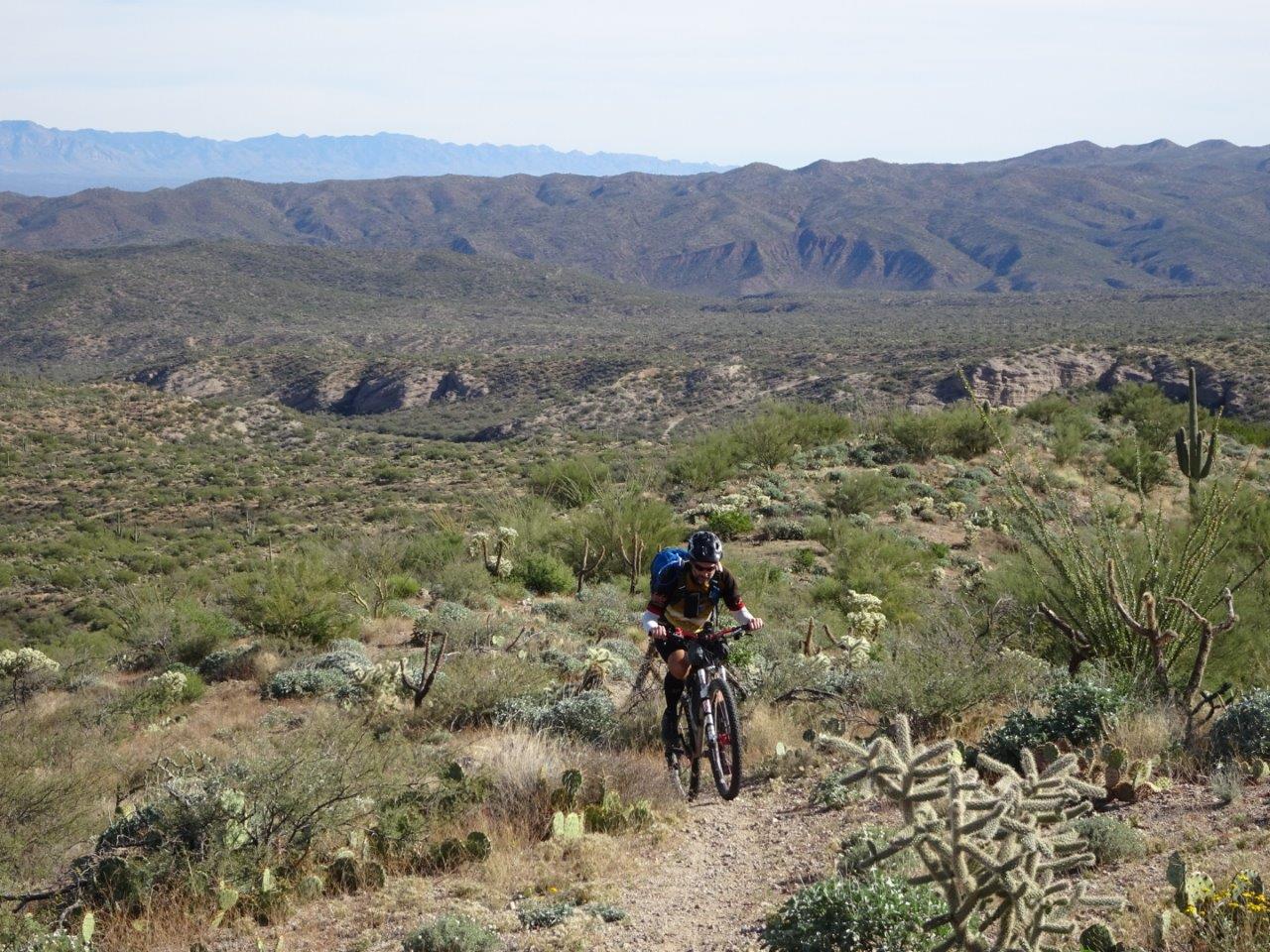 And even a bit of color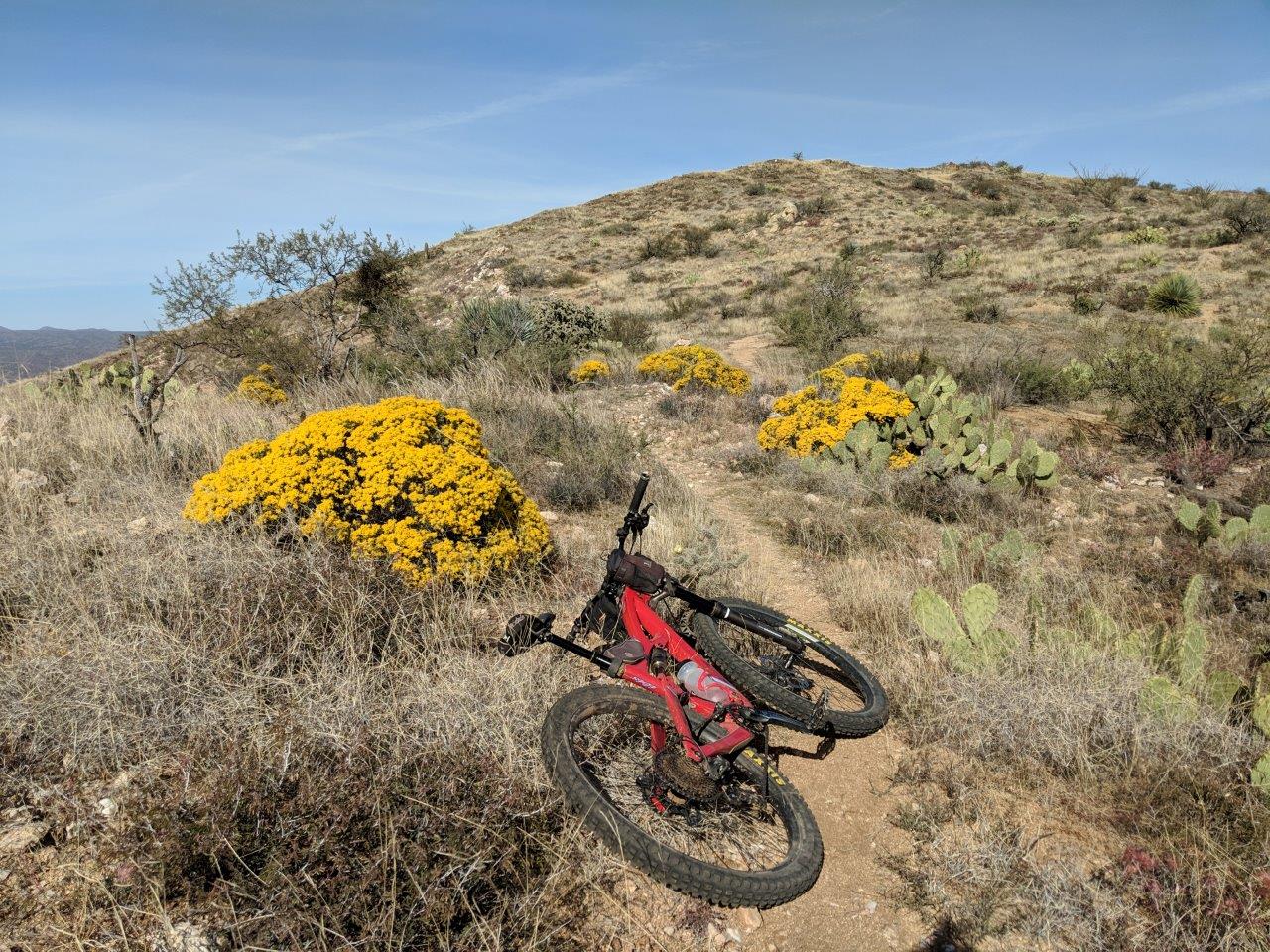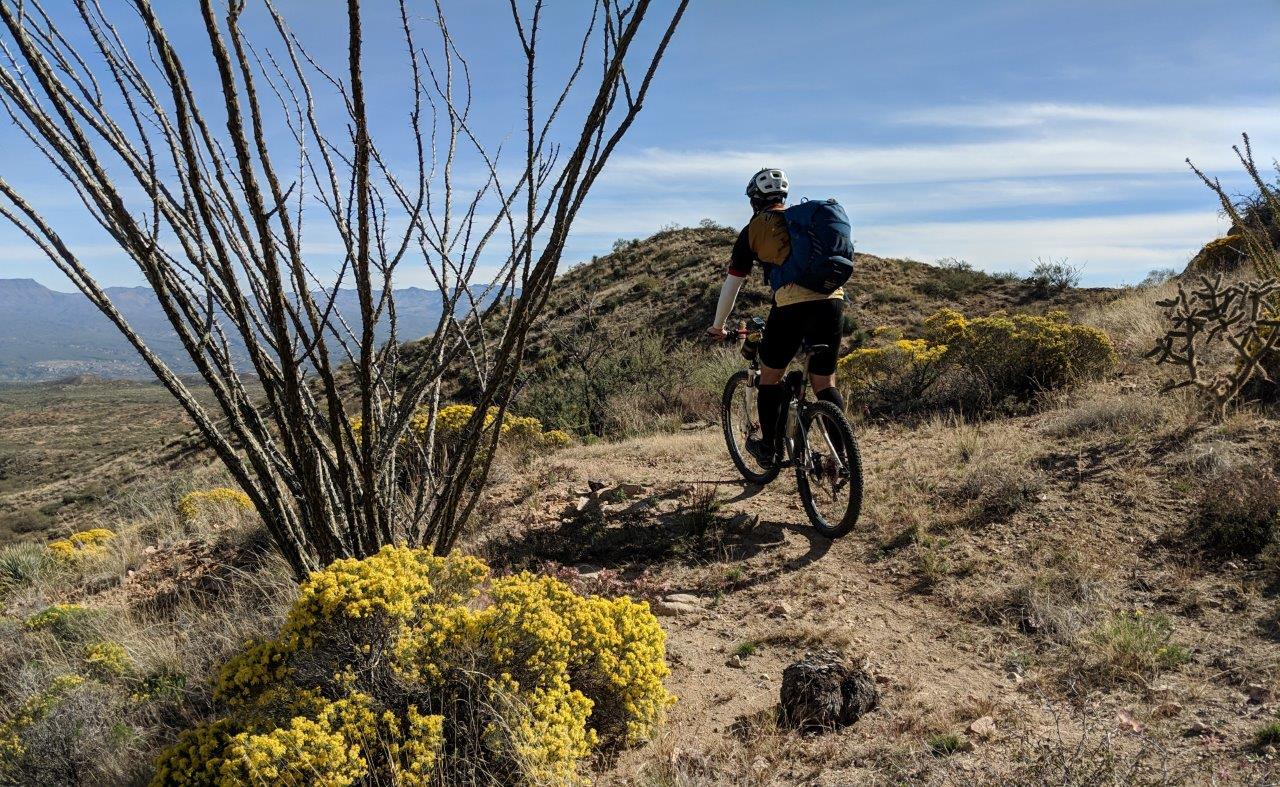 One of the coolest parts about this ride is watching Mt Lemmon fade away into the distance at the same you see Antelope Peak getting bigger and bigger.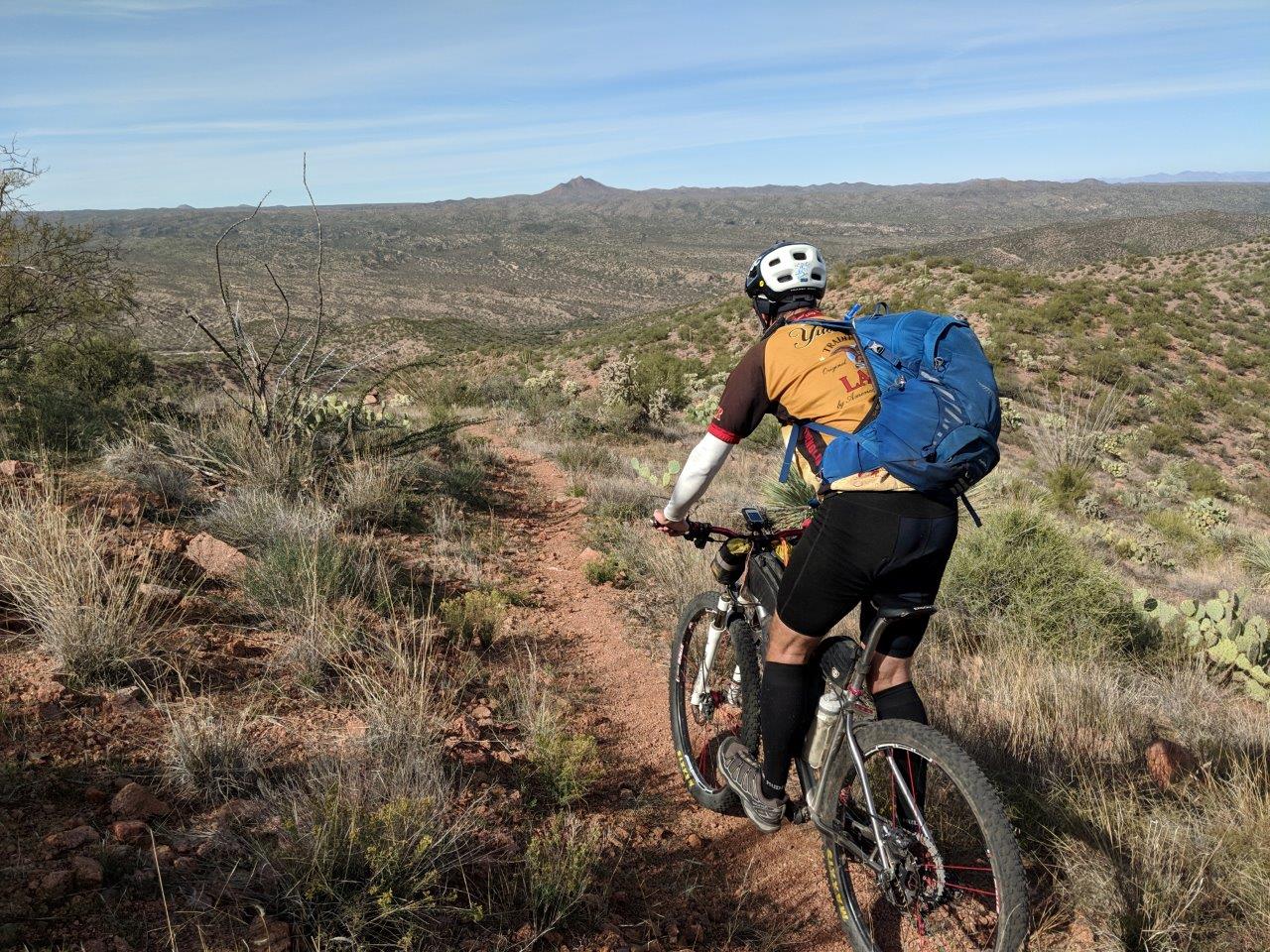 The Black hills segment has rolling terrain for 5 miles, then a 5 mile climb followed by a 5 mile descent, then is generally uphill for 10 miles to Antelope Peak.
Schillingsworth checks out a big saguaro as we start that 10 mile push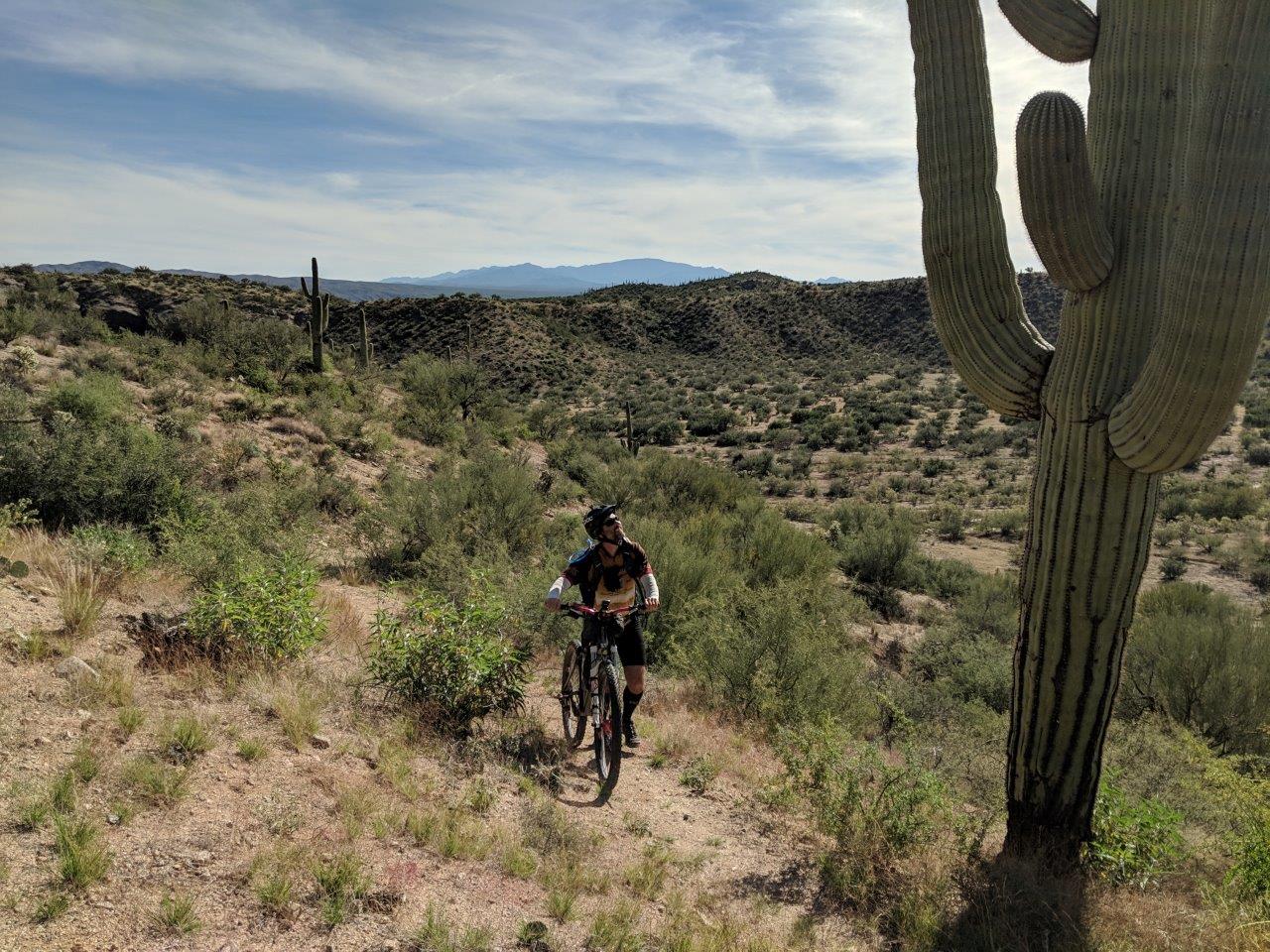 We were a ways behind schedule by this point so the revised goal became Freeman road by 3pm. We got to Antelope Peak by that time, but still had a mile of road and trail to get to the Freeman Rd trailhead.
Antelope Peak - or at least, a false summit in front of it.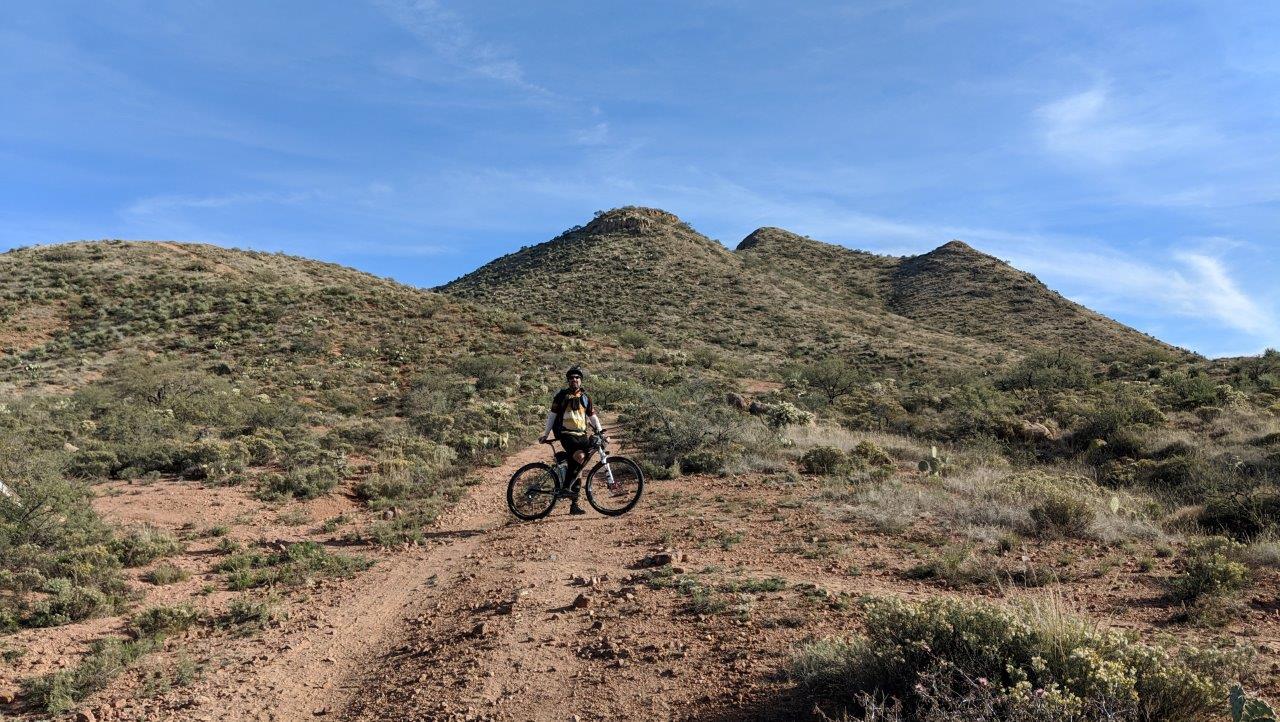 This shade structure is an awesome place to sit and take a break. Especially welcome in hot weather, which it wasn't today.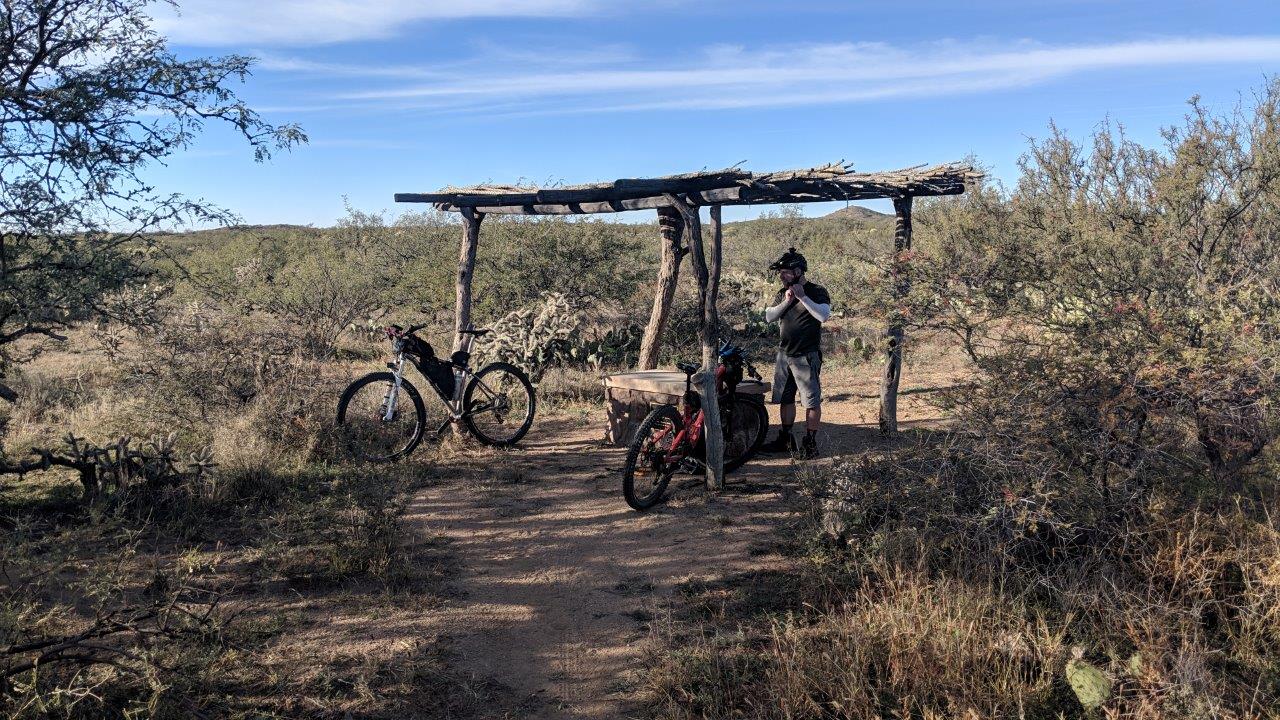 Pic by Schillingsworth
Signing in at Freeman Rd trailhead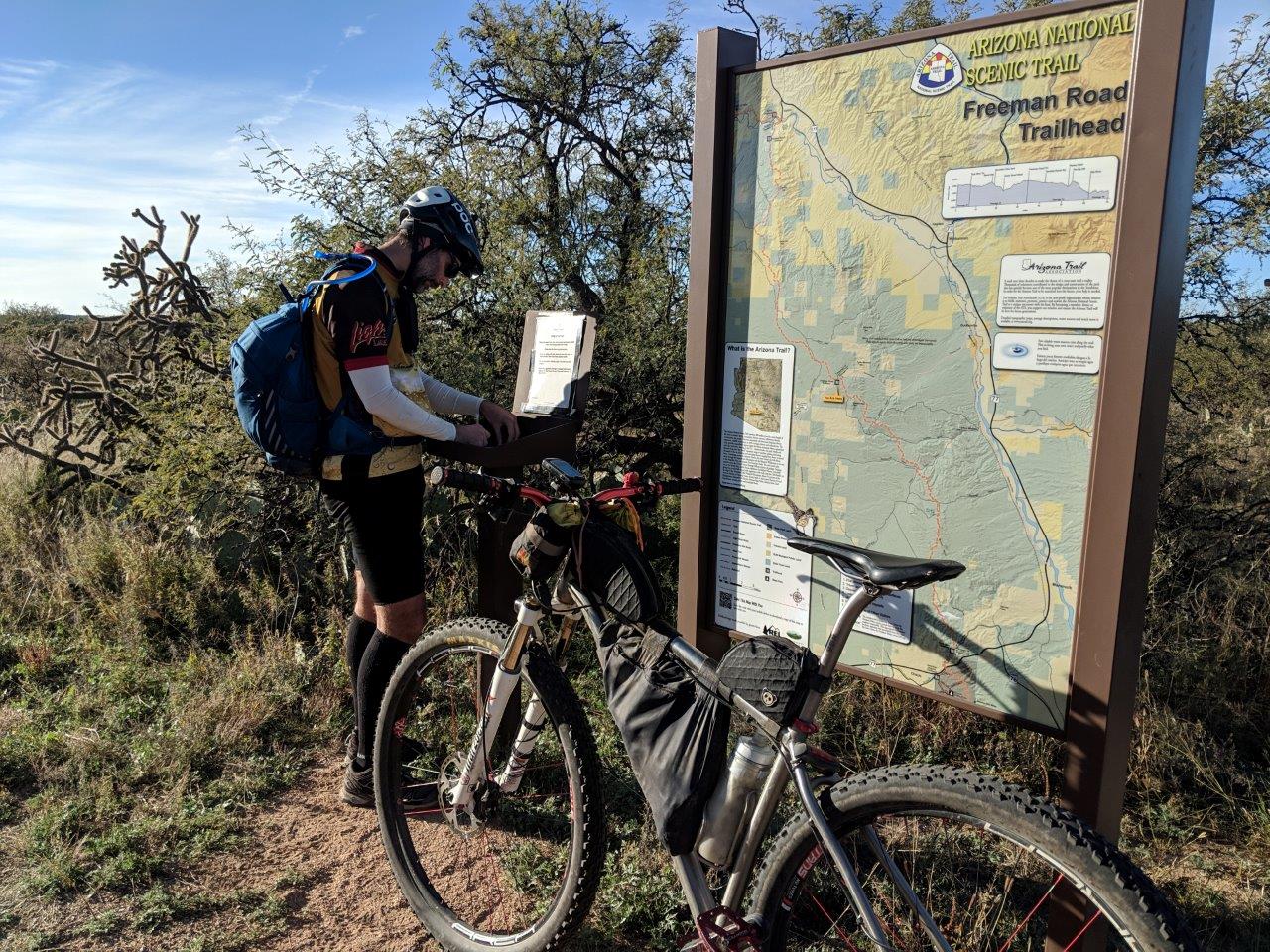 Our pace picked up on the Boulders segment which is flat-ish and relatively fast. Of all the gates on the AZT this one may be the coolest, weighted so you don't have to close it yourself.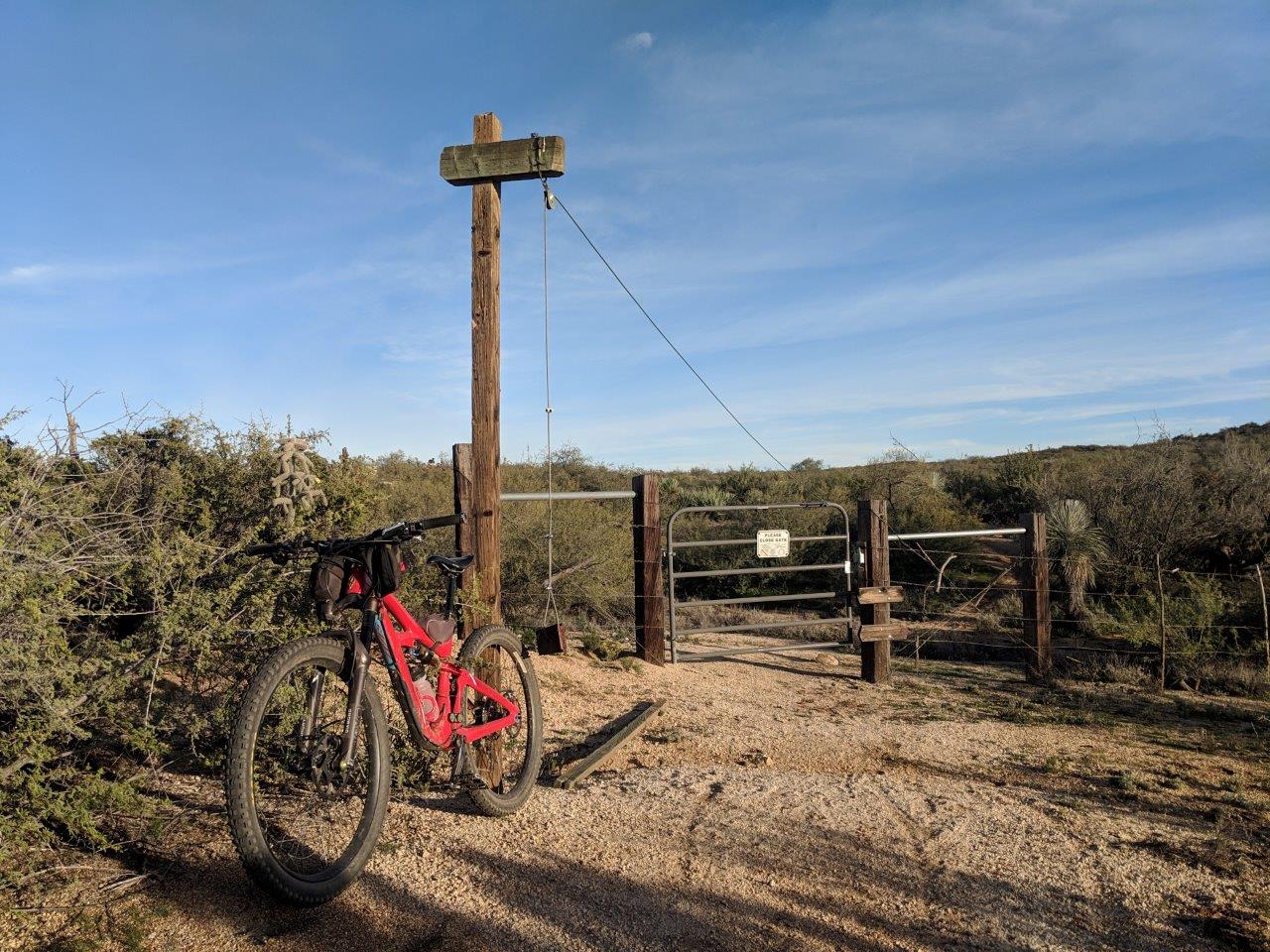 The namesake boulders of the Boulders Segment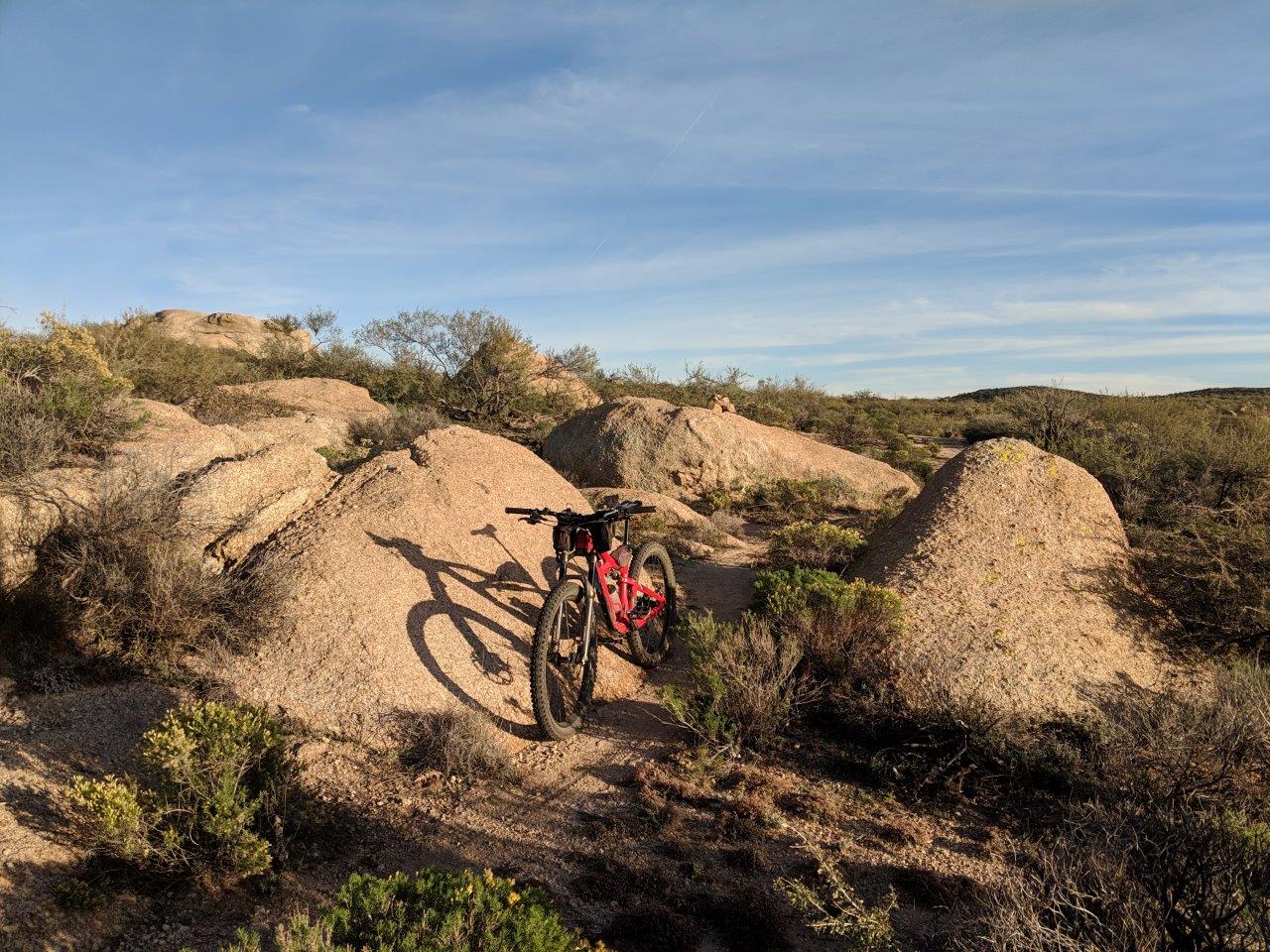 I always thought this one looked like a molar pulled from your mouth, but from this angle you can see why it's called Elephant's butt rock.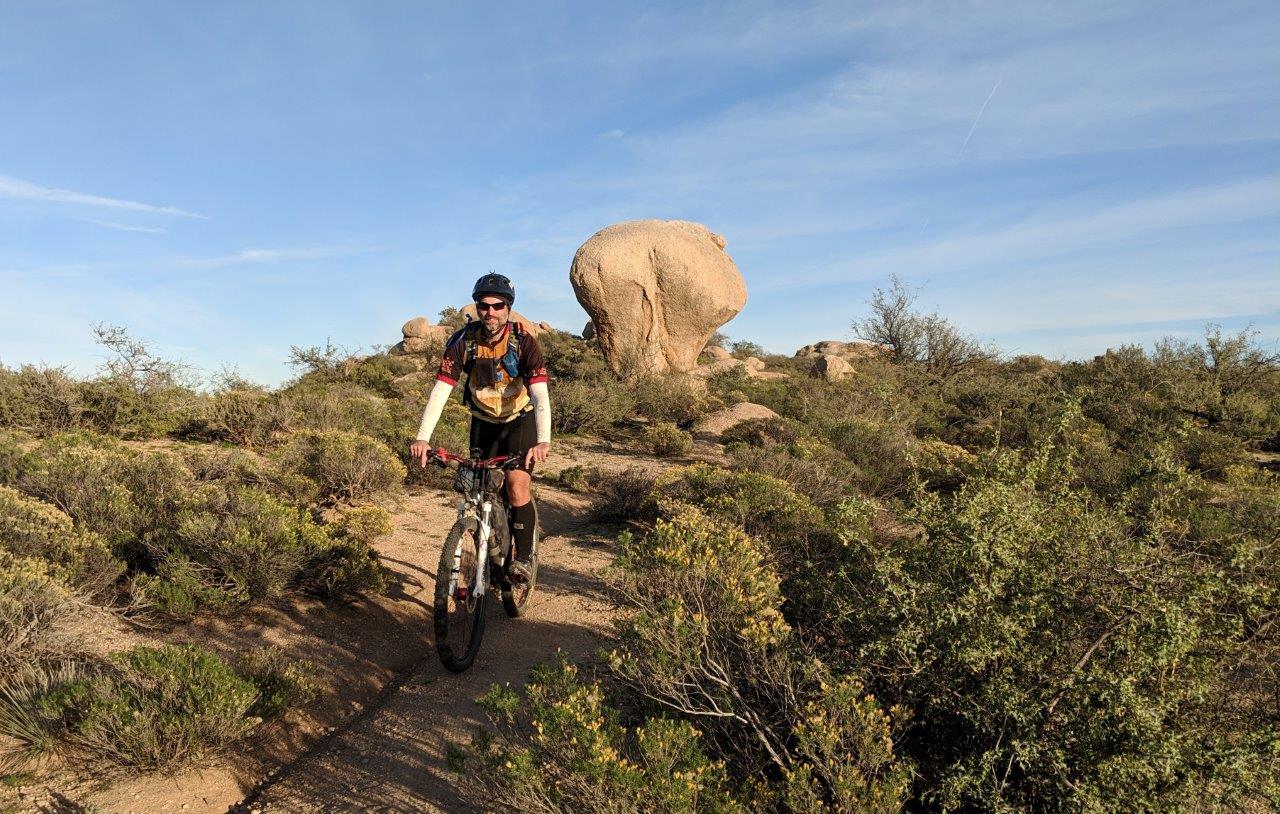 More big views. Schillingsworth pointed out all the mountains you have to go over or around as you follow the AZT north.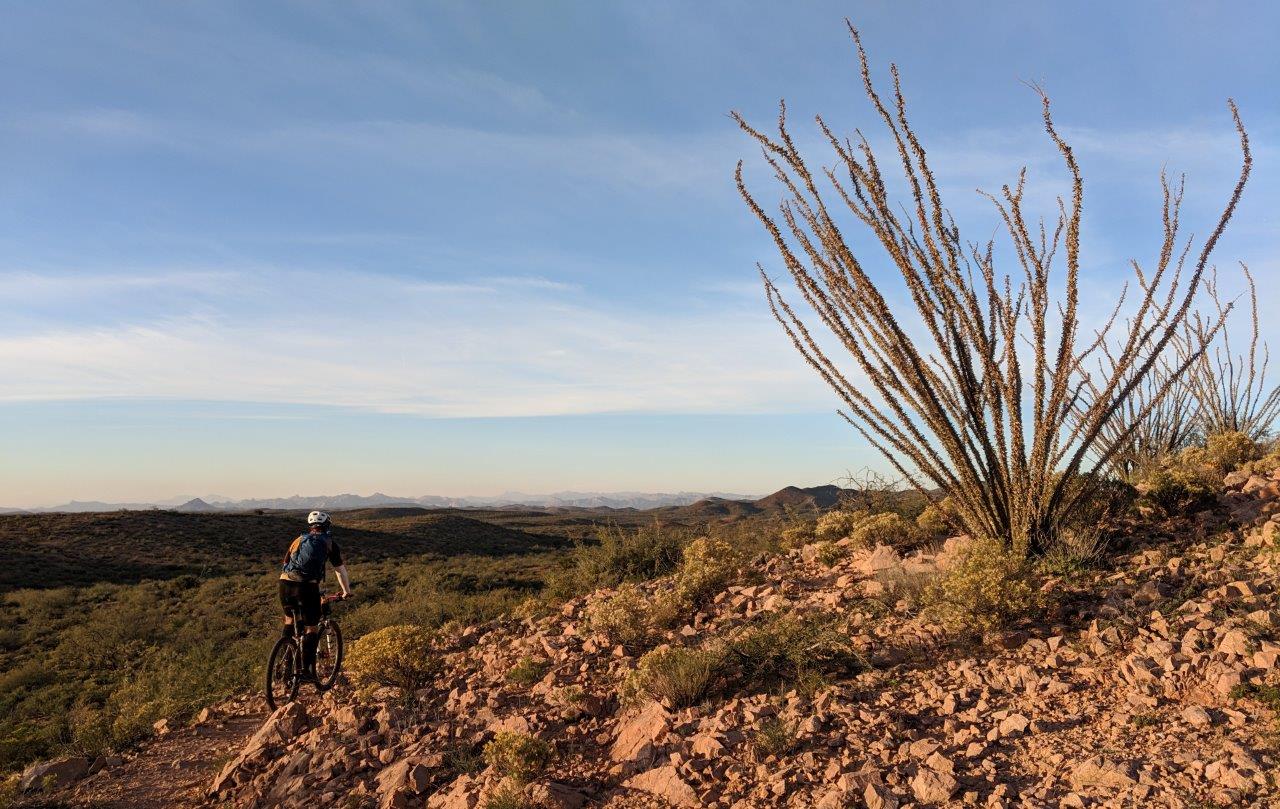 Not too much further along we crossed from singletrack onto a segment of jeep road and encountered our first trail user on the day. We had seen him that morning when he got dropped off at Kelvin trailhead and was walking the other way. Had been wondering when we'd run into him, now we knew. FWIW we'd ridden almost 40 miles plus our hour long drive in the time he had walked almost 15 miles.
We kept moving along as we were losing light. We hoped to get to the drop-in to Ripsey wash before needing lights. Almost made it....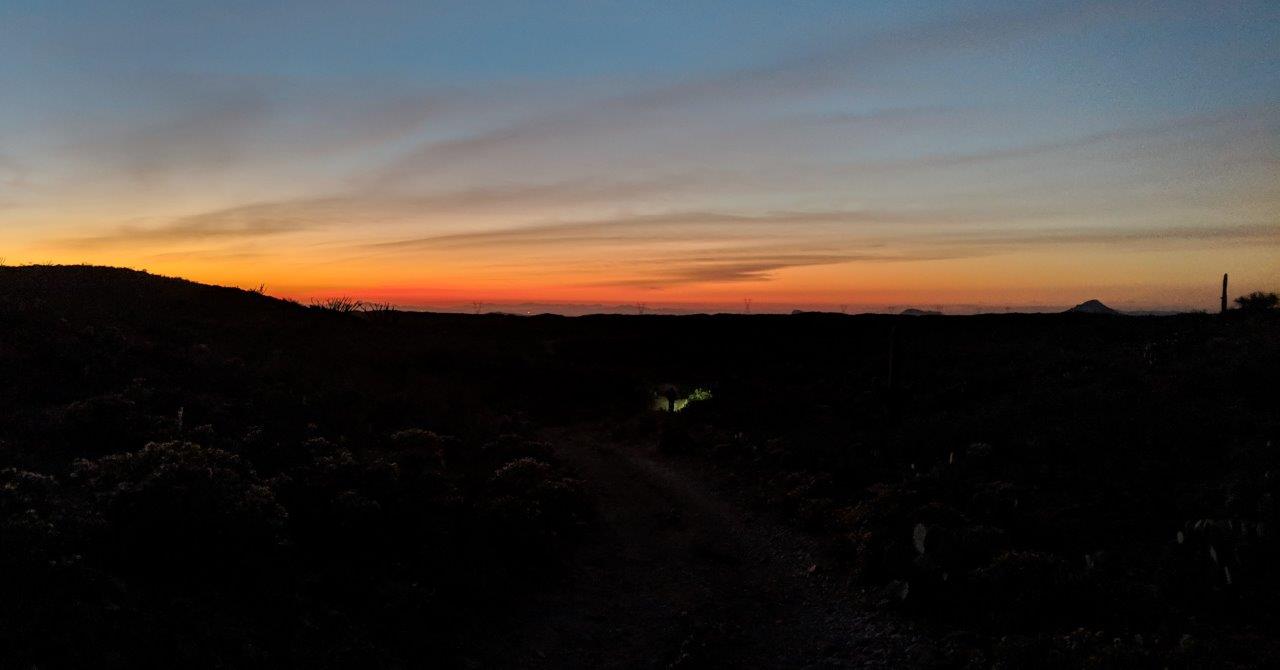 More full moon riding. Ripsey Ridge has awesome views in the daytime but being up there under a near full moon was something I'd always wanted to do as well. Though it would have been better to have watched the sunset from up there too. As we dropped into Ripsey wash we could see a couple headlamps up on the distant ridge. The hiker had told us there were some people camped up there and we were able to see their lights as our reference point all the way across and up to the ridge top. They had been watching our lights the whole time too, thinking at first we were vehicles in the distance.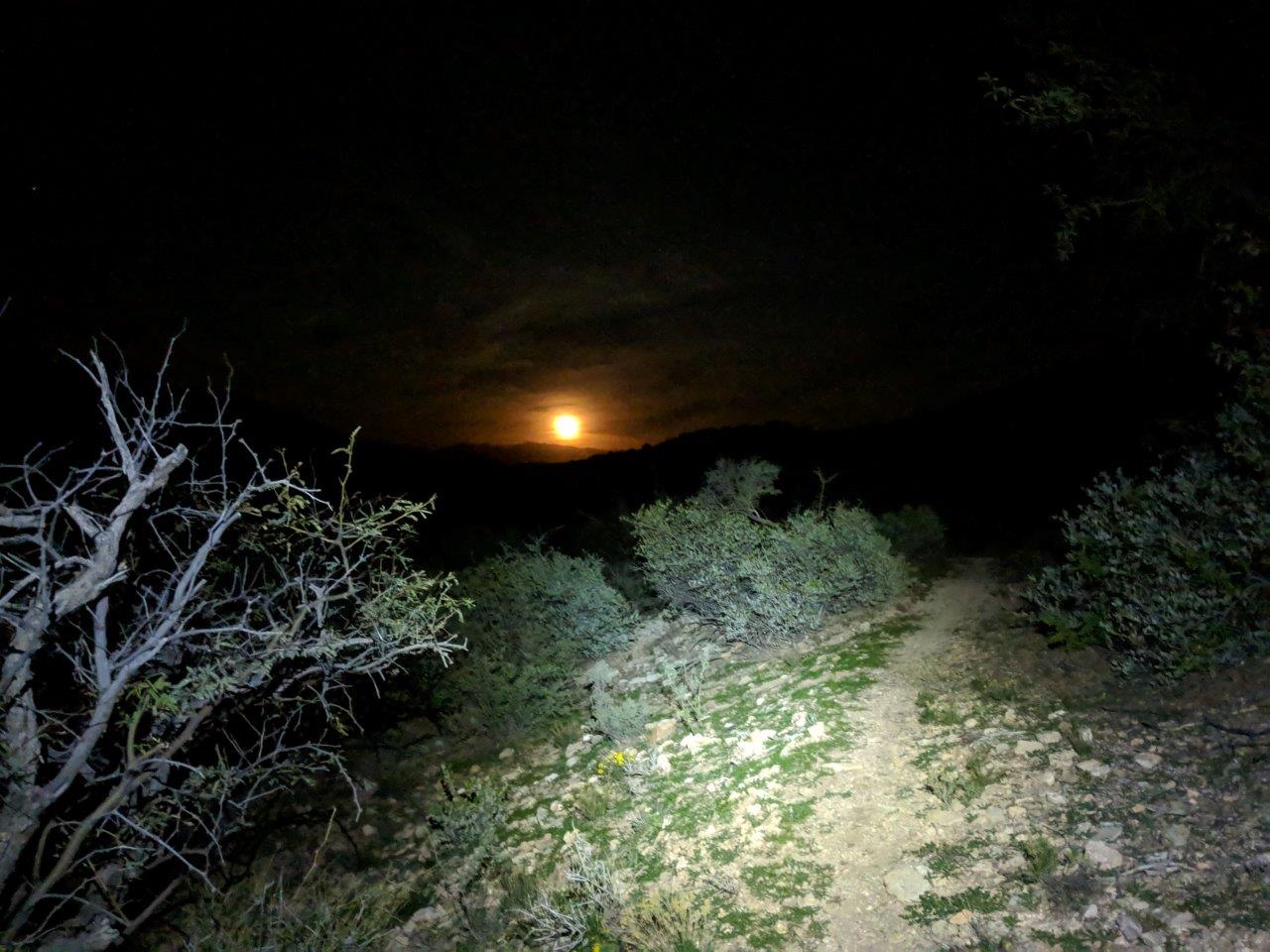 We said our hellos then passed by a short way. Schillingsworth wanted to try out the new night sight app Google released for the Pixel phones. First shot is with no lights.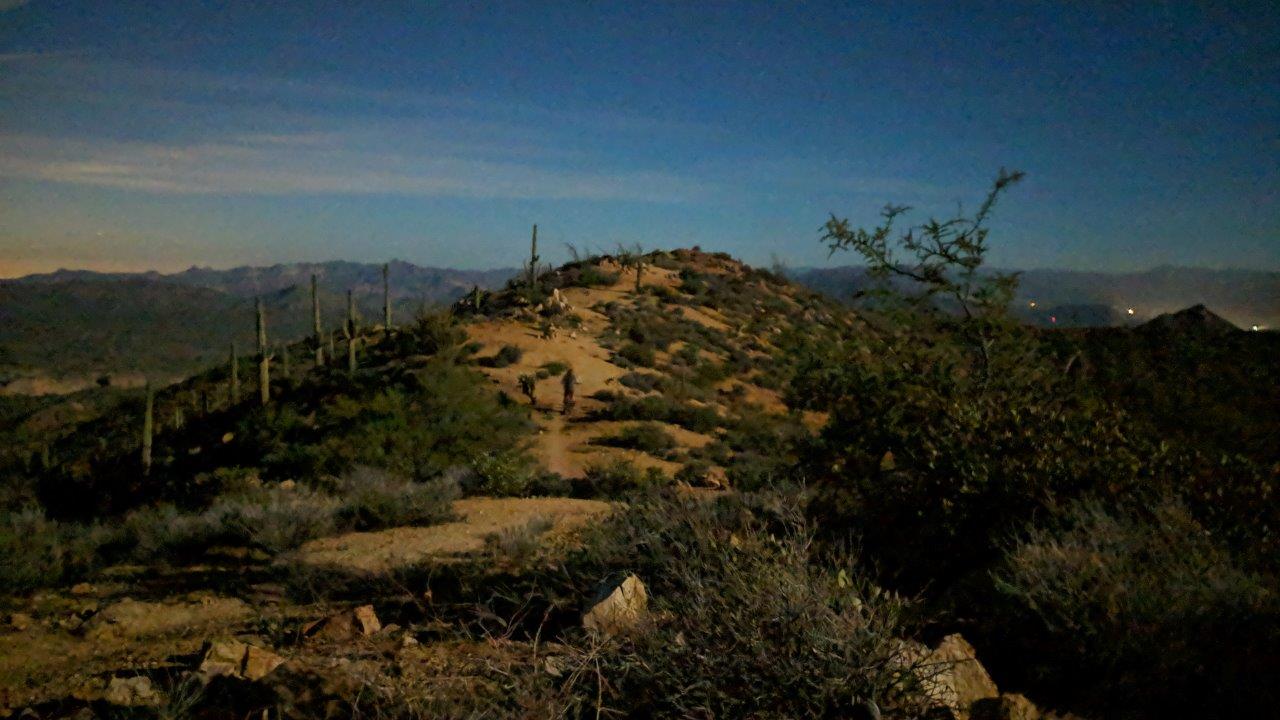 Pic by Schillingsworth
Then one with my headlamp on. They look better in smaller format like a phone but are still bad ass considering it was pitch black out.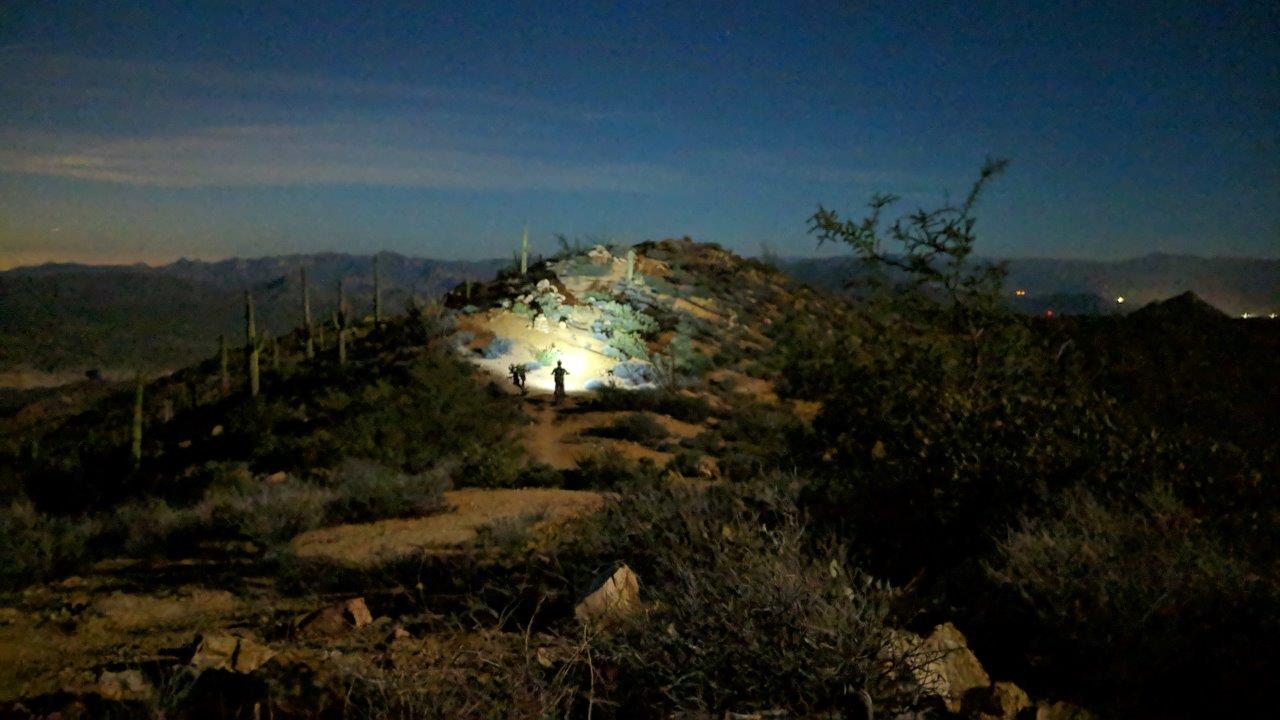 Pic by Schillingsworth
After messing around with pics for a few minutes we had some final business to take care of which was the final descent down to Kelvin TH. There was no more stopping and we made it down in good time.
Mileage for the day was around 54. A beer was well deserved by that point. Great ride. I'd like to start earlier next time or do this in Feb/March with more daylight to get up on the ridge for sunset.