Prior to setting off from Kelvin the previous day a check of the forecast showed 30-70% chance of rain from 7pm Sunday through 1pm Monday, then windy. This of course meant we might get wet overnight or on the ride into PP in the morning. I had only brought an emergency bivy, so at camp I tucked right in under a palo verde and tied up a ground sheet borrowed from Christian.
Rain started just as we were setting up camp and lasted for 10-15 mins. After that it was clear skies until sometime during the night. Dry but windy.
My hidey-hole at camp. Dark skies above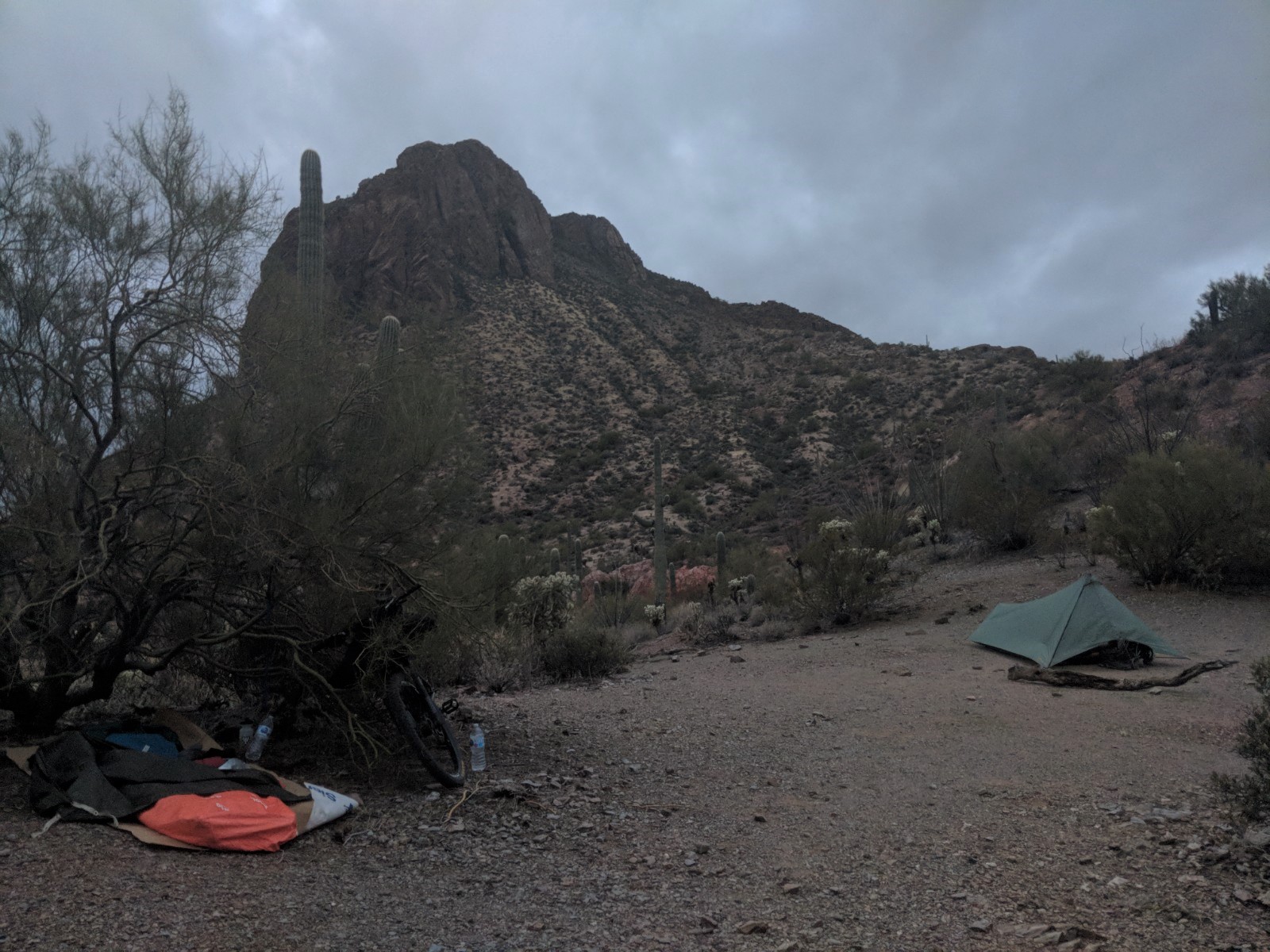 We had completed close to 3 of the 7 mile climb out of the Gila the night before and the rest promised to be the most scenic. But what is that abomination off the trail? Time for a little hike for balloon retrieval!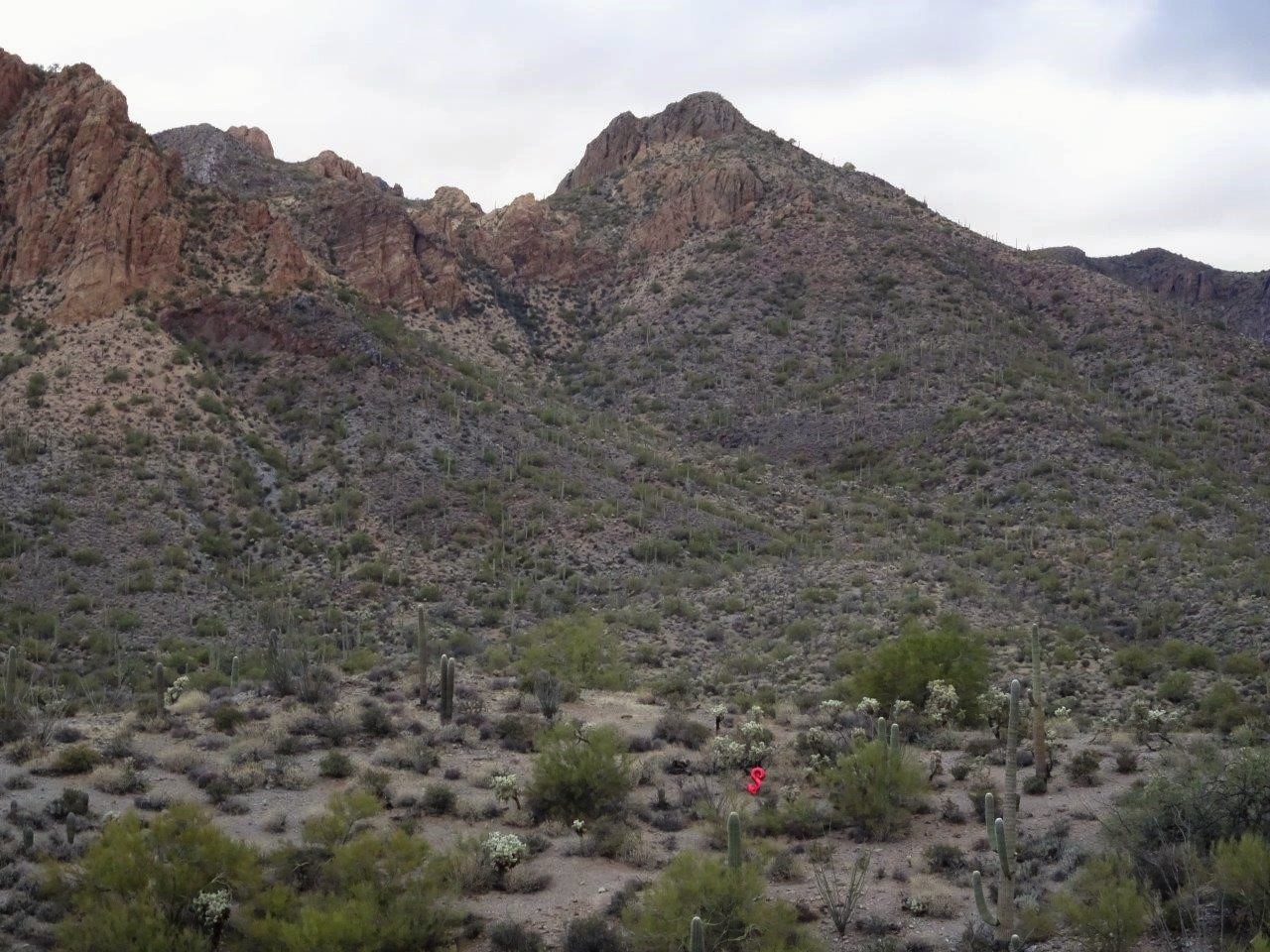 Christian gives the trail two thumbs up!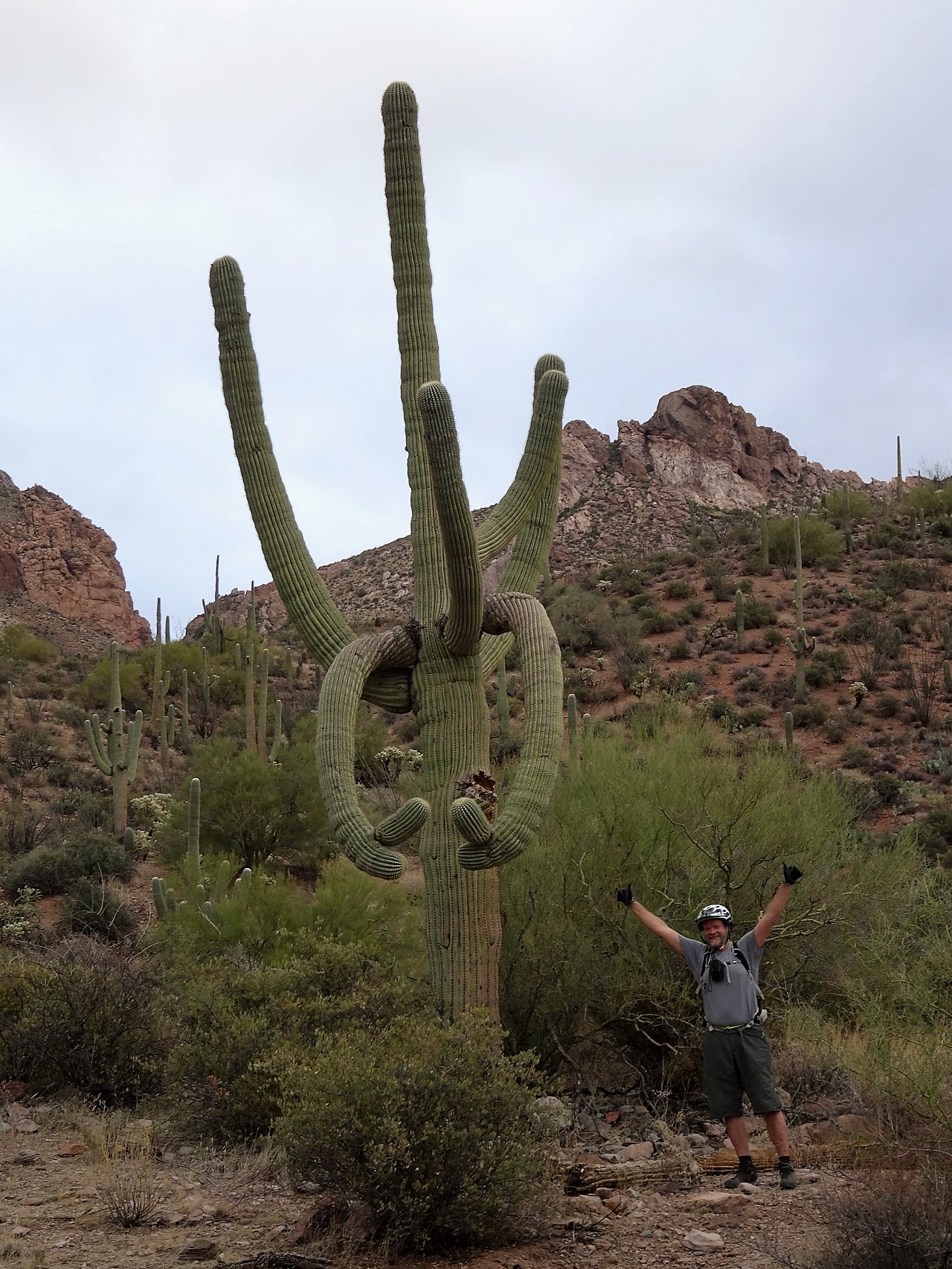 Climbing. Maybe it was fresh(er) legs but the entire climb seemed more rideable than last time. Neither of us had been feeling strong so far on the ride...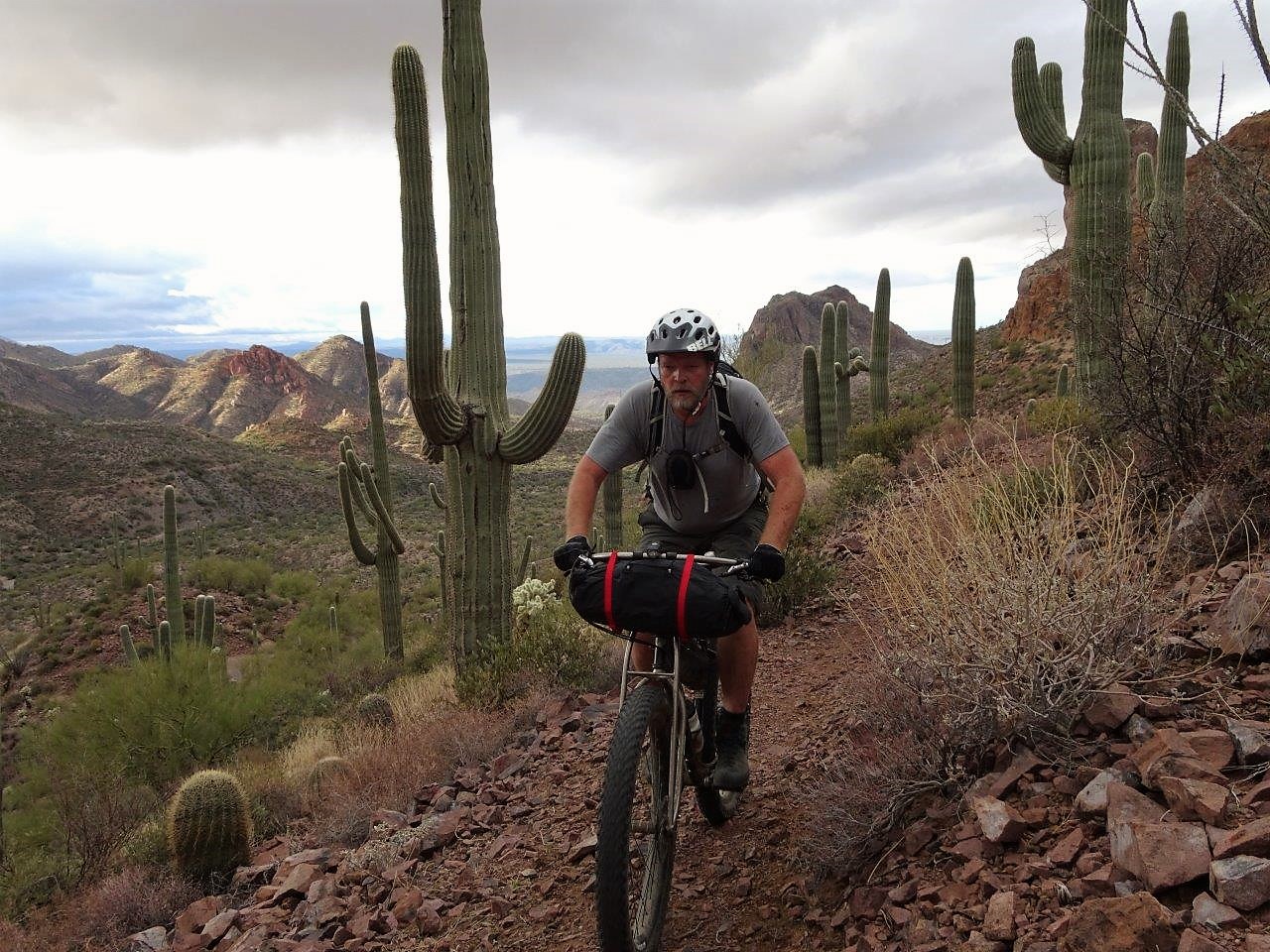 The light was unbelievable with the sun just poking through clouds at times.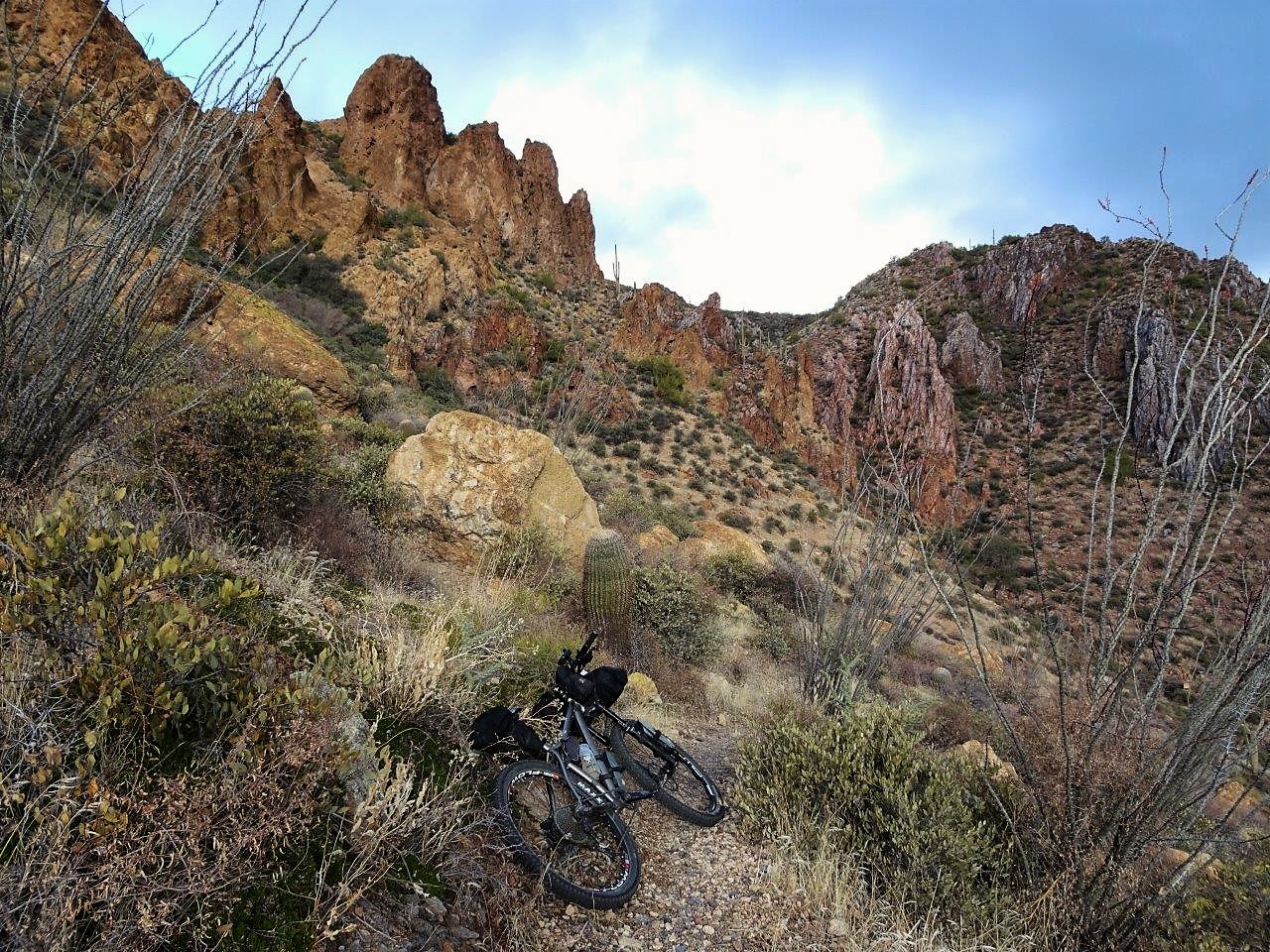 No way to capture it in pics really, but it was spectacular.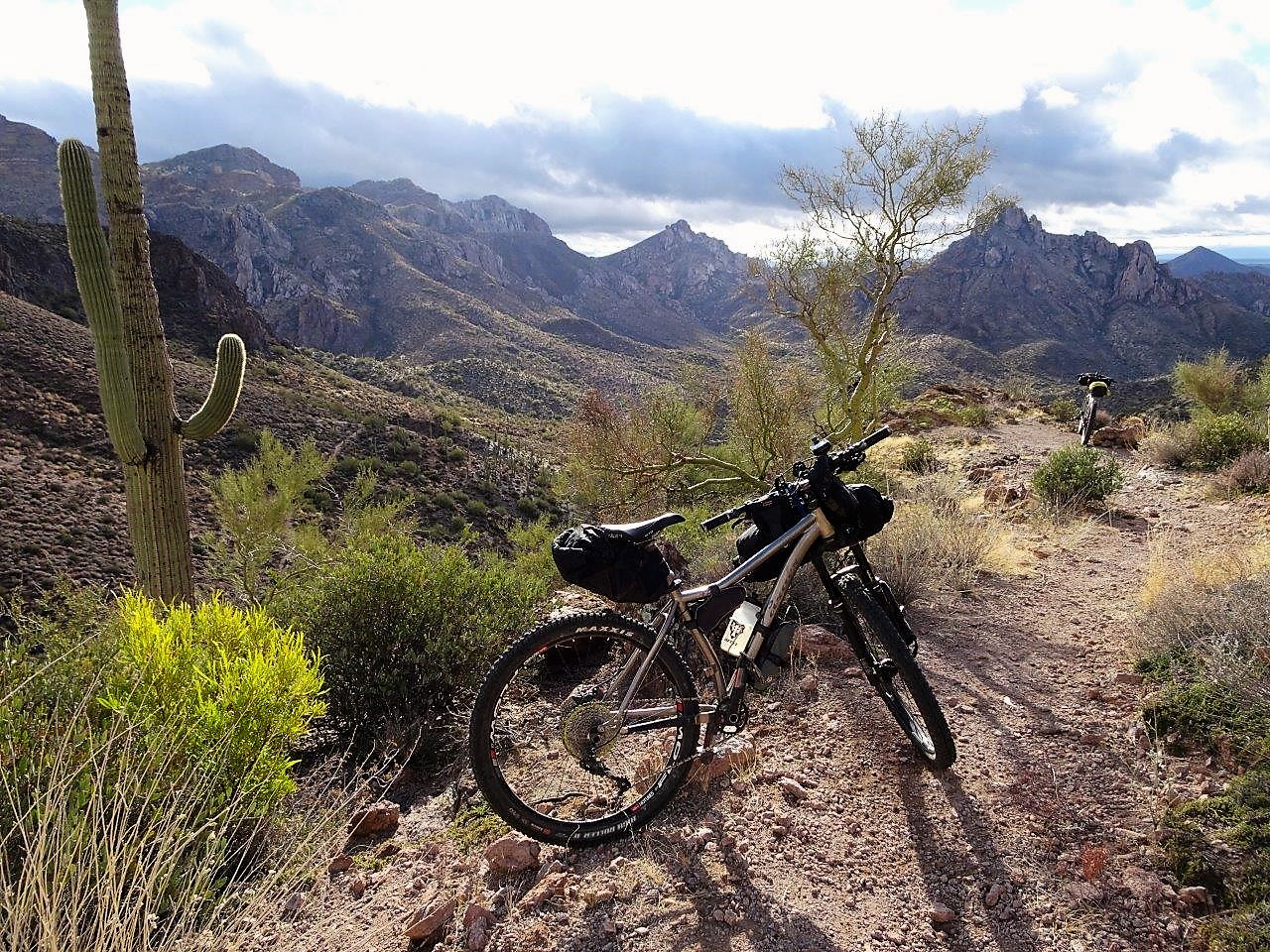 Once onto the switchbacks the riding got tougher but aside from a few short pitches we rode everything.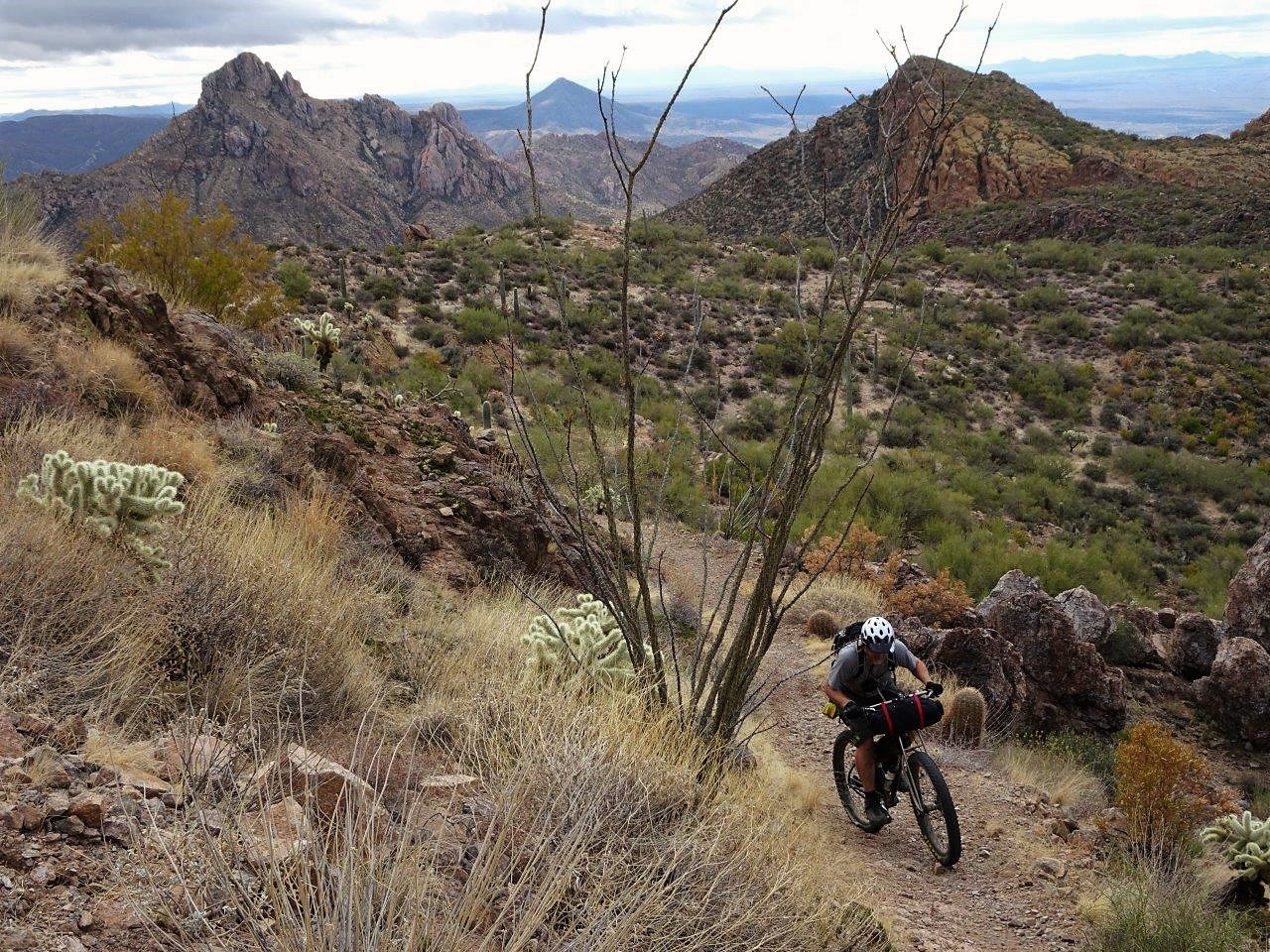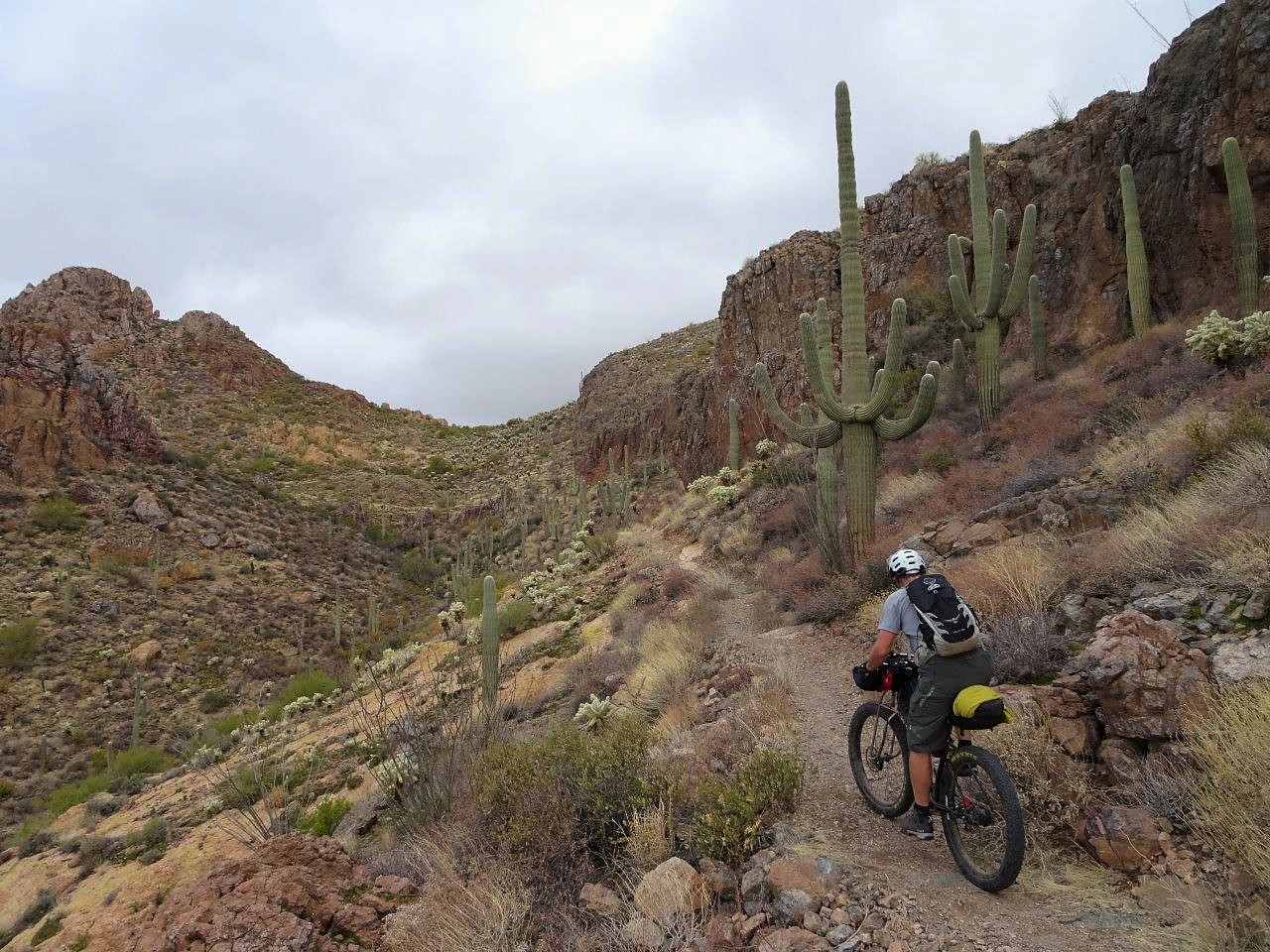 Great view looking SW from near the overlook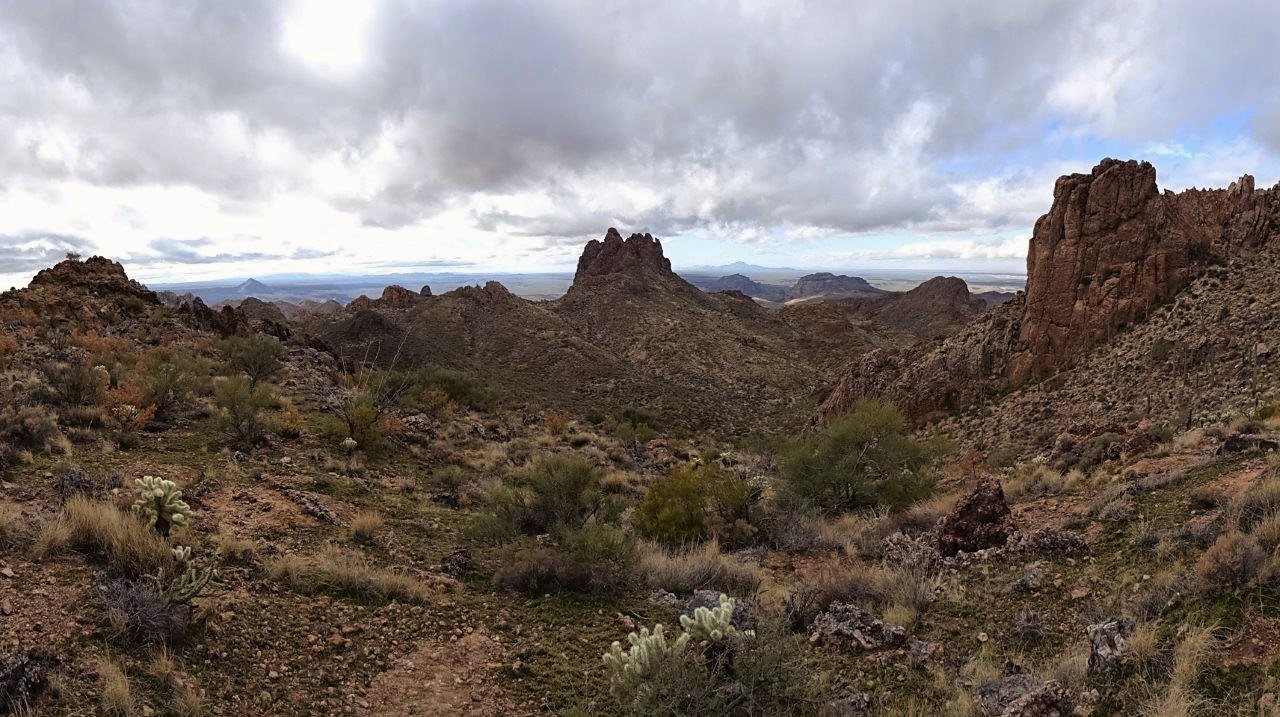 First view into the canyon is a good one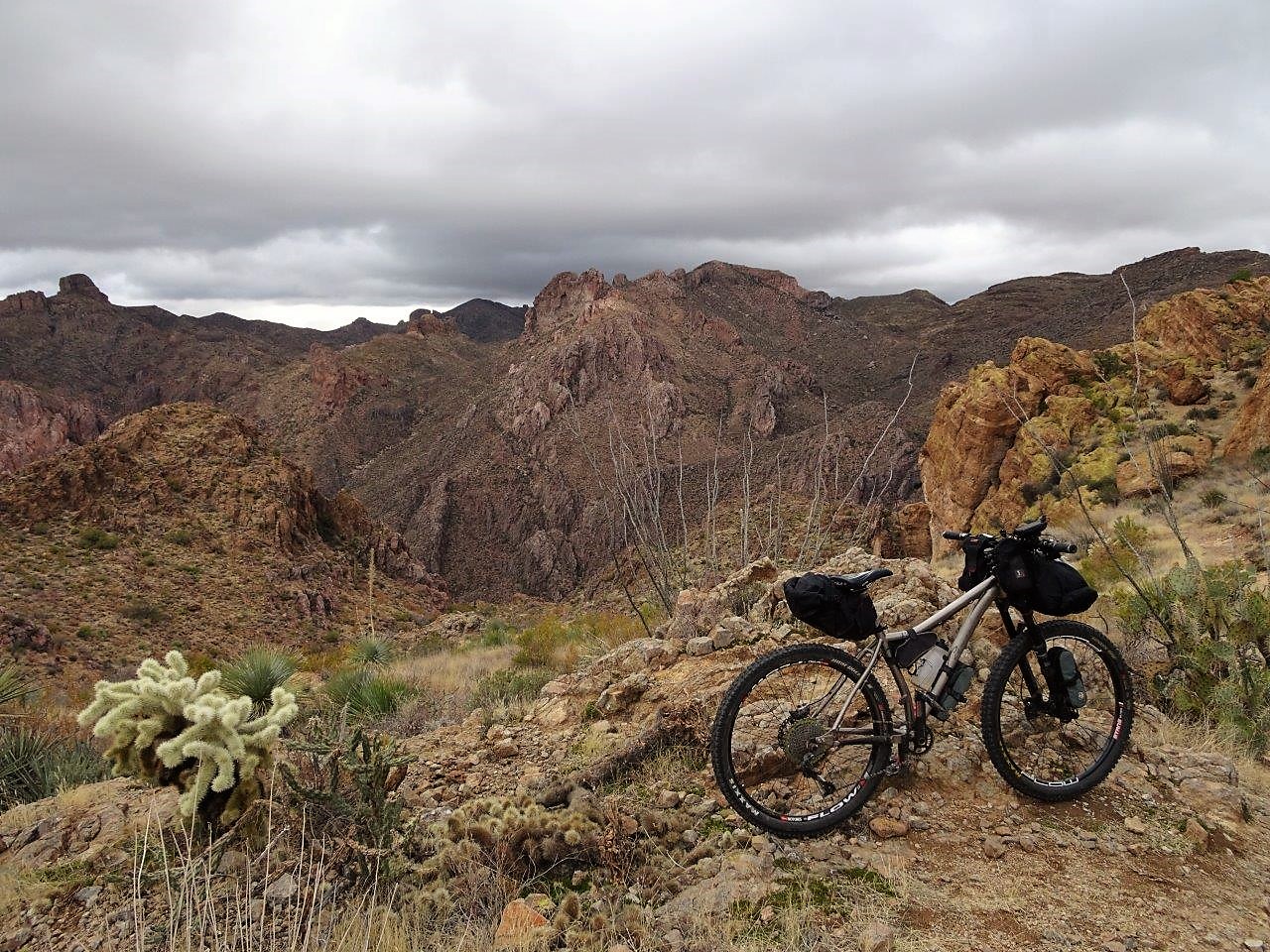 Christian trying not to get too distracted by the views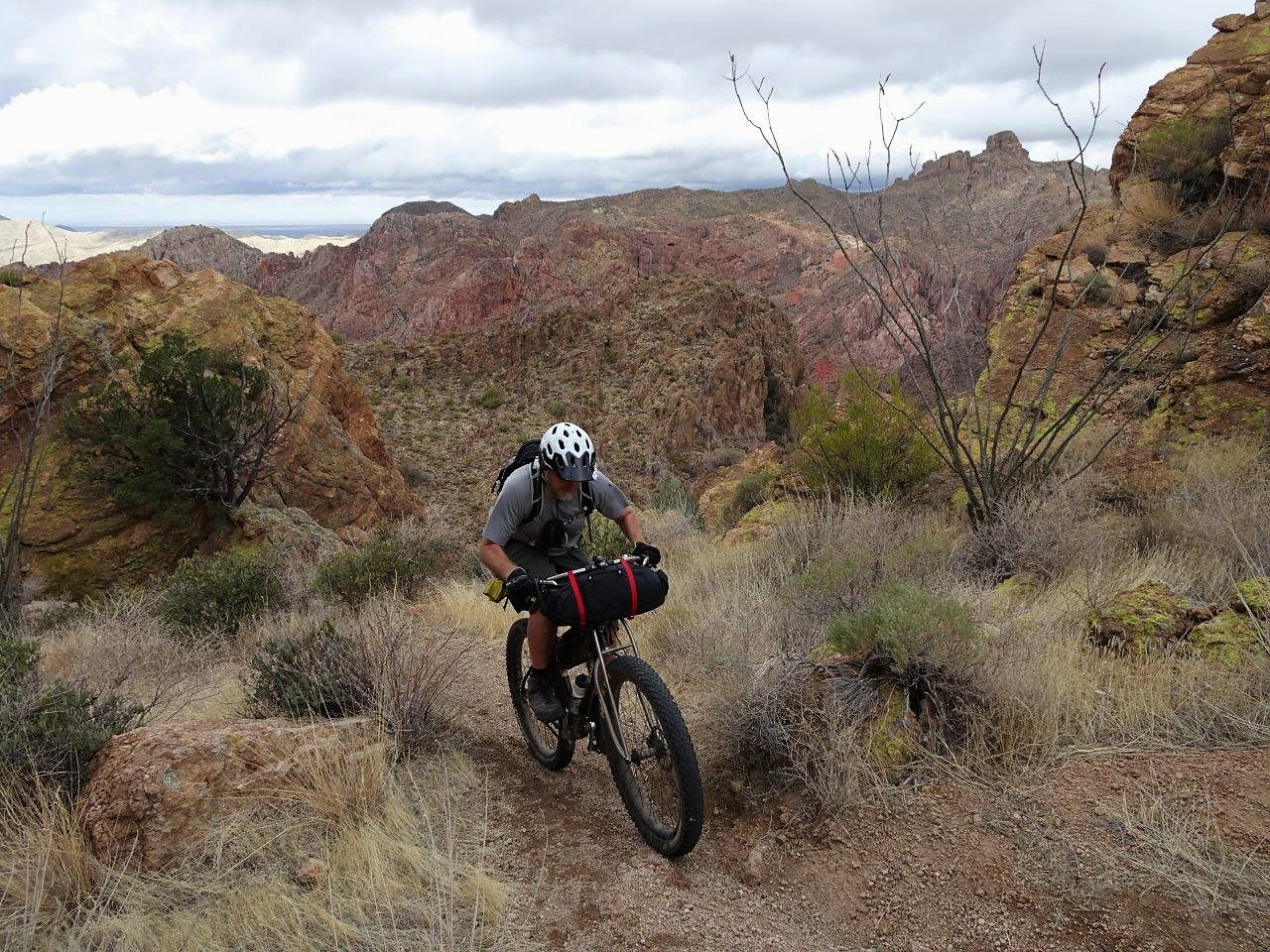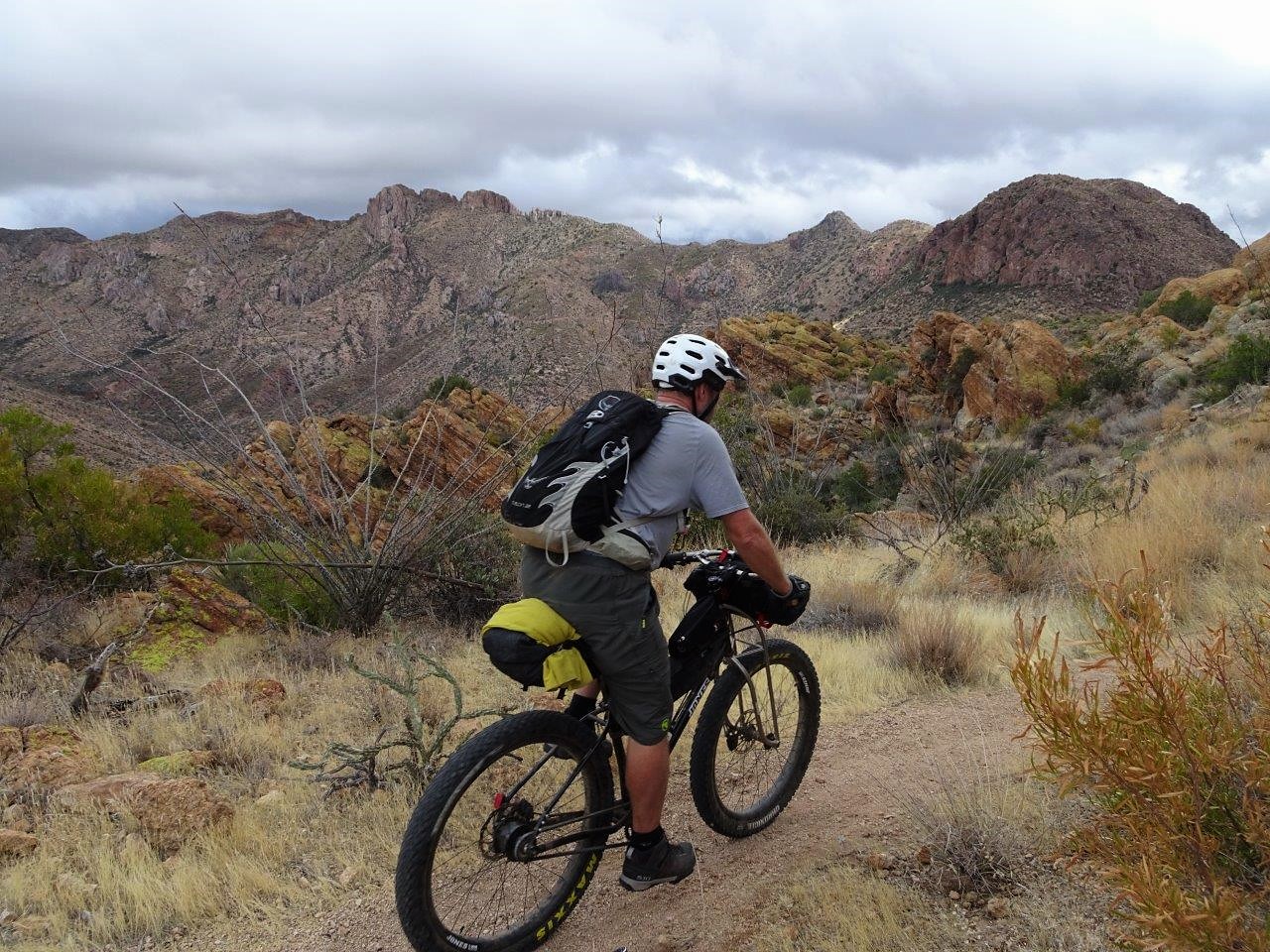 I climbed up on a big rock outcrop next to the trail for a great view up Martinez Canyon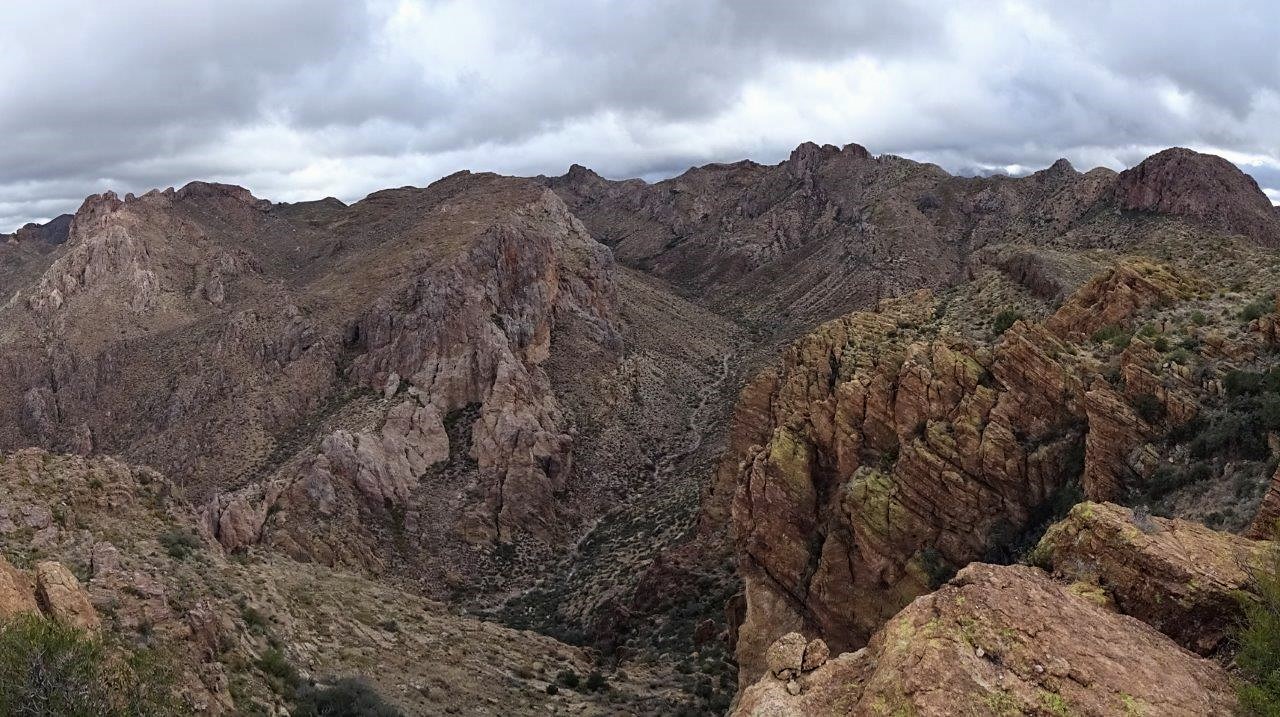 Bike shots above the canyon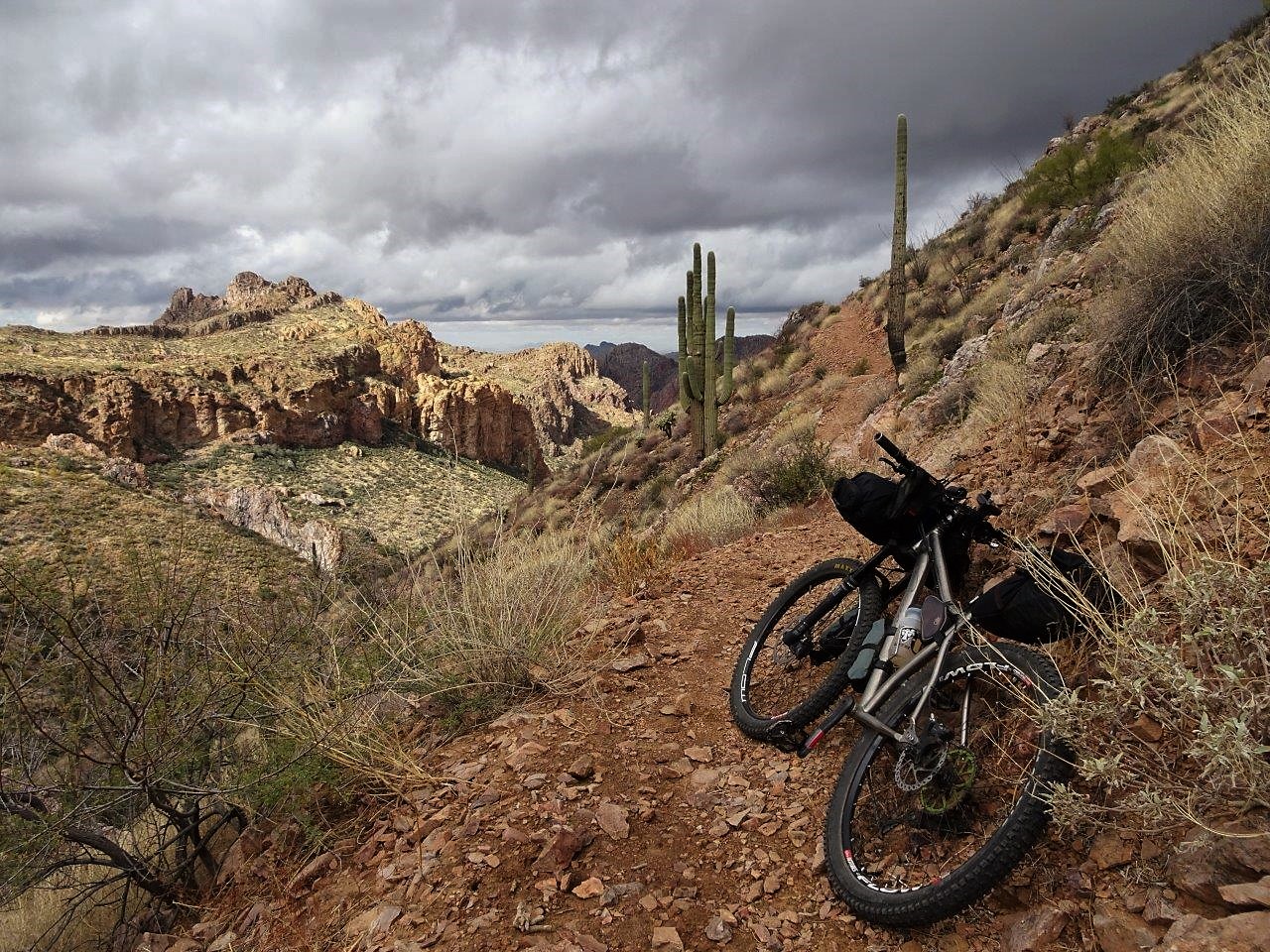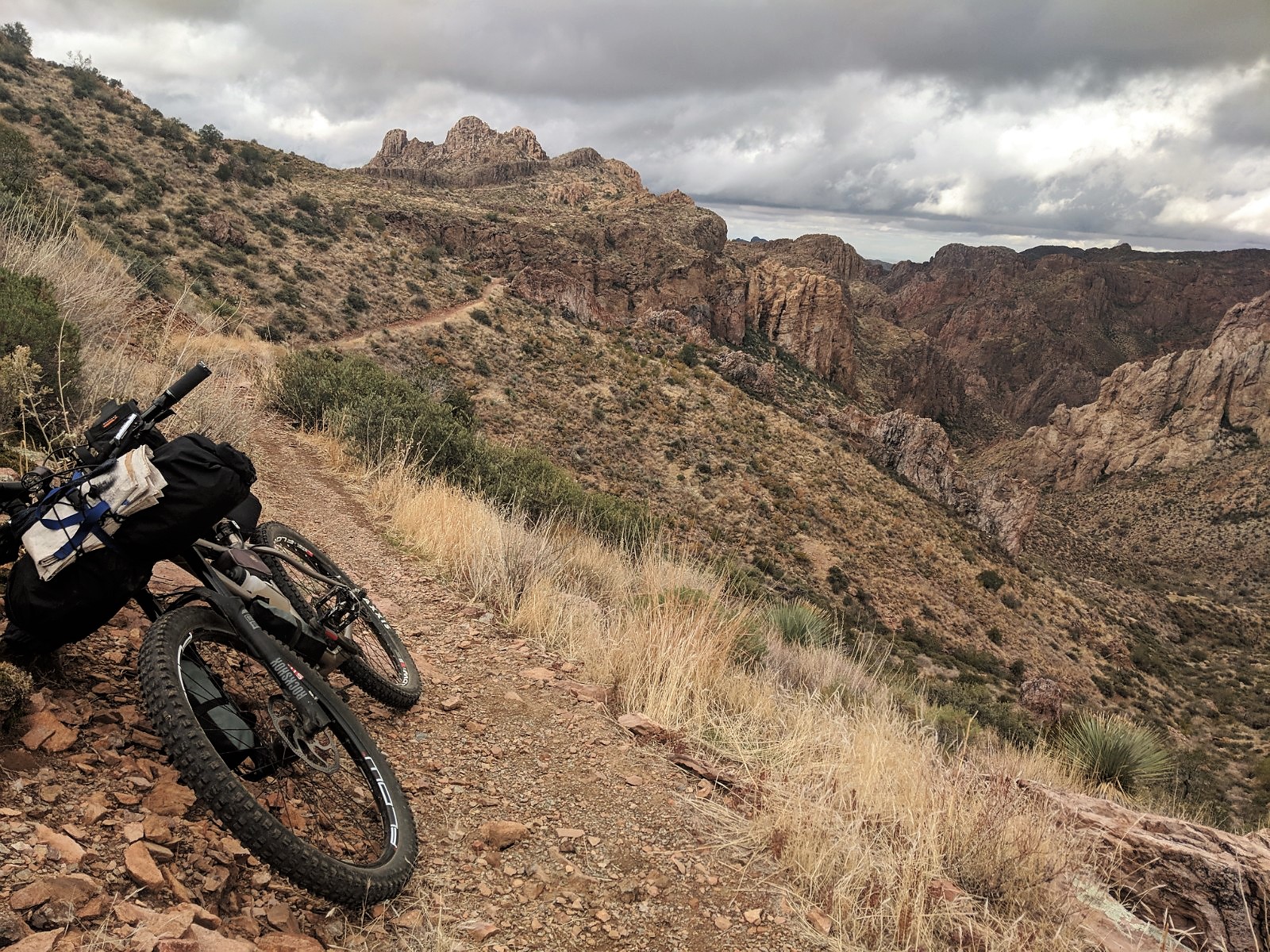 On the final push out of the canyon we were surprised to see some 4x4s coming down the jeep road. We watched them slip n slide down steep part of the road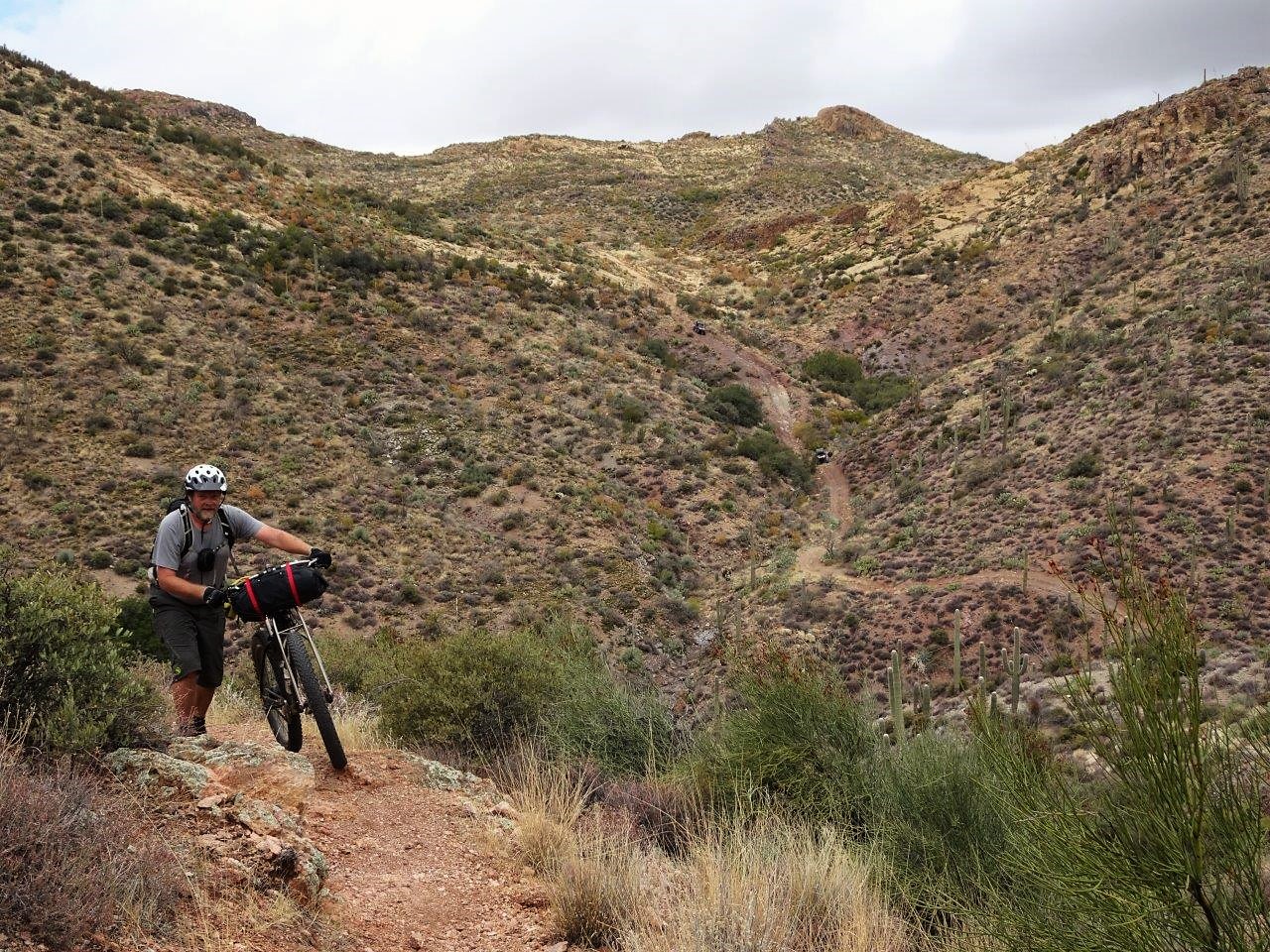 Great view looking east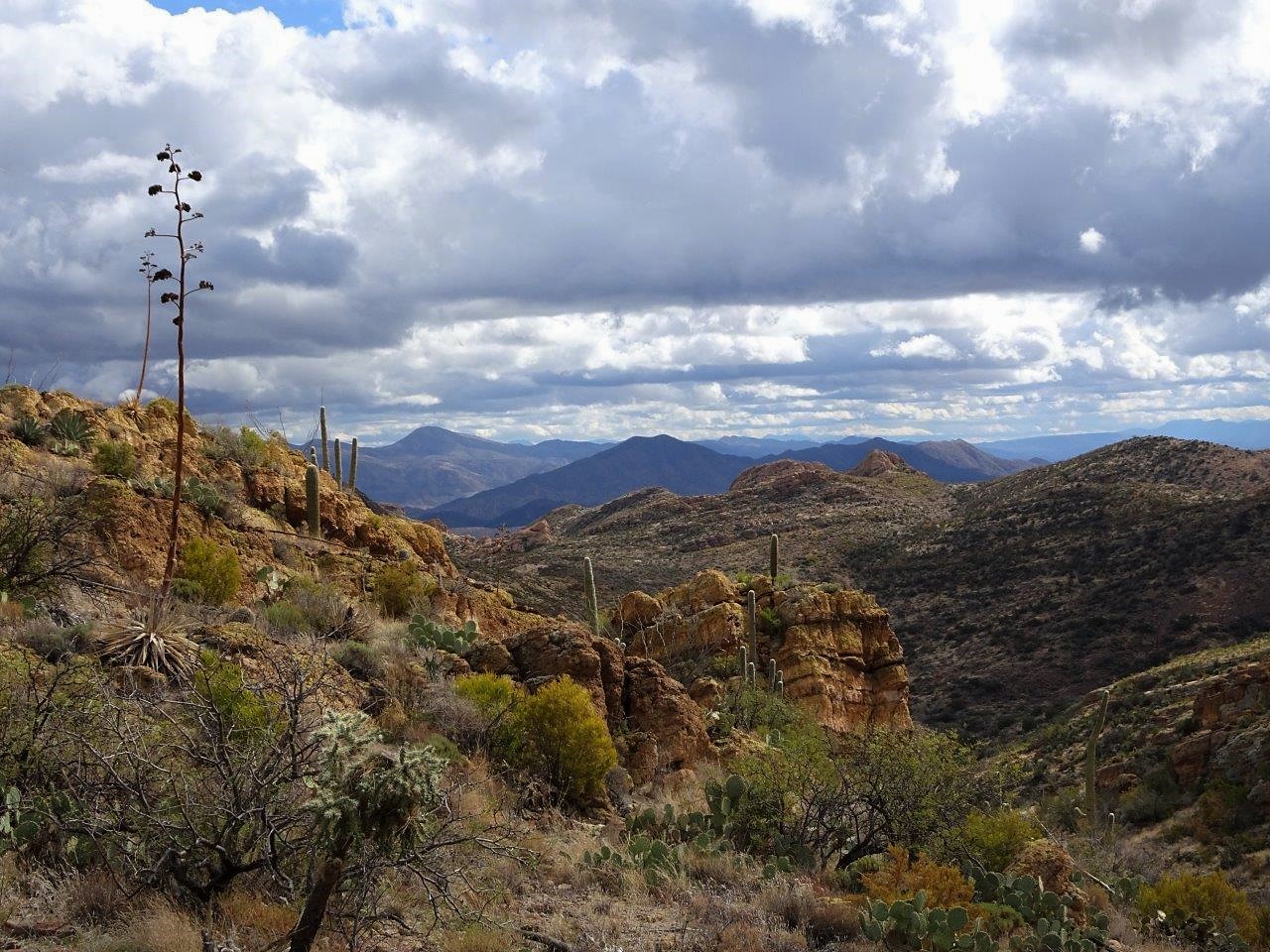 And north. Skies were still looking threatening in that direction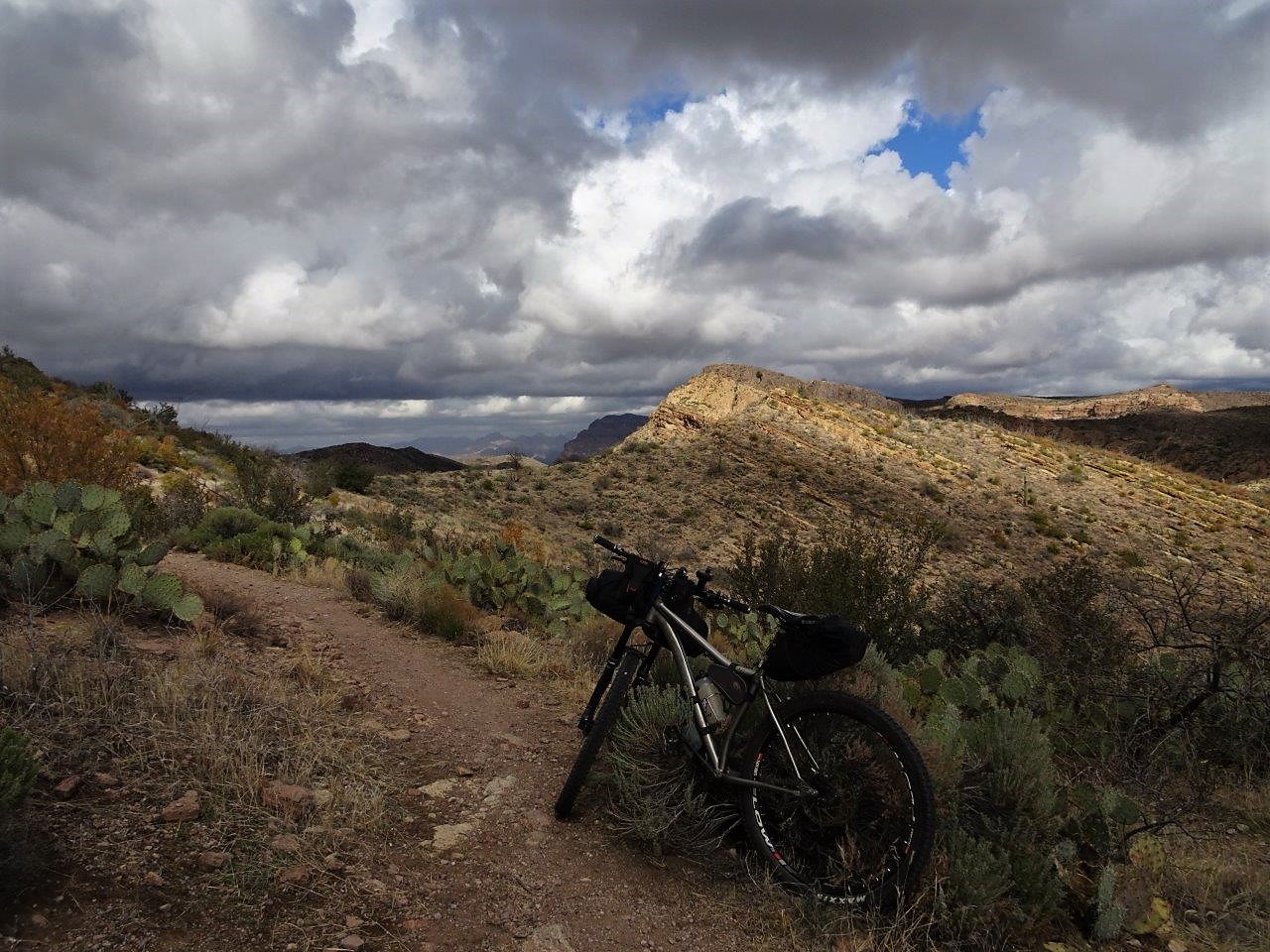 The dark clouds and partial sun made for very dramatic scenes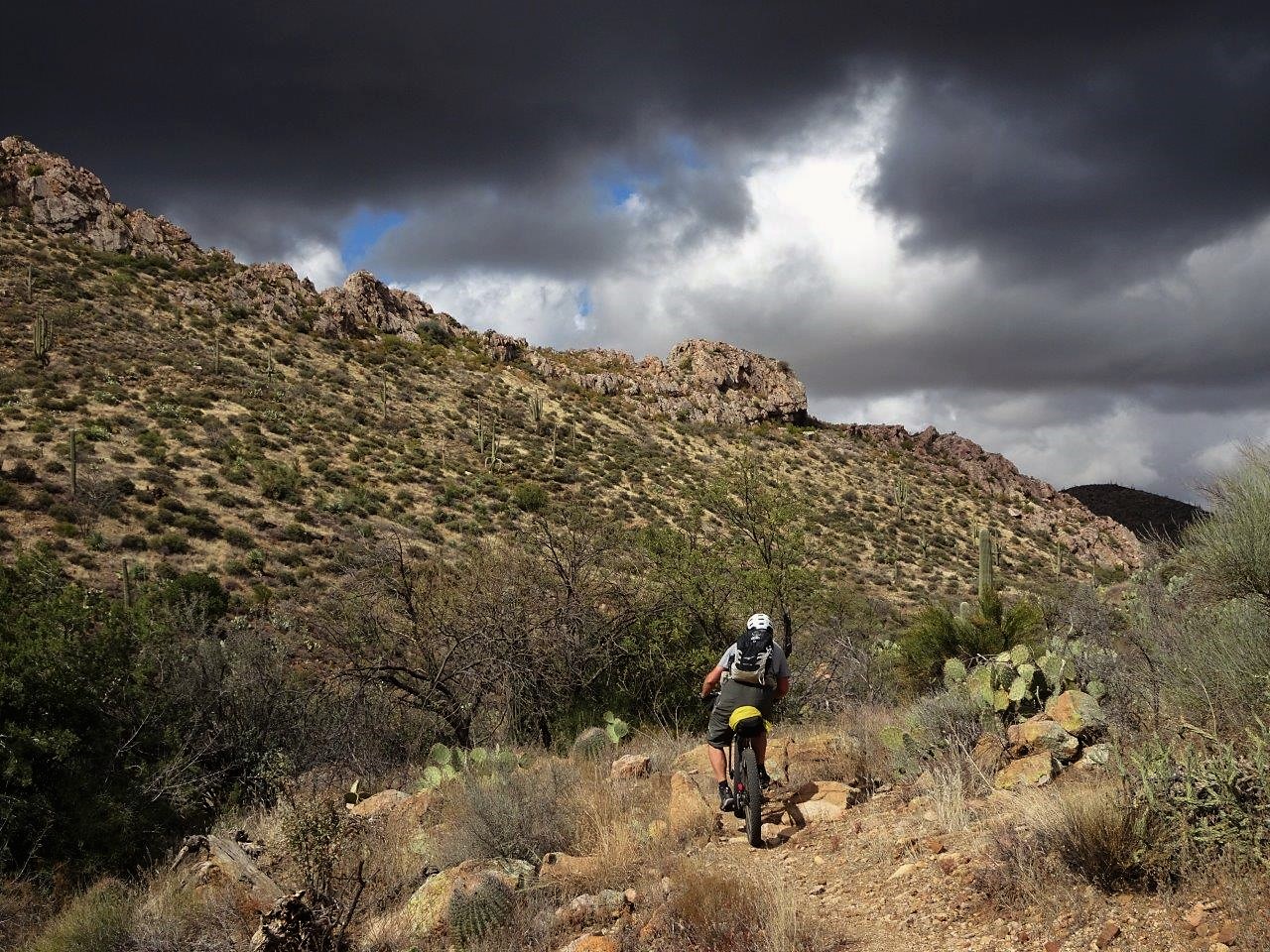 The last short climbs went quickly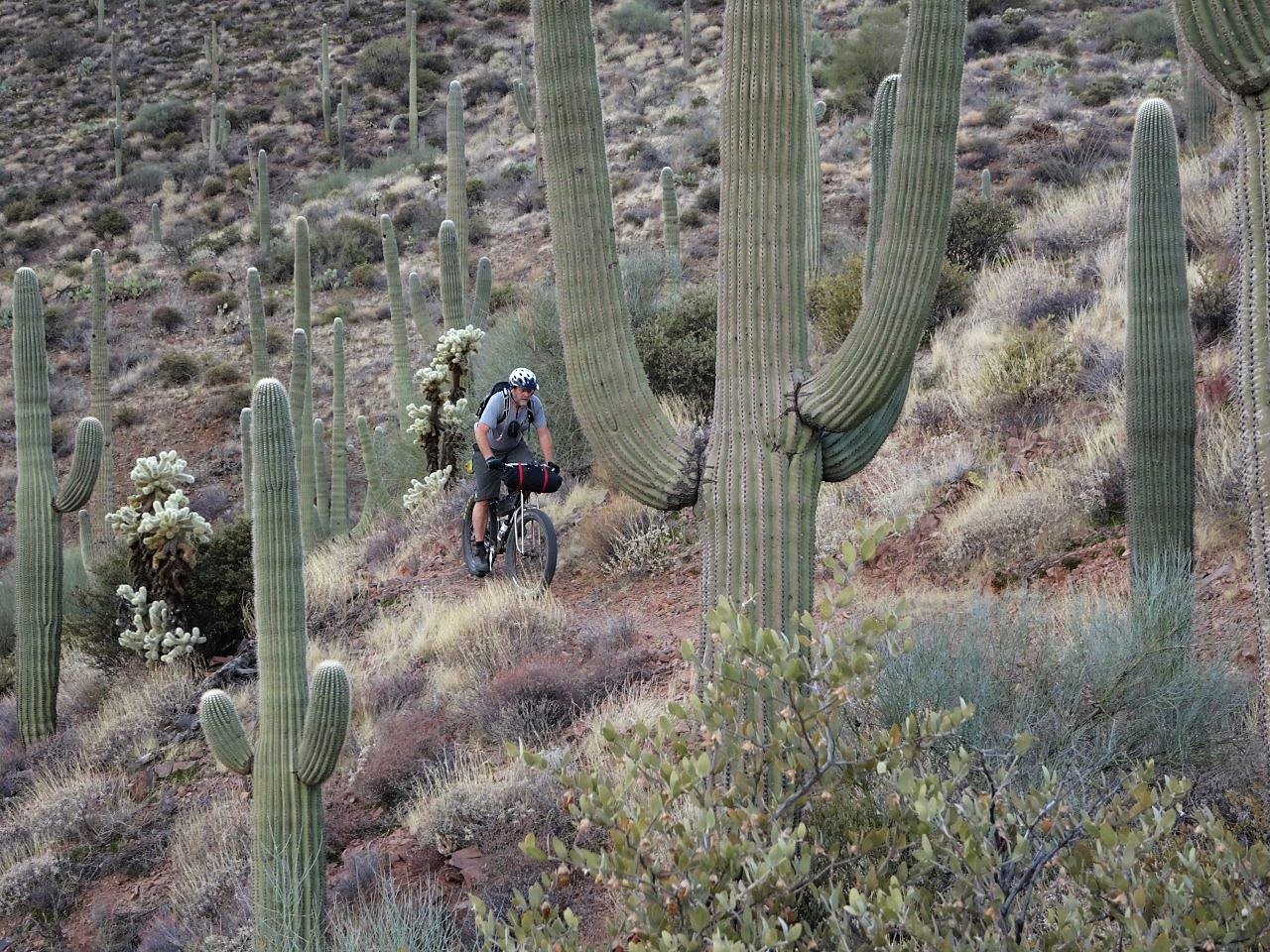 Picketpost gets near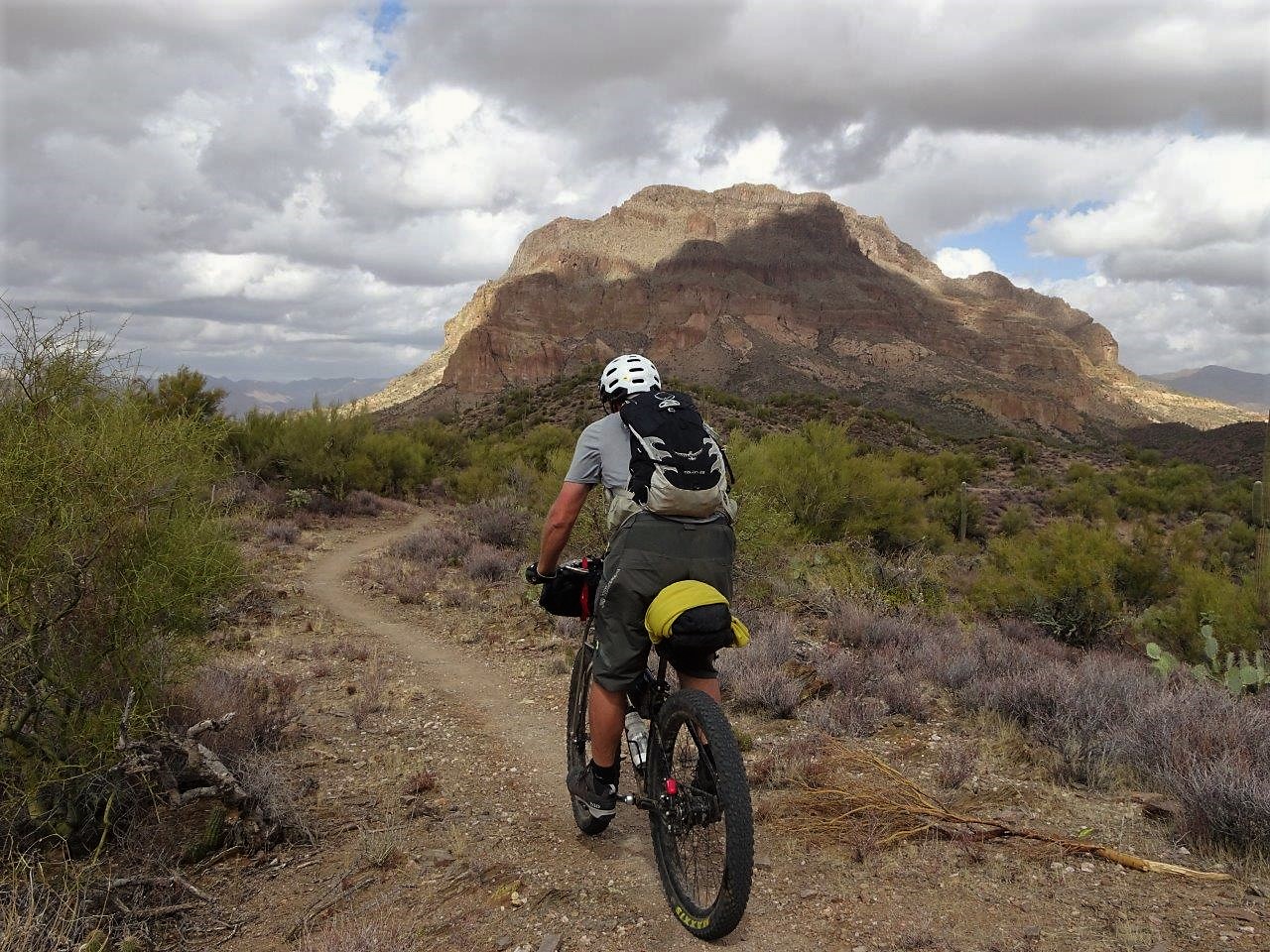 A couple miles from the trailhead we saw 3 horses up ahead. A bit of a stop, conveniently timed to address another slow leak in Christian's tire, and they got far enough ahead we didn't see them again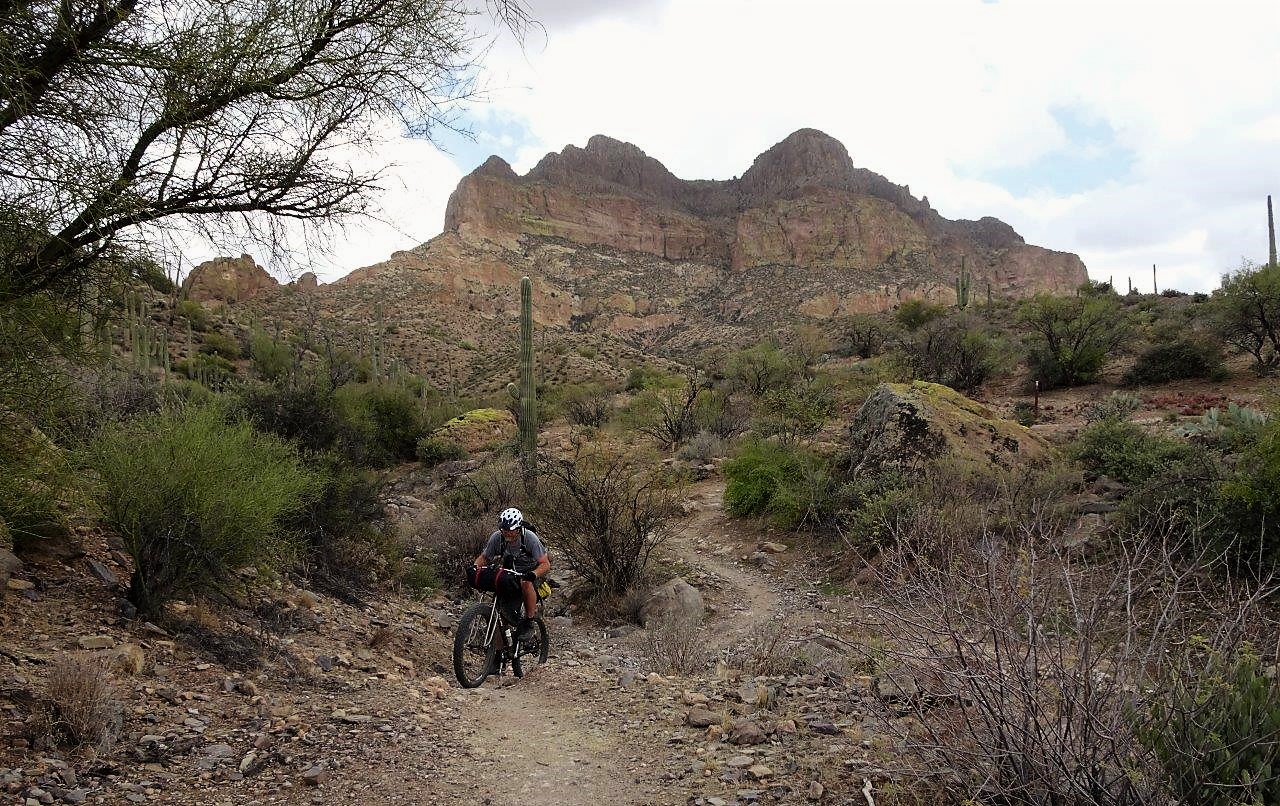 All done!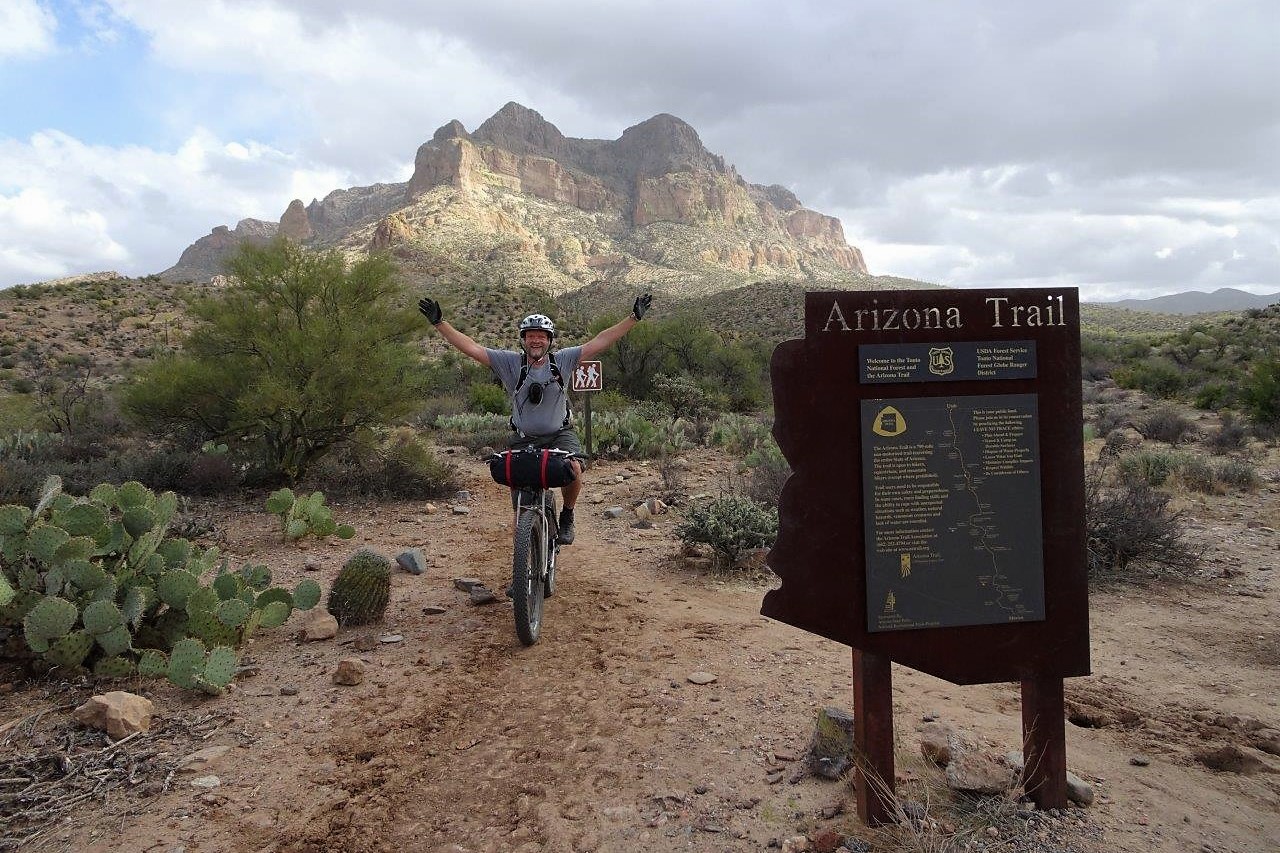 We still had the matter of shuttle retrieval to deal with. My moto was locked up to the pipe fence, and there was a chair and cooler with some beers in it so Christian would have something to do. I took the back highway through Superior and Kearny figuring there would be less traffic. My bike isn't great on highways, and with a strong headwind and/or sidewind, it wasn't a fun ride. Had to stop a couple times to rest. Got rained on for 10mins near Mammoth, but made it back to the truck in around 1:20. Loaded up and back through Florence where it rained most of the way. Turned out a storm had moved in shortly after I left PP and it rained there for a good 2 hours while I was gone. It was frigid by the time I got back, good thing this hadn't rolled in a few hours sooner. Fortunately Christian had rain pants and coat, so it wasn't a huge deal. I had told him if it got ugly to hang out in the bathroom like a true hardcore bikepacker.
The scene as we left for home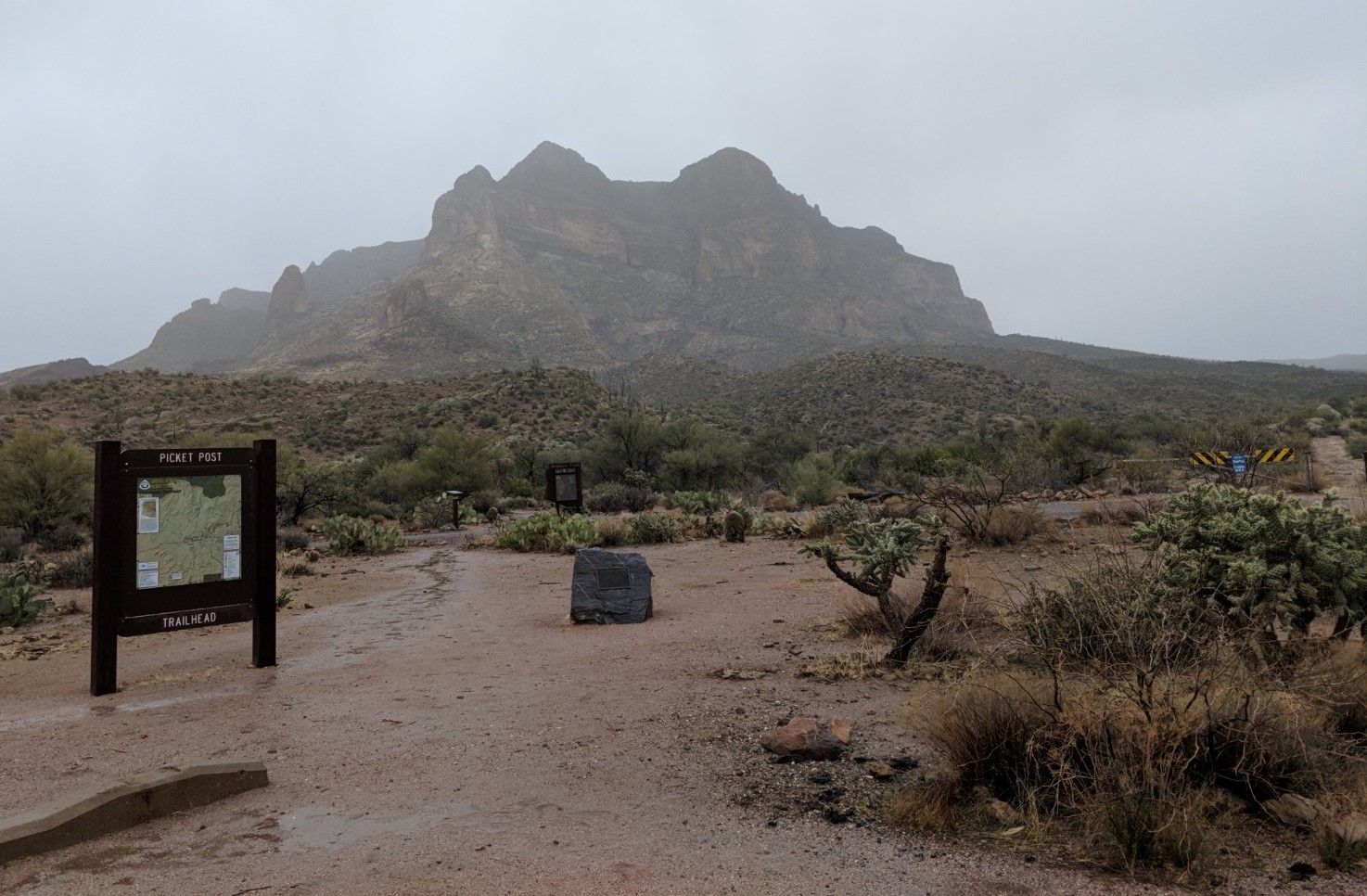 Another great AZ trip! Could not have asked for better temps and weather for riding. The 2.5 day pace is a really good one for this ride. Had we been able to get earlier starts there wouldn't have been any night riding needed. I do enjoy that though, so it was no big deal. I have to say I do like the whole thing better S to N, especially Kelvin to PP:
-you get the less scenic part along the river over first
-climbs along the river are easier this way
-you get to enjoy the views and climb out of the Gila and Martinez more slowly - given the views this is a good thing
-the climb is shorter than that from PP to the top of Martinez
-it isn't as rideable as going south but what isn't hike a bike is probably easier, and I like some HAB to give leg muscles a break - I think this makes the climb easier headed north
-you get a longer "descent" back down to PP - yeah it's not all downhill but the climbs aren't a big deal and it rides well
Need to try it some time on fresh legs!
Since people always ask - other traffic on the trail we encountered:
Day 1 - 4 backpackers on day 1 coming south out of Bloodsucker wash.
Day 2 - 2 backpackers dropping into Ripsey wash; one couple camping in the wash; one hiker climbing up Ripsey; 2 hikers hiking south out of Kelvin the wrong way looking for the river; 4 backpackers camped near the climb out of the Gila.
Day 3 - the two 4x4s and three horses, but we never met either.
Saw no other bikes, though we were told there were 3 bikepackers ahead of us who camped up top Ripsey and then rode to PP. Oh, and lots of cattle. Everywhere.
And trail conditions - everything was in pretty good shape. With rain the day before, parts in the Black Hills were riding slow. No mud, but you could tell instantly if you hit a soft patch where there was more resistance. This was most noticeable on the roads. Day 2 was great and things were pretty dry on Ripsey and from Kelvin. Trail from Kelvin was good, just loose where it has recently been worked on, and some horses and cattle got on it right away and tore it up in places. Some cat claw on Boulders-Ripsey and PP segments. Just enough to let you know who's boss!