Bjammin would be out for the last day of our trip due to back pain...bummer. I had several options in mind including Guacamole trail, recommended by OTE, or Icehouse or Barrel Roll in St George. But now that he was relegated to shuttle driver this opened up a new shuttle opportunity without having to ask for a volunteer to sit out, and would allow us to get in some extra credit as well.
Temps were chilly at the start. I was bundled and even wore something that would cover my ears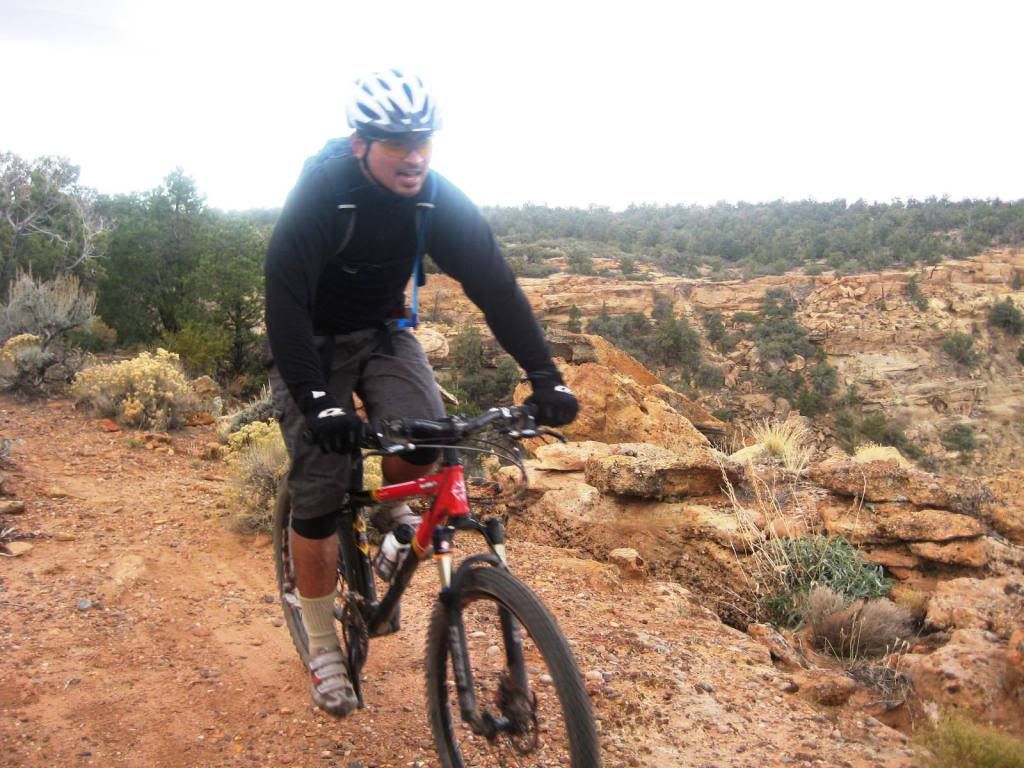 We rode from camp and soon found ourselves on the edge of the mesa
Trail was a mix of up and down, smooth and rolling, then tight and technical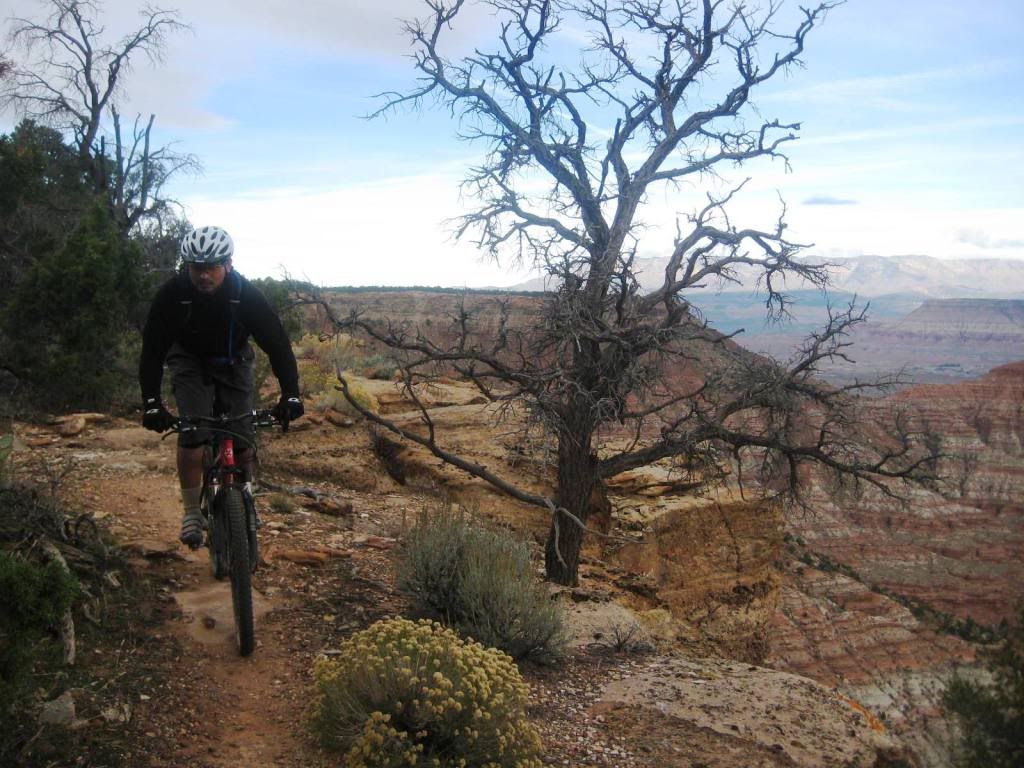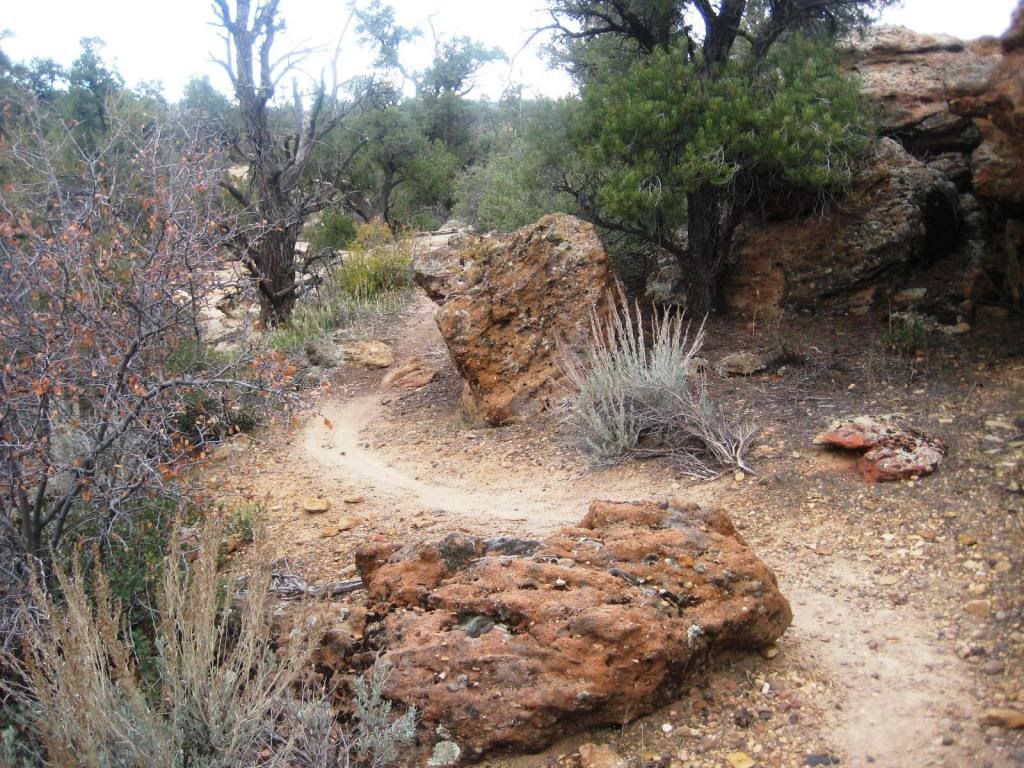 We'd be back and forth from the mesa edge as well, so an awesome view was never far away
I name this Turtle rock
Lots of slickrock sections too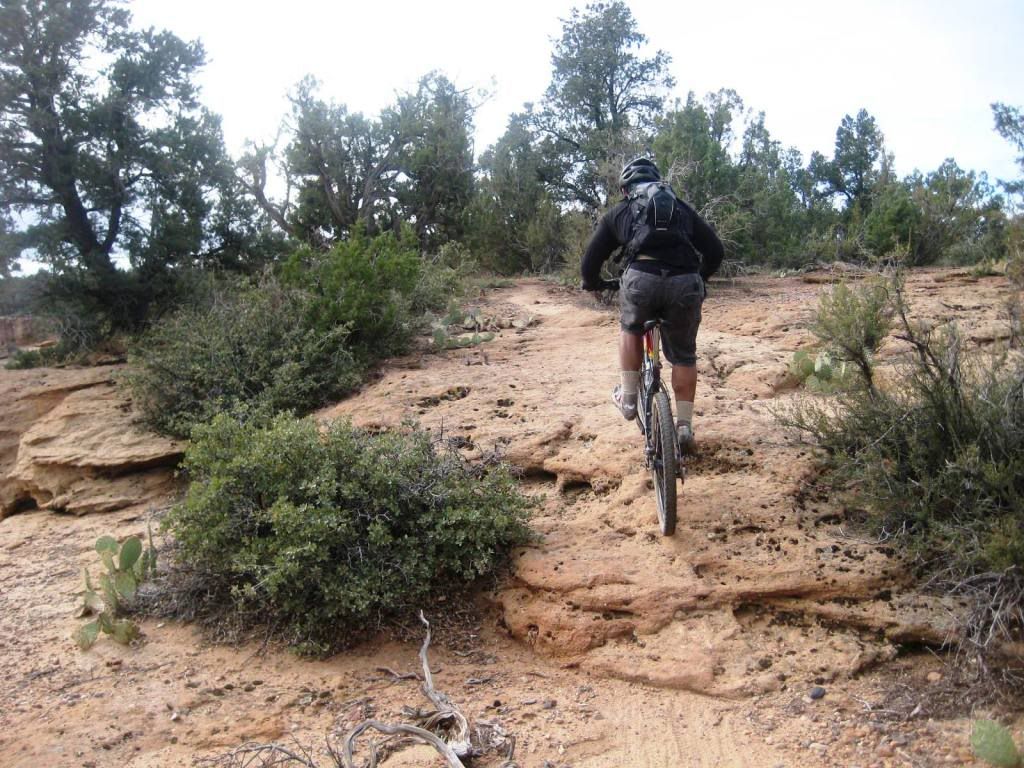 Once light improved a bit it was time to take shots the scenery
Offroadie climbs up some rock near the edge of a mesa finger
Looking over the edge
Trailside cactus
Offroadie rolls past a nice viewpoint

Soaking in the view now that the sun was out
Cool contrast with light
In some spots it was hard to tell where to go, this trail doesn't see a lot of traffic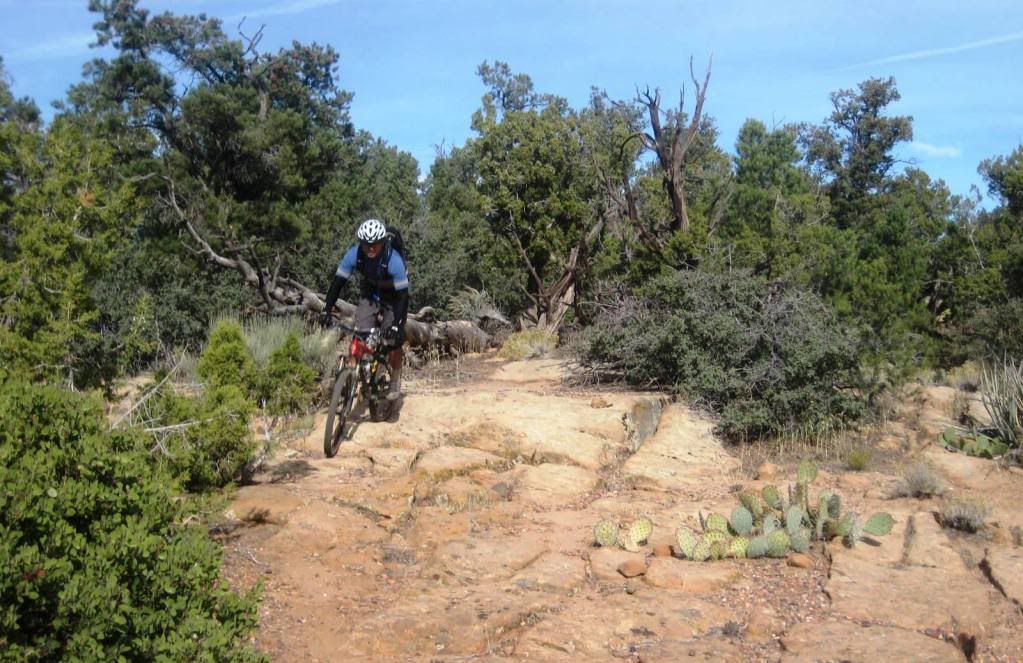 Trailside decorations
Colorful rock
We finally get some sustained descent
And then the climbing begins
Not the most technical switchbacks for the most part, but the grade was steep, even on the corners, and we had to keep stopping to catch breath
We finally get to the top and its on to Grafton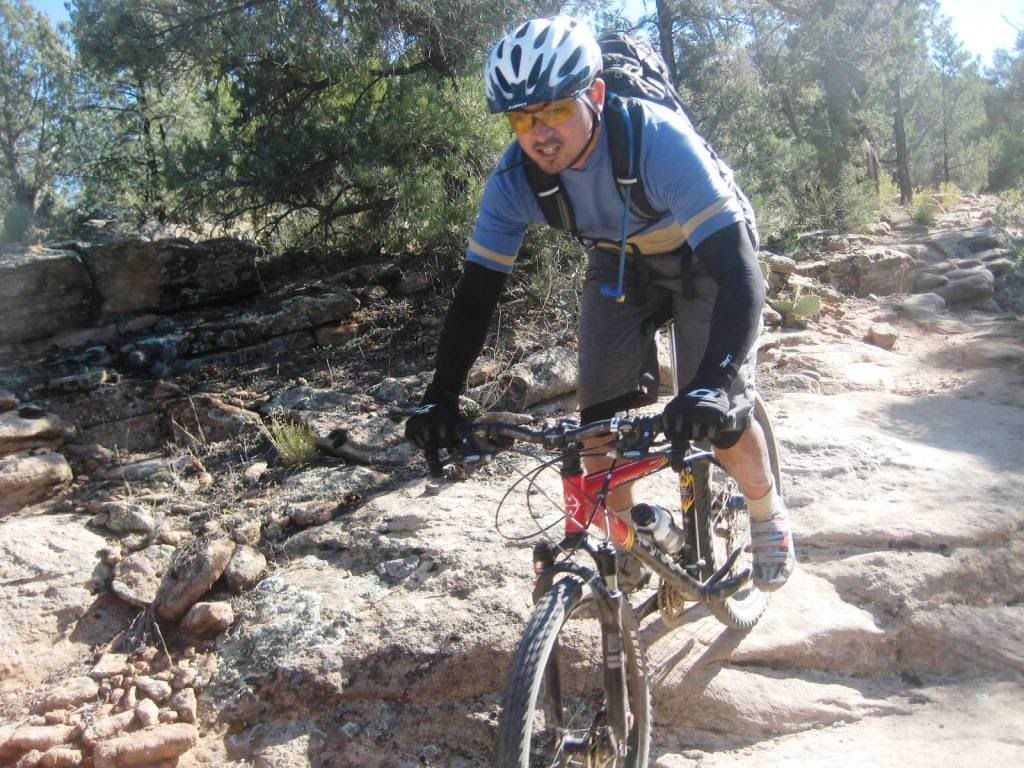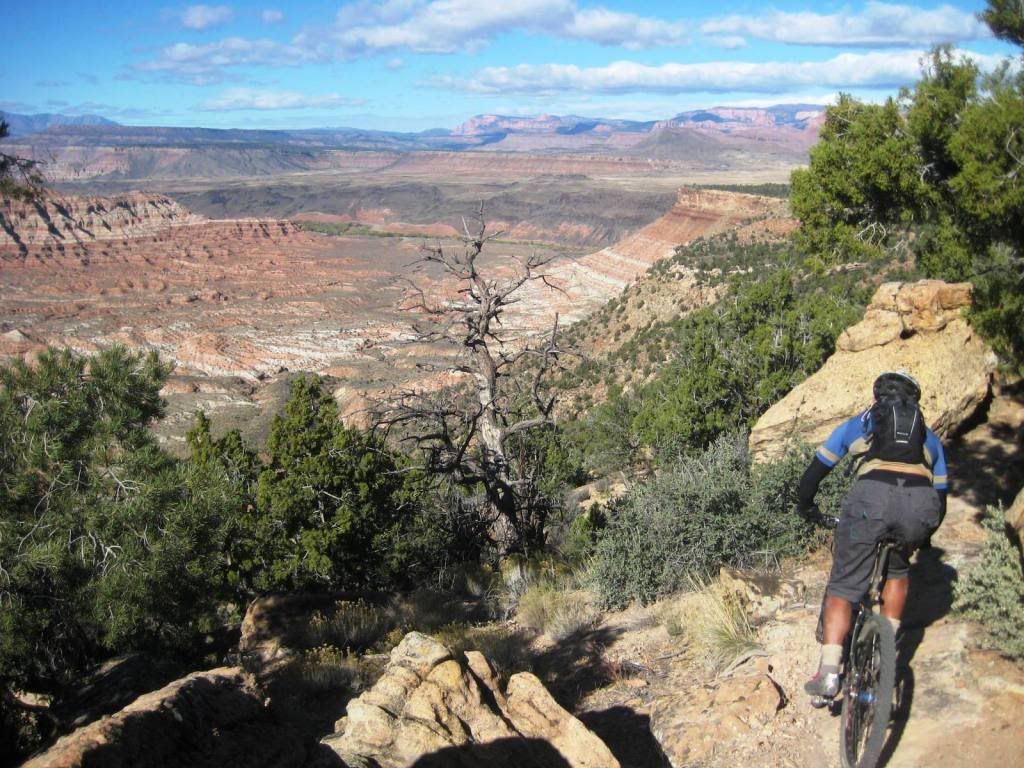 For baja
View of the mesas and formations across the valley
Cool formation

One of my favorite sections of the trail
Back on the rock slabs
Offroadie, into the chunk
And onto the smooth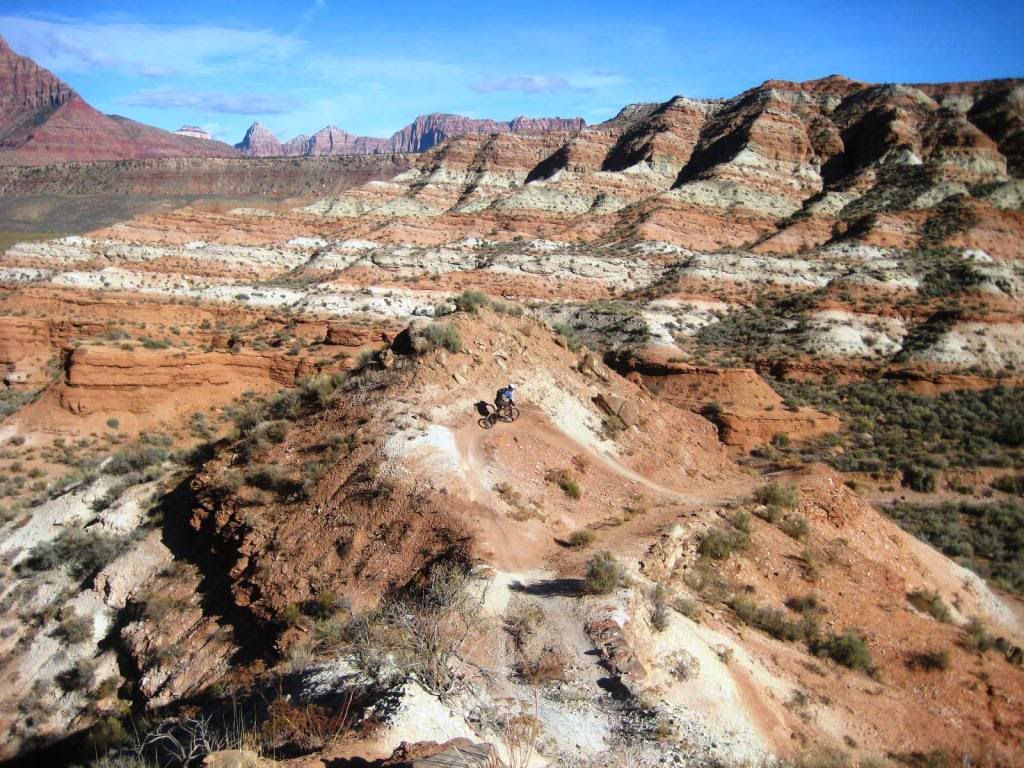 Cruising back to the truck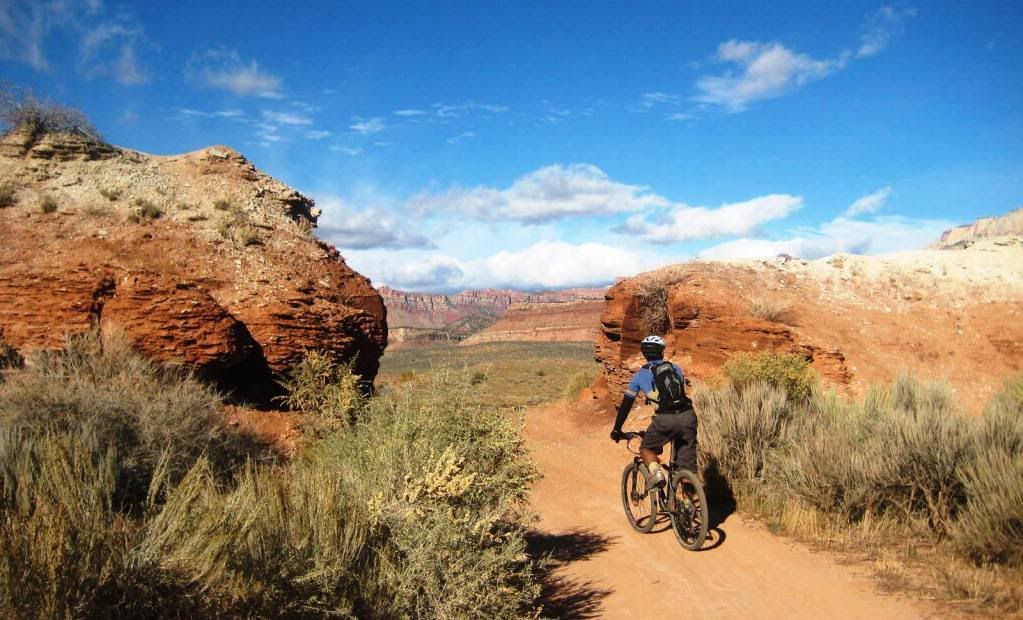 View of the lower canyon

This turned out to be an awesome ride. The connector is a great trail that makes Grafton a lot more worthwhile, though much longer. At a reasonable pace it took us 2 hrs to cross, add an hour for trying to find the switchbacks up (required bushwacking), and then another hour + down Grafton. Needless to say there would be no more riding for us today, instead it was back on the road to town for some food and gas before heading out.
I was able to show Bjammin and Offroadie some of the best trails here in Hurricane on this trip. While we didn't ride any "new to me" areas, there was a lot of new dirt (or rock) at each place so I was more than satisfied. Beside, even the regular stuff kicks ass, but I think next time I'll have to pick and choose so I can check out some of the other trails around. Hopefully soon.....
In the meantime, thanks guys for an awesome trip!