Time to finish TRs for this trip.....
We decided to save the best trail for last to make the drive home extra bitter for those leaving on Sunday. (just kidding....
)
Given that its not a long ride and takes a fair bit of time to shuttle we weren't sure if Grafton would be worth it with so much other good riding around. But everyone who had done it said differently, so on day 3 we picked Grafton over a few other options and headed east past Virgin.
We ended up having so much fun on it that we decided to revisit Grafton on Day 4 as well. Huge thanks for GP_pilot for volunteering to sit out the first lap, and also to Stang for volunteering to sit out lap 2. I'm going to post my pics from both days together so if you're wondering why it alternated between sunny and cloudy so much that might be why. We also didn't change clothes multiple times either
. Others can post up pics whatever order you wish....
Unloading up top. On lap 1 GP_pilot accompanied us down to the start of the HAB, then rode back up to the van.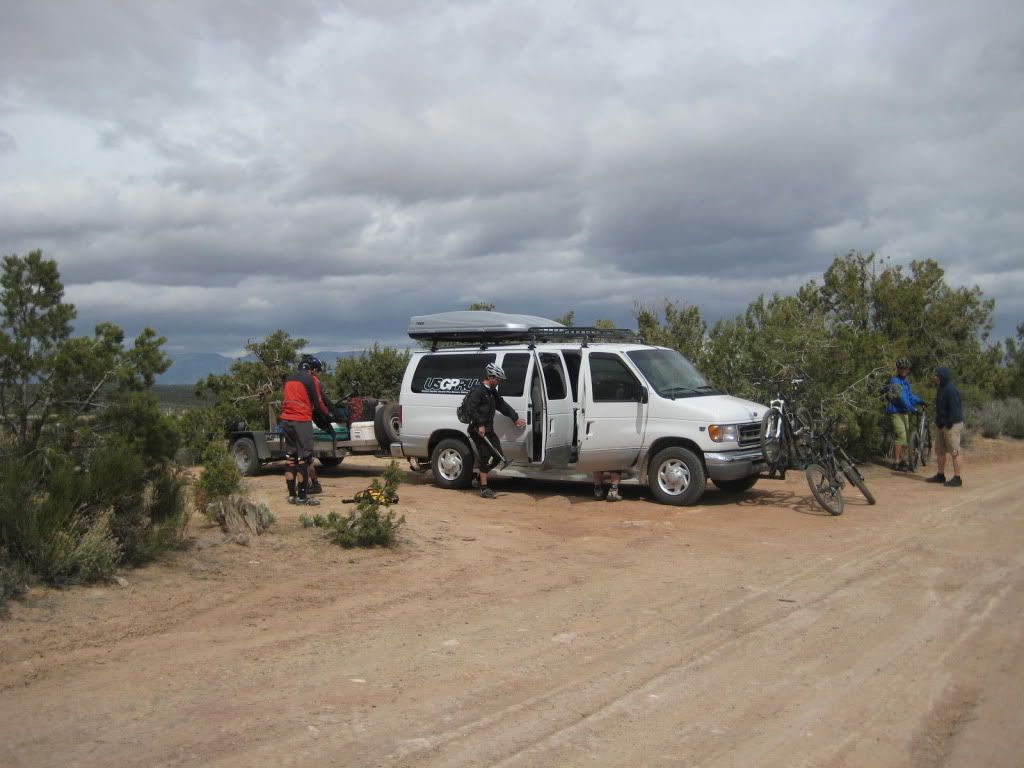 Blustery and cool, but perfect riding weather
On lap 1 it took us a little while to find the start of the singletrack as described in the comments I'd found. We eventually found it and starting backtracking to what we thought was the start, only to discover that direction laid the singletrack connector over to Gooseberry Mesa (more on that later).
Well, we didn't know what it was at first, but we soon realized we weren't going the right way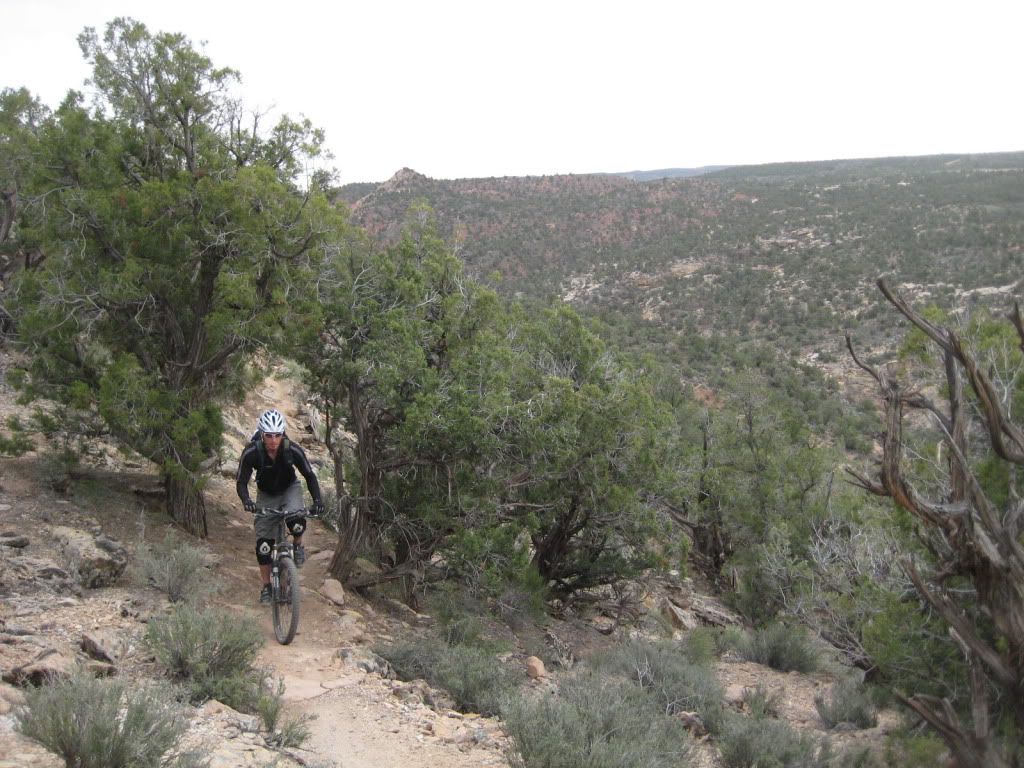 Deno about to get turned around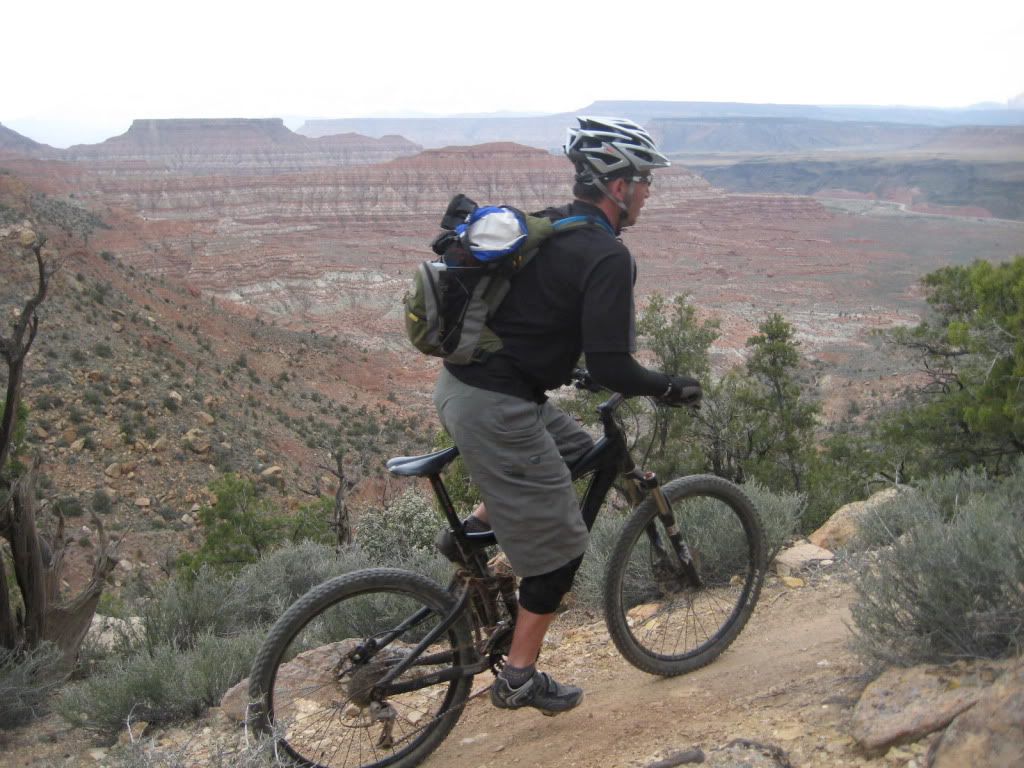 Huck it Deno!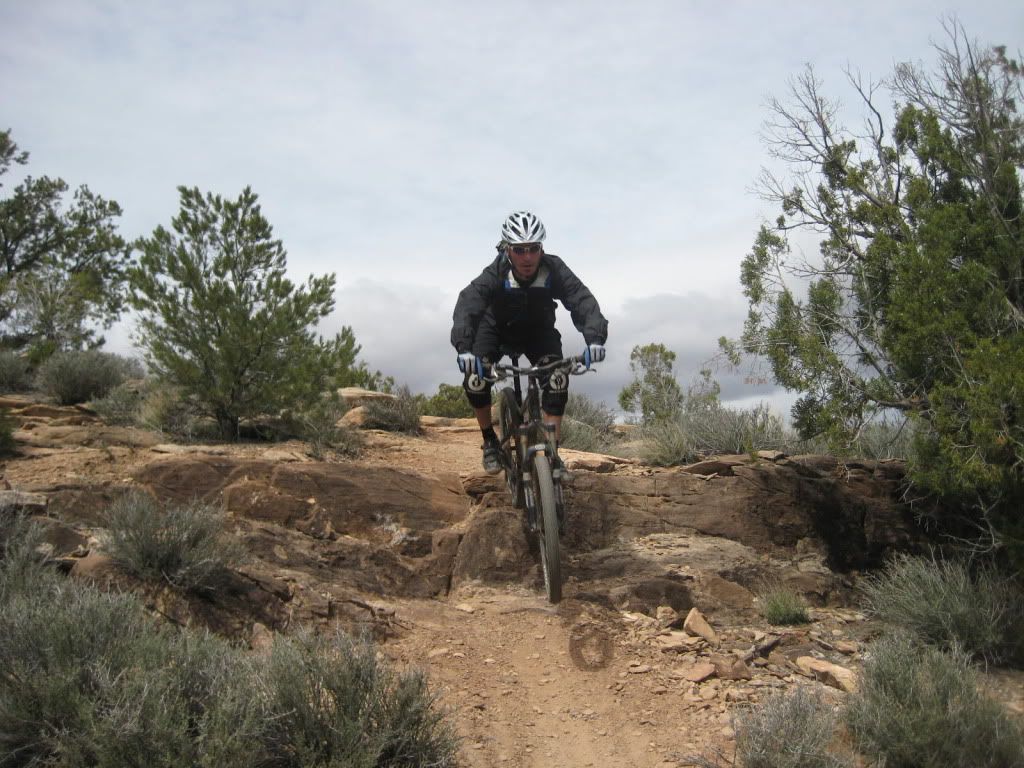 Kreechan burst his hucking cherry on this trip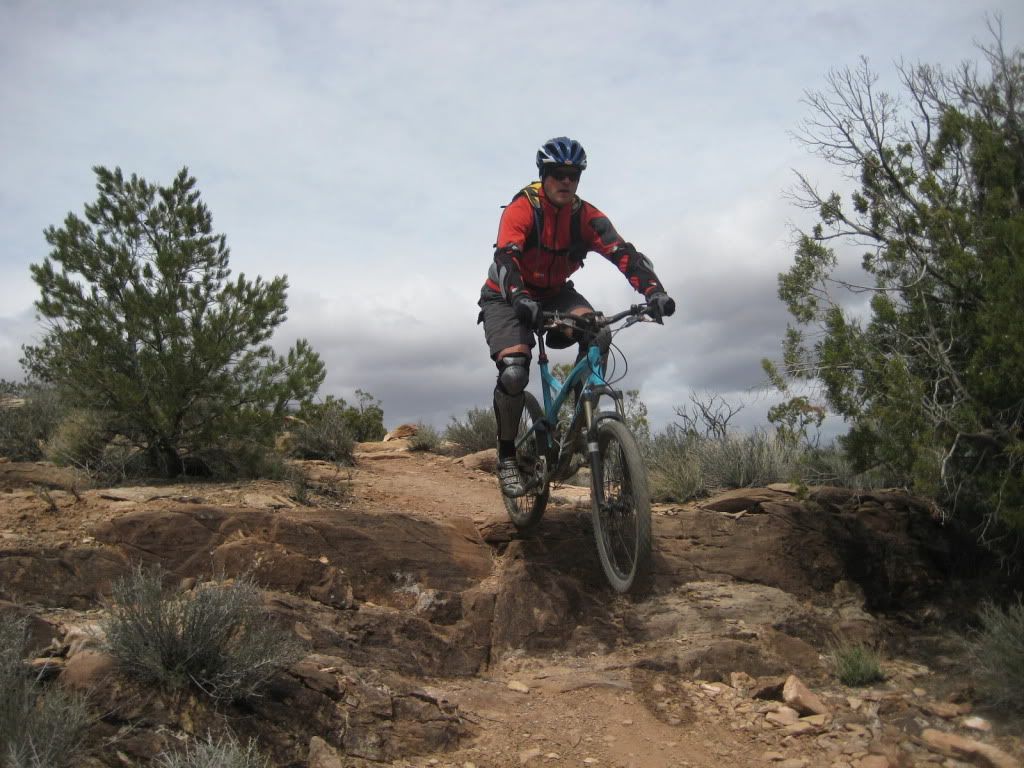 GP_pilot climbs over rock. There are some tricky climbs on the top section.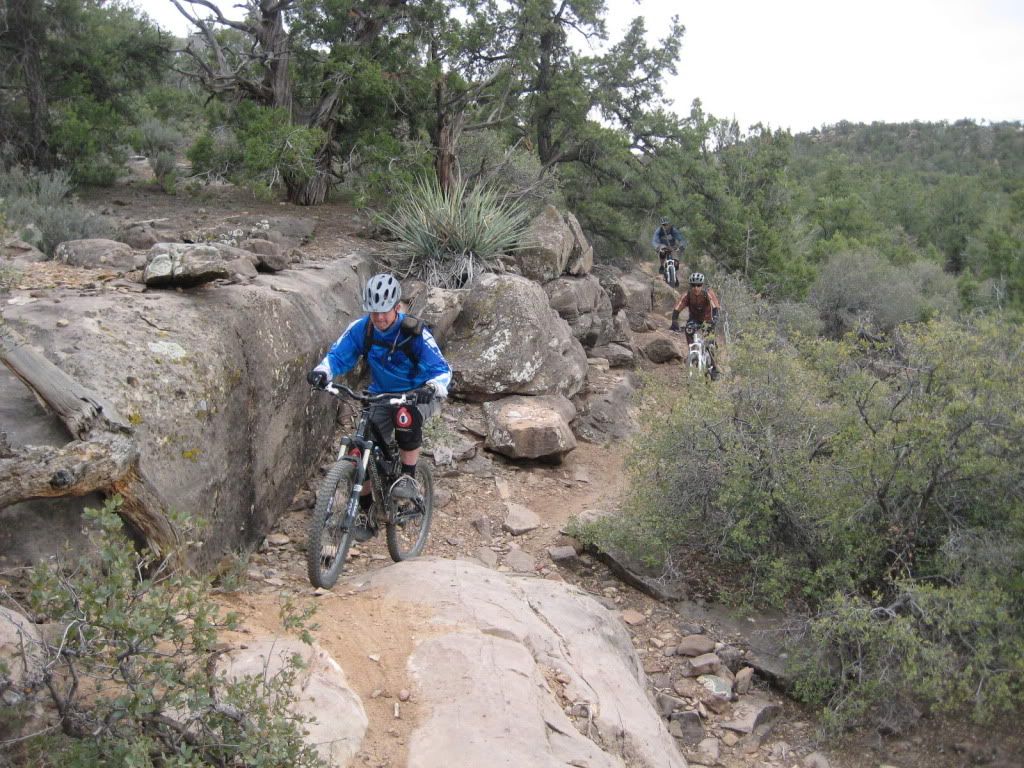 Lap 1, QS checks out the line while Gman, looking all svelte sans baggy shorts, sanitizes the line to QS's liking.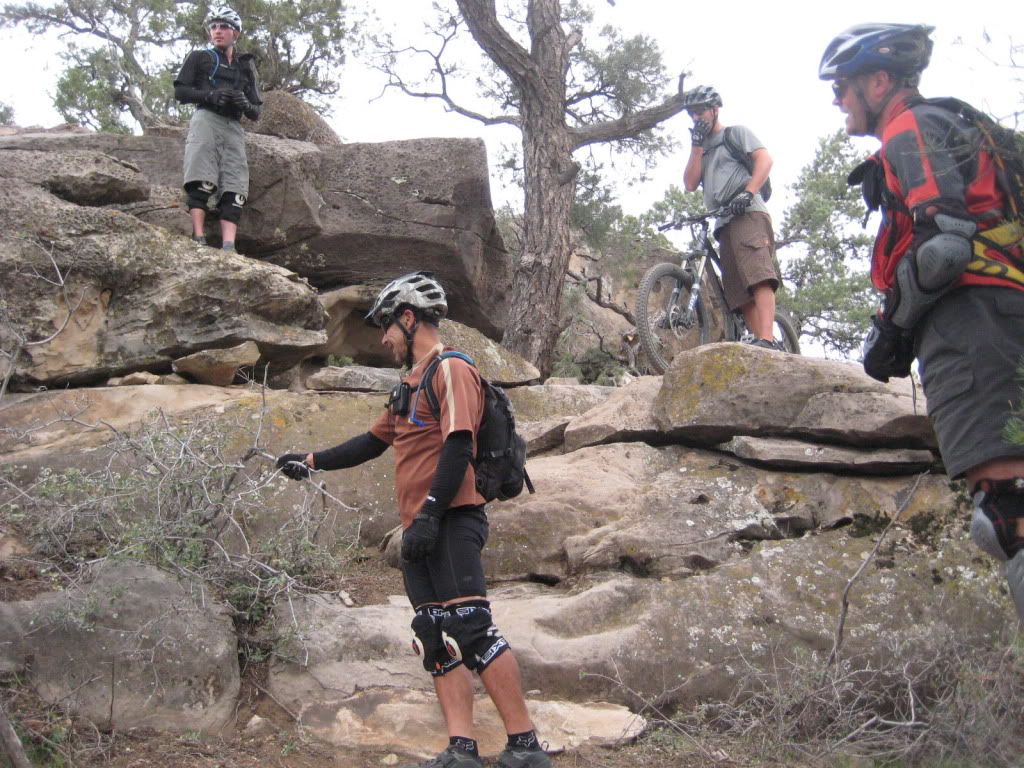 Then hits it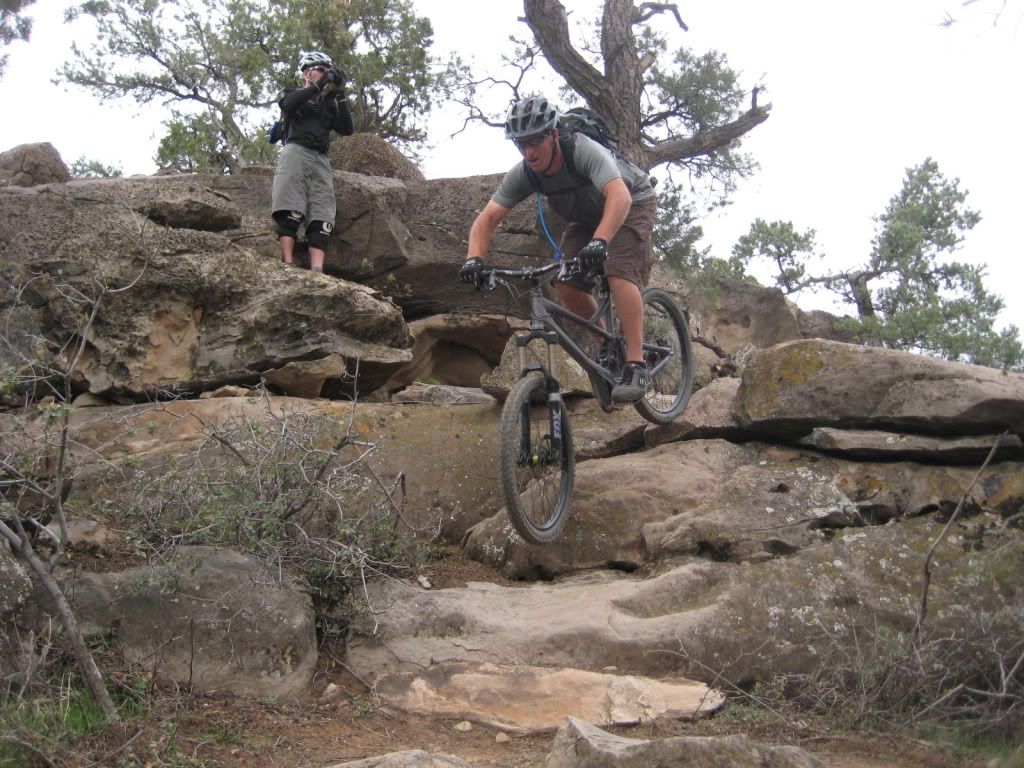 And again....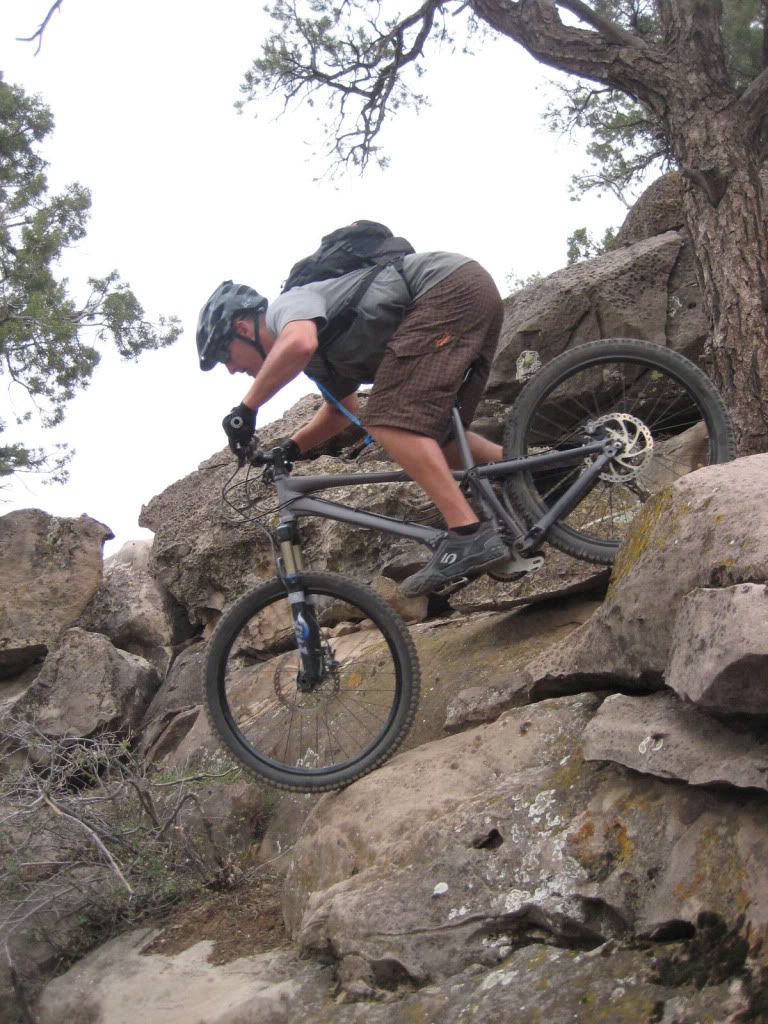 On lap 2, GP_pilot psyches himself for this same roller.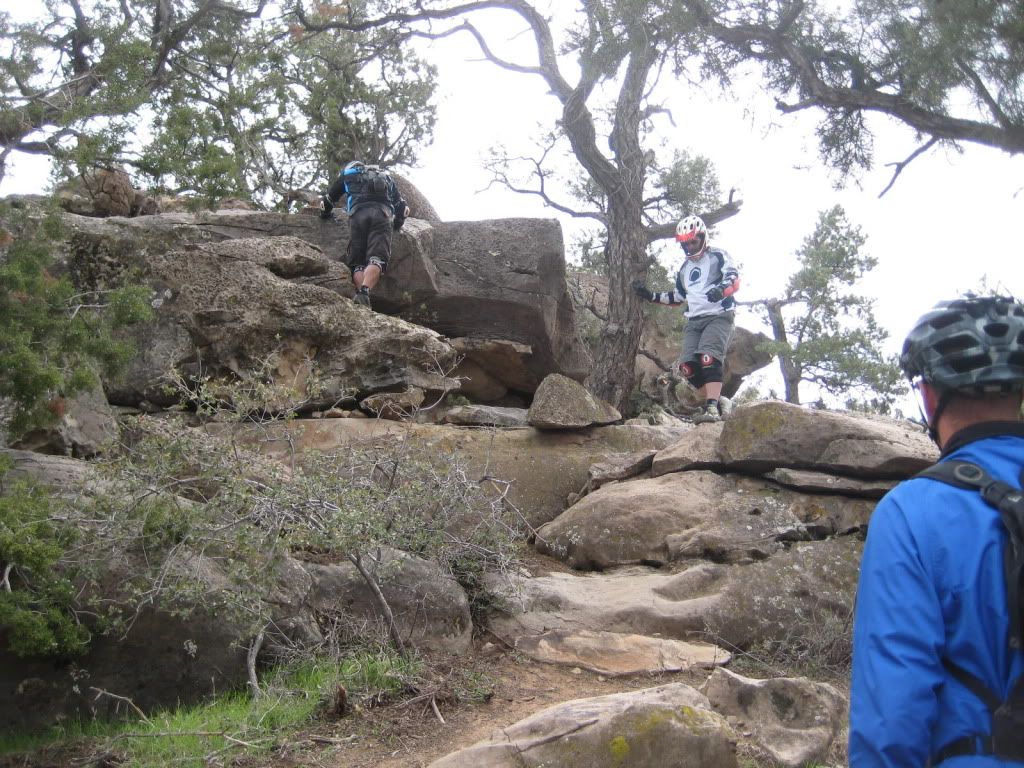 QS, lap 2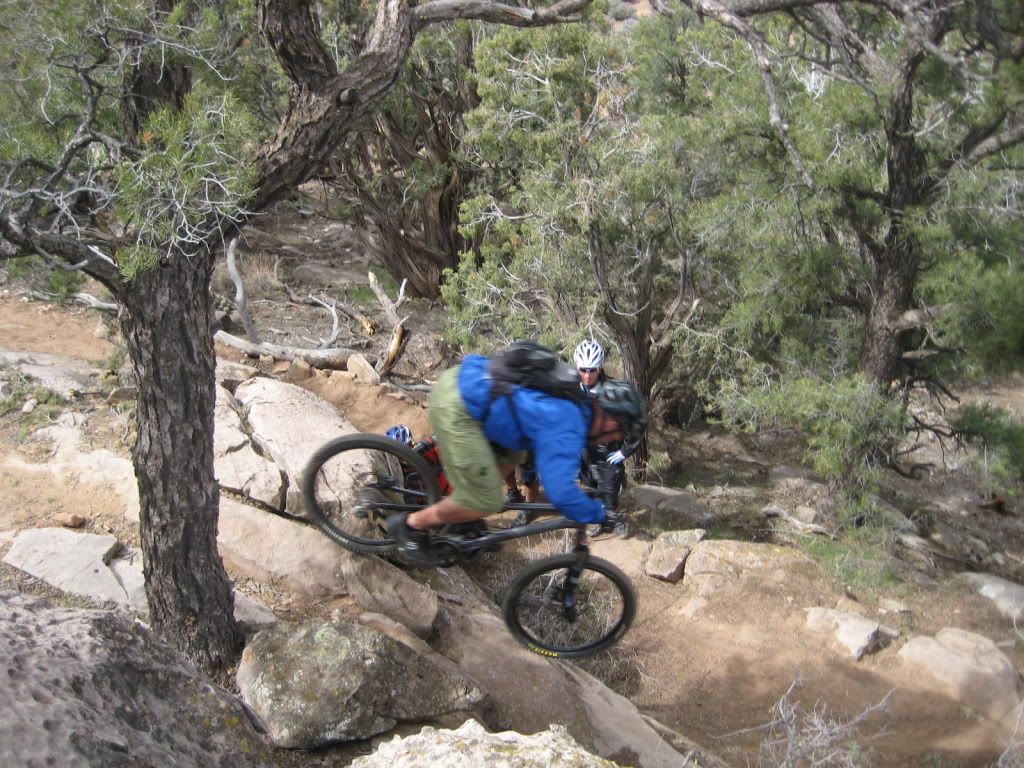 Looking down after Gman hits it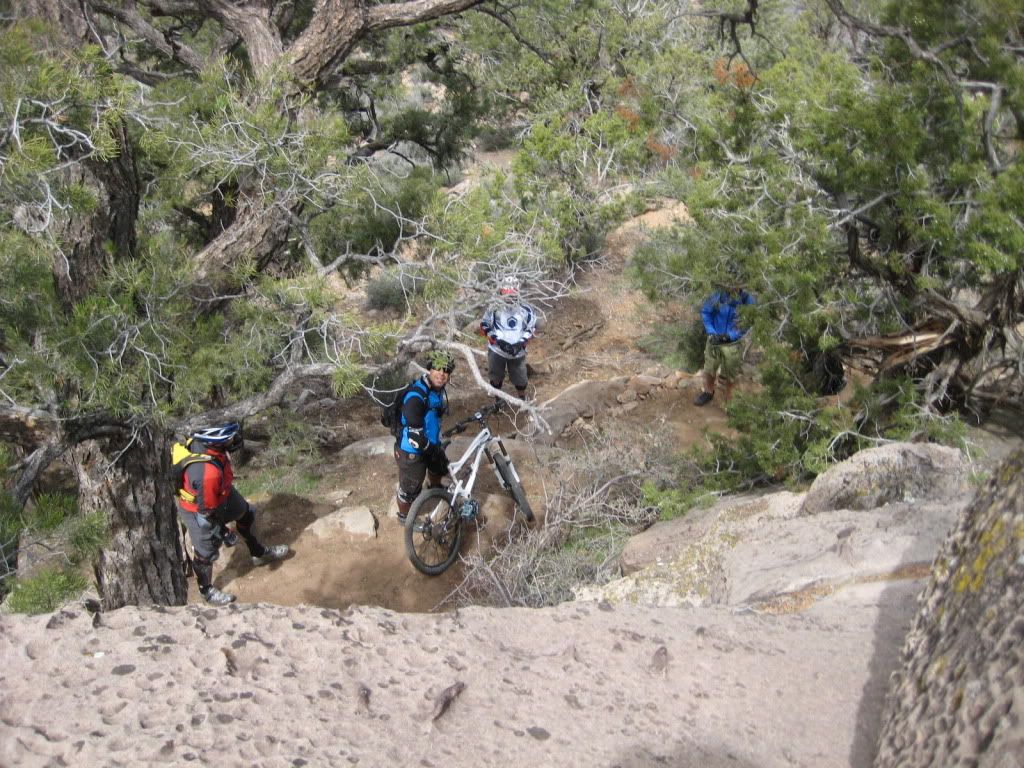 GP_pilot about to discover why it took us close to 3 hrs on lap 1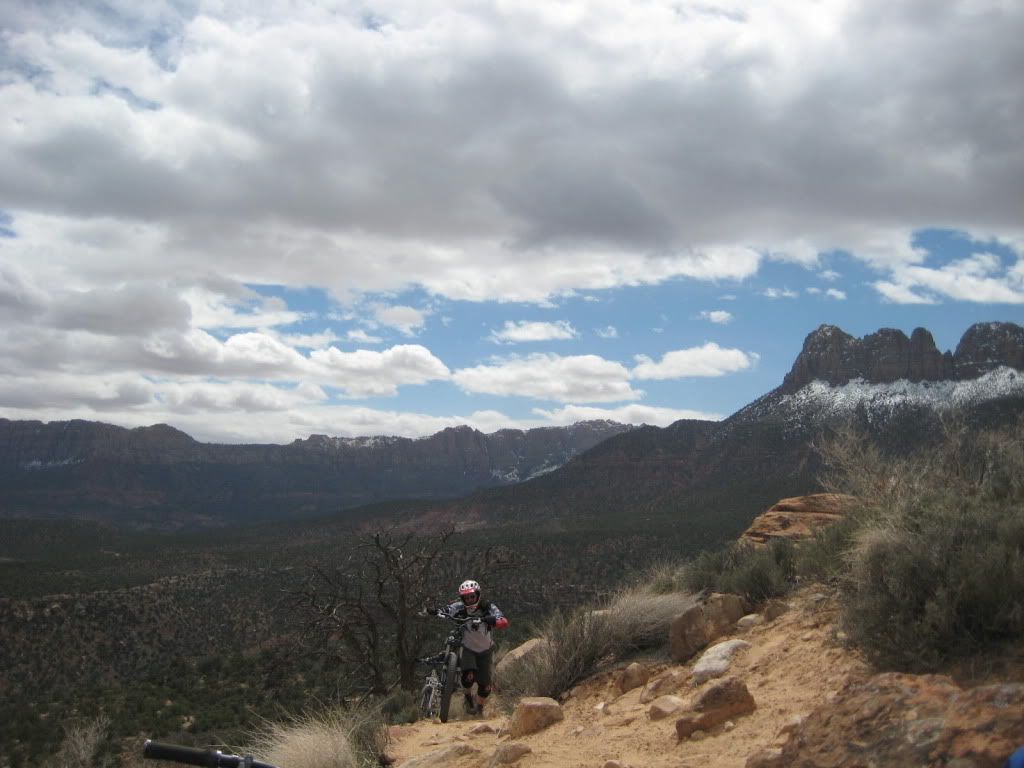 Resting at top of the HAB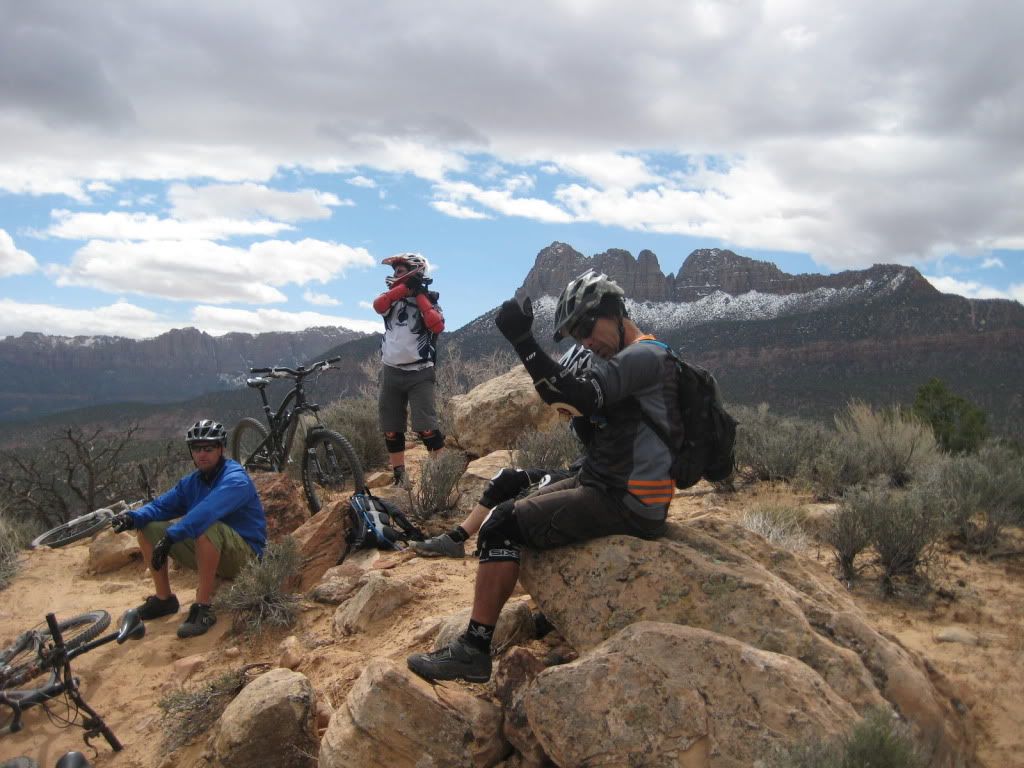 QS airs this ultra smooth huck
GP_pilot touches down
Kreechan on the rock slab hip roller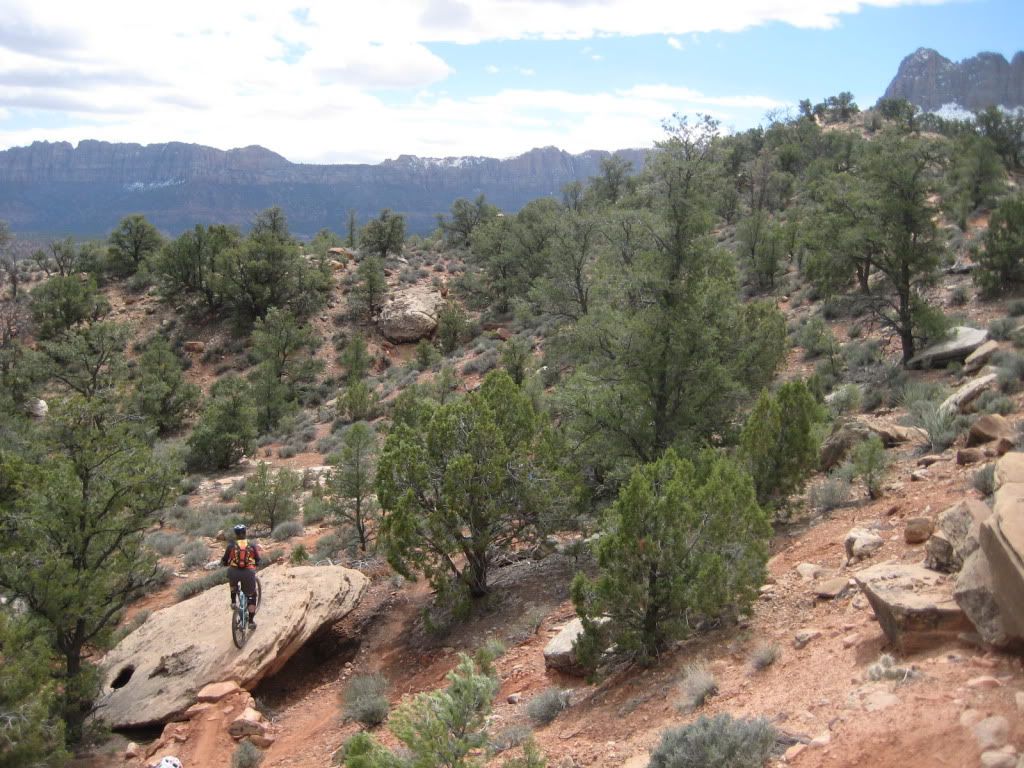 Whatever you call it, its sweet (and well labelled)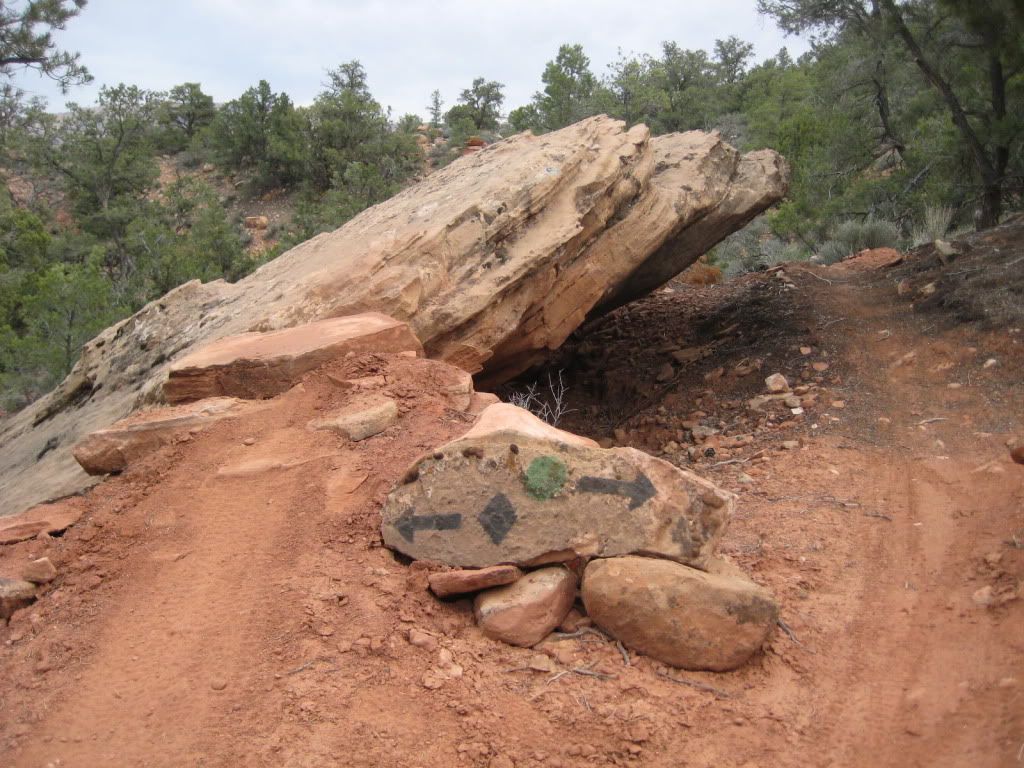 I get my turn
Gman exits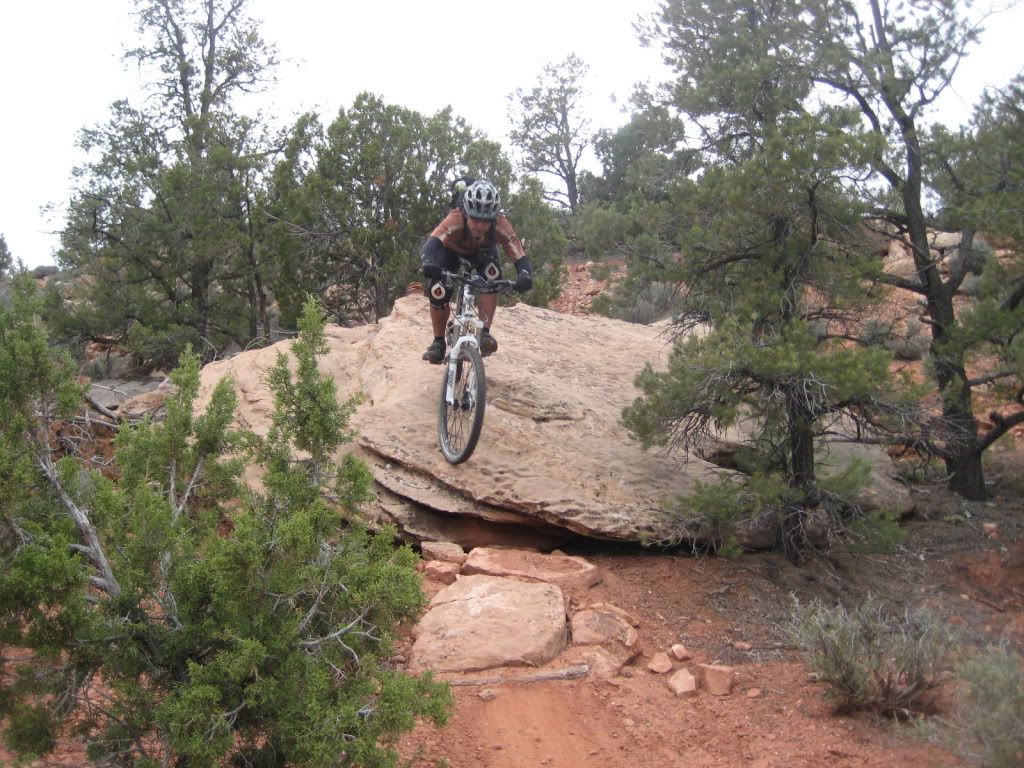 My zoom was not cooperating but this clip gives a good idea how this stuff flows. Follows QS from top of the HAB down to the two features pictured above
This is a fairly technical low speed huck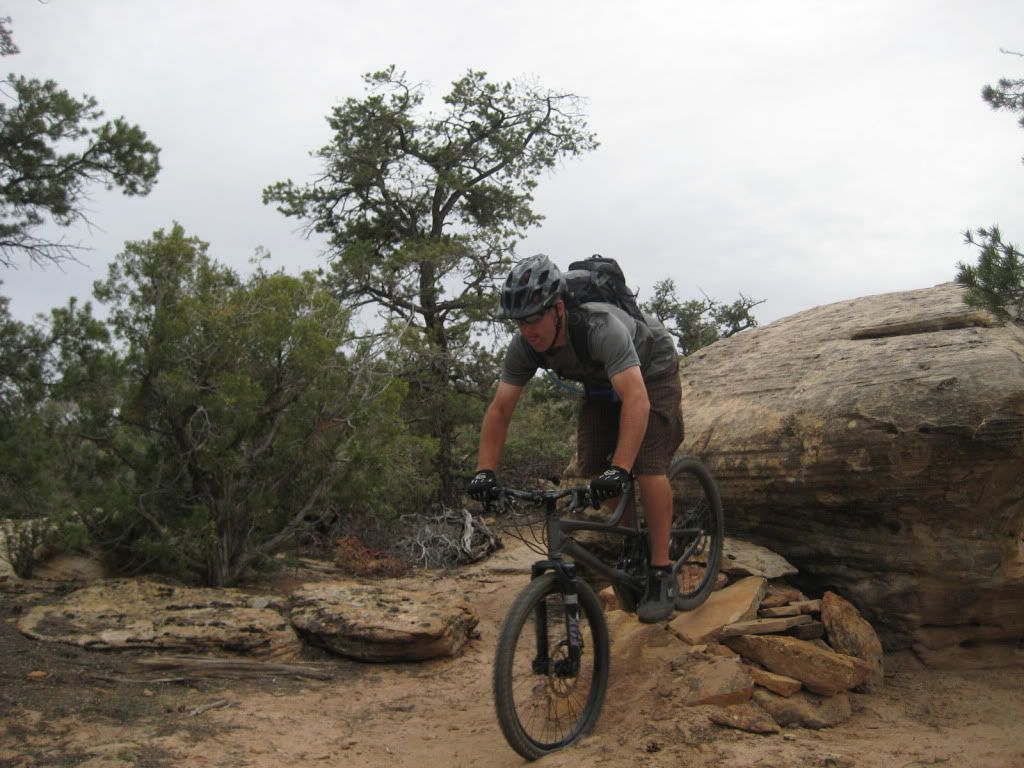 Deno hit it without fear but pinch flatted hard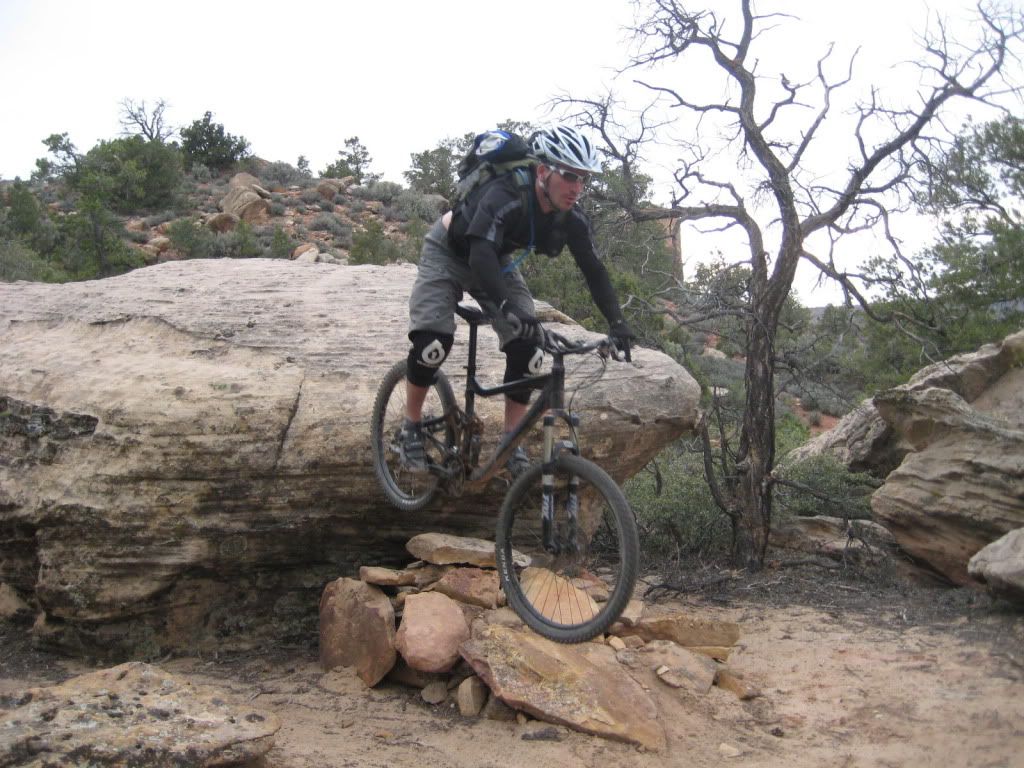 QS experimented with different speeds and landing spots
GP_pilot enters the double roller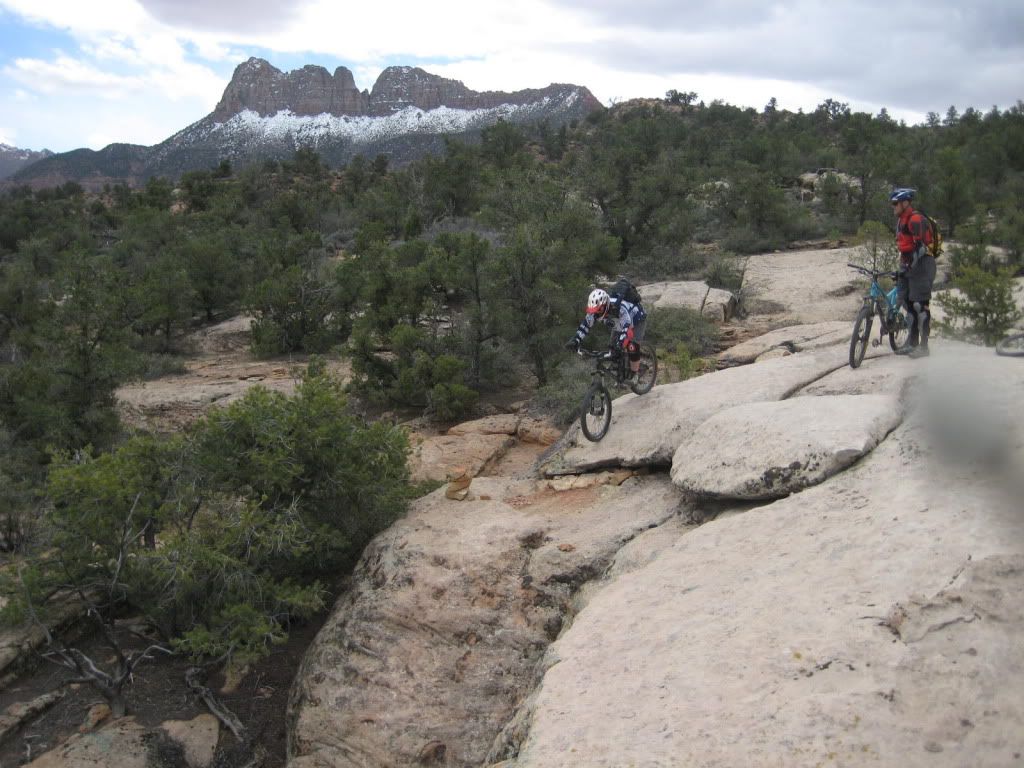 Kreechan on the lower roller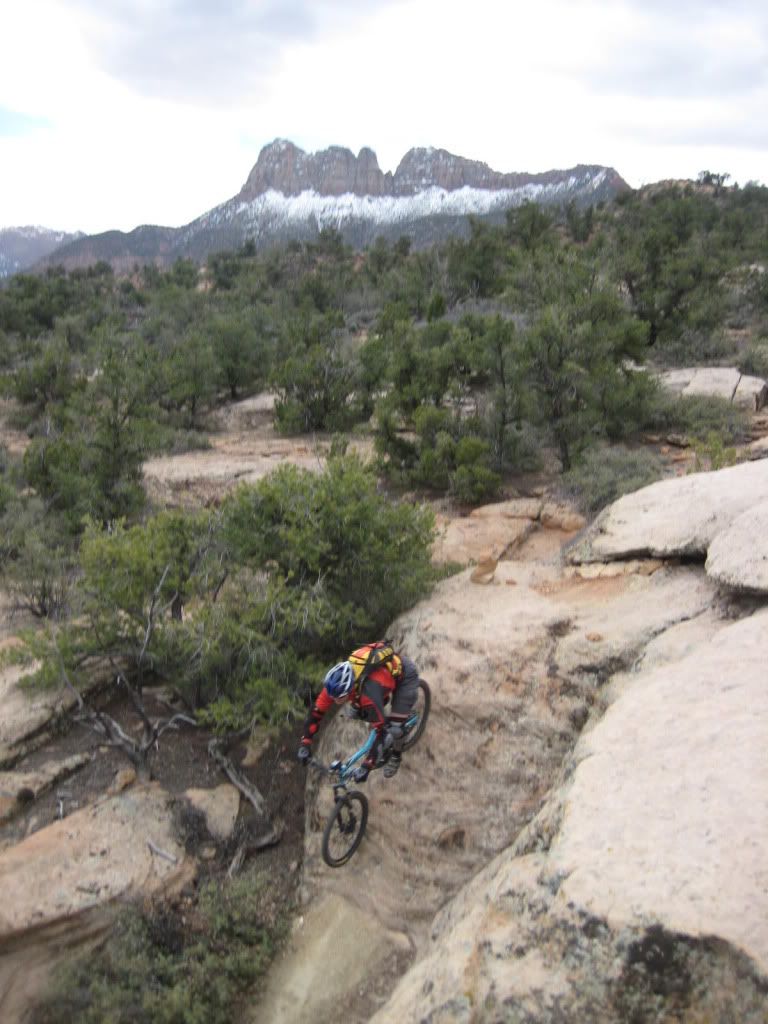 Deno crests the lower roller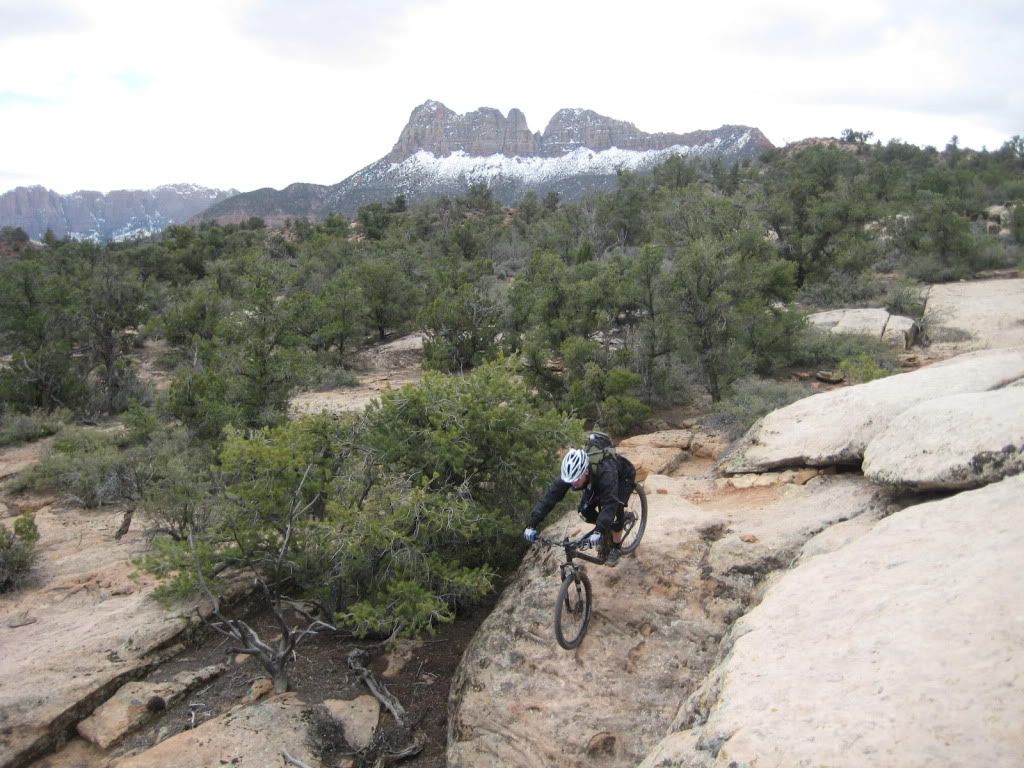 QS
My turn, thanks to QS for the pics of me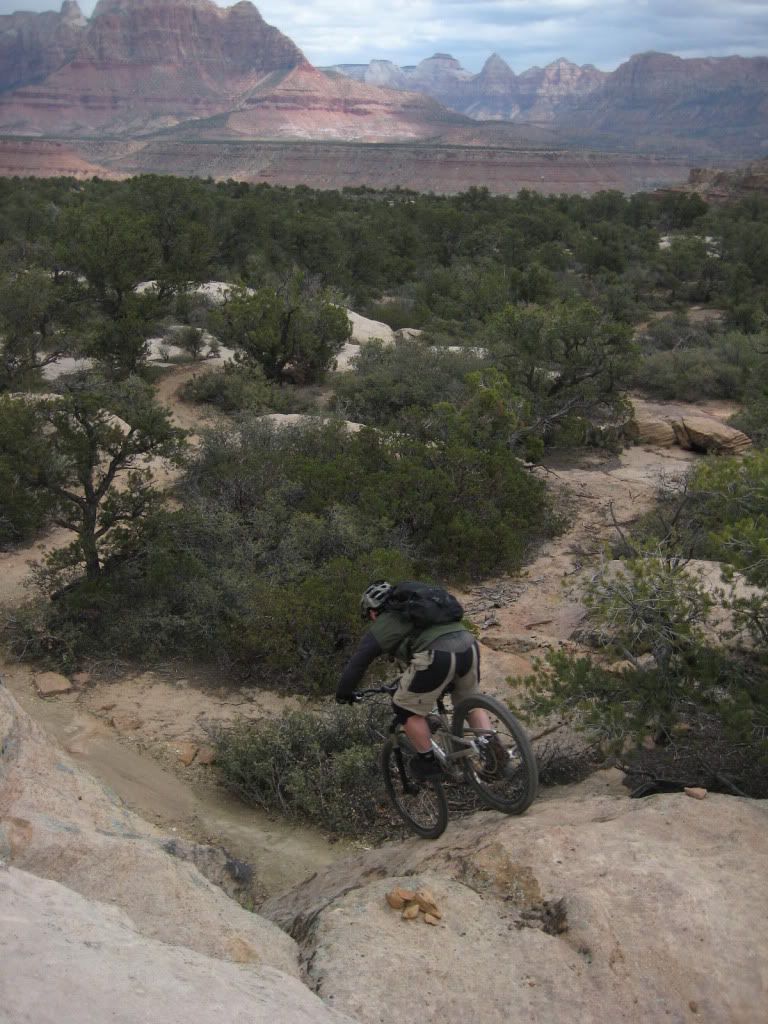 QS didn't pioneer this line, but few had done it before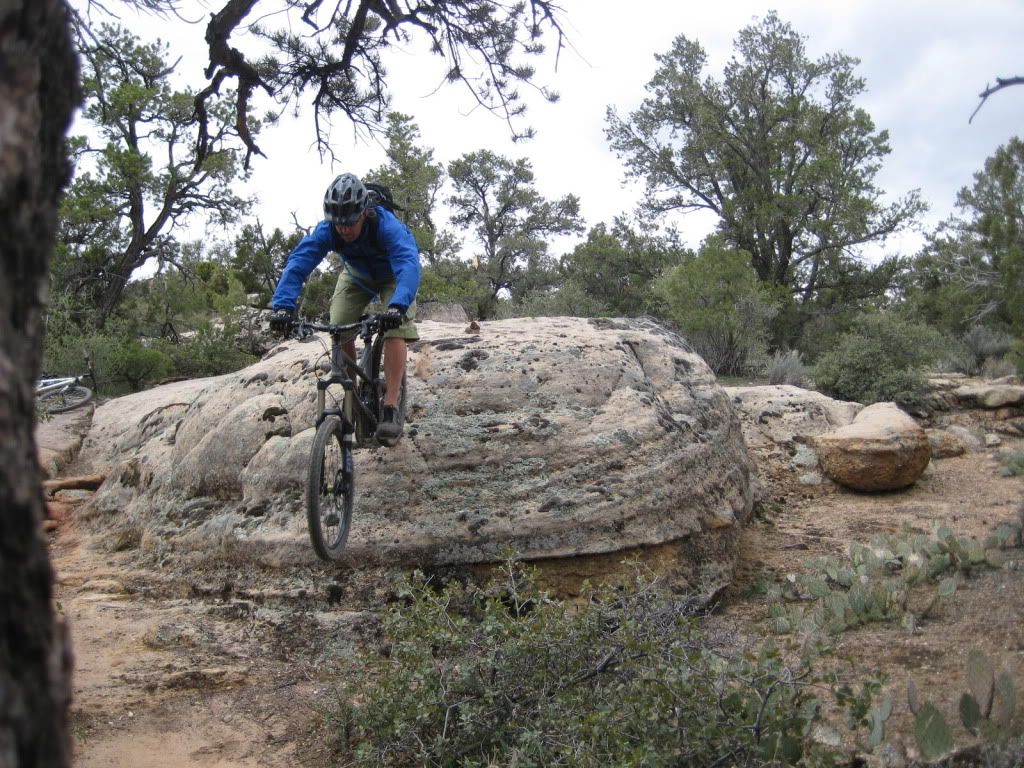 Rock hunters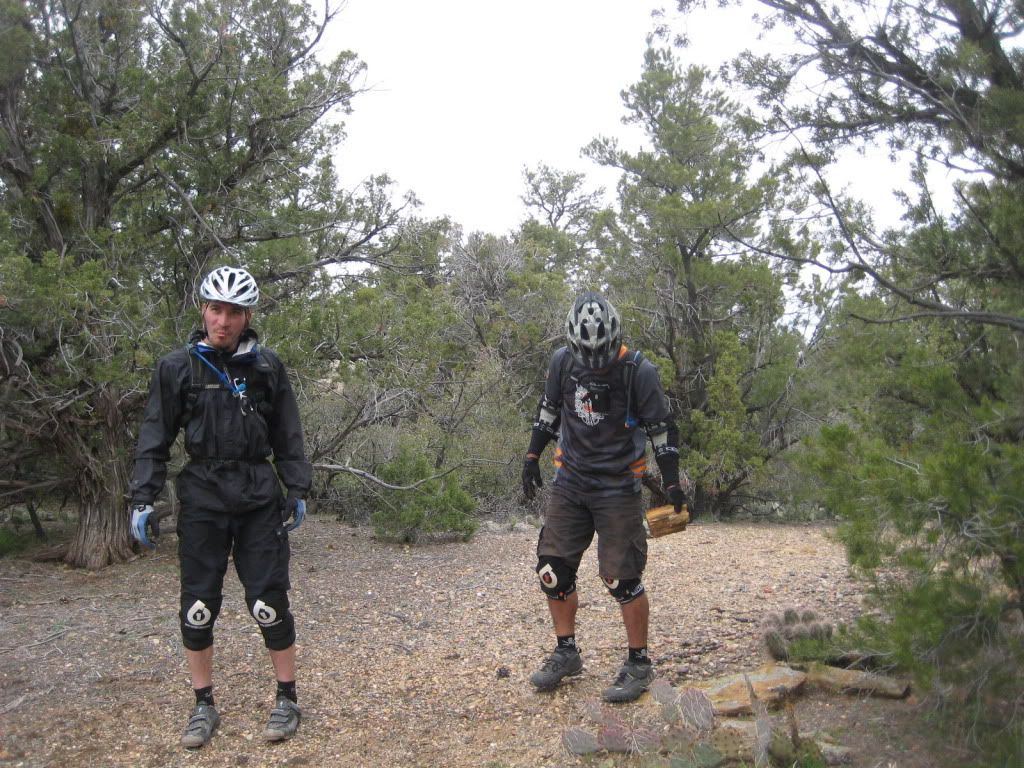 Giving new meaning to the term hardwood
This small huck took Kreechan out on lap 2
Three lines here - the P line around it, the roller line Deno shows us here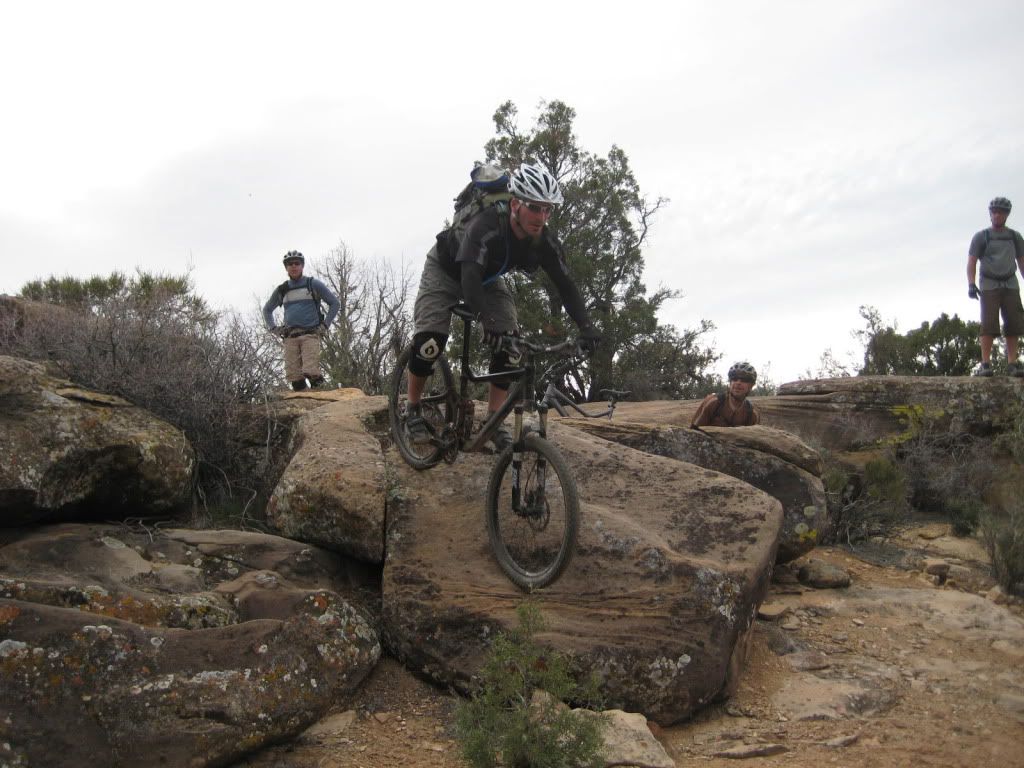 Or the huck line QS takes here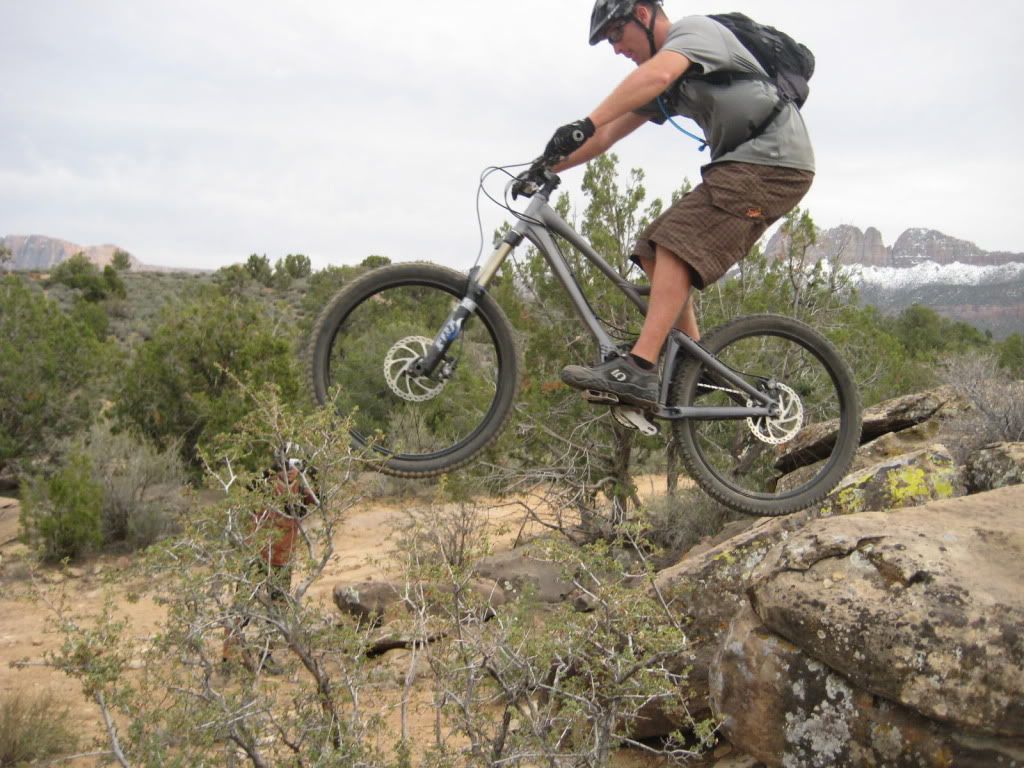 Kreechan is seen rolling it from the other angle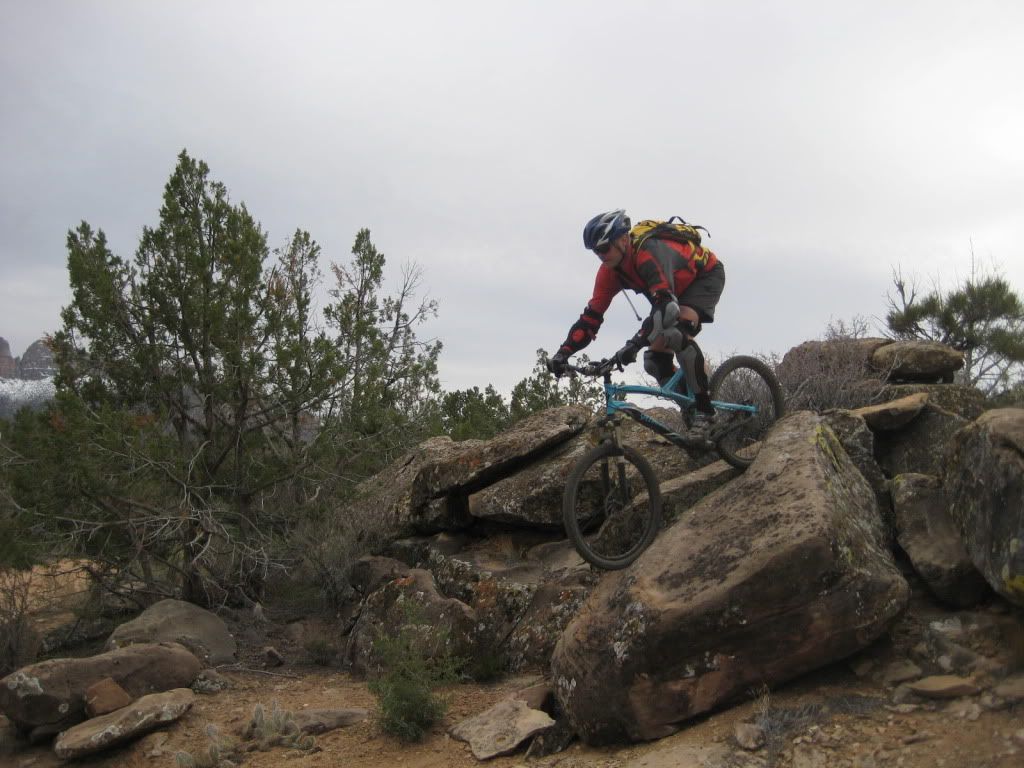 Interesting choice of material to line a trail with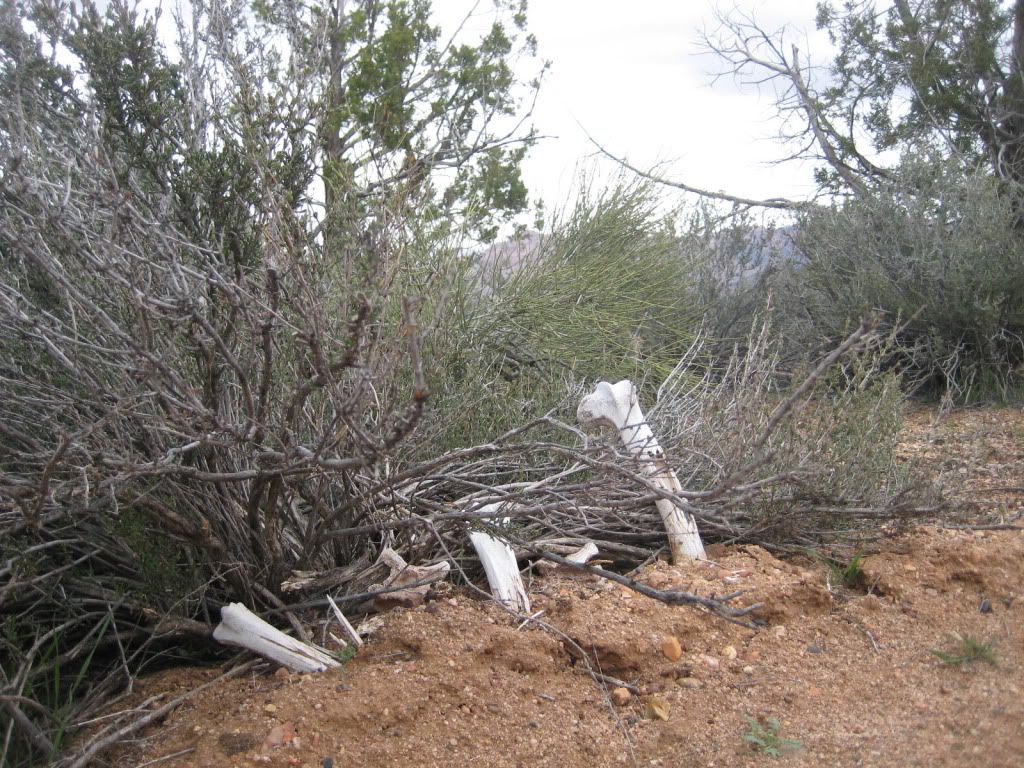 Always a nice backdrop
QS hits nice hip jump to slab
After 3 tries he has it down
QS enters the sketchy drop in to Grafton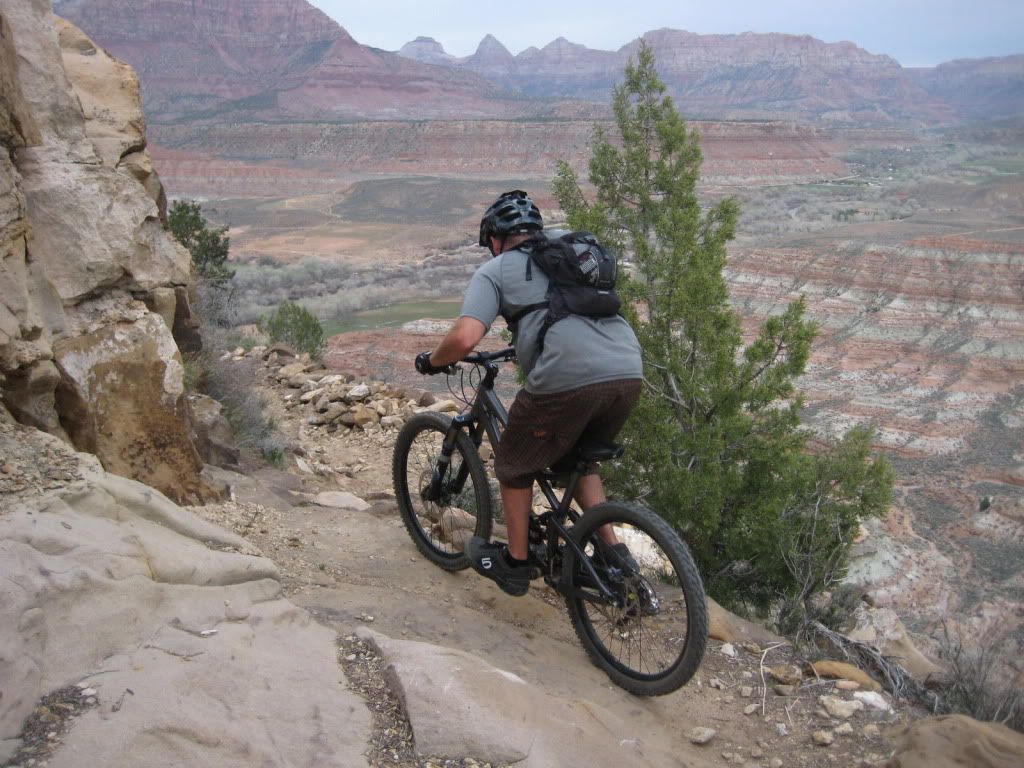 And rides it through nicely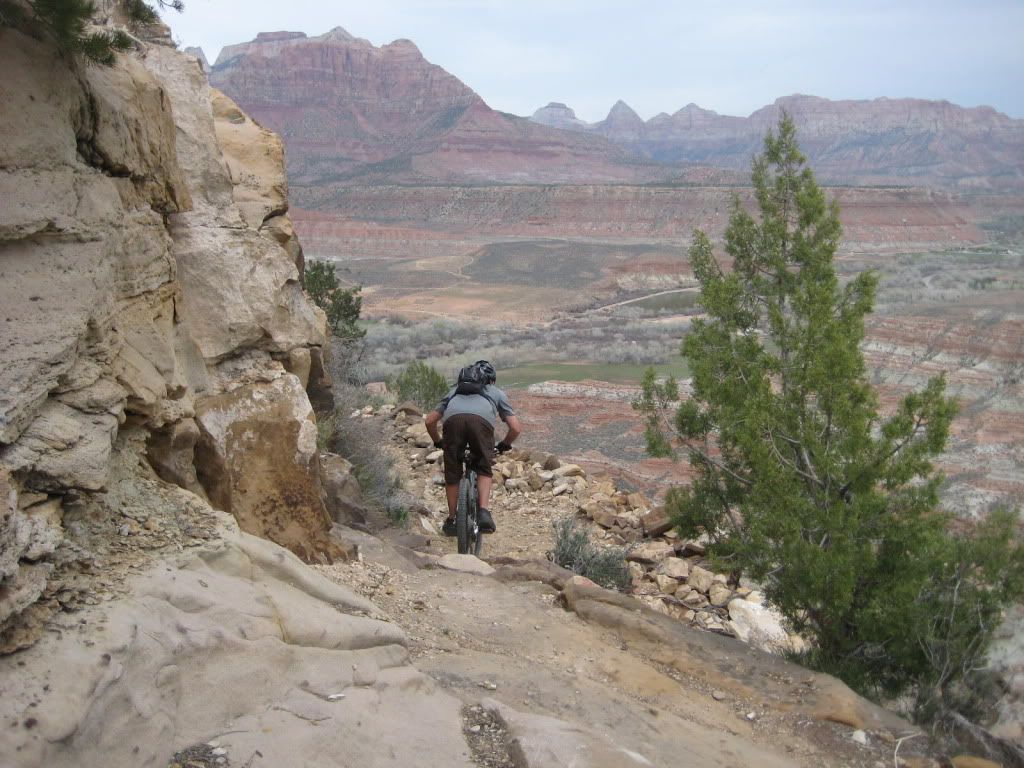 Deno follows through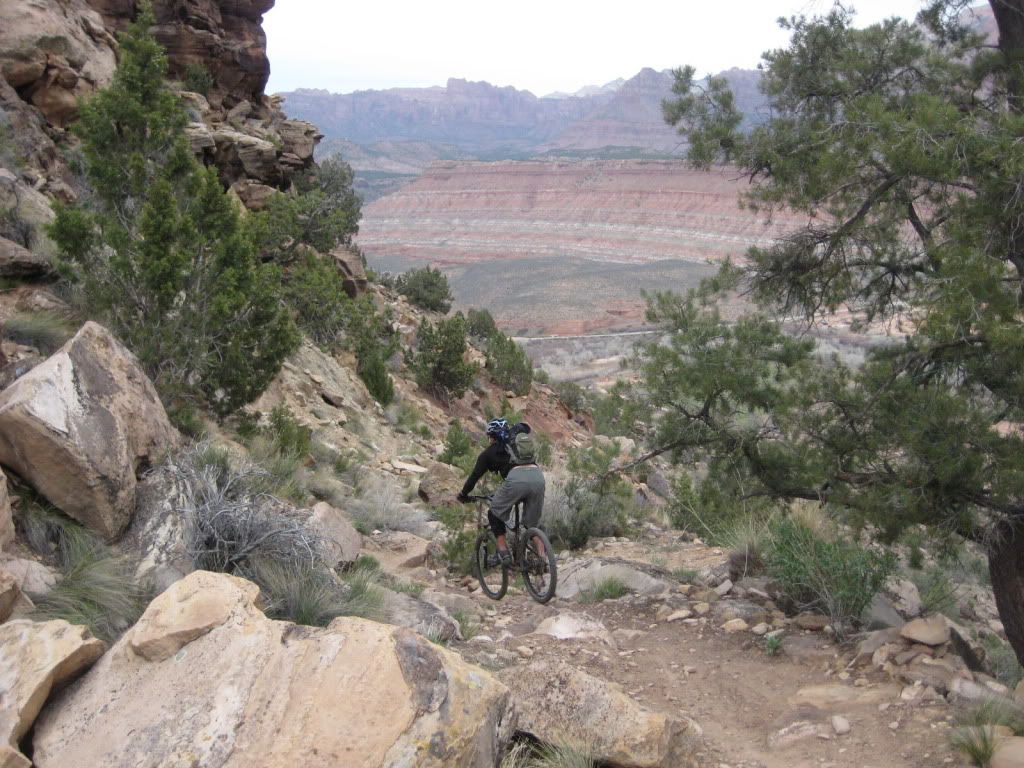 Kreechan goes down on this same sketchy section, picking up a leg full of cactus in exchange for a new dent in his camera. Doesn't sound like a fair trade to me!
GP_pilot is first to follow after Kreechan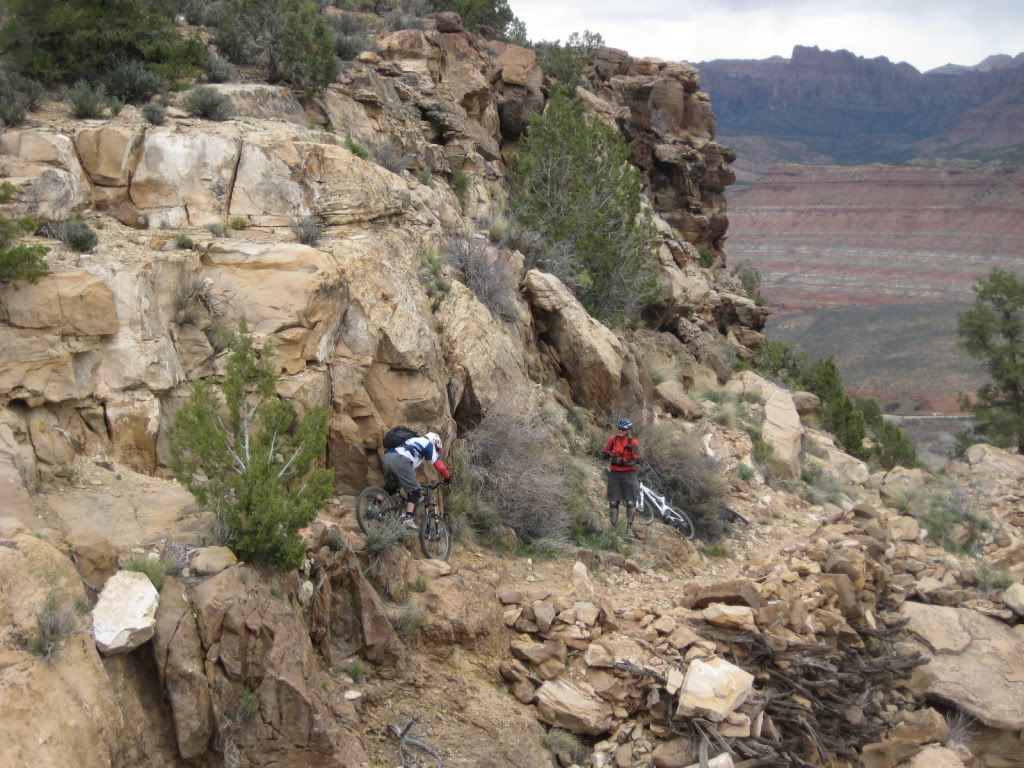 My turn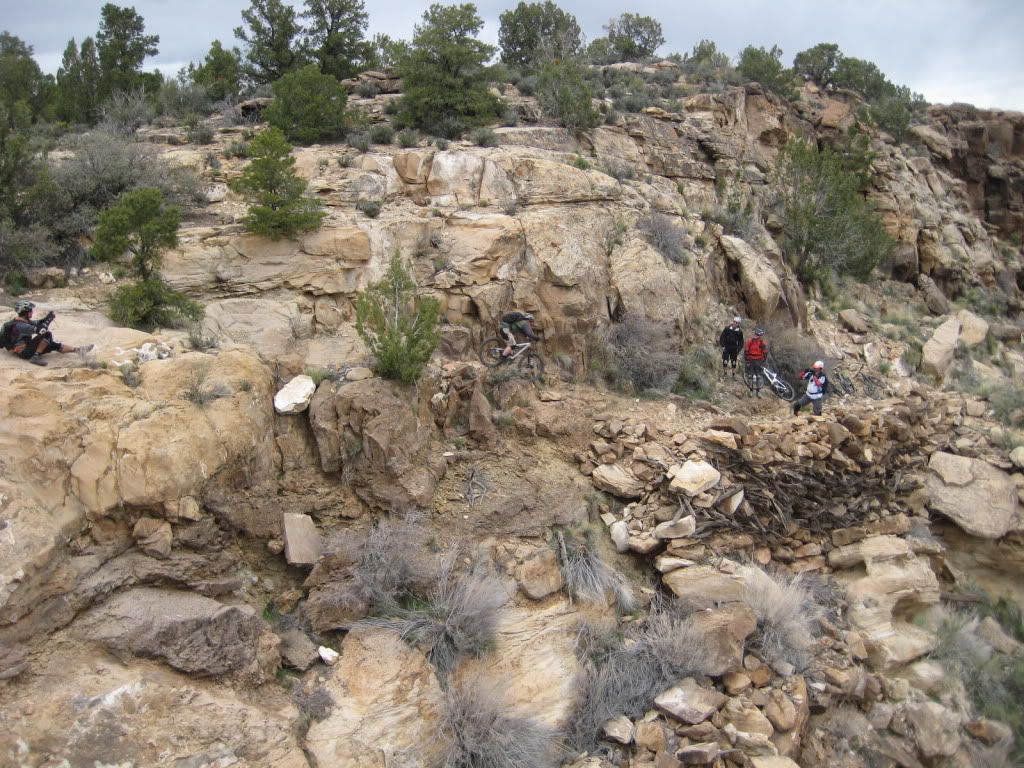 QS, lap 2
A look at what was sketching us out. Not so bad but its chunky and there is penalty for failure
QS, all smiles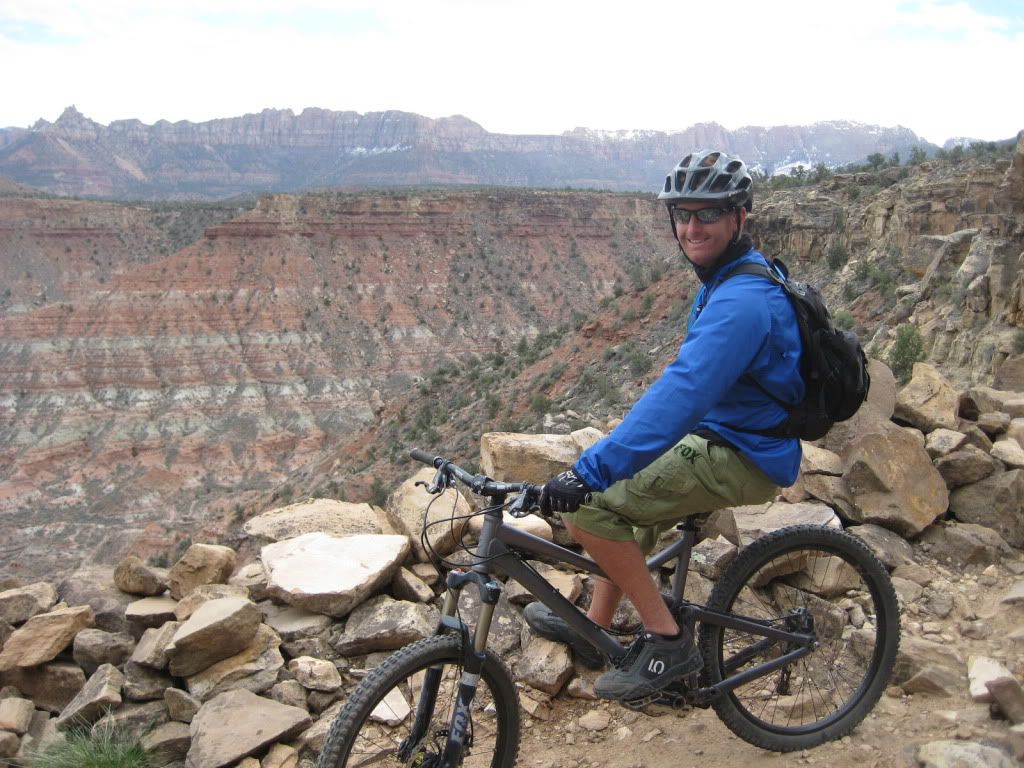 GP_pilot moves on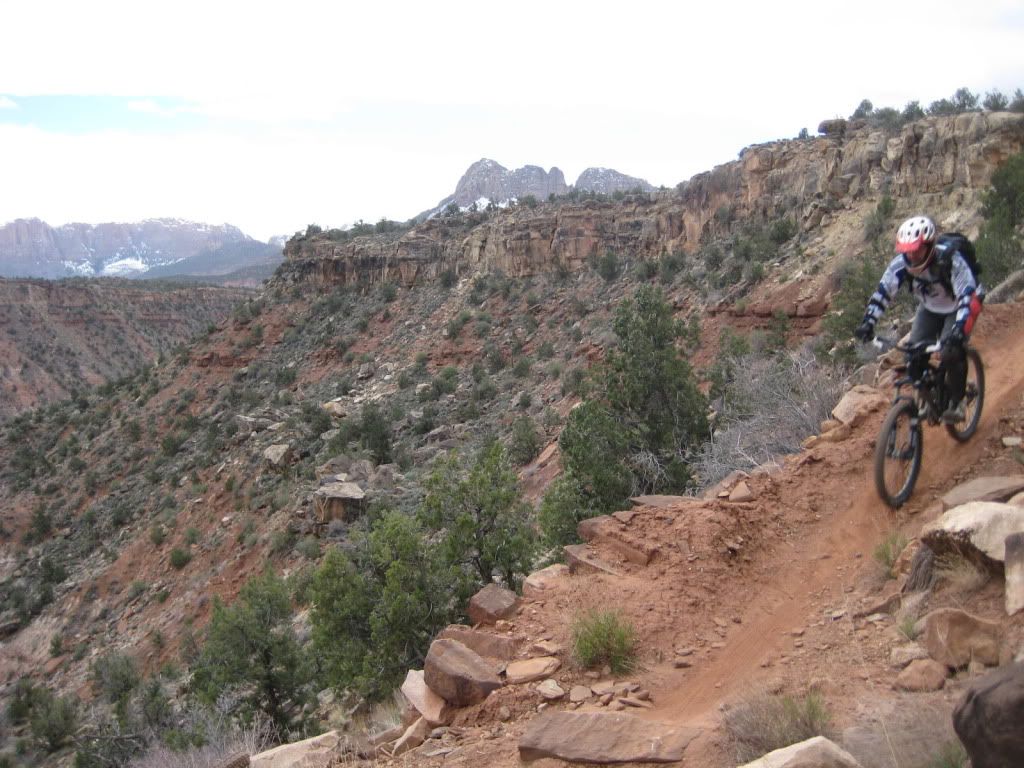 QS hit up this ledge drop, which puts you on a trajectory straight over the side if you mess up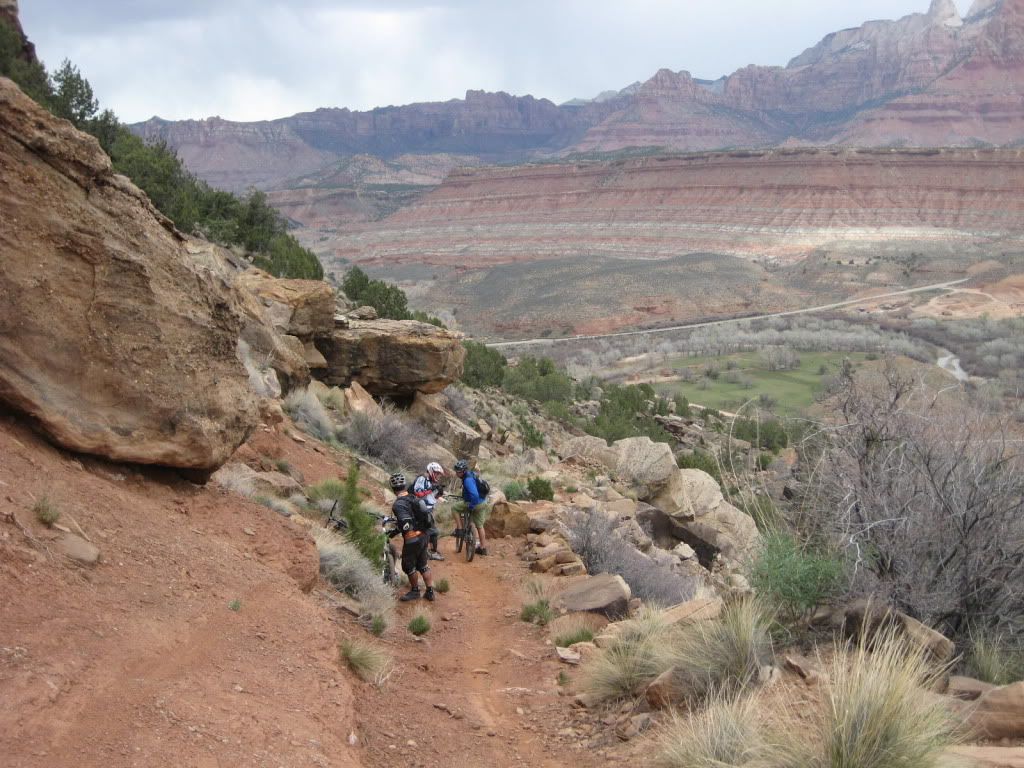 Fortunately we've had lots of chunk time prior to this trip for preparation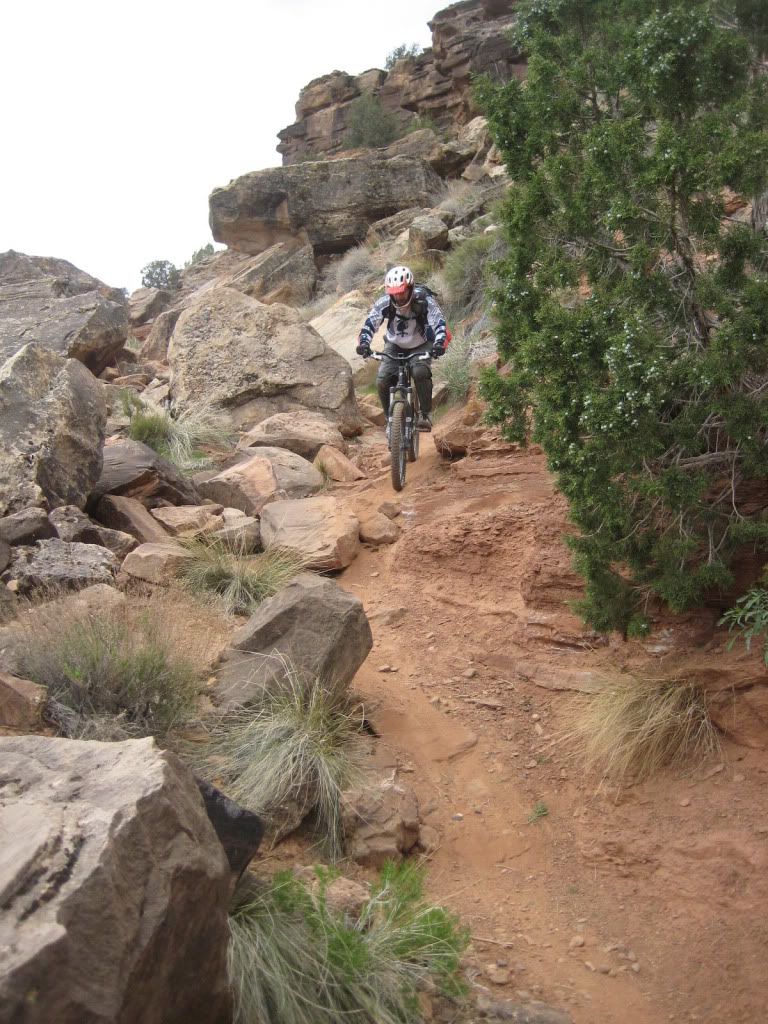 So now sections like this don't seem so bad
Kreechan without hesitation
QS motors along
My turn....
Into rock roll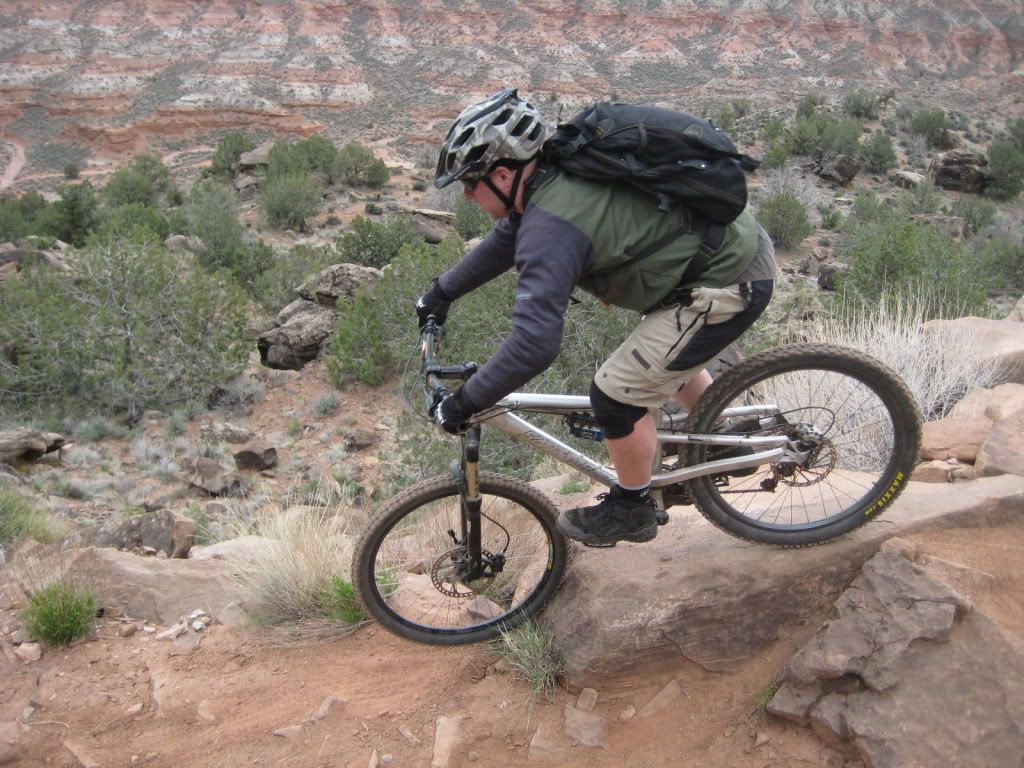 Into rock roll #2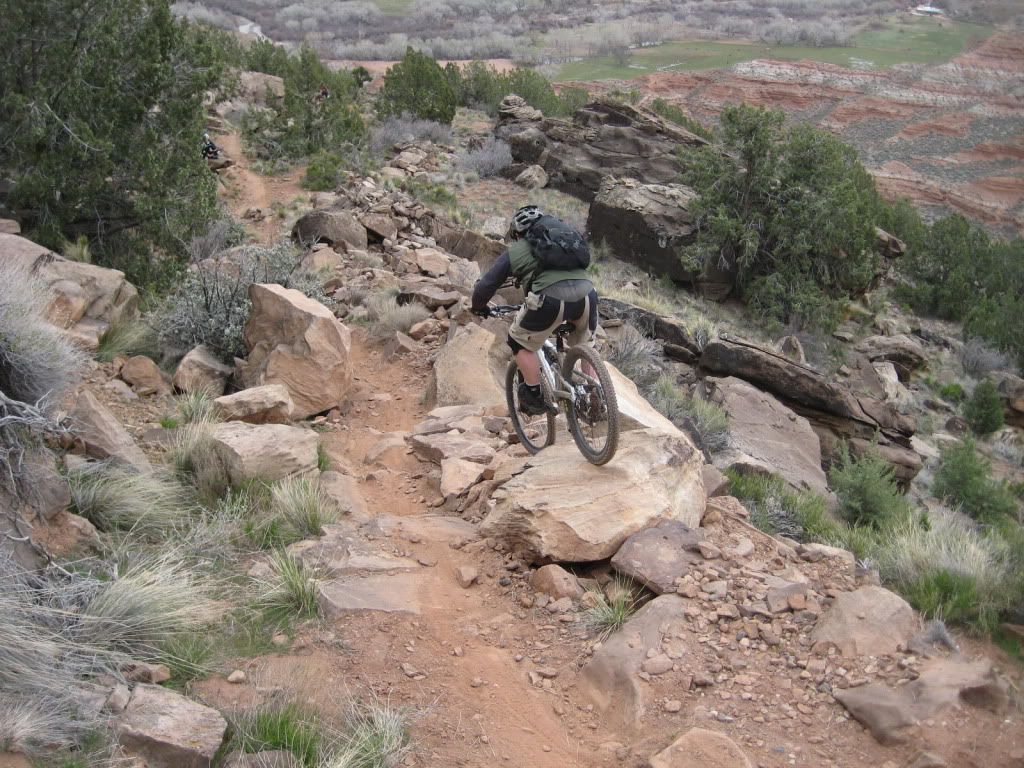 GP_pilot on exit chute
QS rolls up intending to take an alternate line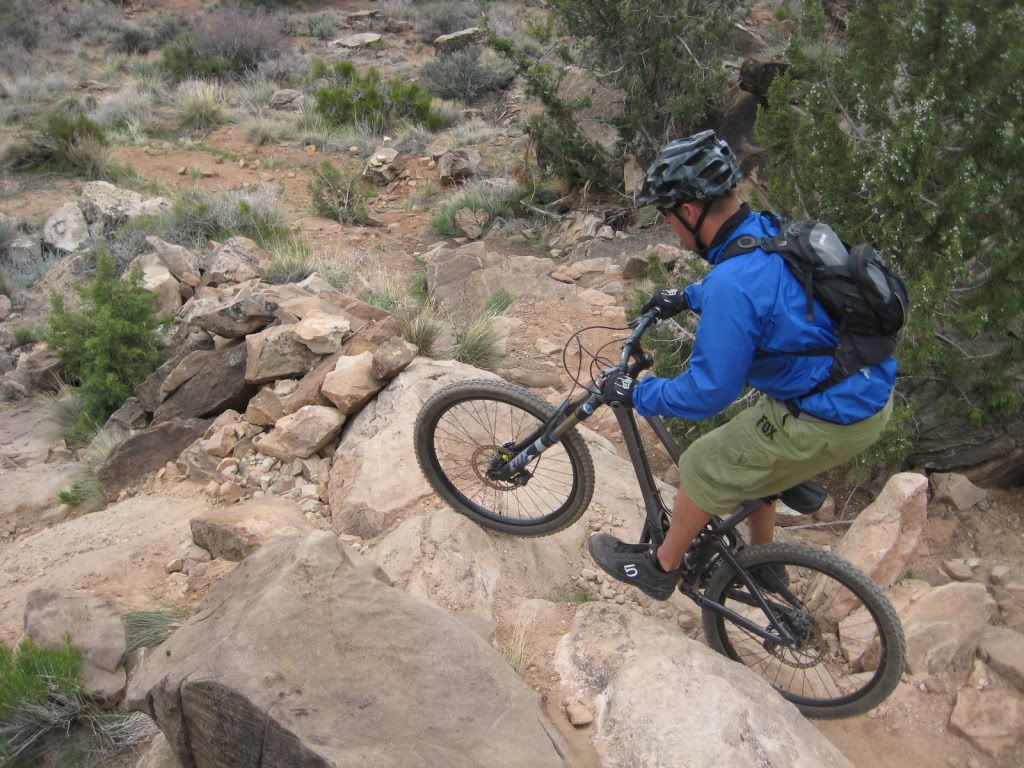 Which he does with debatable success
Deno goes on ahead. You can see the trail far below heading left on a ridgeline
You can also see the van far far below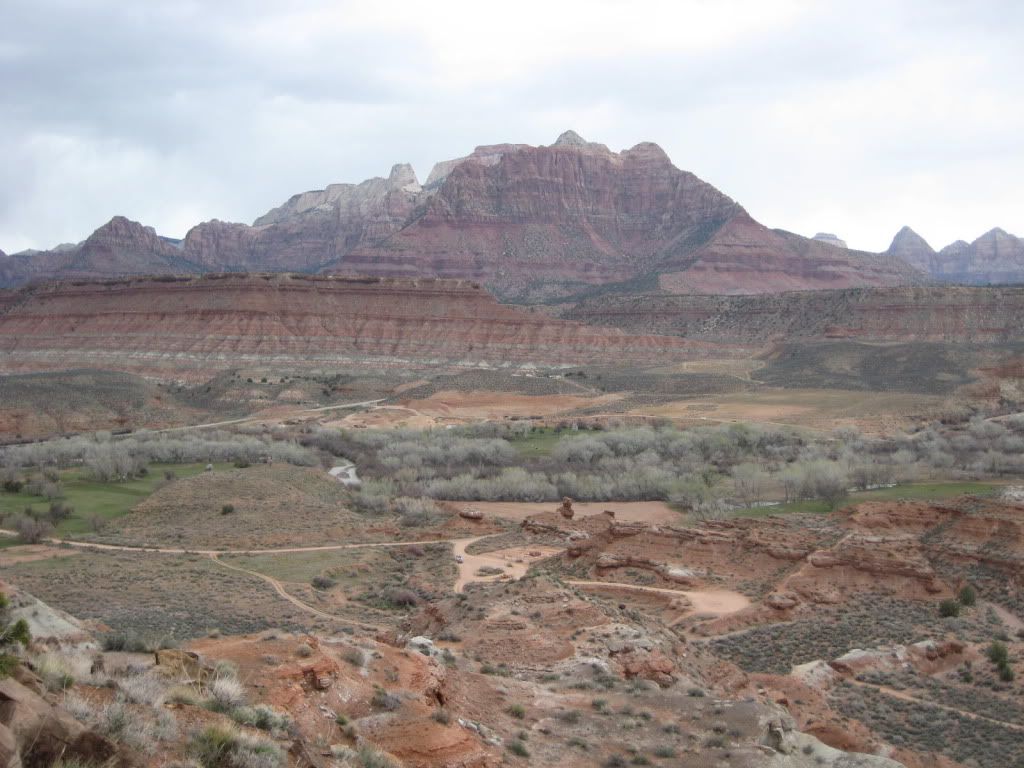 QS cleans the rock slab hip-gap, lap 1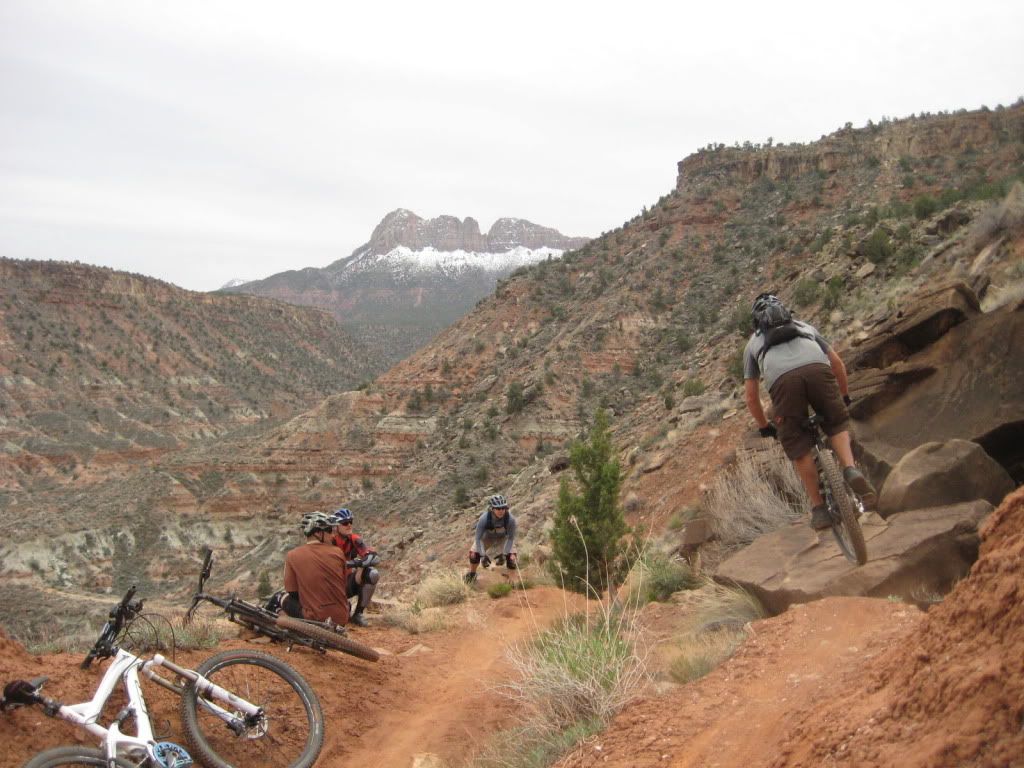 And comes back for more on lap 2. Cases the first try
But does better on the second
(my camera dies here on lap 1 so all the other pics are from lap 2)
Leading the charge
GP_pilot and Gman in pursuit
Kreechan tries the ridgetop line he missed on lap 1
Deno takes the high line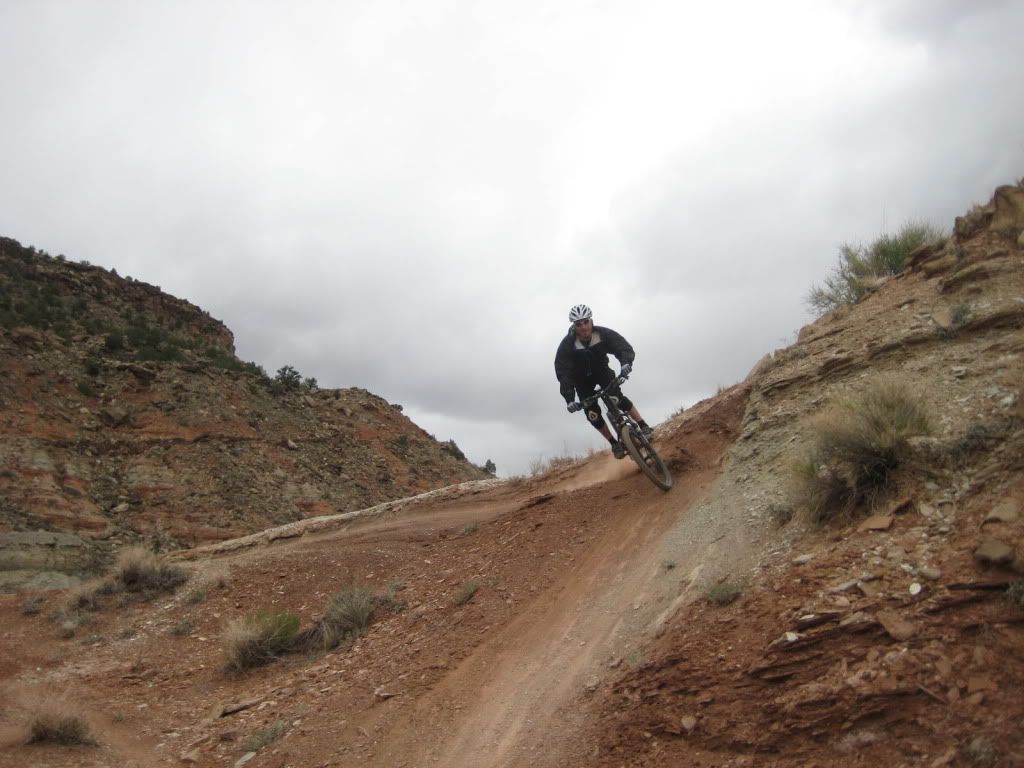 GP_pilot hits the upper huck...so smooth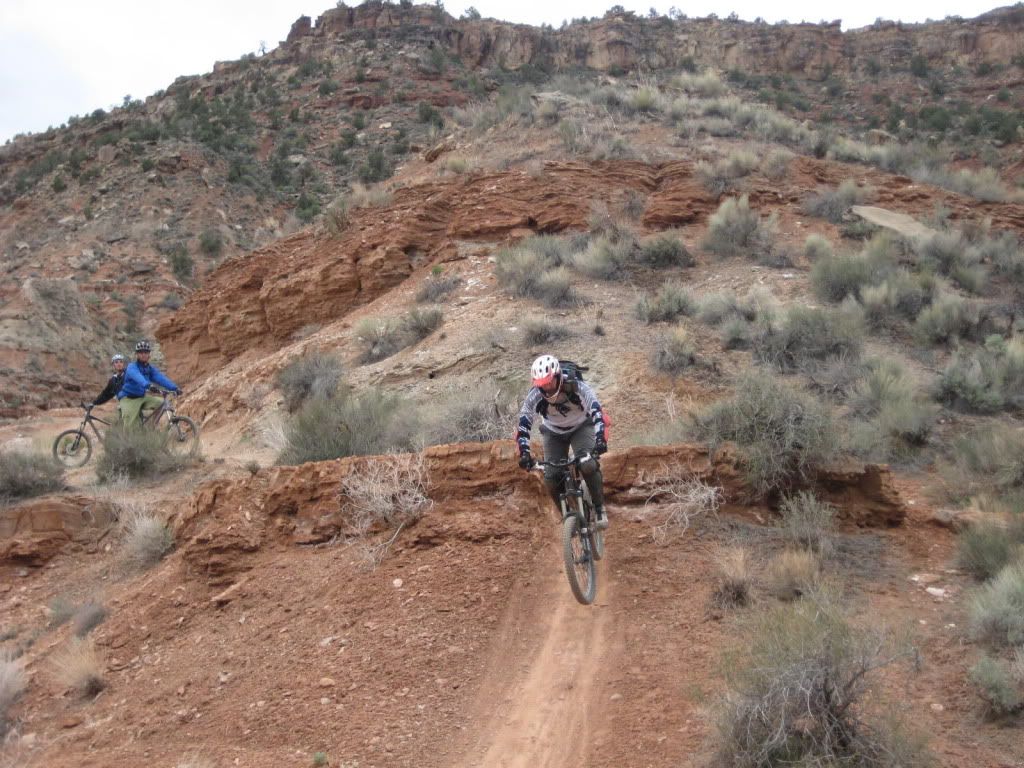 Deno rounds the corner. The huck QS was hitting airs over the spot where Deno is right now.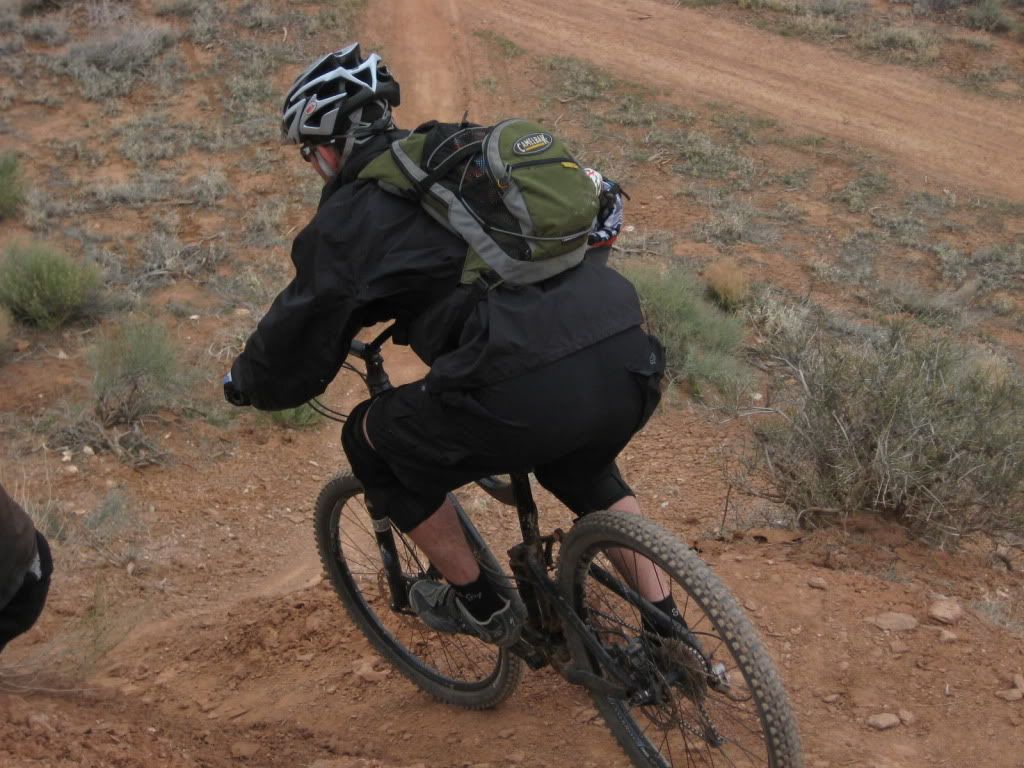 Cue QS....Hang time
QS stands on the top of the right-side tranny for a road gap you saw in one of the NWD movies.
Nice hip jump
Deno looking fast & low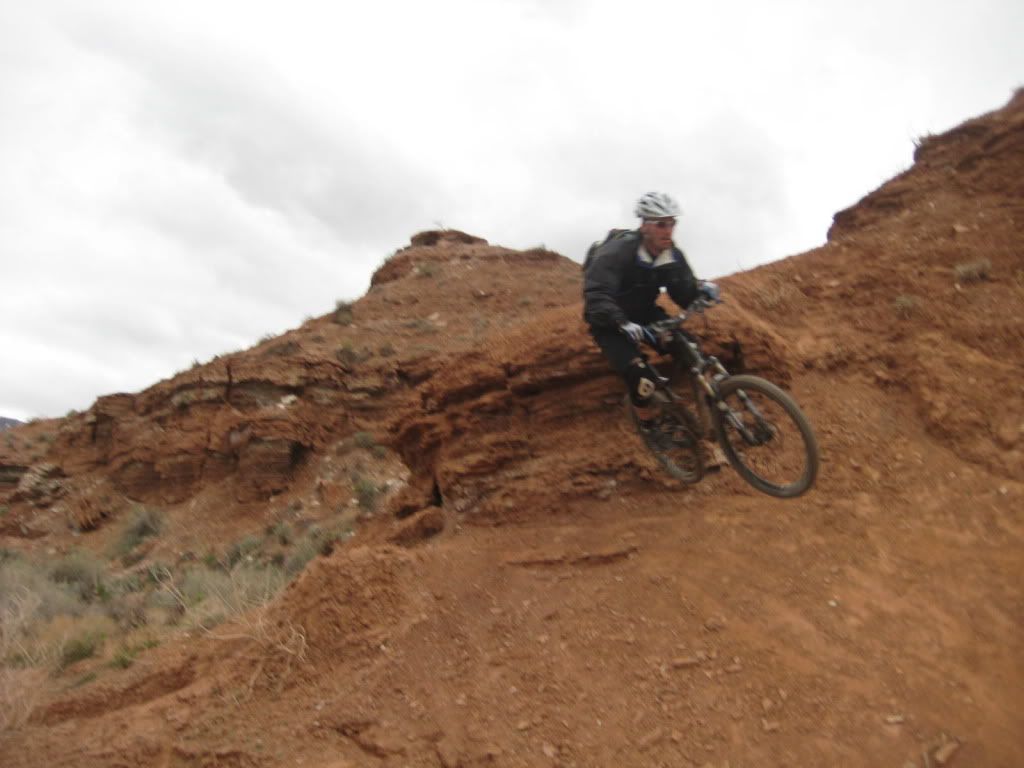 GP_pilot looking fast and loving this line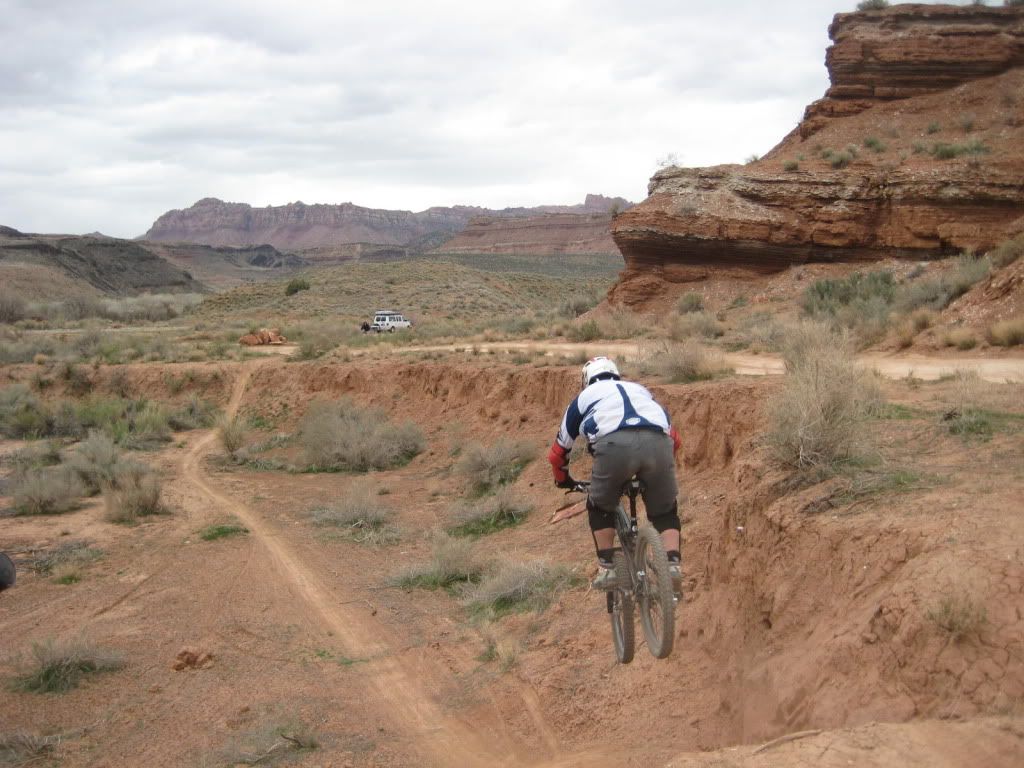 QS follows him in. I like how the background is a bit out of focus while rider looks sharp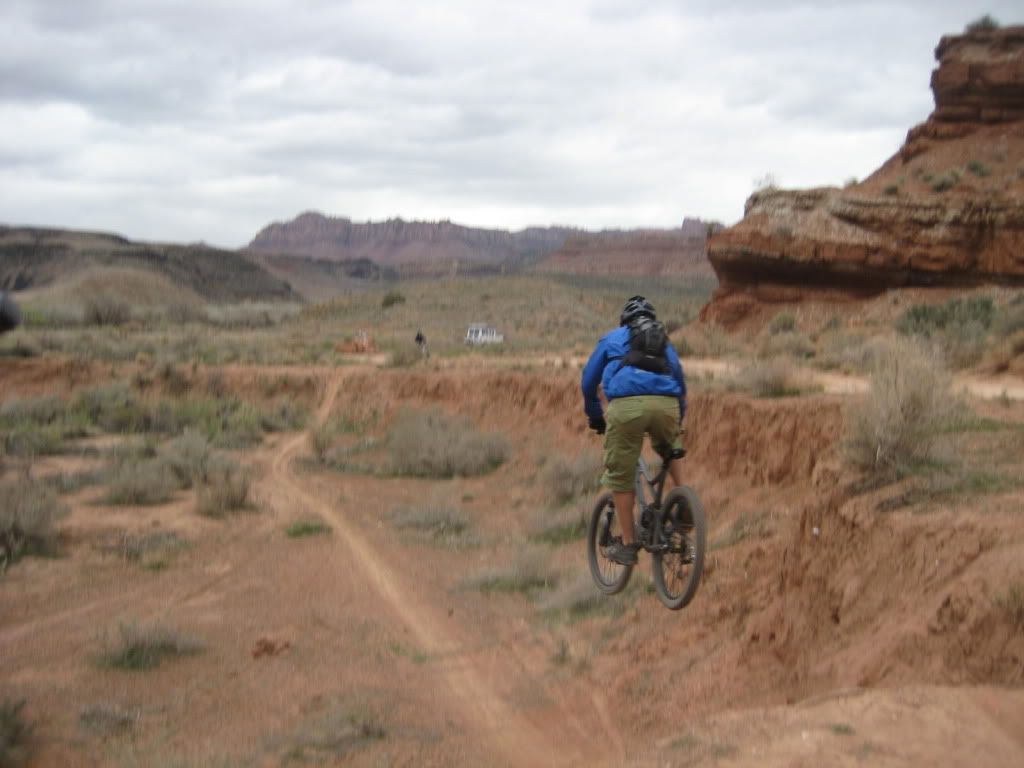 This spot is a huge playground with lines everywhere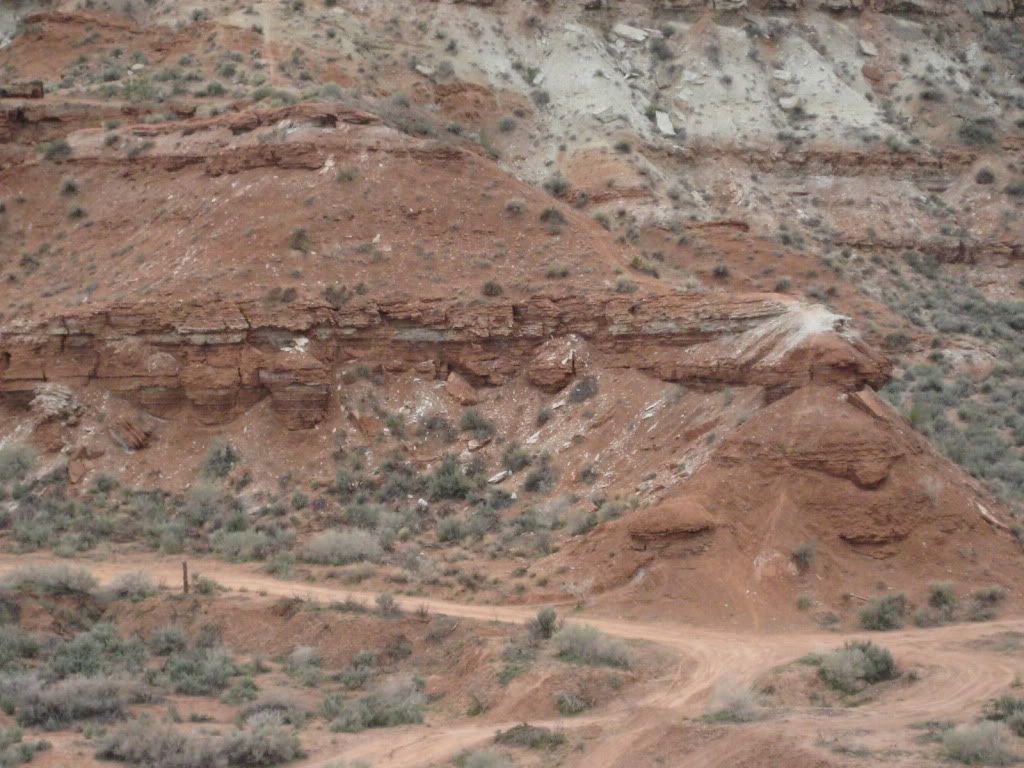 Looking down over a ridgeline is the van parked near this small cemetary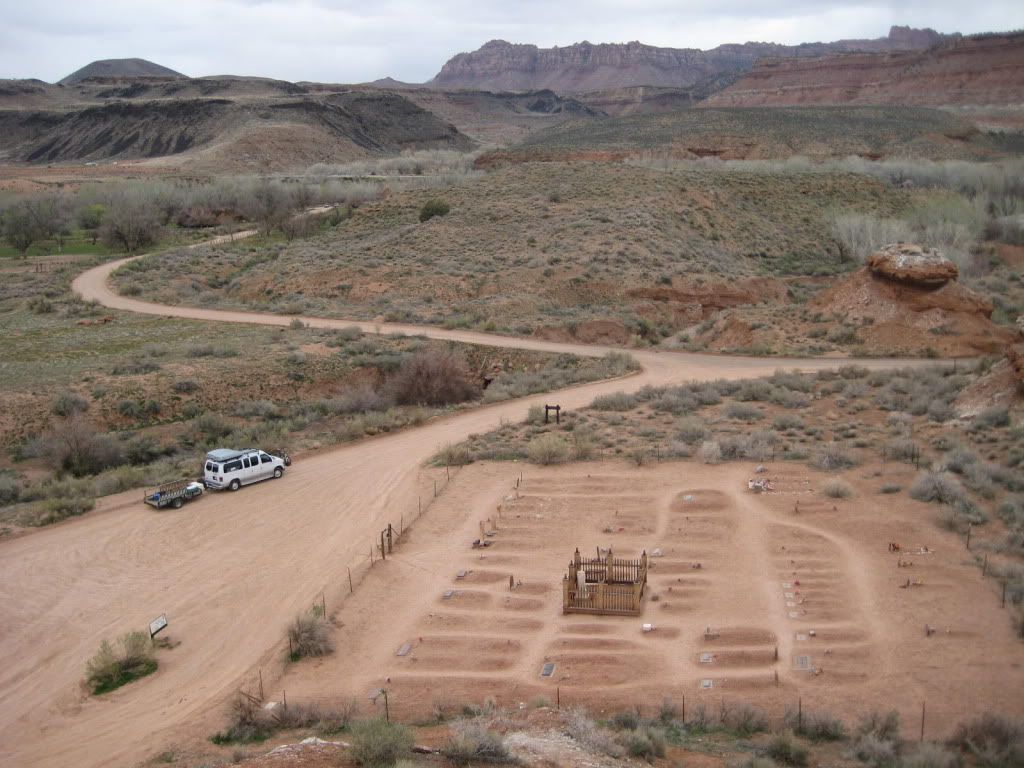 QS prepares to hit a cliff drop
There were a couple false starts as wind gusts would come up unexpectedly.
Remember that bush by his front wheel when you see the pics from below...that marks point of takeoff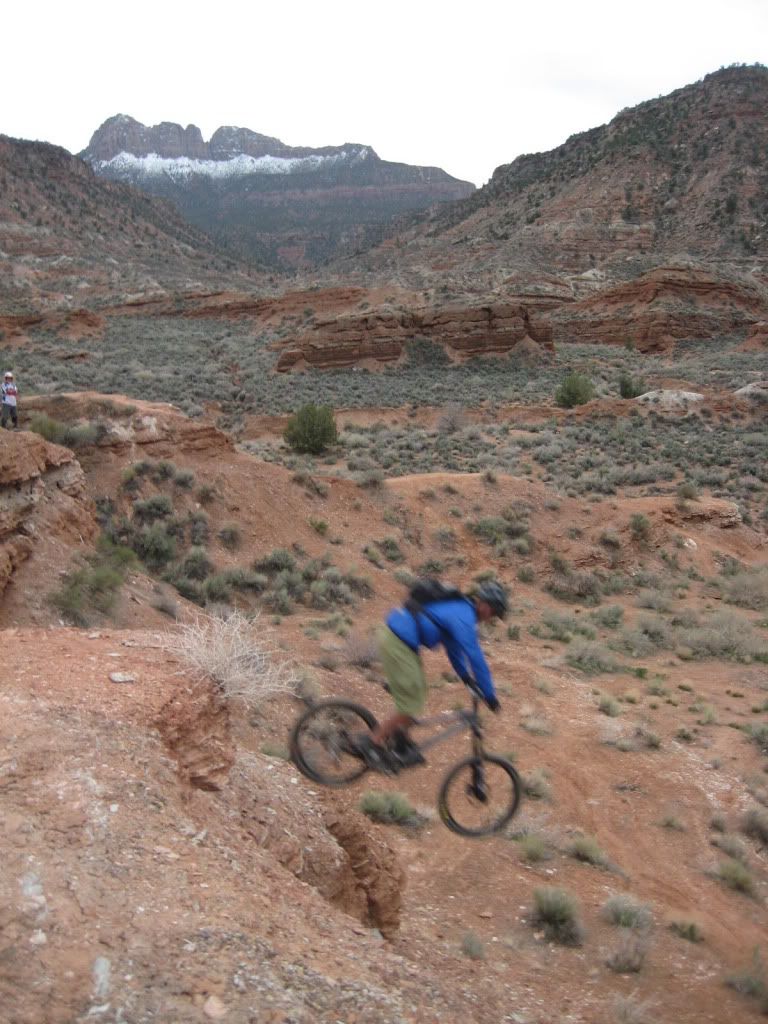 From below...taking another look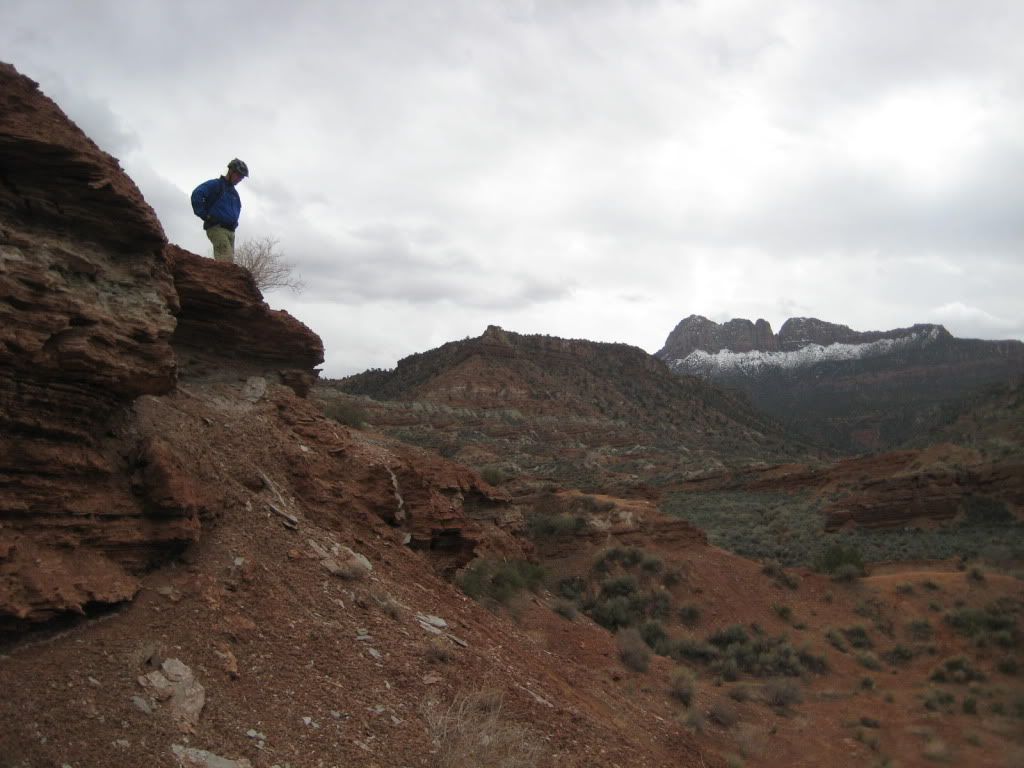 And action!
Loading up the van. Next stop...lunch!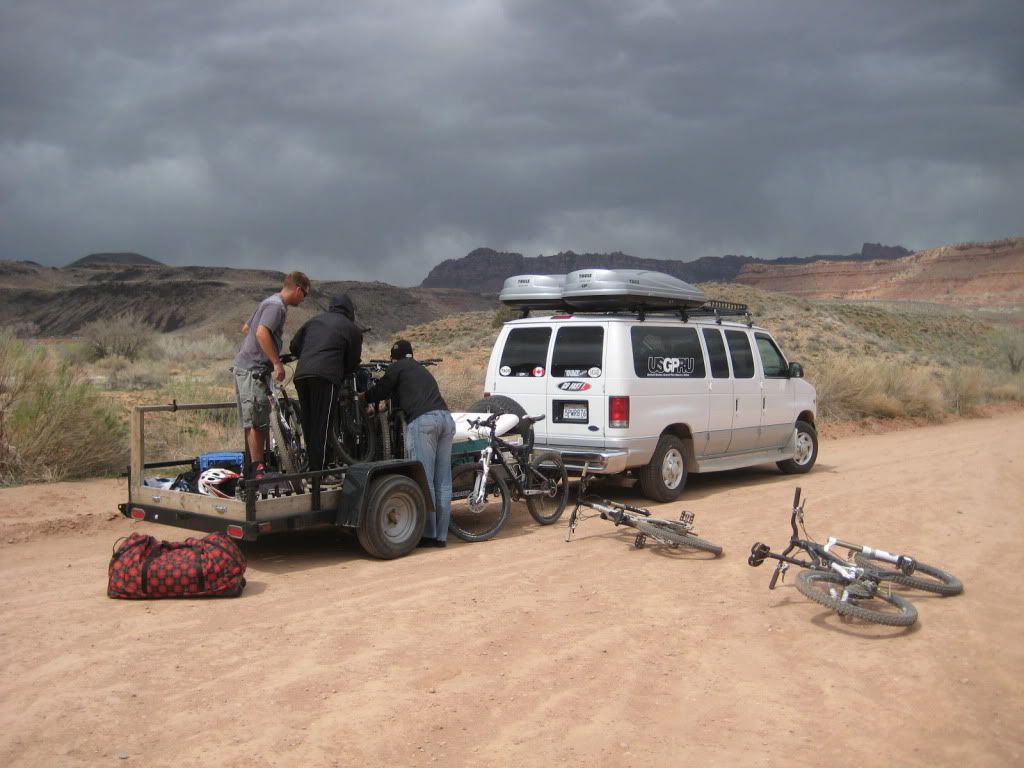 If you want to ride Grafton just be prepared for a rough drive up. Any car should be fine, but you'll get bounced around a bit. Gil and I found our beers had been shaken so much the caps loosened and they half emptied in the cooler. We also lost a bag of camp chairs that bounced off the back of the trailer. Contact GP_pilot if anyone finds a black duffel bag on the Grafton road
.
We were fortunate with weather on this trip, aside from some wind. A heavy downpour hastens our exit from Utah. But, we'll definitely be back....And yes, BKJ, Dennis, Wirk & James, you definitely missed out!
Thanks to everyone for making this a killer trip!
We got in a lot of riding in 4 days, only to be humbled hearing about epics the locals throw down. Dave at OTE shop did a ride earlier this year from the shop up Goulds rim, over to and around Little Cr, over to & around Gooseberry Mesa, across to Grafton, down Grafton, across to Rockville bench, back toward town, then JEM & Hurricane Rim. On a rigid singlespeed I believe. Just be careful what shop rides you sign up for when visiting!