Today's plan was to make a quick stop at Bryce Canyon and then head down to Hurricane to ride Gooseberry.
However, we stopped at the Red Canyon visitor center to ask if Thunder Mtn actually is under snow, since we weren't seeing much of it on the ground. Turns out the trail was open and ridable. Since we were here, and since Thunder Mtn looks so sweet, we made a quick change of plans and decided to hit it up rather than Gooseberry.
Once again there were just 5 for the ride.
There were no jeep tours today so bjammin and sladnas were stuck tossing around a frisbee.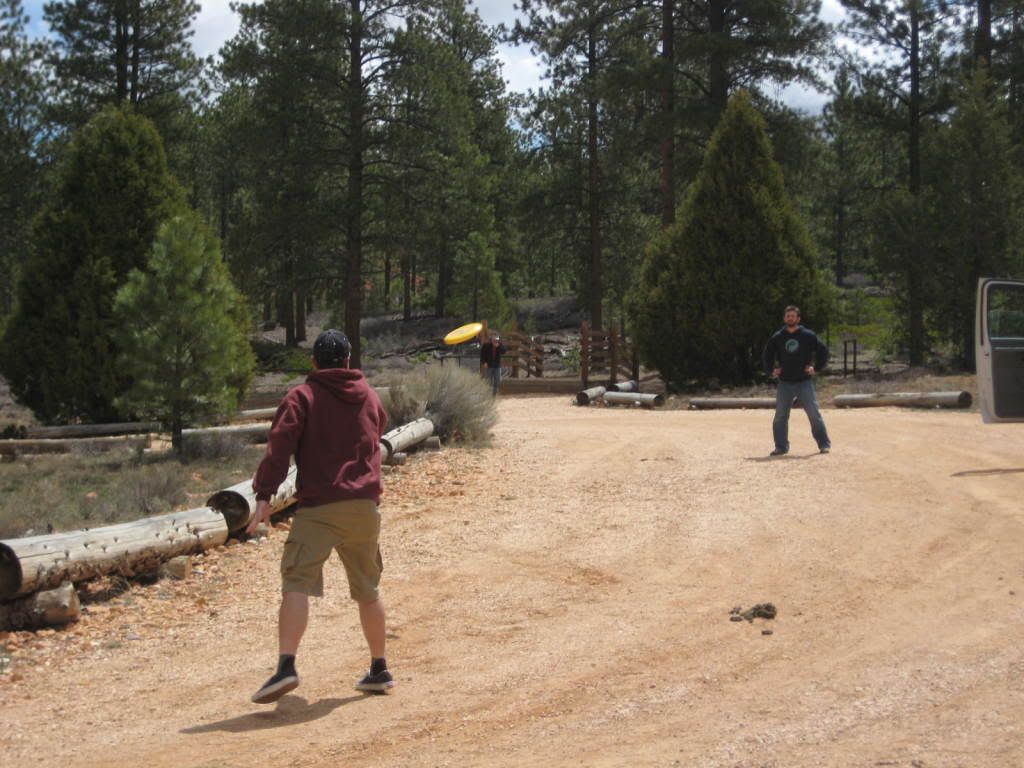 The clouds on the horizon look very ominous. Will Thunder Mtn live up to its name?
The trail starts with some undulating terrain and switchbacks that take us over a couple ridges to Thunder Mtn itself. The climbs are short and not too bad except for the elevation.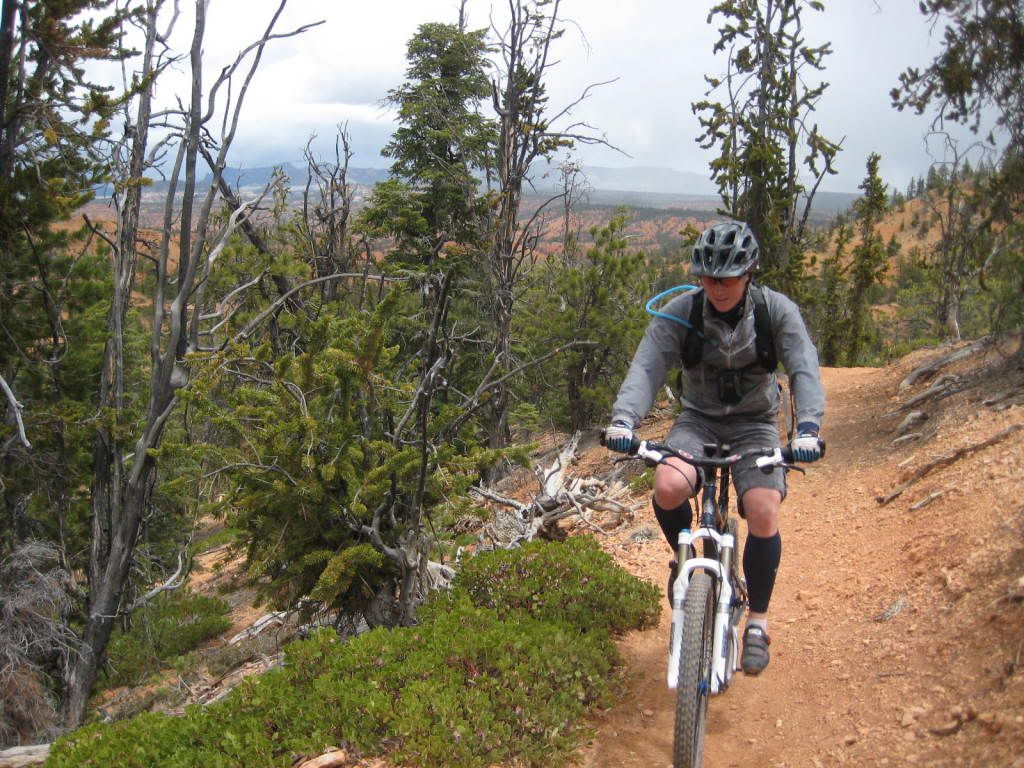 We started seeing hints through the trees of the cool landscape this area is known for.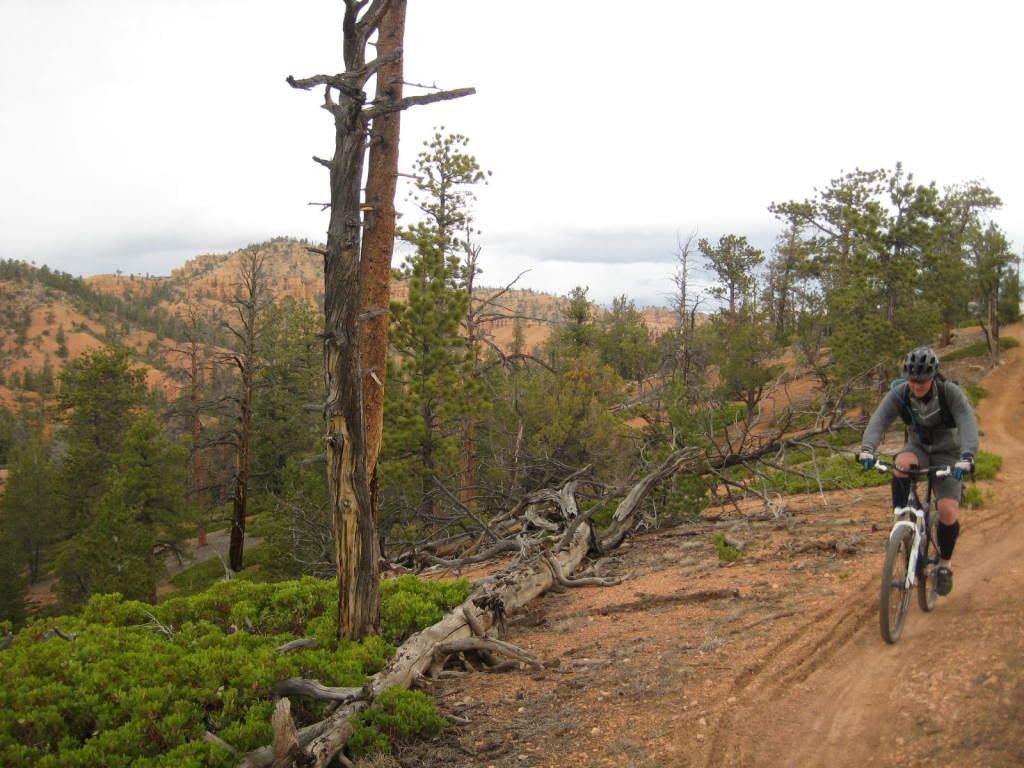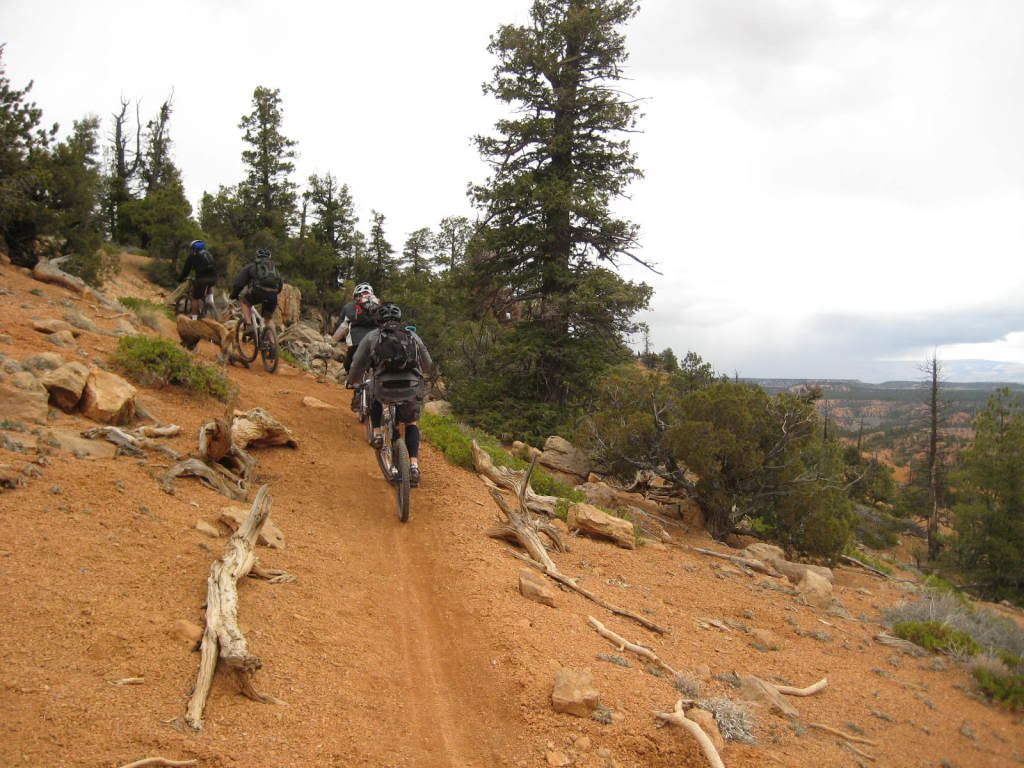 As we approached the top the anticipation was building. Unfortunately, so was the wind.
Cool view off to the side. The view from the top would be even better.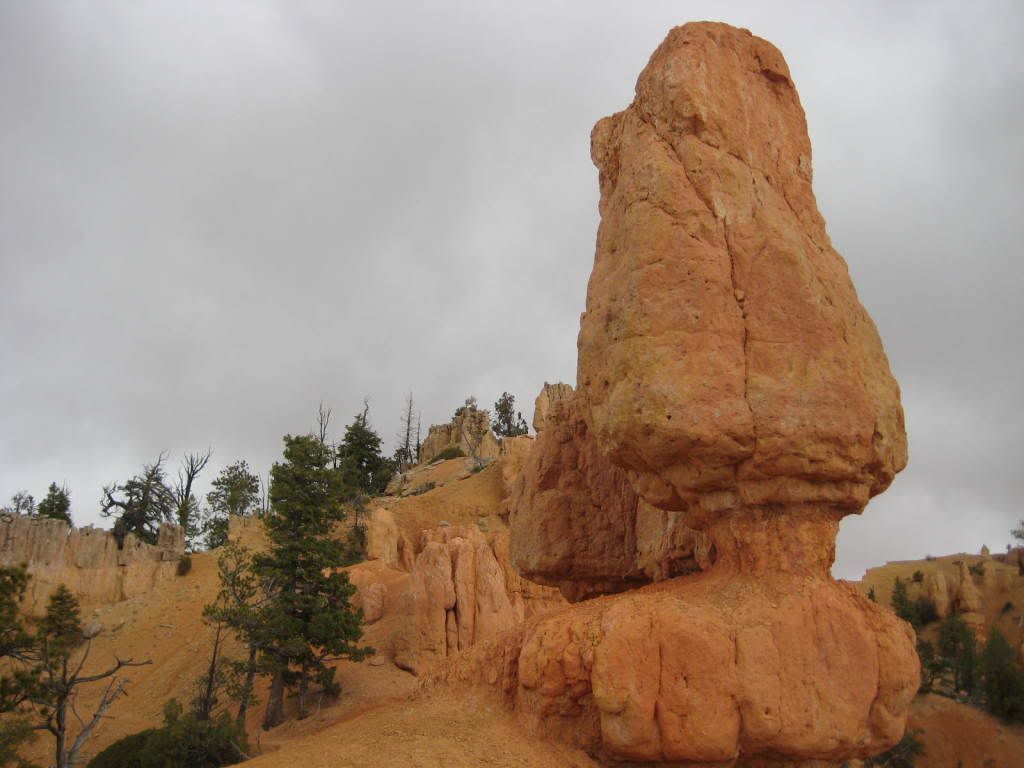 This is the view from the top I mentioned. We didn't hang around to enjoy it. By this point we were either getting hailed on or snowed on, I'm not sure which it was. But it was blowing horizontally and stinging our ears and cheeks. Just miserable.
jabantik loving the trail but otherwise hating life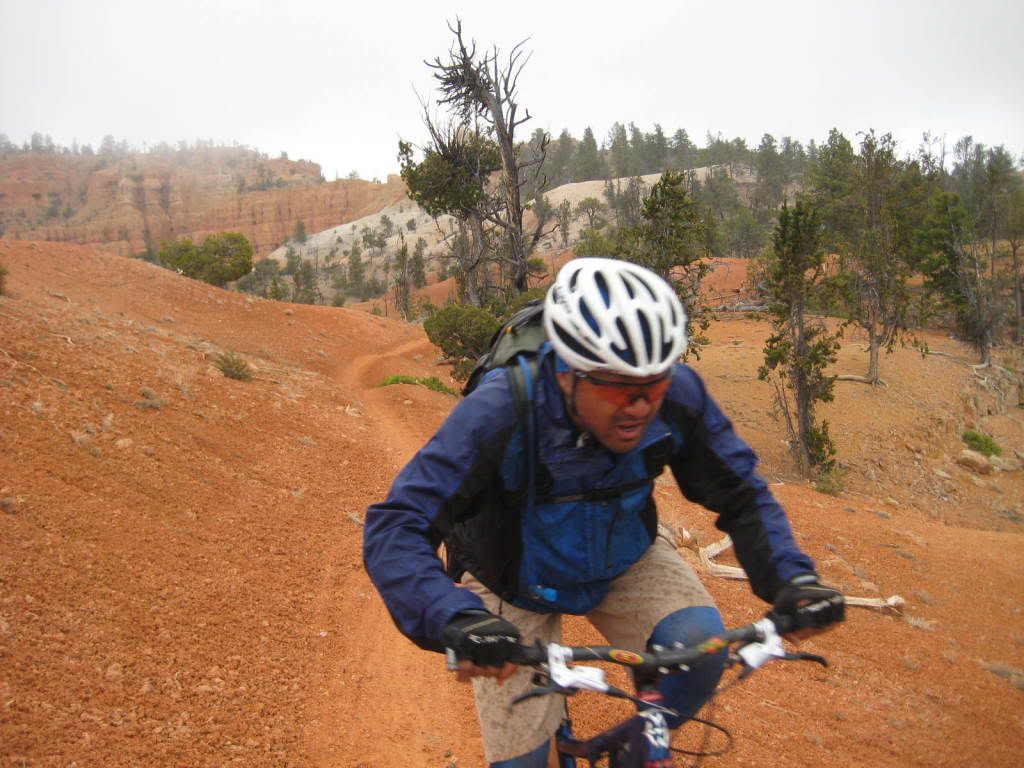 This trail is nothing but smooth goodness and flow, a welcome change from all the chunk and rock from all the other days.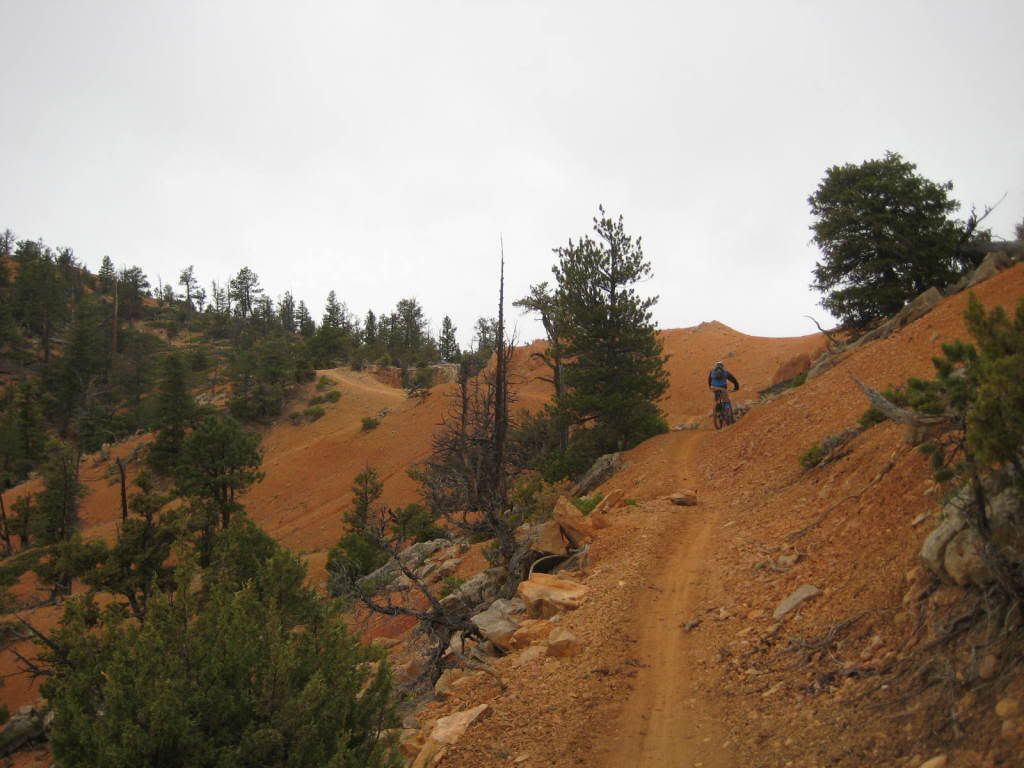 We descended some switchbacks down into a saddle. This part actually reminded me a bit of whistler, red dirt aside. All they need is to berm the corners more and this place would be over the top.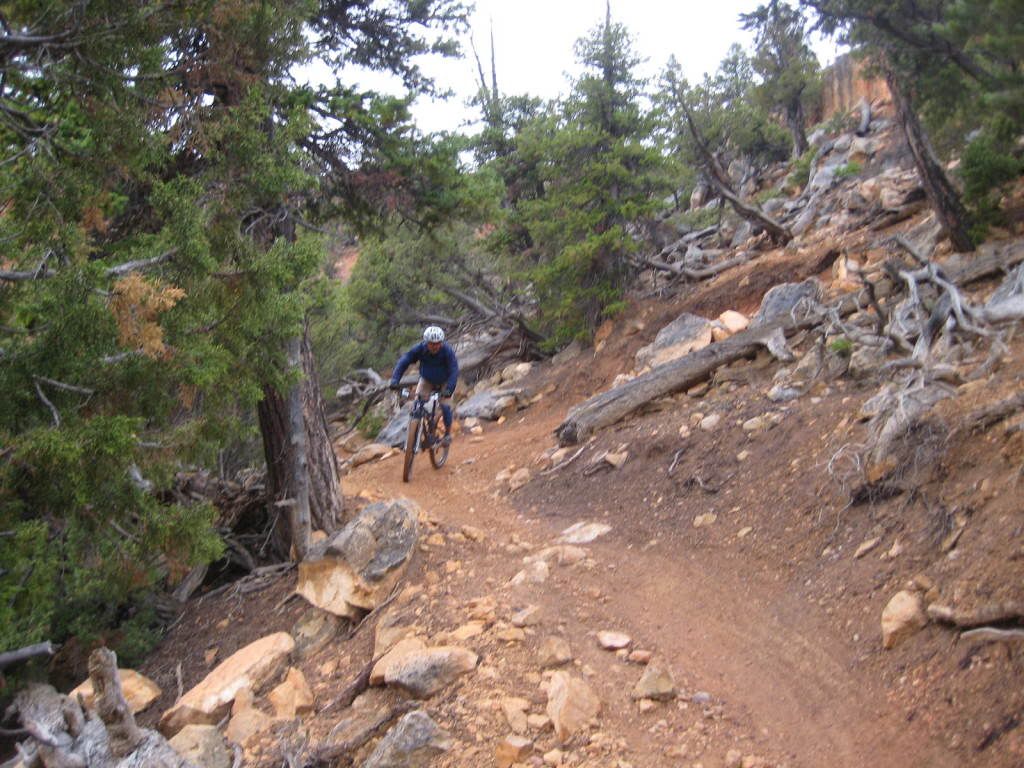 mmm...singletrack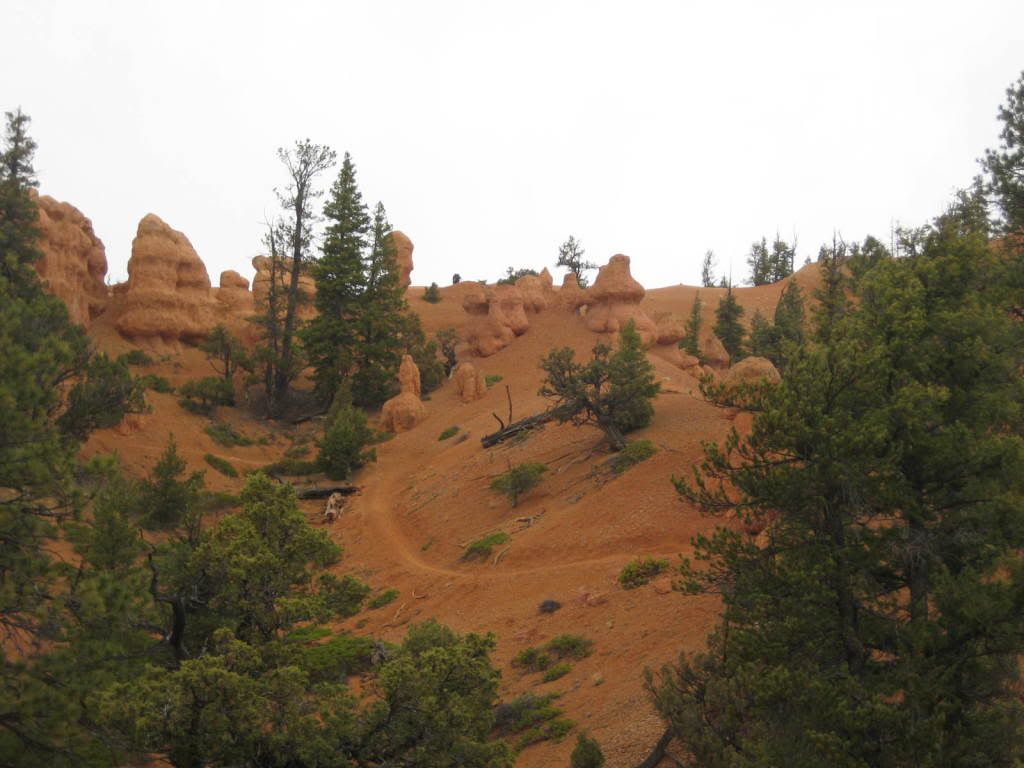 The wind continued but we got a short break from the precipitation.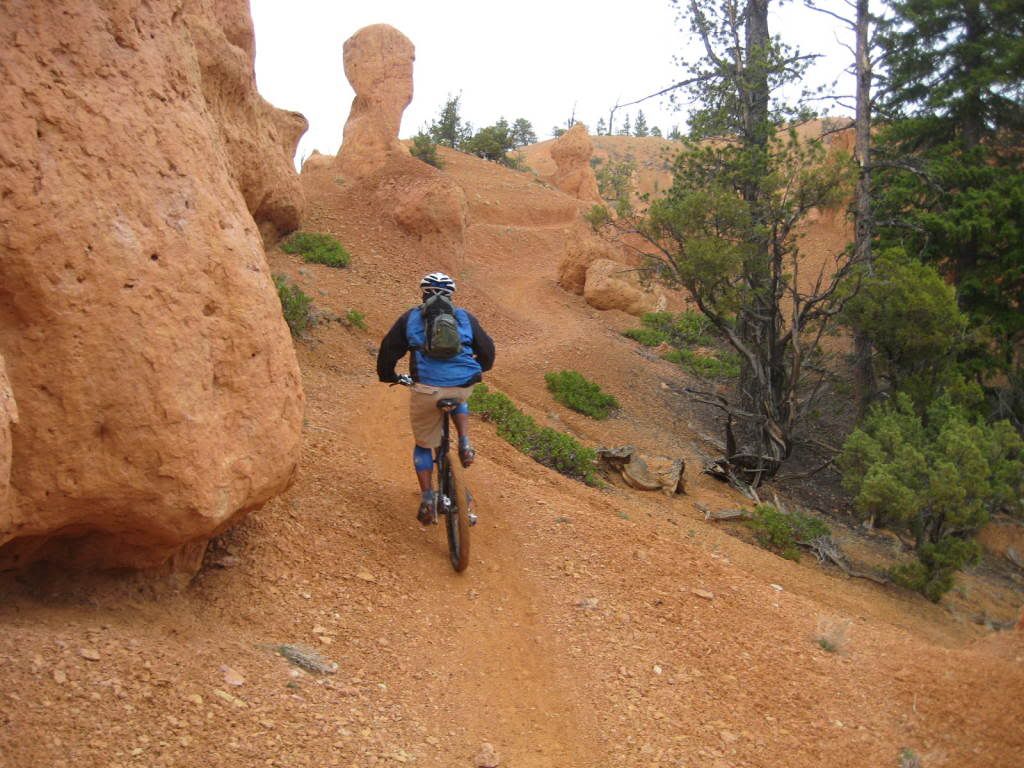 As we approached the top of this climb however it started to rain.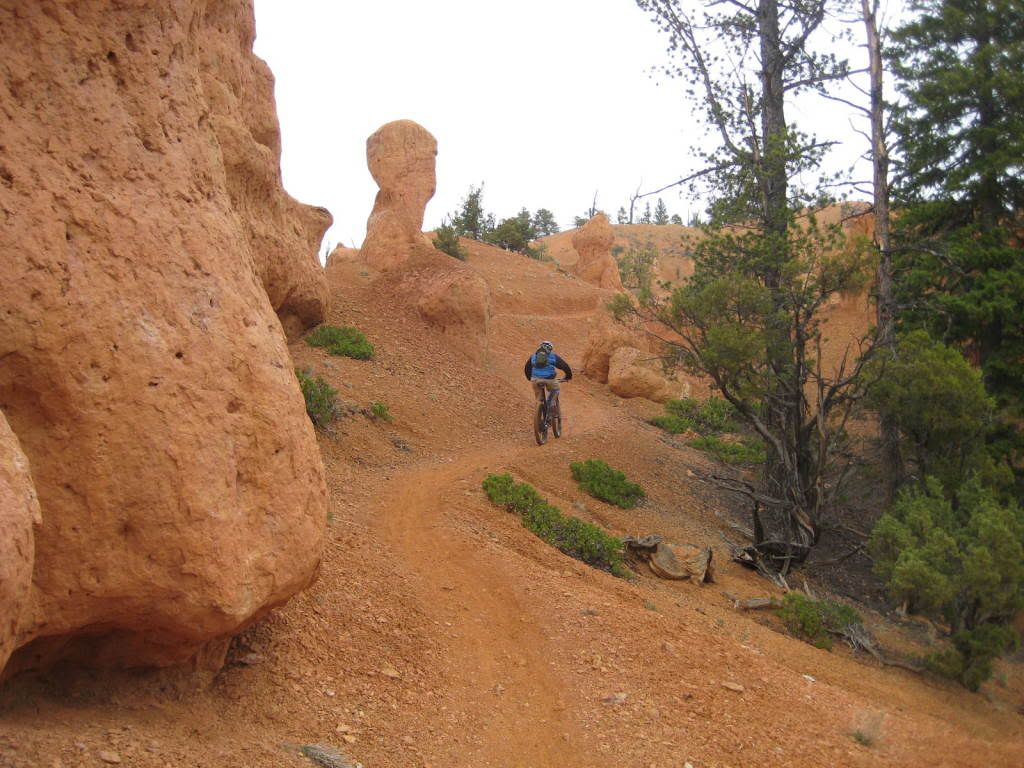 Not pouring rain, but just enough that it made the top layer of dirt wet. Problem is, it was still dry below so the wet dirt just caked on our wheels. Quaestionis approaches some more switchbacks which would take us to the bottom of this canyon.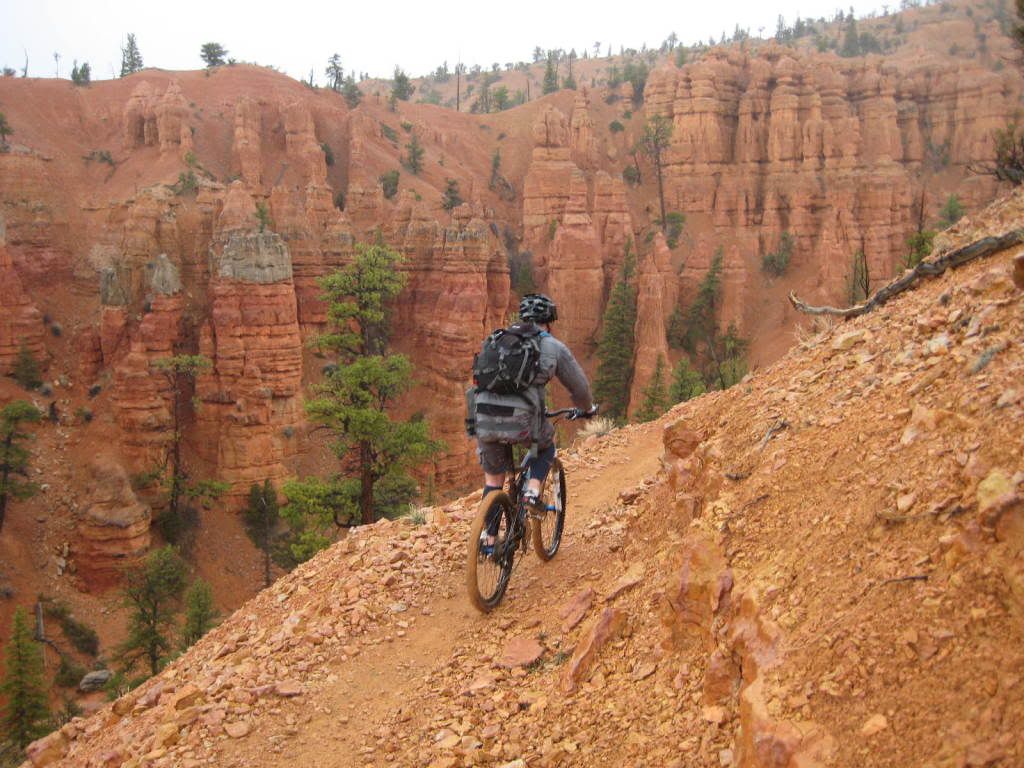 That was the last of my pics. Once at the bottom it is a straight shot back to the parking lot on one of the funnest, smoothest sections of trail I've ever ridden. Just the perfect grade so you almost didn't have to pedal. It was actually somewhat fortunate the weather was bad as there were no hikers out. I can imagine they would totally ruin the trail's flow on a nice day.
By the time we got back to the visitor center our bikes and clothing were caked with mud. And not nice mud, this was nasty stuff that would definitely harden into cement in short order. Fortunately the visitor center had a hose that they allowed us to use. That was seriously a life saver.
After hosing off all the bikes we still had a few minutes to kill while waiting for the others to get back from Bryce. I would have liked to see Bryce too but was not to be. Fatigue, mud and weather put a damper on any thought of still doing an afternoon ride at Gooseberry. We had a hotel booked in Hurricane for the night and were planning to do the drive back on Sunday morning, day 8. But with no ride for the afternoon it was pretty much unanymous that we should just drive all the way home. Everyone was looking forward to sleeping in their own bed!
Thanks to everyone for making this such a great trip and especially to GP_pilot for doing all the planning, organizing, and most of the driving.
Already looking forward to next year!