The original plan had been to leave Moab on the morning of Day 6 and drive towards Bryce Canyon where we would hit up Thunder Mountain and neighboring trails. Unfortunately a misinformed shop employee in Fruita told us that Thunder Mtn was still under snow. So instead, we opted for a morning ride in Moab before driving down there in afternoon to take advantage of our reserved KOA accomodations.
Sovereign Trail had been on our list of Moab trails to ride but was displaced by our Portal / Gold bar ride on Day 4. However, Amasa was requested by several peeps and is a shorter ride (12mi return) so this was our choice for Day 6.
The rigors of the rides to date were starting to mount so Rich, bjammin and Sladnas did not join us on this ride. Instead, they took a jeep tour which probably would have been a good time. The rest of us would have to settle for watching the jeeps in action on Amasa, and there were a lot of them out.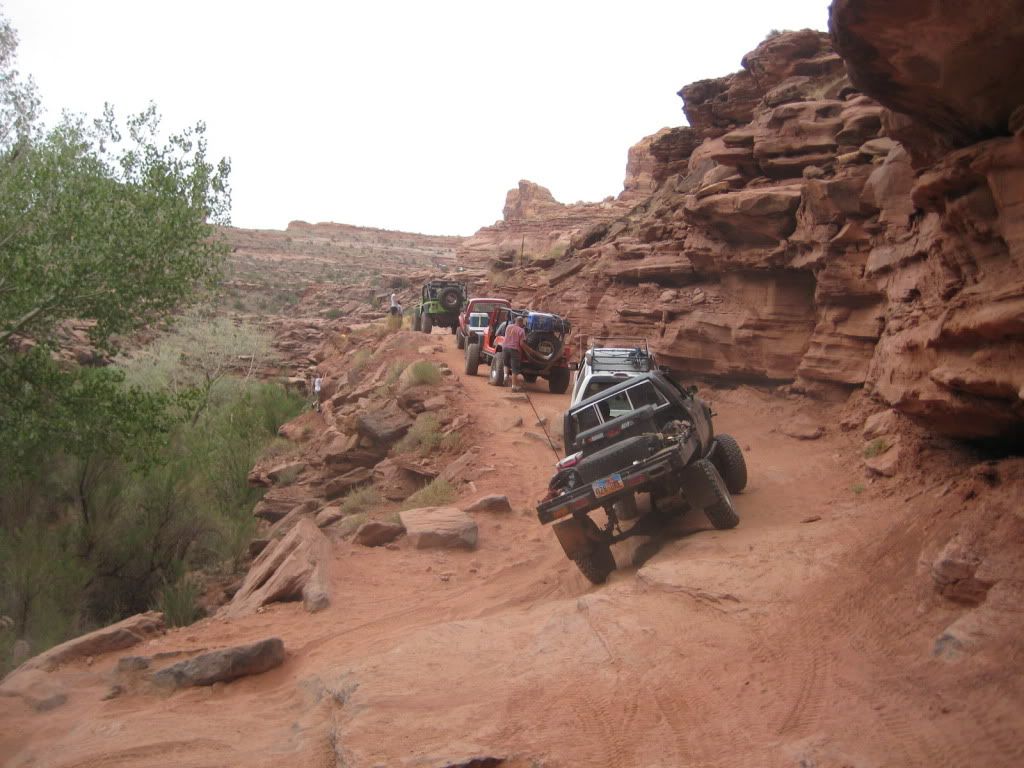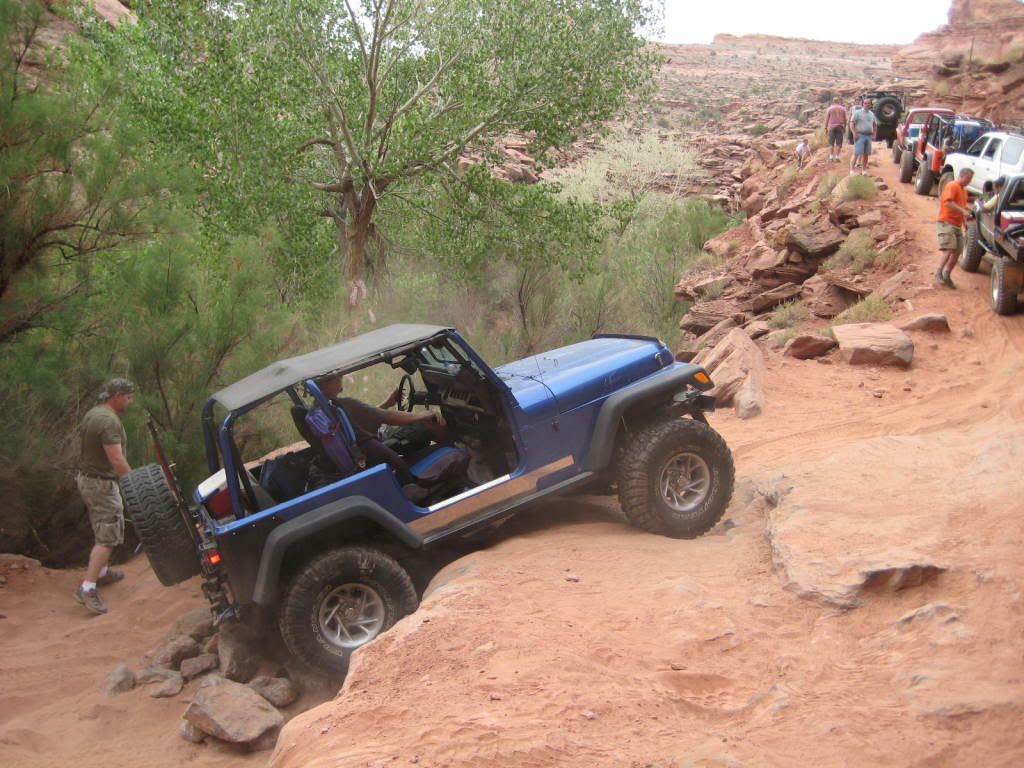 Sorry we didn't take a lot of pics on this ride. Its mainly jeep trail and a challenge to ride up. Its also a blast to ride back down. Normally its an out and back but there were some other options we were going to consider exploring.
The ride starts with a staircase section that is really a test for the jeeps to get down. Below that is a drop call the "cliffhanger" which is basically the entry test for them...a 3 ft vertical drop. I had looked at this last year but didn't hit it. On the left side is a decent MTB tranny. So I picked a line down the staircase and then hit the drop. It is pretty smooth and a fun drop before the climb begins.
Unfortunately GP_pilot "took one for the team" and shortly after clearing the cliffhanger he had a bit of a shitty and crashed while launching off a rock or hump in the trail (I didn't see the crash), leading to the group's token visit to the urgent care clinic for stitches. Like the team player he is, he let the rest of us carry on while he drove himself for medical aid, and then returned later to pick our sorry asses up.
We had to push to get ahead of the armada of jeeps, but once we did, we were able to cruise up towards the top. I could definitely tell a difference in fitness this year, as we did Amasa on Day 1. Even though we had five days riding under our belts I felt much stronger on the climb this year and it was over very quickly. Last year at the top of Amasa we climbed up a slickrock section to an overlook which offered a view of the Colorado river and a huge potash plant and settling ponds. To be honest, that view was a total letdown.
This year, we found several new trails have been signed and made official and offered a much more fitting ending to this ride. I think Sean found one of these trails last year but we soon lost the route as it was not marked. Our only mistake this year was riding the new trails the wrong way. We basically took a right turn at the top of Amasa and headed down toward the top of Jackson trail. Jackson is an alternate route back down to the highway which you can use to turn this ride into a loop. We knew about Jackson last year but it was described as an extremely technical and exposed trail so we opted not to take this as our ride out. We wavered this year...on one hand it is new dirt, and couldn't be any more difficult than Portal. On the other hand, we were already getting short on time and Amasa is a ton of fun on the way down.
So Amasa it would be, but not until we could check out two new trails...Rockstacker and Pot Hole Arch trail. As I mentioned we rode these the wrong way. From the top of Amasa you should ride north and find Pot Hole Arch Trail (not that easy to find, need to look for cairns) and then ride over to an overlook. This trail is not very technical and can also be done as an out and back from Amasa.
The view at the end of Pot Hole Arch trail is scenic and unspoiled.
But first...on the ride up Rockstacker you get to look back west down at the highway as well as North to the river.
We were able to ride a decent portion of the trail but there was definitely some HAB up. Even down, there would be some.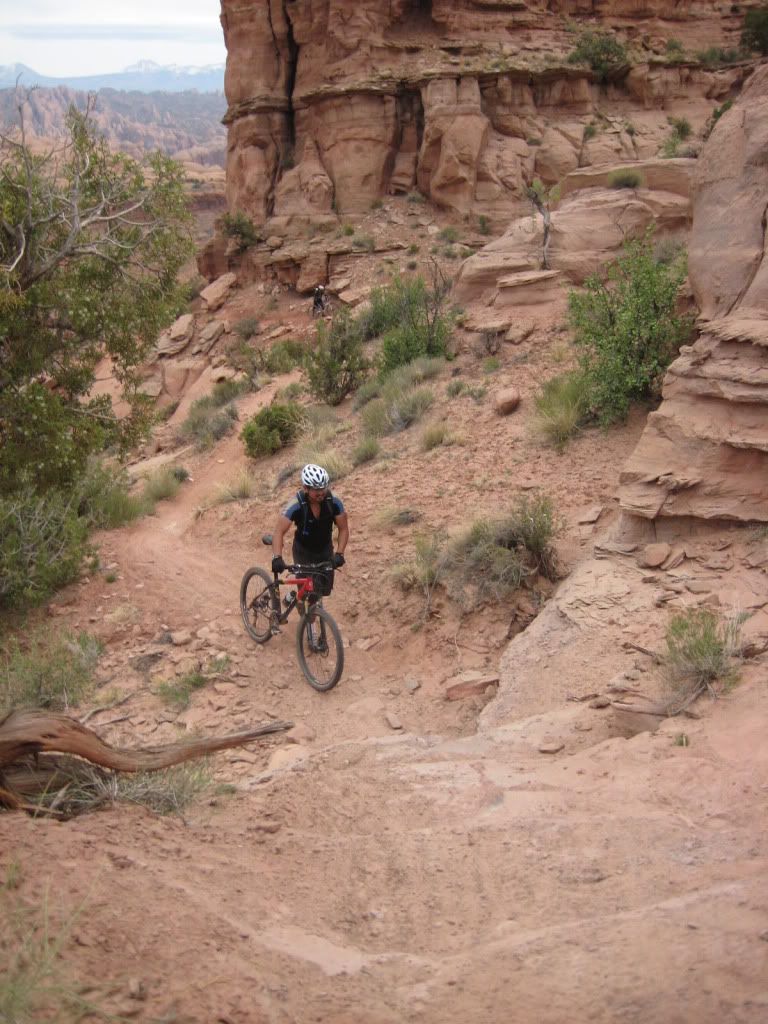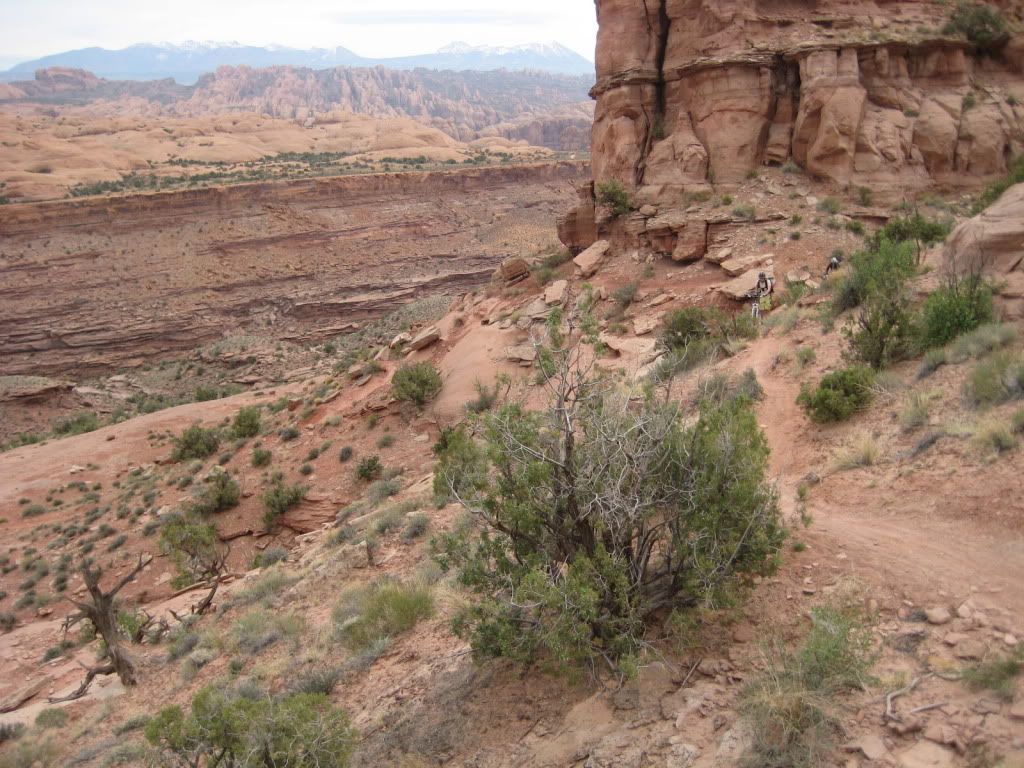 Pretty much the entire length of Rockstacker is painted with a continuous red line. So no, the red in the pic is not a trail of blood from Stang. (Though it could easily become one if you make a mistake on this trail - there are a couple genuine double black diamond sectons). Even if you walk those sections this trail would be a blast, especially the section in the photo if you ride this trail the right way. The way we went was not so much fun.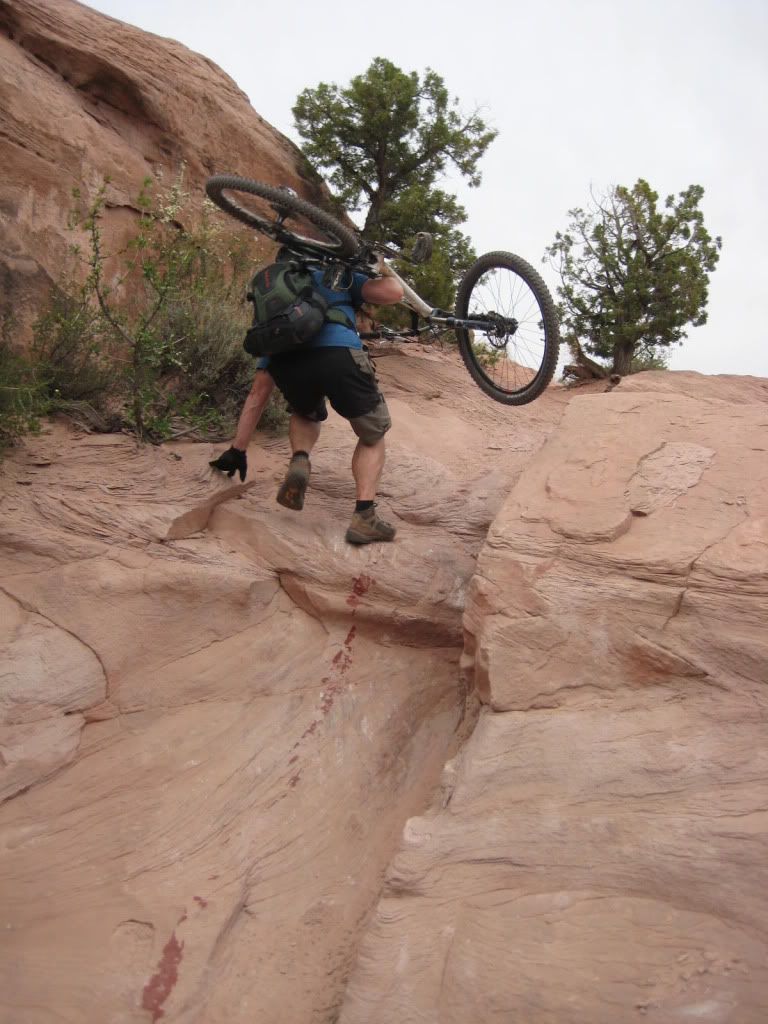 So as I already alluded the view at the end of Pot Hole Arch Trail was well worth the extra couple miles.
Looking back west toward the LaSal mtns
But the more impressive view was the river, both north and south.
You can just see Pot Hole Arch in this pic - its just above the big depression in the cliff wall in the center of the pic.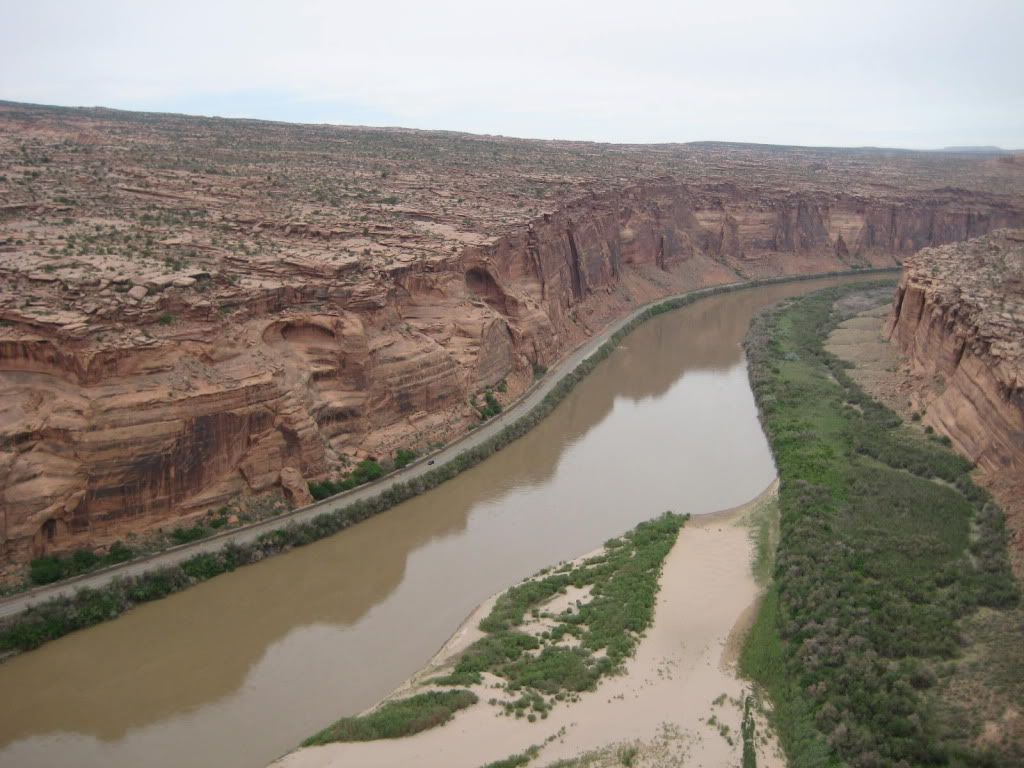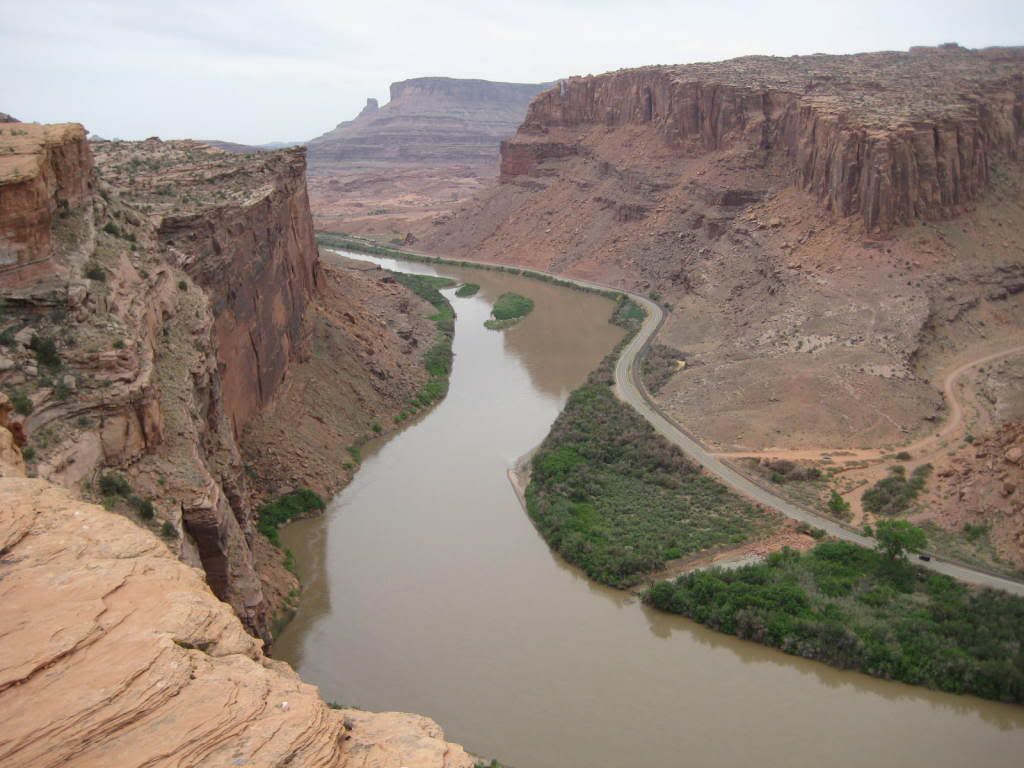 I love this pic of the bikes...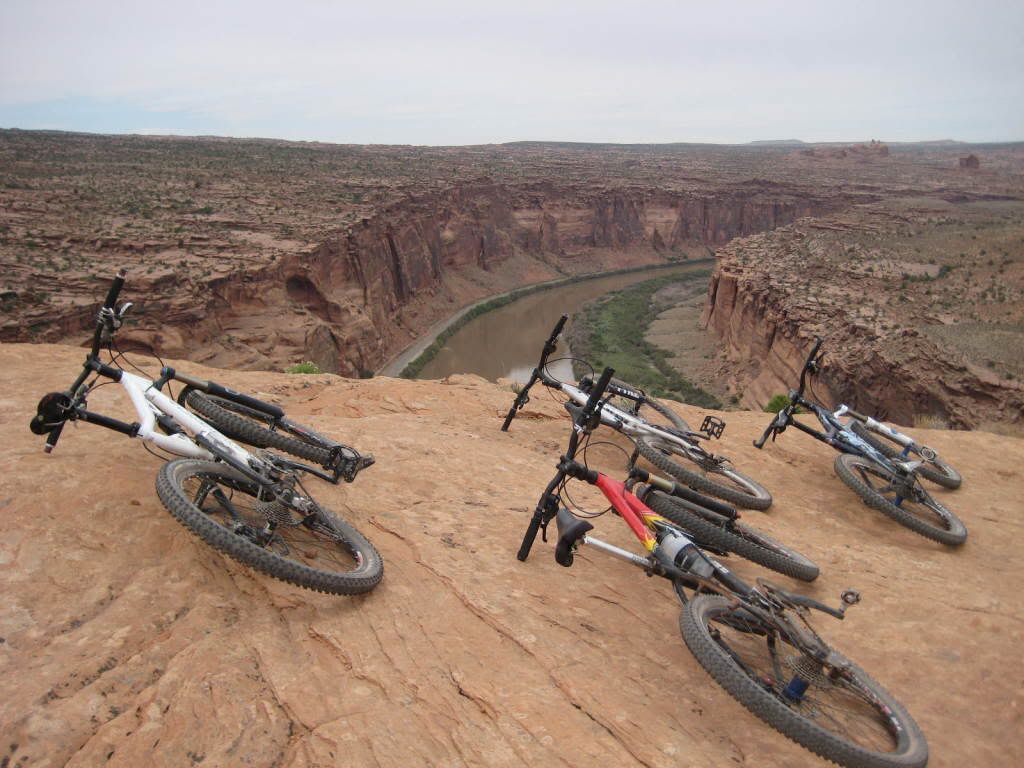 After a short snack and these few pics it was back down to meet Sean and the others. Just a short stop at the bottom (where pic #2 was taken) to pay our respects for the blob of spooged fatty tissue that bjammin left there last year.
Next year, I want to ride up Amasa, out to Pot Hole Arch trail, back down Rockstacker, and then try Jackson back to the highway.